DIY Coffee Table out of Sculpted Panel
Jul 22nd 2020
The creativity with epoxy is endless!
The following video/article provides you the step by step process on how to make a unique coffee table out of a sculpted panel and step pouring epoxy.

---
In collaboration with Sculpted Panels, we selected this "Netted" pattern and had it cut down to 24″x48″x1.5″. Sculpted Panels offers a wide variety of patterns that are CNC'd out of MDF board.

Step 1: Apply Seal Coat
Seal the backside of the panel with epoxy. This is a key step that will eliminate the MDF from cupping or warping over time. Sealing the back side of the board will make sure the panel does not expand or contract with temperature changes. Using our 2:1 epoxy system with FLAG Resin and Medium/Fast Hardener as a base seal coat. Our 2:1 system offers three speeds of hardeners that are all compatible for custom working times. Blending Medium and Fast hardener provides a gel time of 15 minutes at 70F.
Pour mixed epoxy onto surface and spread evenly with a brush or by hand with a rubber glove. Once epoxy is spread evenly, apply heat to eliminate air bubbles.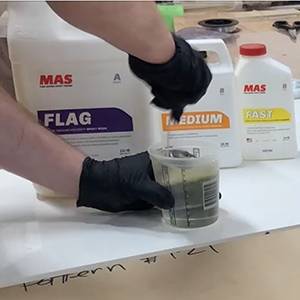 Step 2: Sand Seal Coat
Using 80-180 grit, sand surface down flat and wipe down with denatured alcohol. This will make sure the panel lays flat and level in the mold. Using an air compressor will help get rid of any dust particles on the surface and edges.

Step 3: Assemble mold for Panel
Using our Maker Reusable Mold made out of HDPE, this mold assembles in less than 10 minutes using only a drill and silicone. Applying silicone to the edges makes sure there are no leaks. The mold is 24″x48″ providing a perfect fit for the panel.
Step 4: Pour First Layer
Using our 2:1 epoxy systemm mix FLAG Resin and Slow Hardener with a few drops of Mixol Black for adding color. Once epoxy is mixed, pour onto surface and spread epoxy to cover the entire panel. The first pour is 1/4″ thick. With the pattern in the panel, the epoxy will settle in low spots creating a beautiful gradient as it cures. Once epoxy is on the surface, apply heat with a torch to eliminate air bubbles. Cover the mold with cardboard to eliminate any dust from settling. After 90 minutes, repeat the same step for the second layer.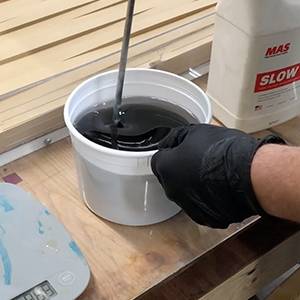 Using your hand with a rubber glove, spread epoxy on to surface coating the entire panel.

Step 5 & 6: Pour second and third layer
Repeat step 4 by mixing the same amount of epoxy with black additive. For the third layer repeat the same process but do not add any black additive. The last 1/4″ layer will create a level surface for the additional flood coat.

Step 7: Sand Surface
Once the last pour of epoxy has cured overnight, remove the panel from the mold and sand the surface and all edges. Using sand paper grits ranging from 80-220. Once surface is sanded down, wipe the surface clean with denatured alcohol. Prepare table for final flood coat of Table Top Epoxy.

Step 8: Final Flood Coat
Using our Table Top Pro epoxy we measured by weight. Mixing by weight is an easy way to do larger pours into bigger mixing containers with out having to waste small cups. Table Top Pro mix ratio by weight is 100 grams Part A Resin : 83 grams Part B Hardener (100A:83B). The weight of the Resin weighs more than the Hardener so mixing by weight you will use slightly less Hardener than Resin.
Mix for 2-3 minutes and let epoxy sit in container to release air bubbles. After 5-10 minutes at 70F, pour epoxy onto surface and spread evenly. Once the surface is coated, tip the edges with a foam brush or by hand with a rubber glove. Allow the epoxy to sit for around 10 minutes and apply heat to surface to release air bubbles. We recommend applying heat once every 10 minutes after the epoxy has self leveled. This will eliminate any micro bubbles on the surface. It helps to use light to see where any bubbles may be on the surface.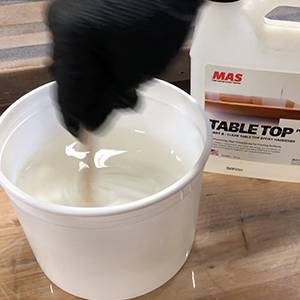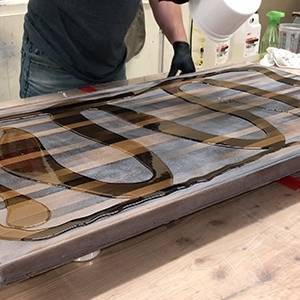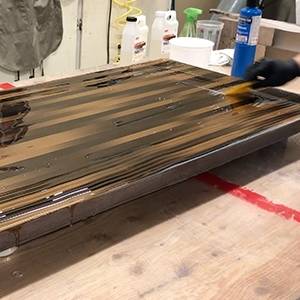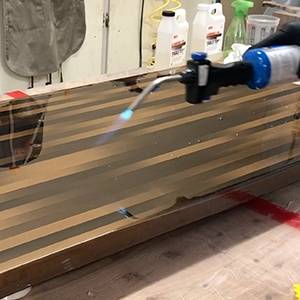 Step 9: Let Epoxy Cure
Once all air bubbles are released, cover the surface with a piece of cardboard so no dust or hair can settle on the final coat. Let epoxy cure for 5-7 days prior to use. We attached hair pin legs to the table for the finished look. We hope you found this article helpful for a unique, one of a kind coffee table that is simple and easy to do.