DIY Rainbow River Table
Apr 26th 2022
Have you tried the Dawn Effect?
---
In this week's tutorial, we will be walking you through the process of creating your very own, rainbow epoxy river table! For this project there will be no tools, mold making, or assembly required! You will just need your MAS Epoxies resin, a RiverPanel from Sculpted Panels, your creativity, and a few other supplies that you might have sitting around your house or workshop. Let's get ready to get colorful!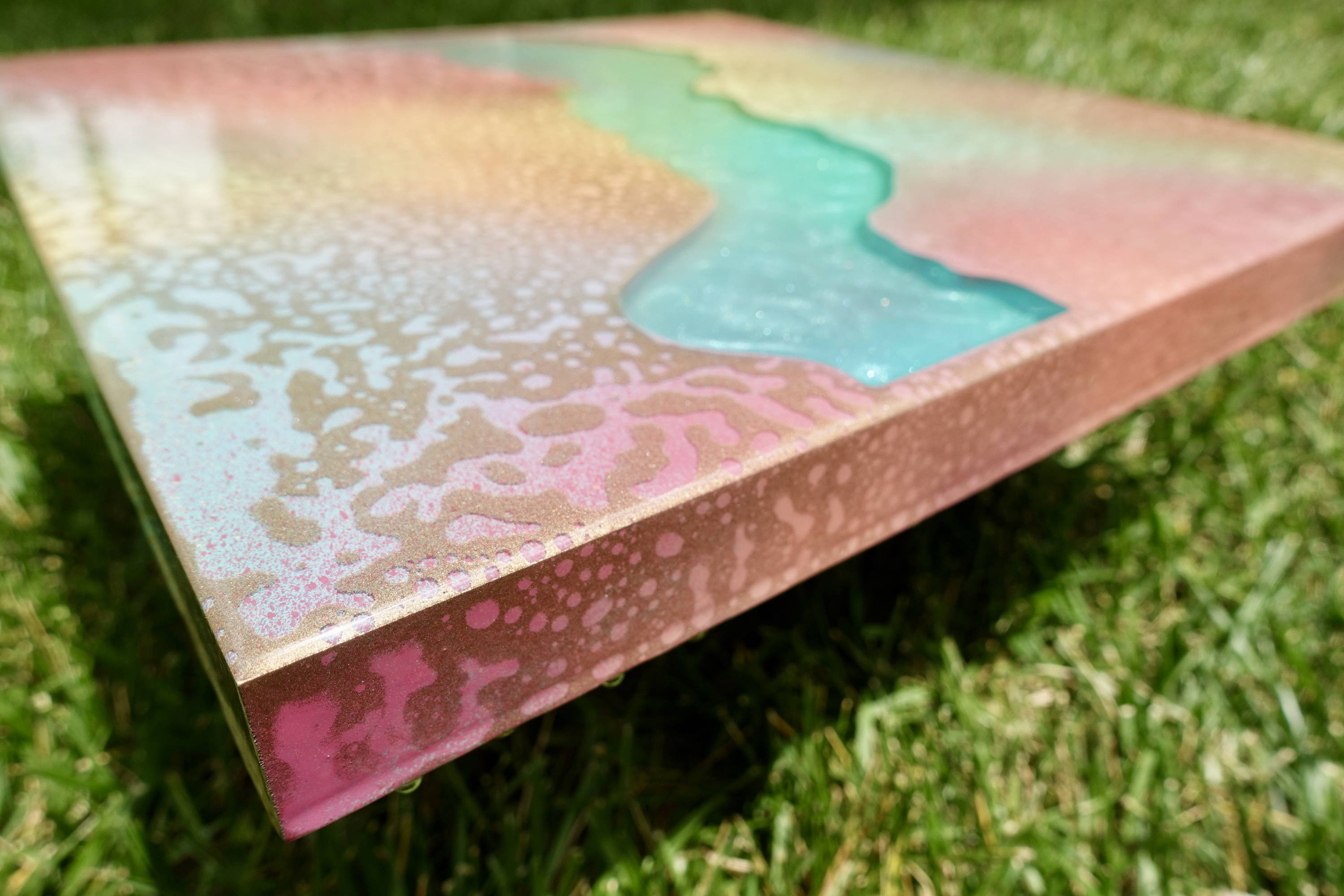 ---
Here's A Little More About Kelly!
---
Well hey there! Thanks for stopping by and checking out this tutorial! My name is Kelly Johnson and I am a California based, multimedia artist and the Creation Developer for MAS epoxies! Being able to inspire, teach, entertain, and bring joy to makers through multiple social media platforms makes me so incredibly happy! I fell in love with the creative process at a very young age and have been creating ever since. I hope that my work can inspire others in the same way others have inspired me.
---
Use Code: KELLY for 10% Off + Free Shipping!
---
---
MAS Epoxies' Table Top Pro and Deep Pour
MAS Epoxies' mixing cups and sticks
Assorted brightly colored spray paints, white primer, and metallic gold
Dawn Powerwash dish spray
Teal mica powder
Painter's tape
Torch
---
Check Out The Full Video Tutorial!
---
---
Let's Make A Rainbow River Table!
---
Step 1: Priming and paint the panel
Before we begin painting, let's prime the RiverPanel from Sculpted Panels with a white spray paint. Next, use a variety of brightly colored spray paint to cover the entire panel with splotches of rainbow goodness. Have fun with this step! It doesn't need to be perfect since we will be covering up most of it in a later step. Let the paint dry completely before moving on to the next step.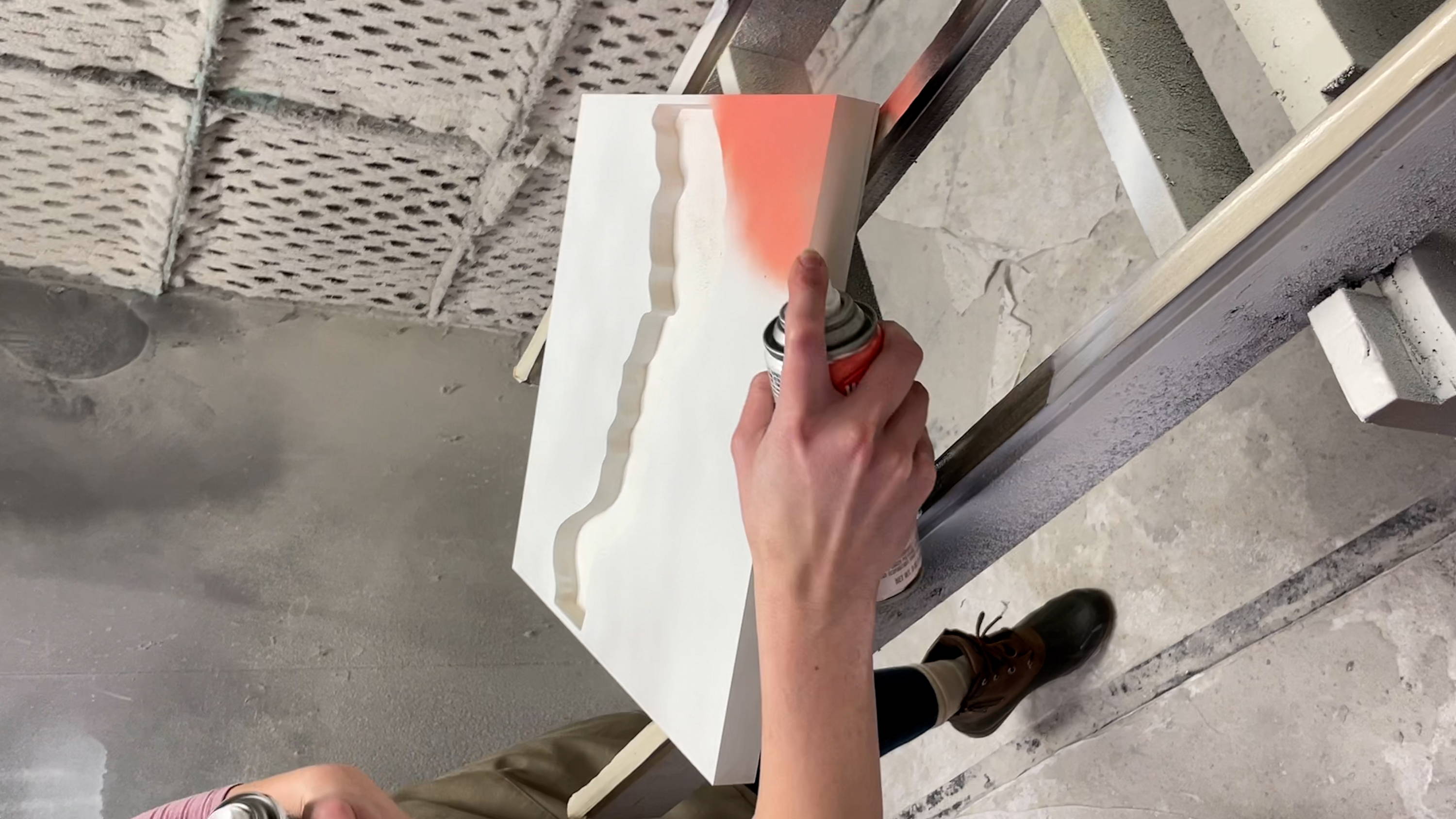 ---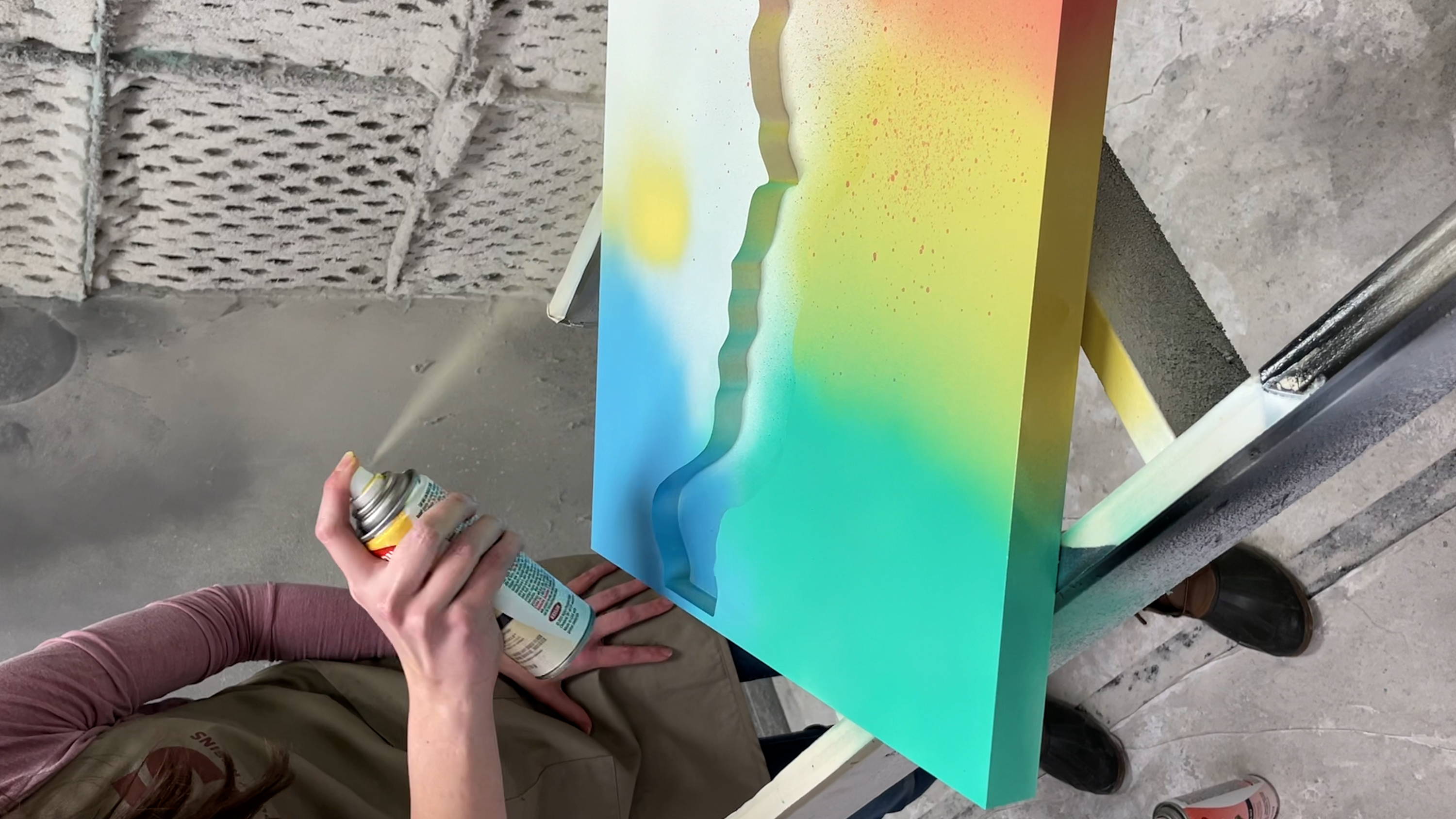 ---
Step 2: Sealing the panel with epoxy resin
For the first epoxy layer, I wanted to use a system with a quicker working time so that I could complete more steps in a single day. I chose MAS Table Top Pro epoxy! This two-part epoxy is an easy-to-use tabletop finish that is a maker's dream medium! It's compatible with color pigments, alcohol ink, acrylic paints, and more! This system has a 30-minute working time and can be recoated in about 2-4 hours after your pour.
When applying the epoxy, make sure to cover the entire surface, river portion, and sides of the piece. Don't forget to pop any of the bubbles with a torch. Sealing the paint and panel with epoxy resin will help to create a water-resistant surface which is needed for a future step.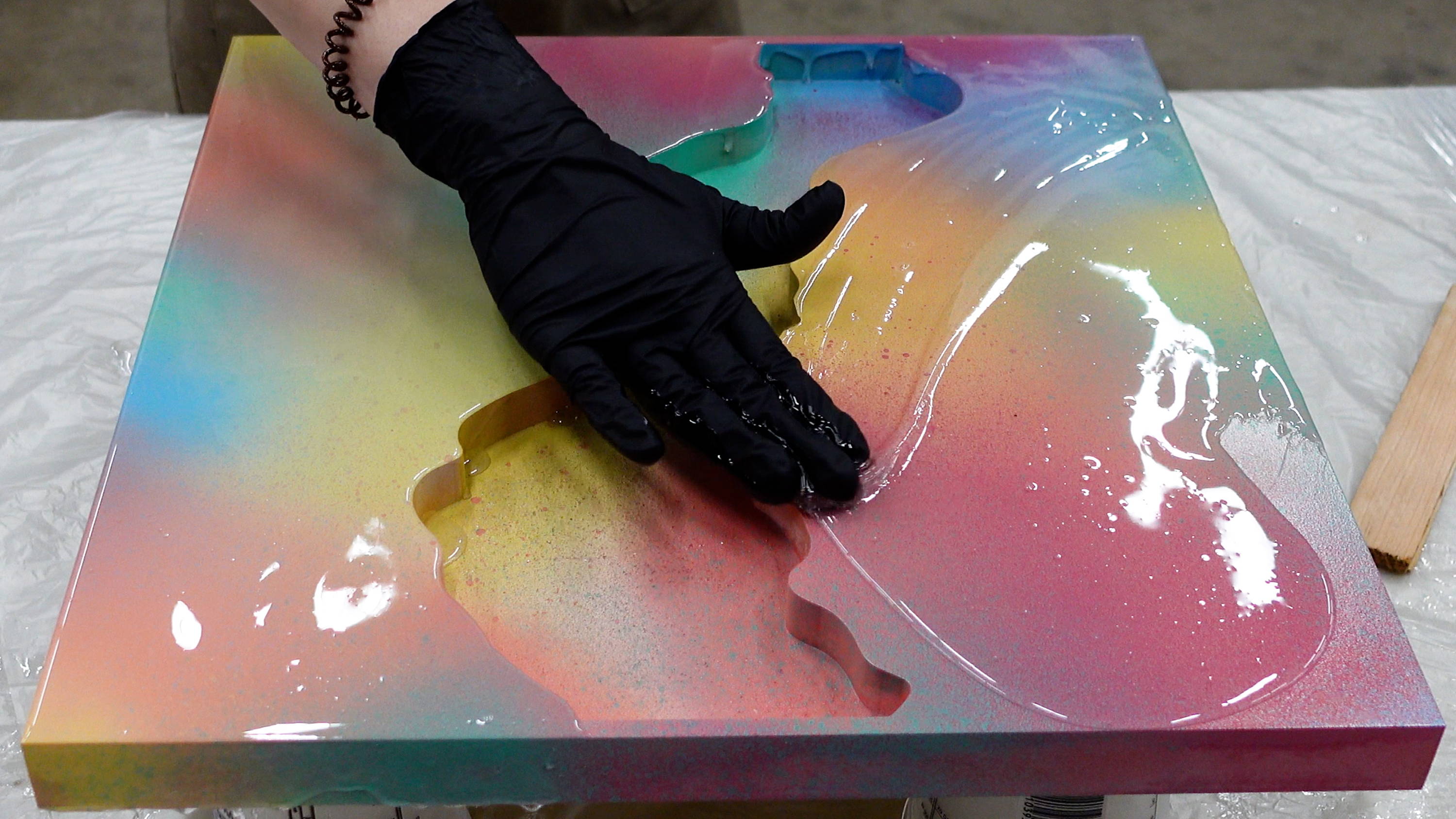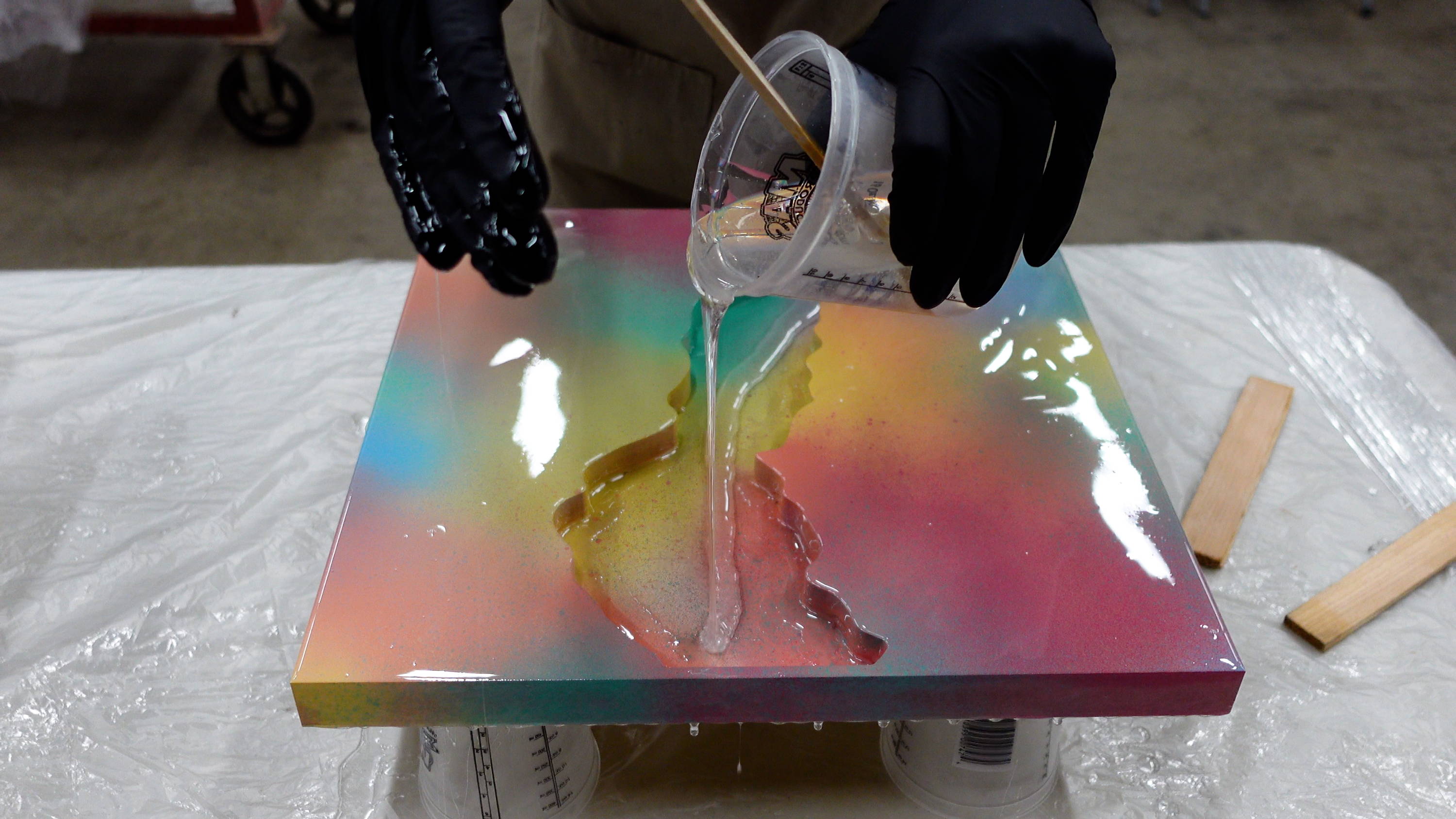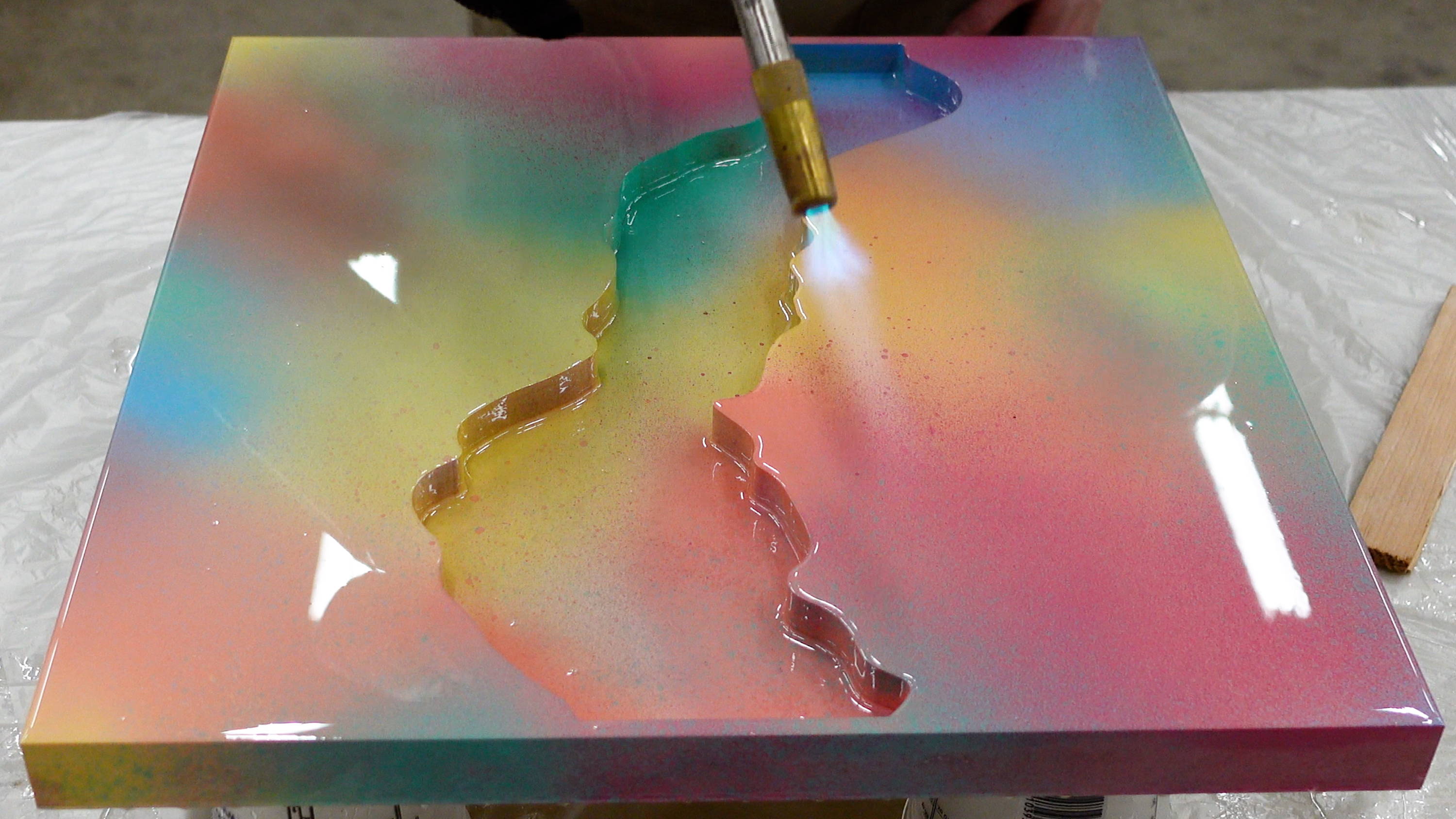 Step 3: Masking the river portion
Once the epoxy is fully cured, use your favorite brand of painter's tape to mask off the middle river portion of the panel. For the design I had in mind, I didn't want any of the Dawn Effect texture in the river but rather only on the top flat surface of the panel. If you don't mind having texture in the river, or if you will be using an opaque colored epoxy for the river, you can skip this step.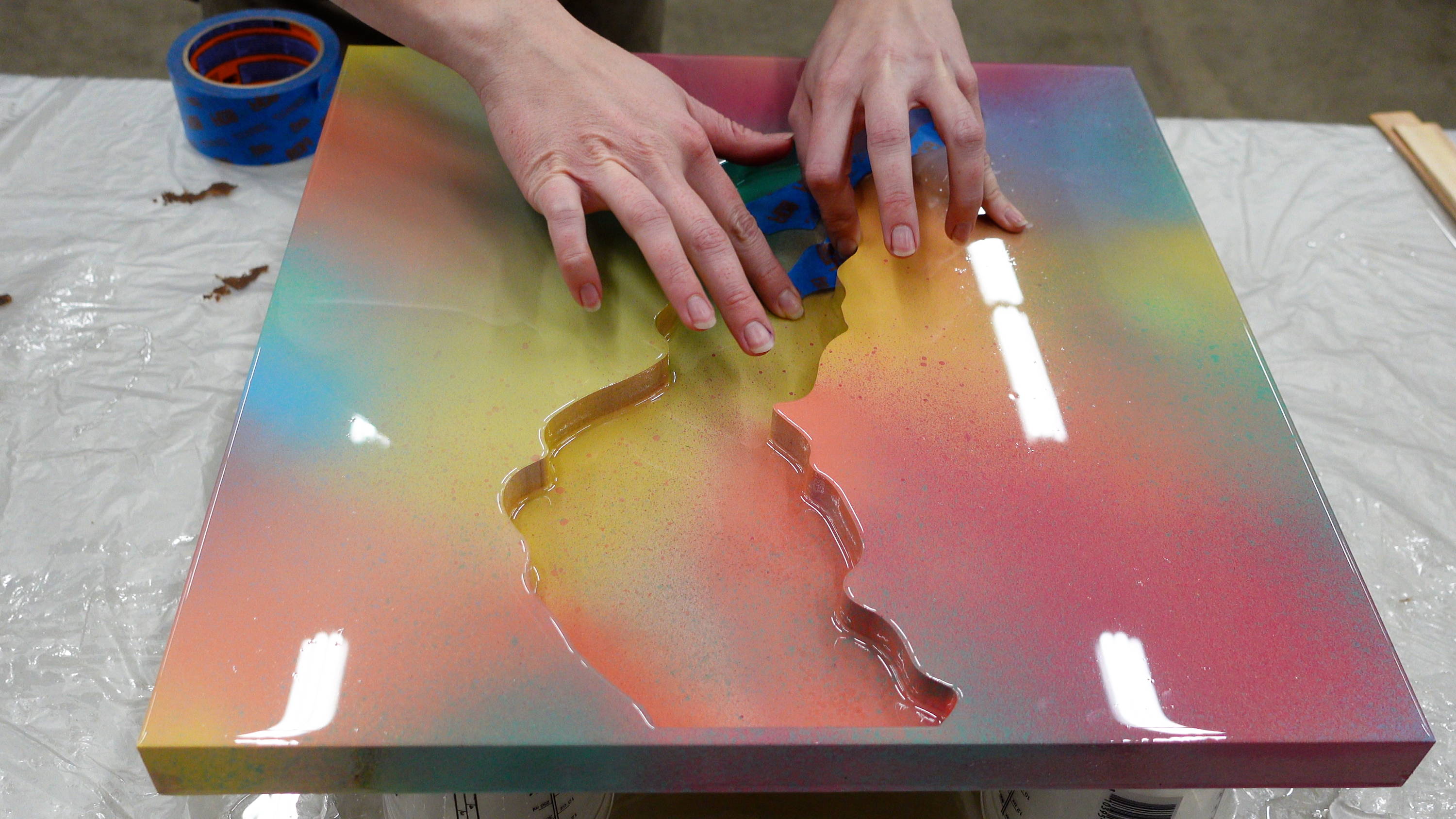 ---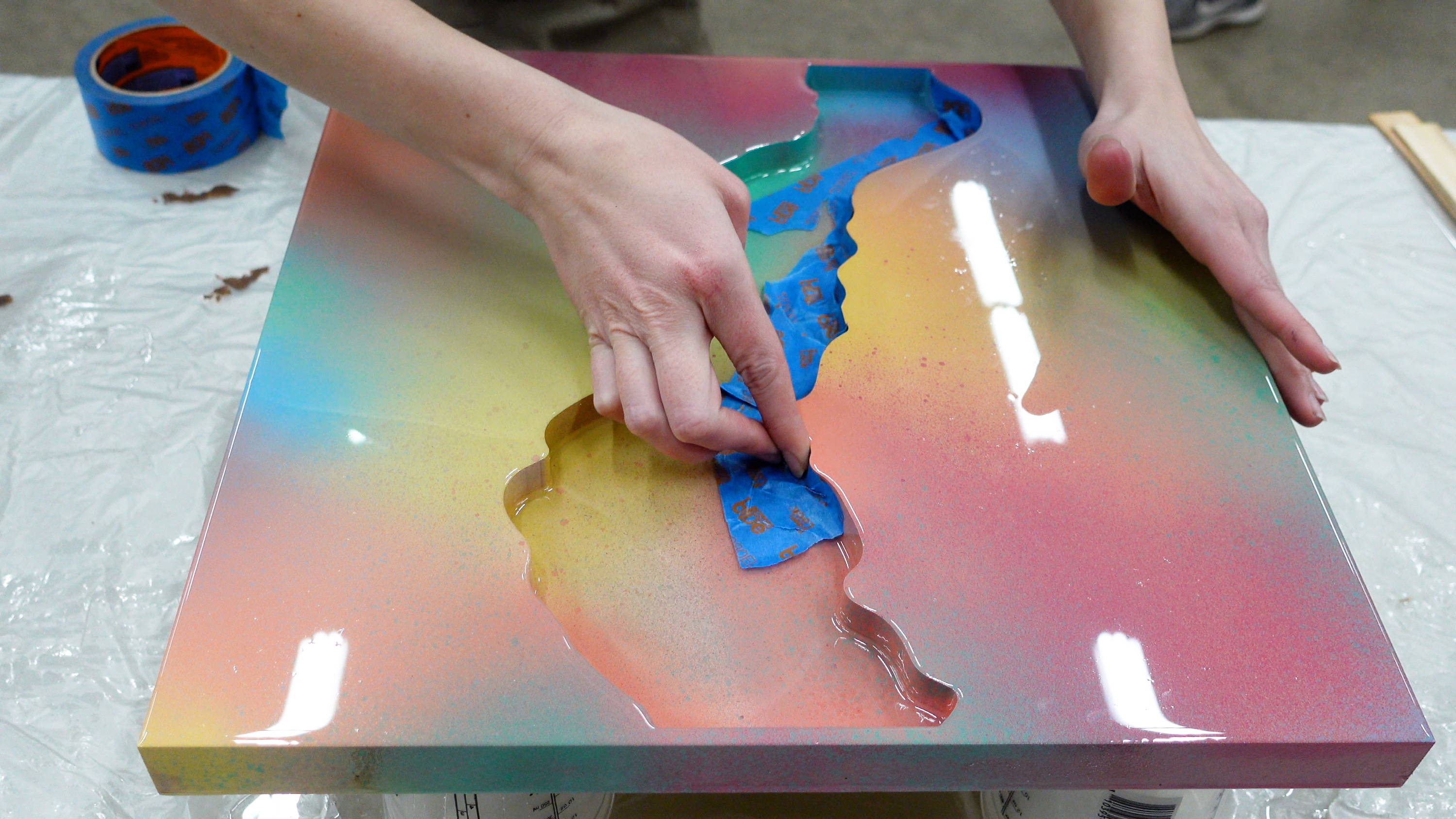 ---
Step 4: Creating the Dawn Effect
Using Dawn Powerwash dish spray, spray the foam soap all over the cured epoxy covered panel. Right after spraying the soap, use a gold metallic spray paint to cover the entire surface of the soapy panel. Wash off the soap and excess spray paint with water and tip off any remaining water that has pooled in the river portion of the piece.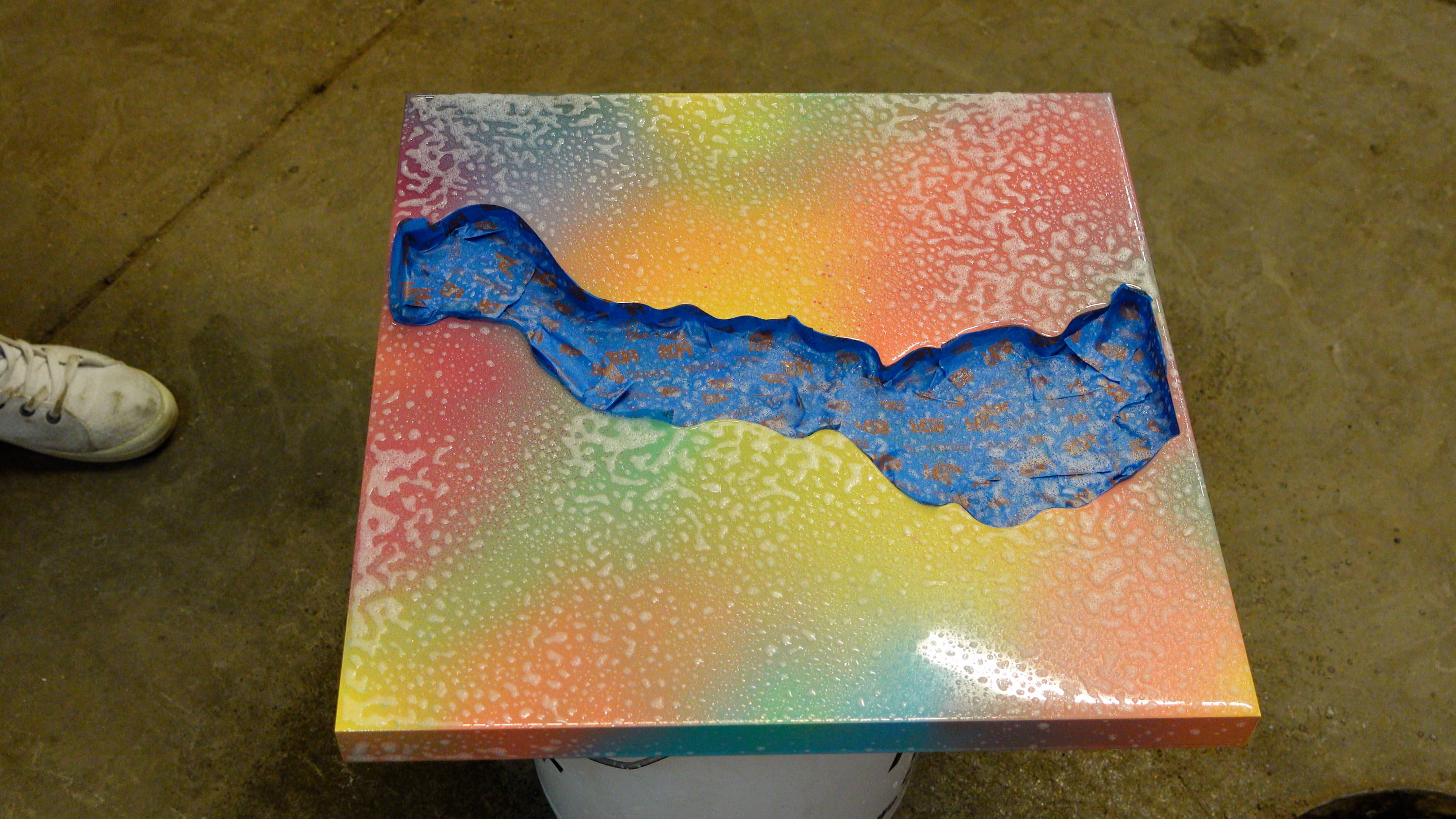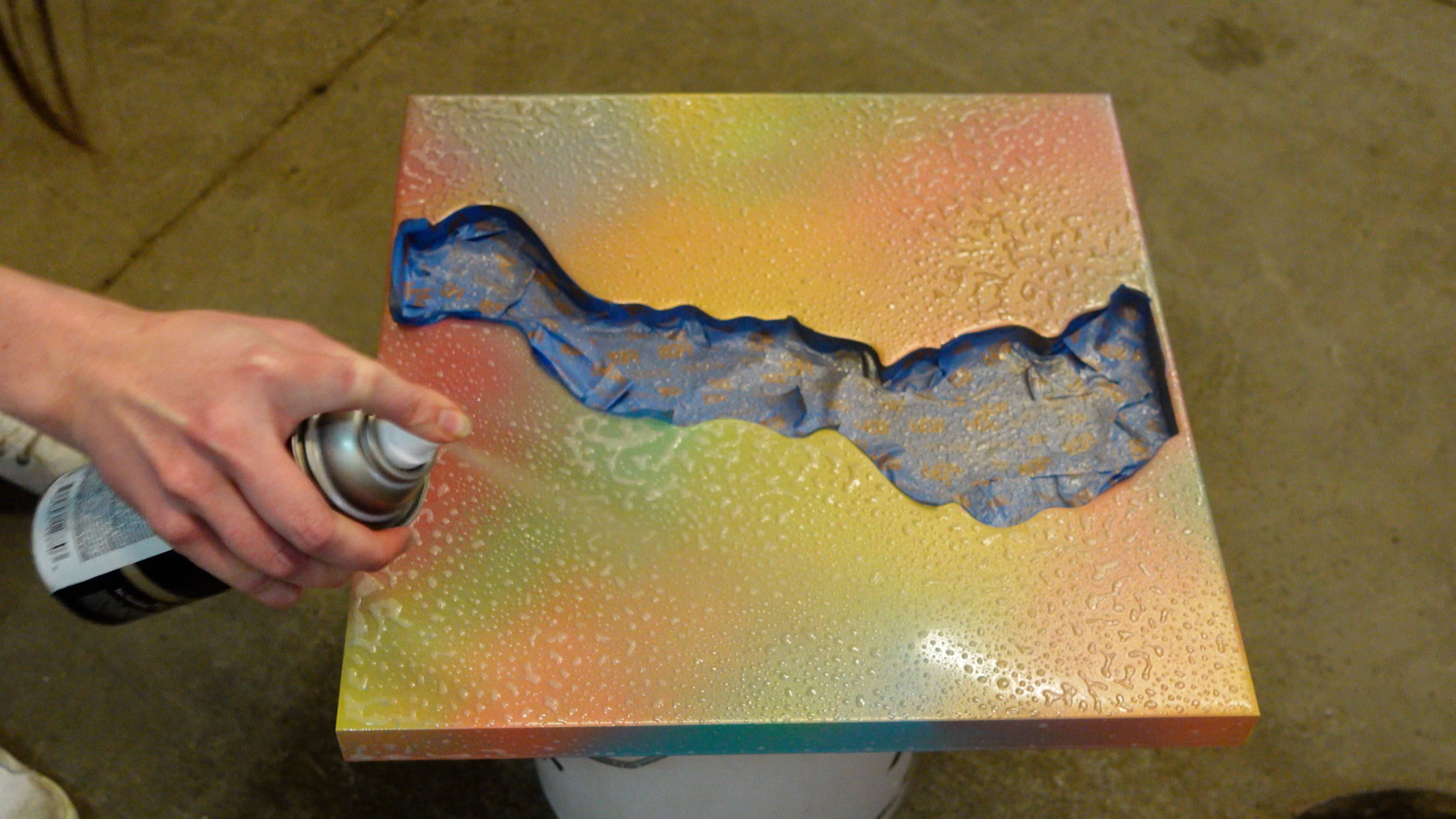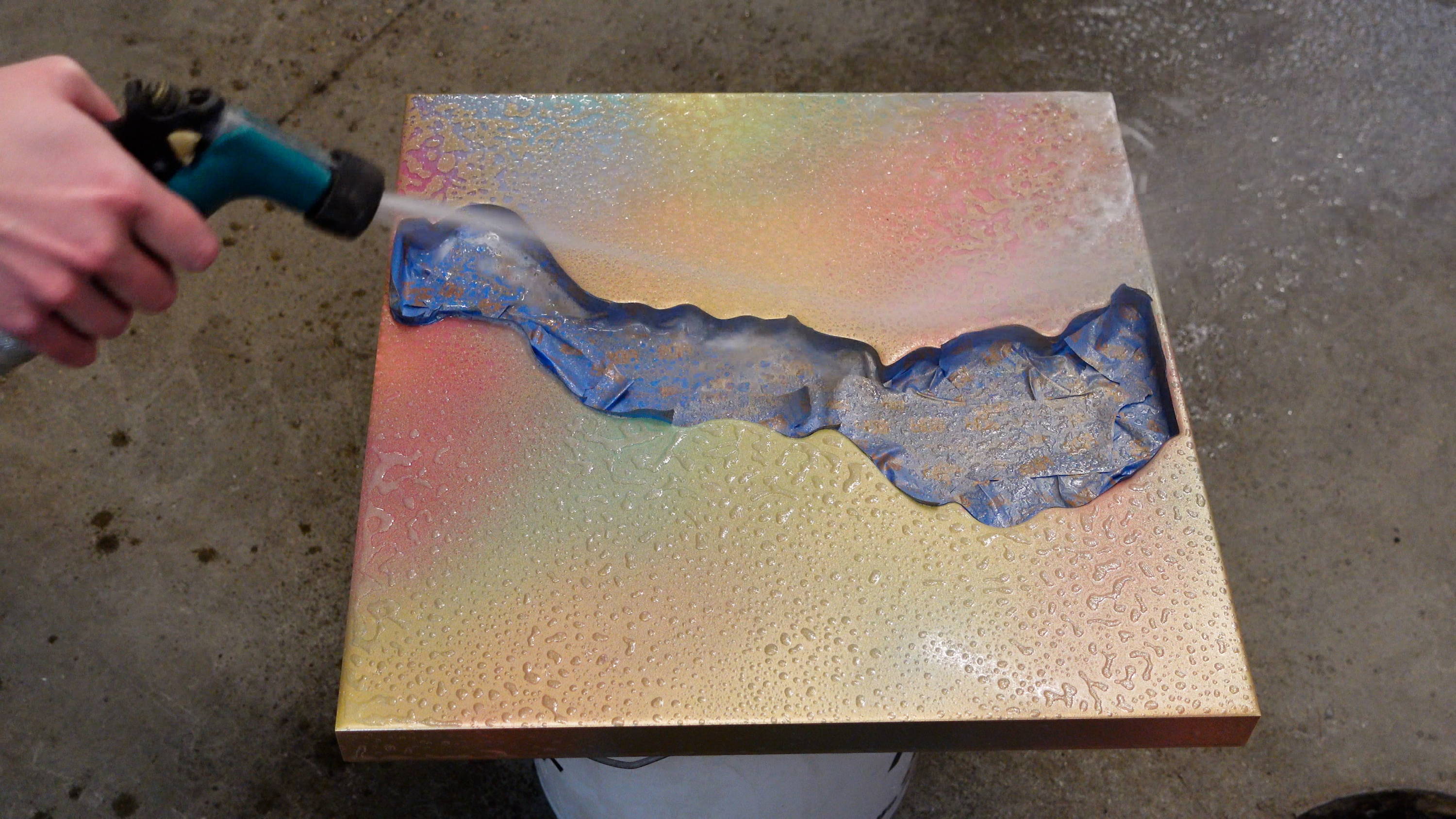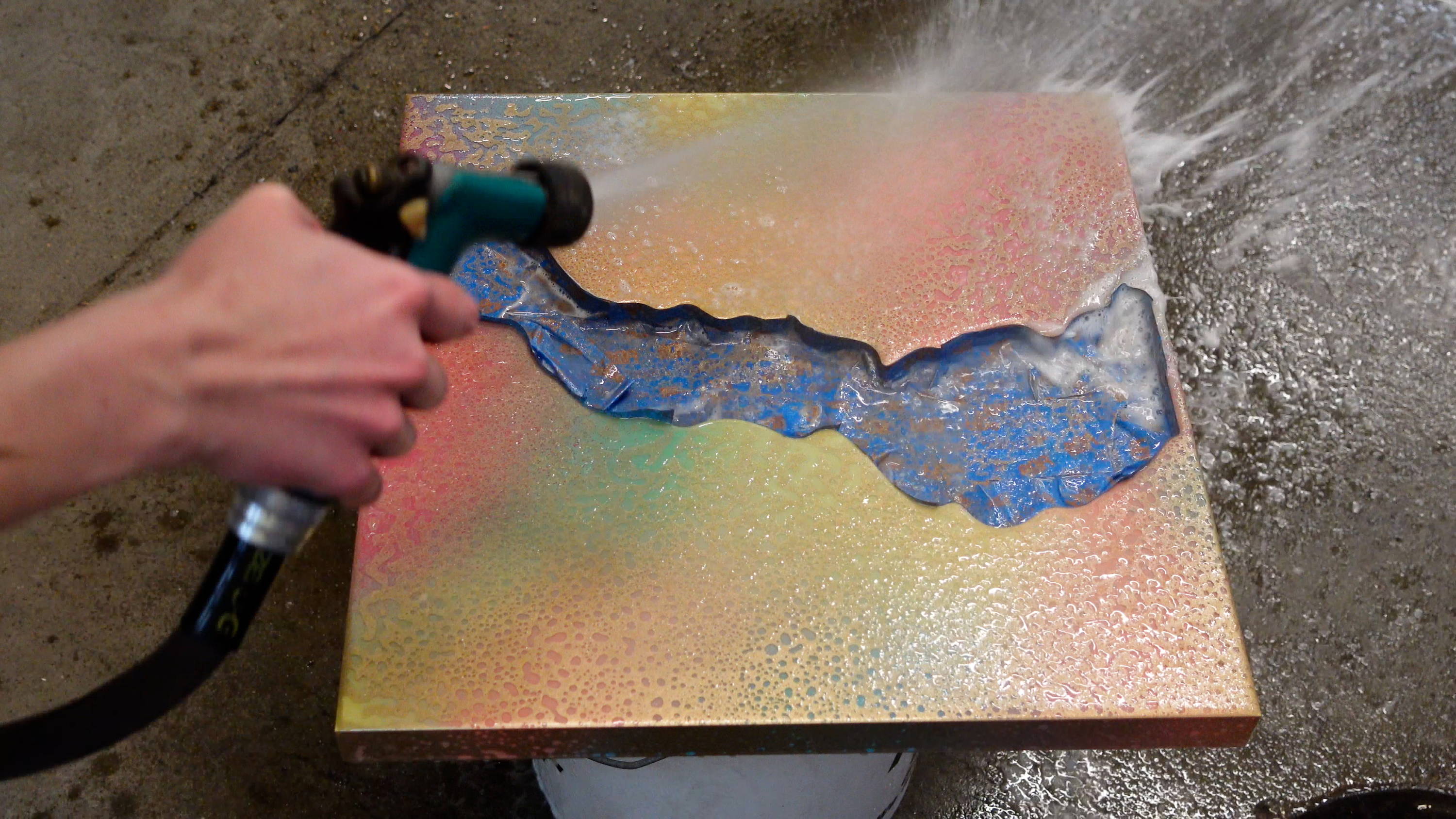 Step 5: Pouring the epoxy river
Now that you have the awesome Dawn Effect texture painted on your panel, it's time to remove the gross, soggy painter's tape that was protecting the river. Once the tape has been peeled away, dry the area with a paper towel or rag. Make sure the piece is COMPLETELY dry before moving on to the next step.
Since I wanted to pour the river in one layer, I needed to use an epoxy system that could handle being poured a bit deeper. I chose to use MAS Epoxies' Deep Pour! This 3:1 system can be poured up to an inch deep in a 60°F-75°F workspace. To give the river a bit of sparkle and magic, I added just a touch of teal mica powder to tint the epoxy. Make sure to pop any bubbles with a torch. Once poured, sit back and relax while the river fully cures (in my case, it took 24 hours to fully cure).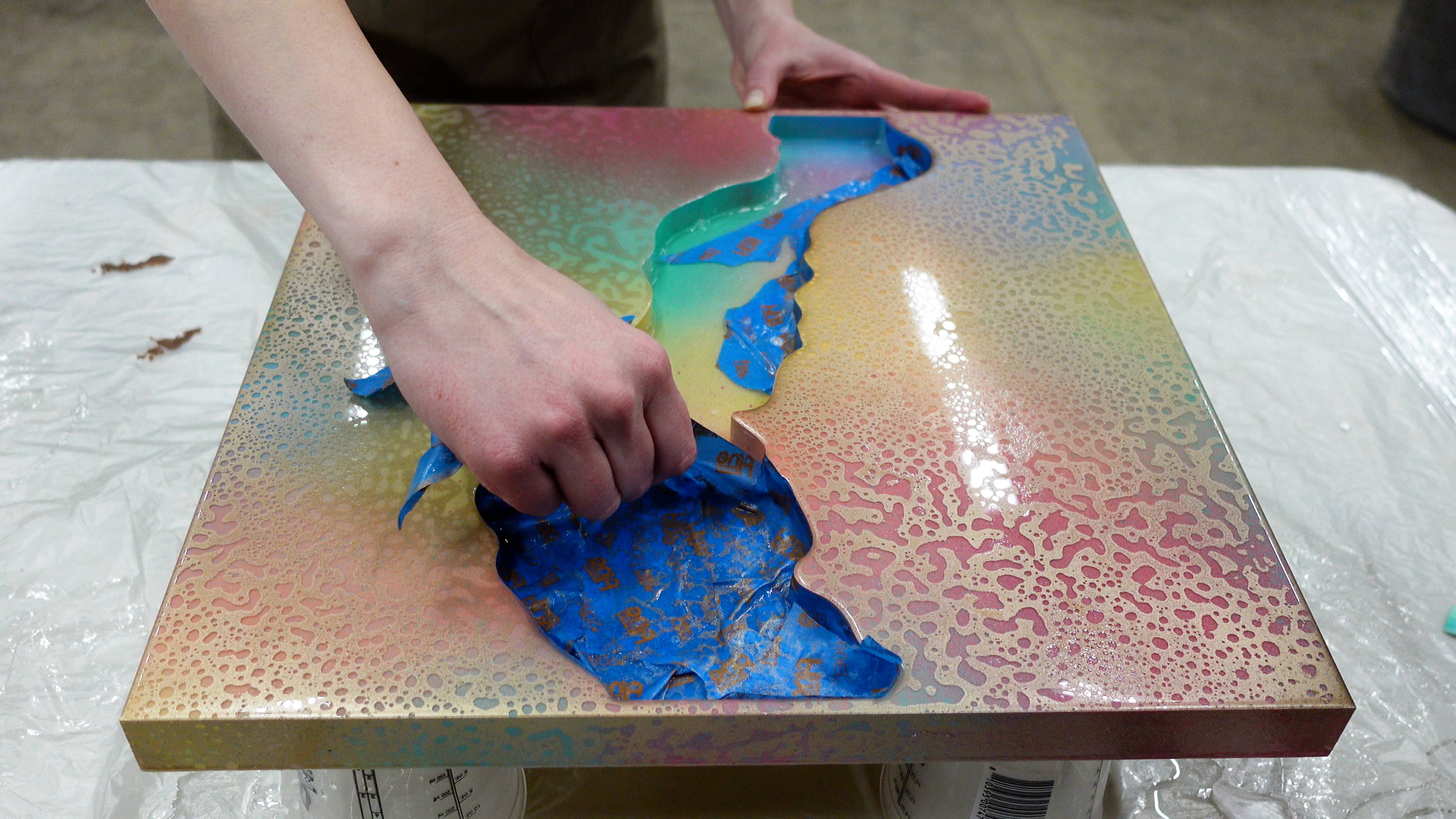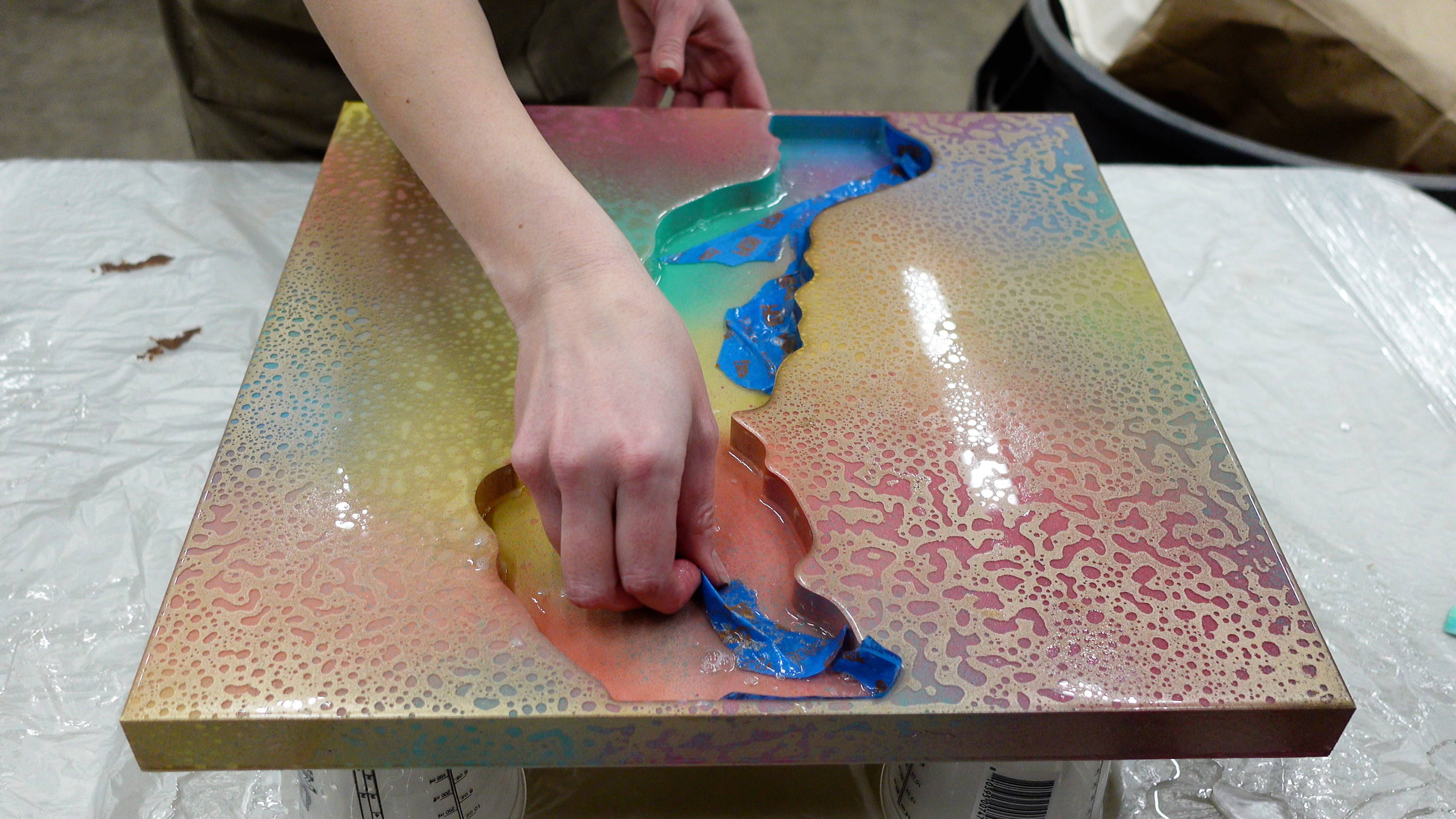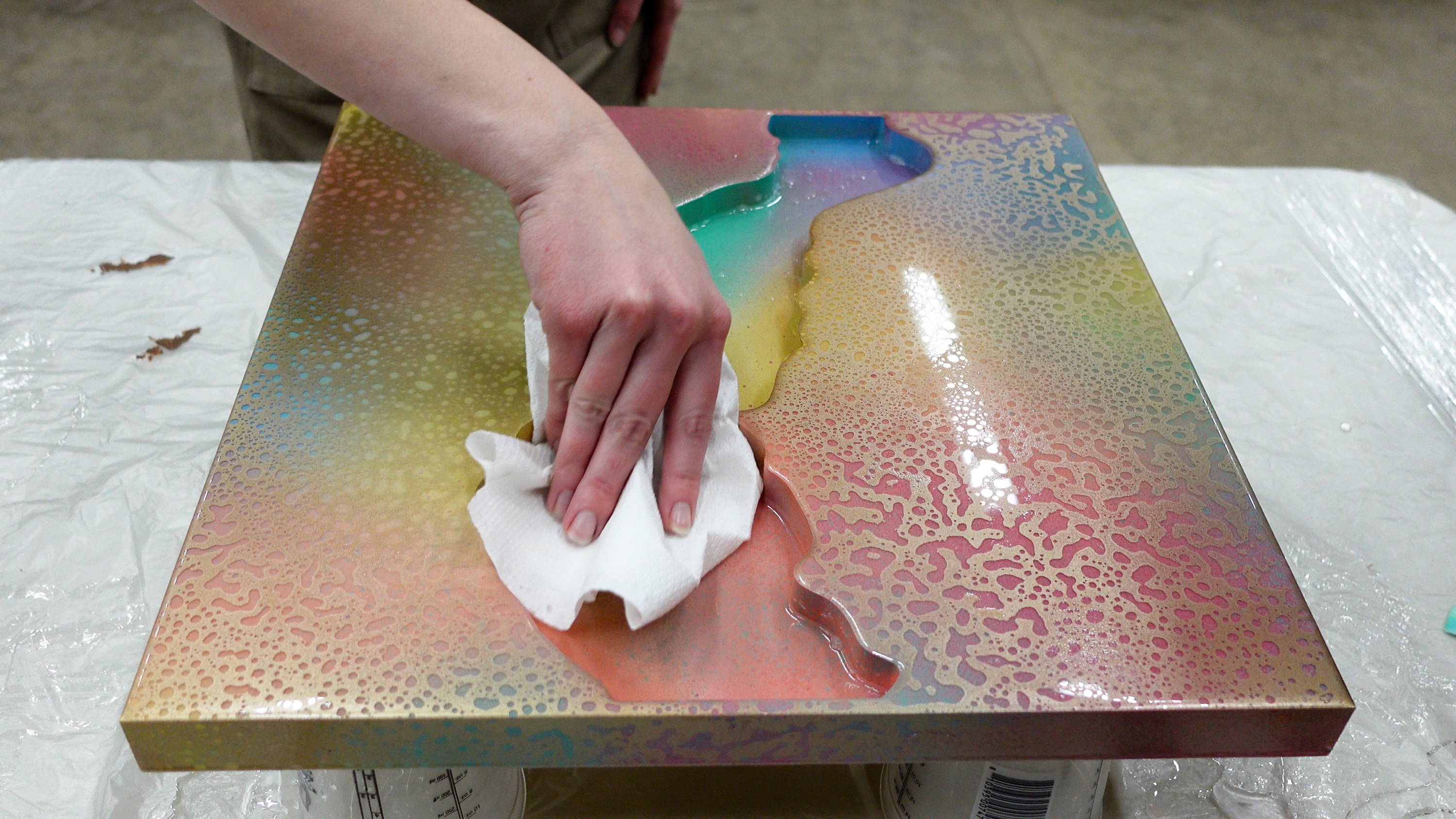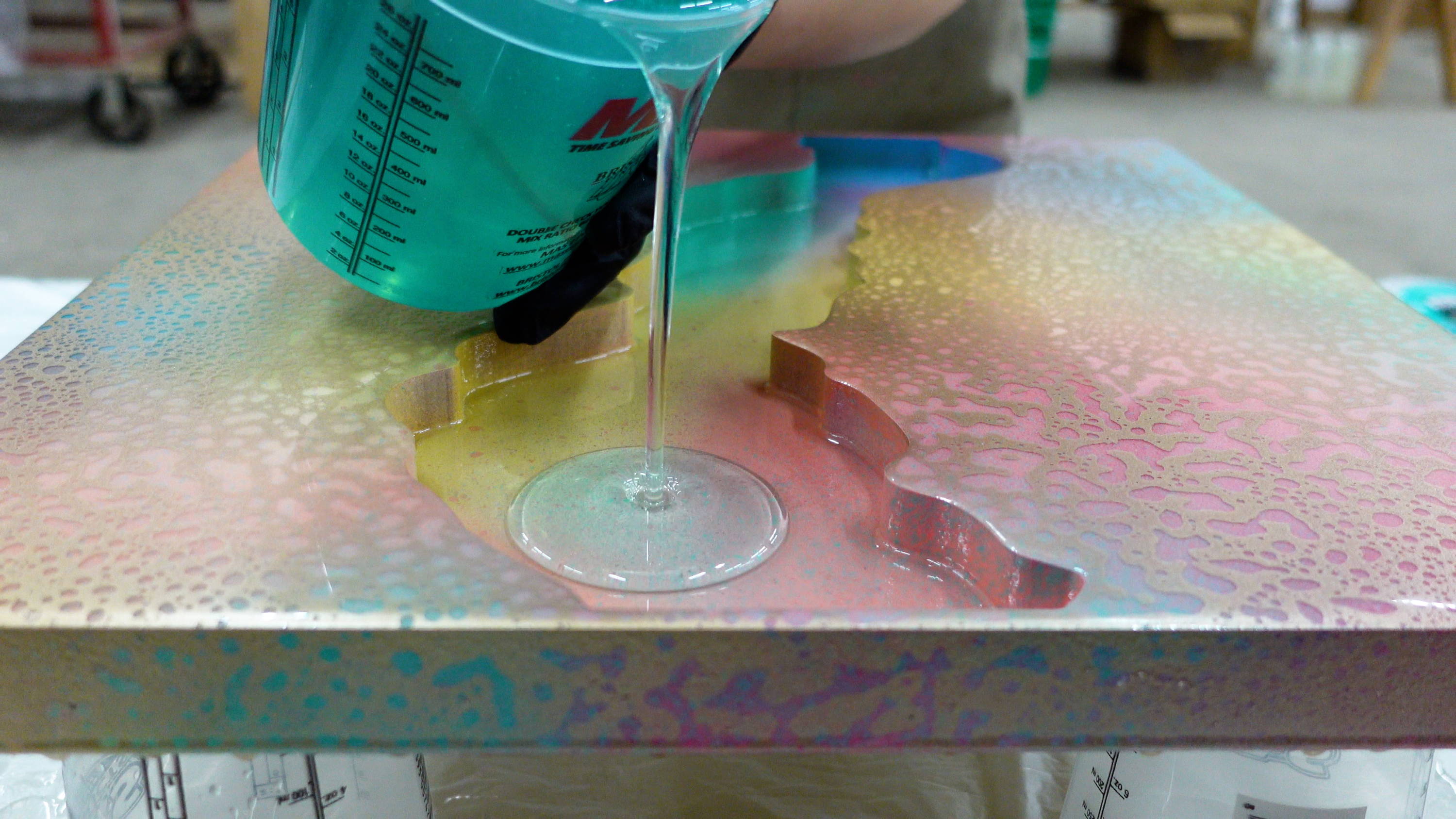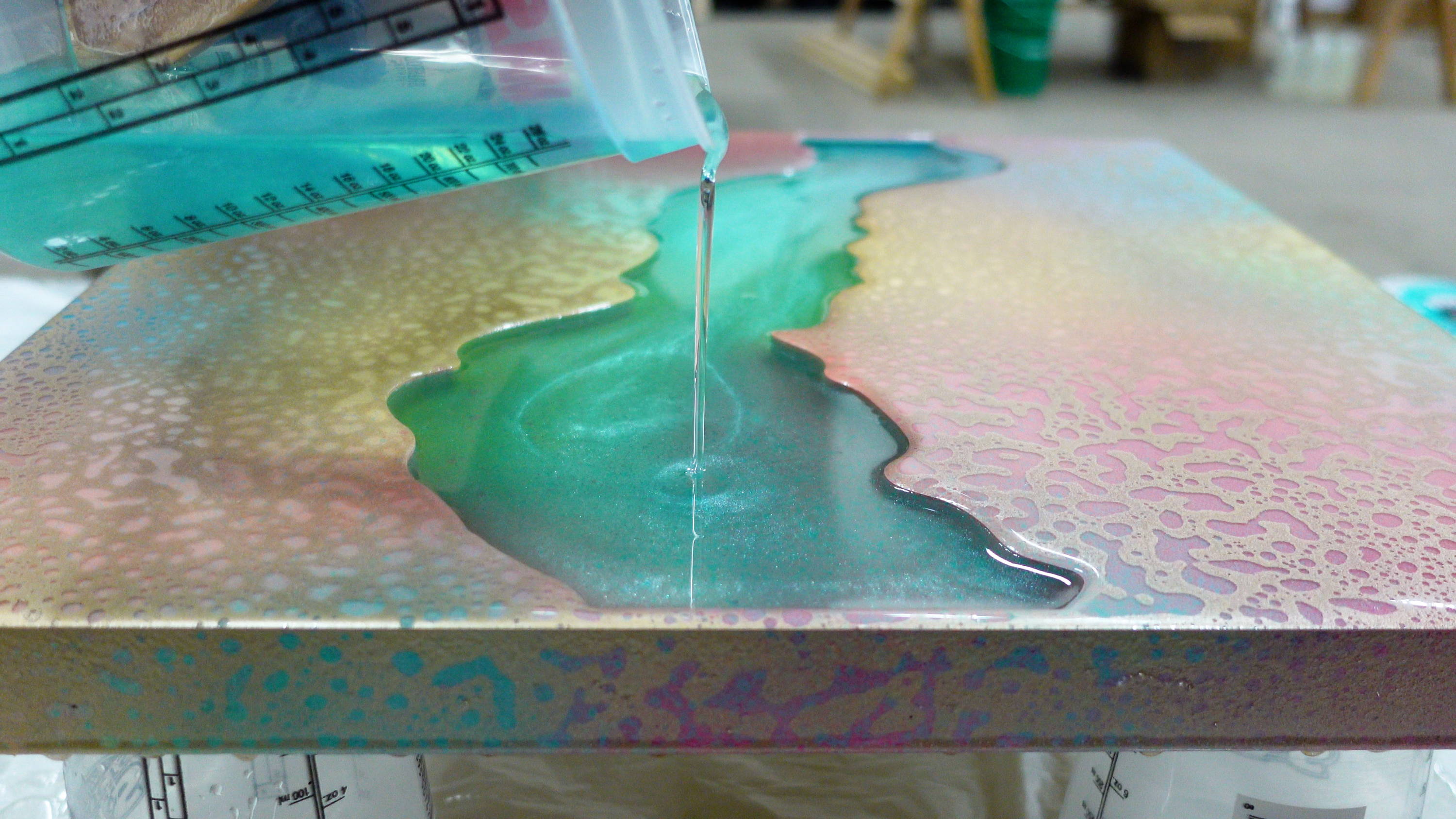 Step 6: The finishing touches
To finish off the piece, use MAS Epoxies' Table Top Pro to do a final flood coat. After the last coat has cured, you can flip the panel over and sand the epoxy resin drips off the back of the piece. If you would like to turn the panel into a table, now is the time to screw in a set of hairpin legs! Don't forget to sign your work of art!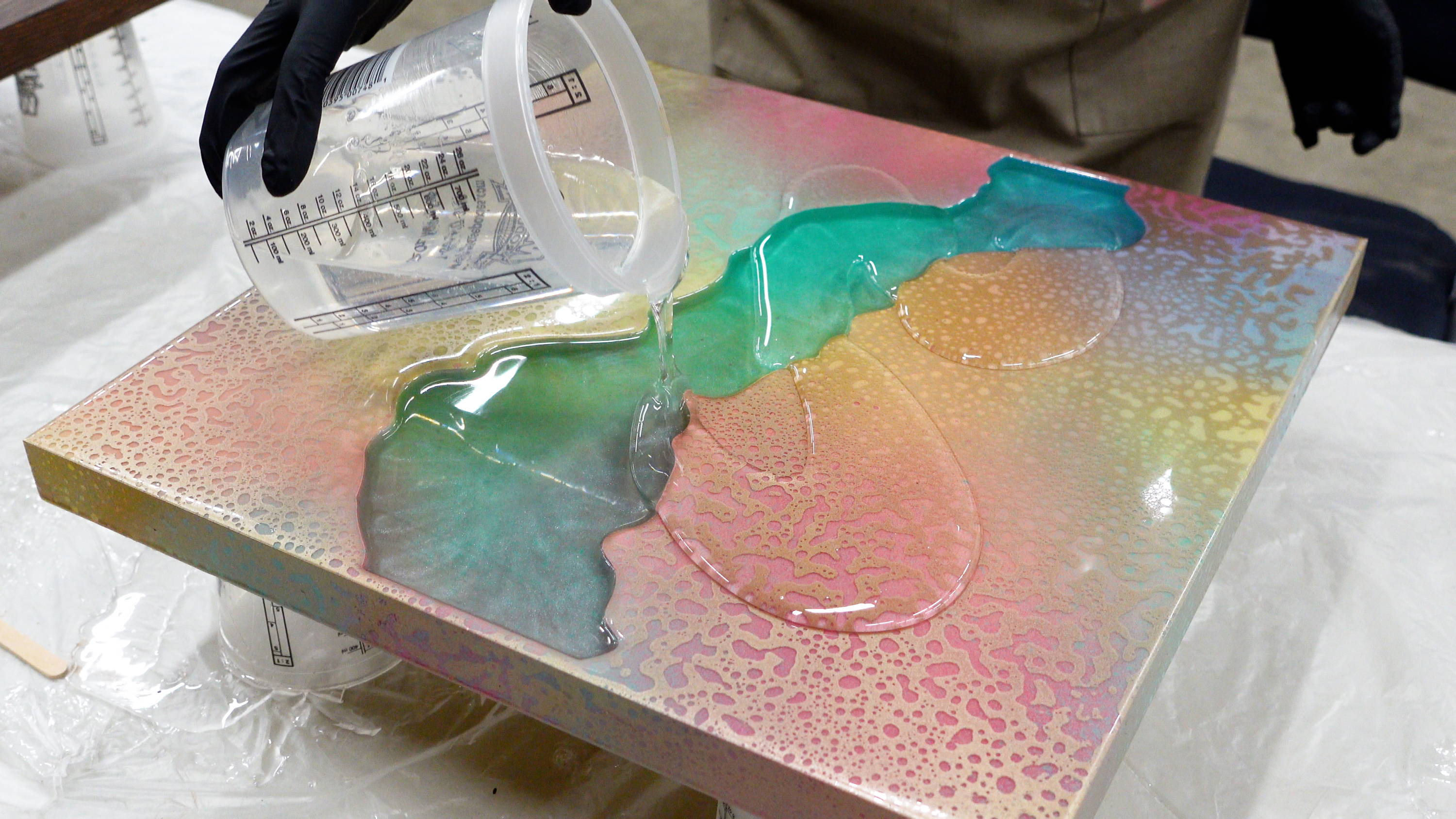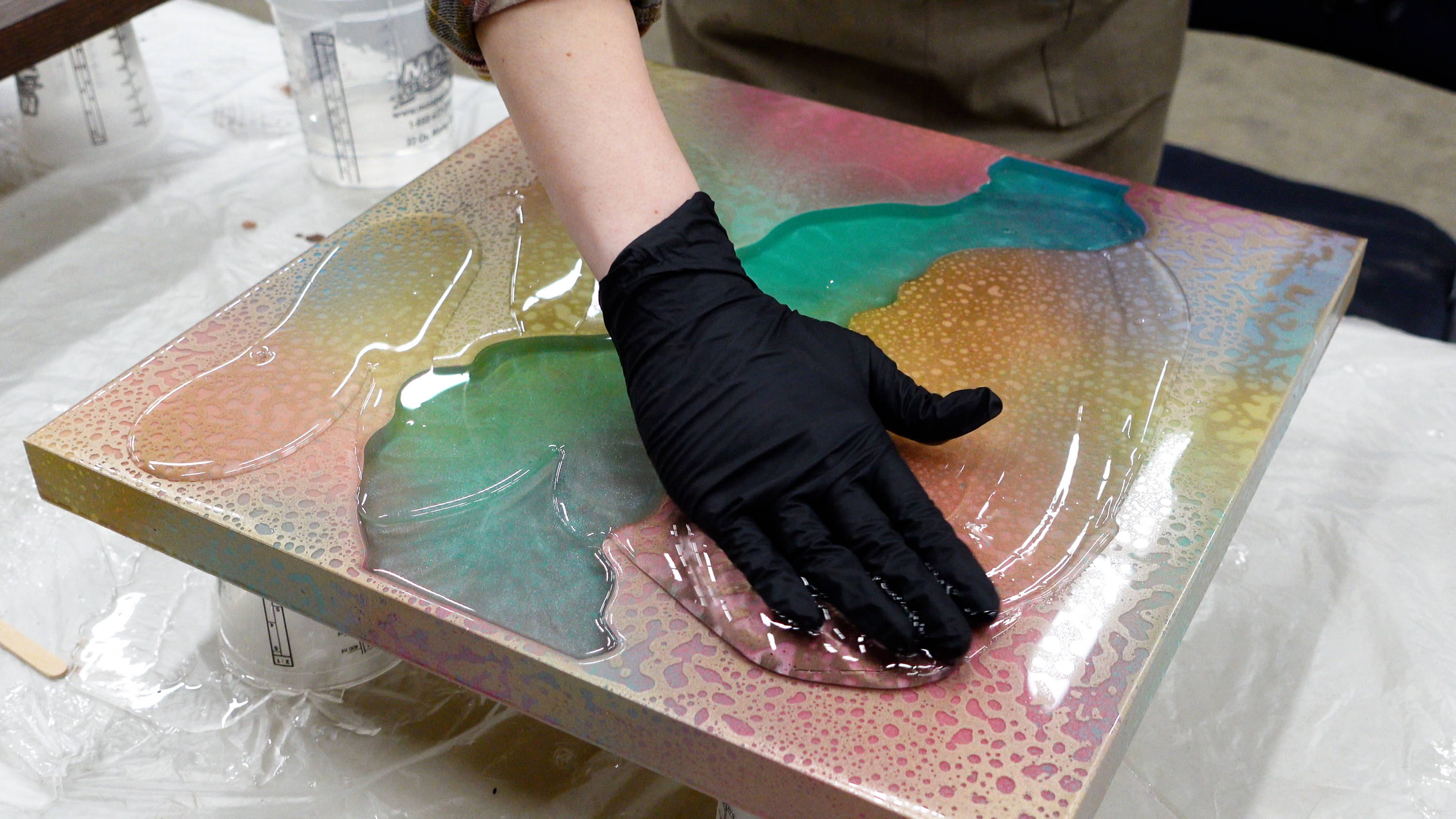 ---
After following these 6 easy steps, you will be left with a one-of-a-kind art piece that will be a fun piece of home décor! If you felt inspired by this tutorial to create a piece of your own, please post and tag @masepoxies on Instagram for a chance to be featured! We love seeing you explore new ways to resin! Stay creative and happy crafting!
---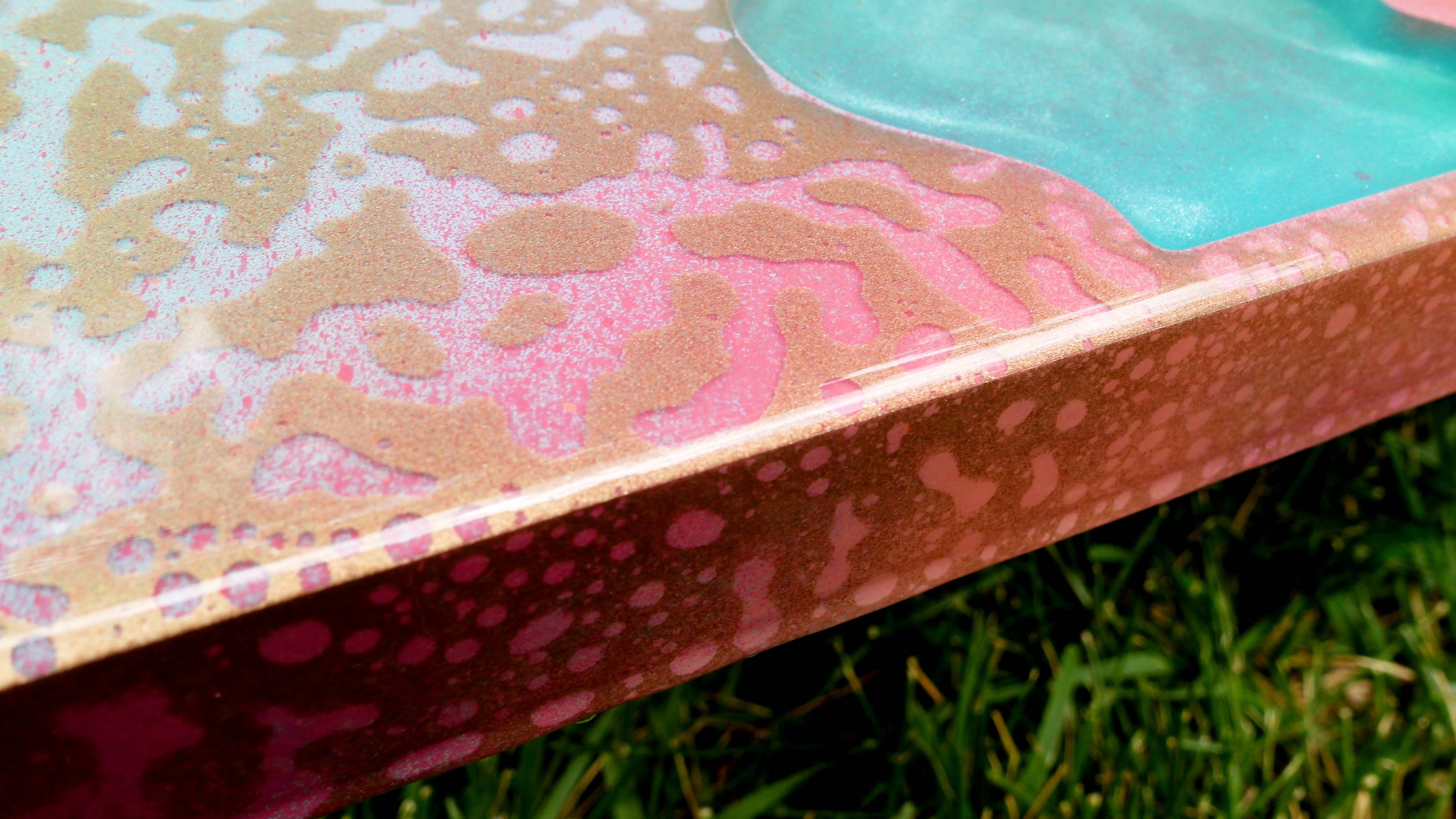 ---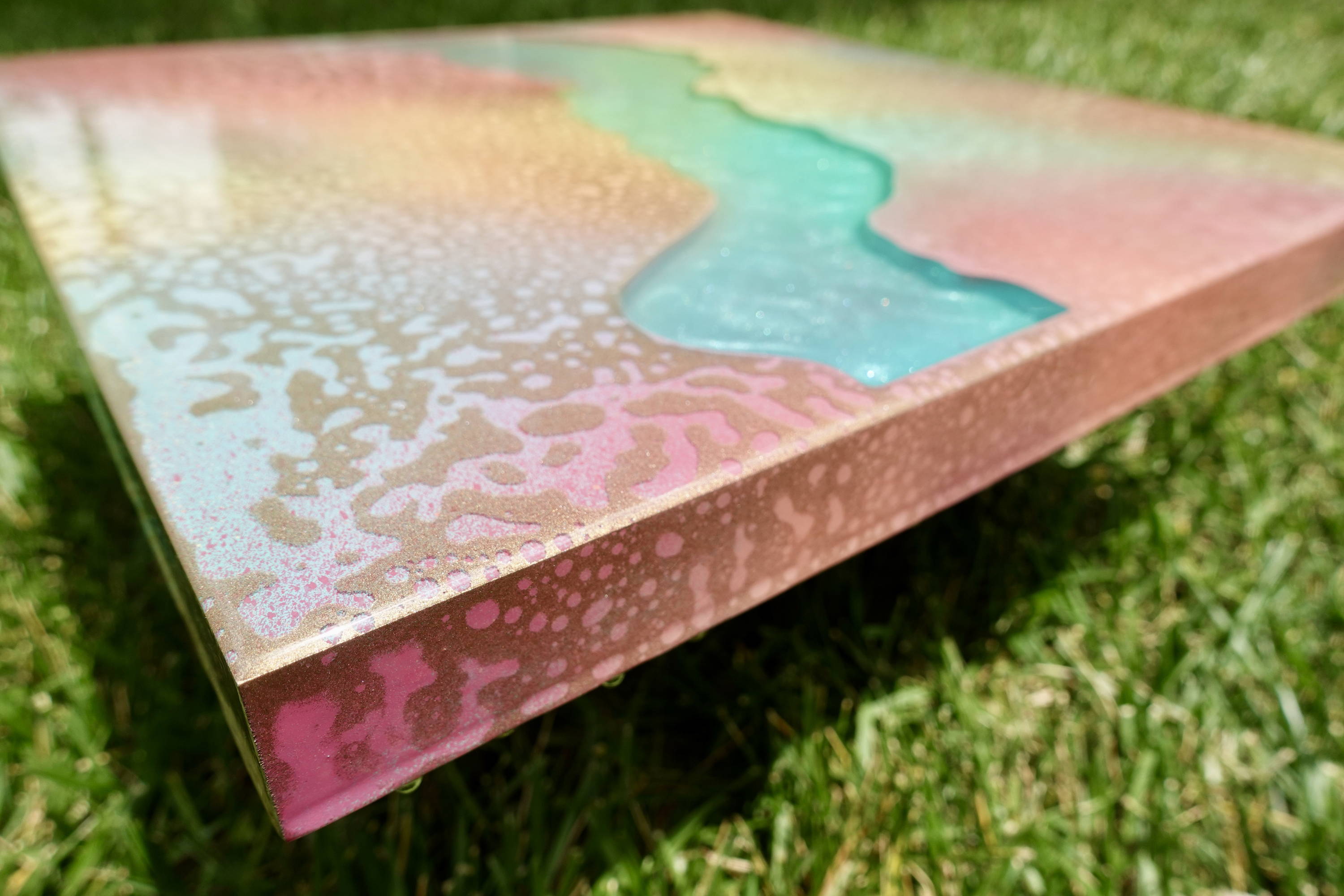 ---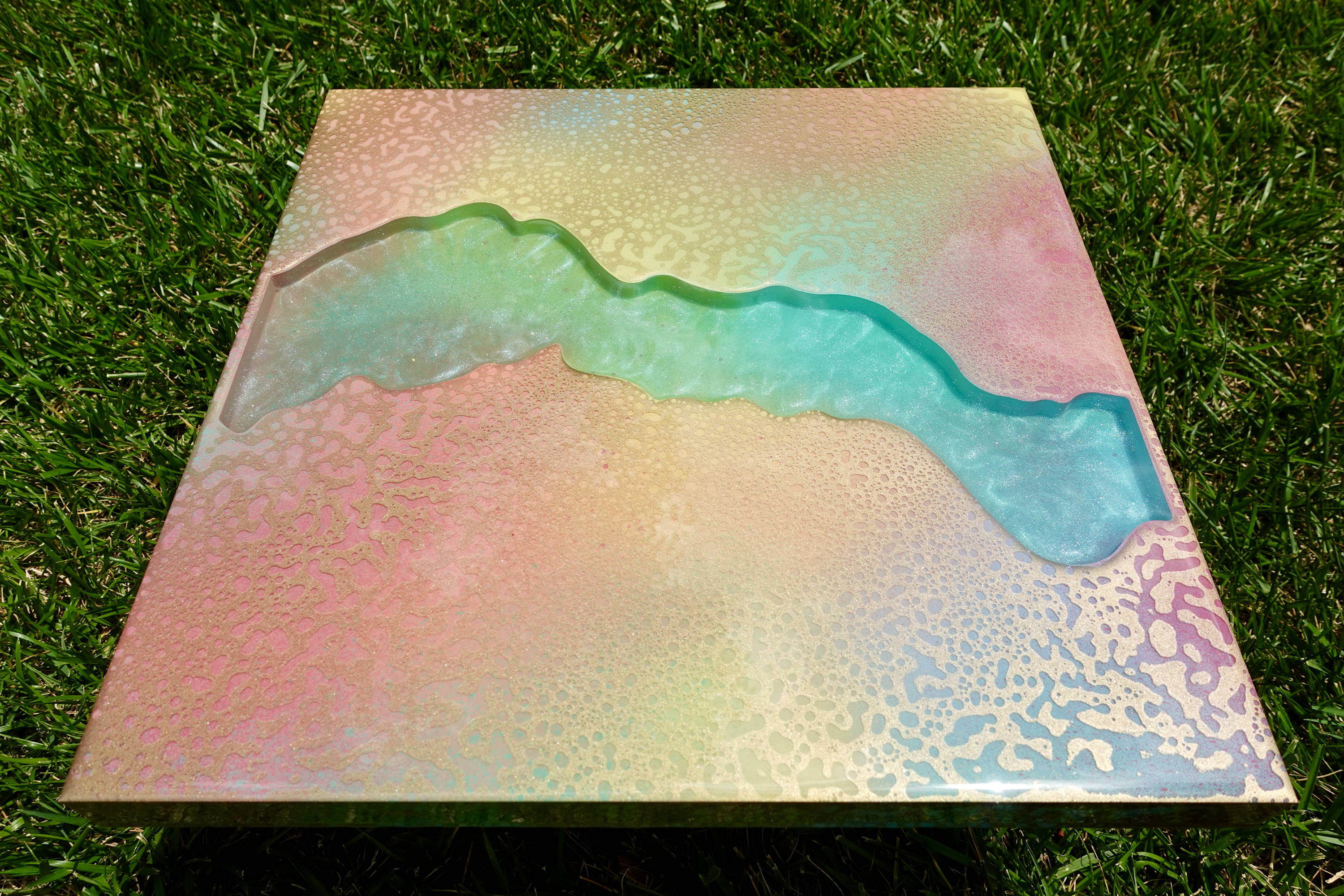 ---
---
Thank you for following along on this fun, rainbow adventure!