Epoxy and Wood Bear Carving with Blake McFarland
Jan 27th 2022
Learn How to Create an Epoxy Resin Sculpture!
---
"I poured 9 gallons of epoxy resin along with various species of wood and power carved it into a bear sculpture. I first milled walnut, mahogany, white oak, poplar, redwood, and pine. I used various woodworking tools to get them all identical in thickness. I then used MAS Epoxies 'Deep pour X' to pour all 9 gallons of resin over the course of 3 weeks. Once cured, I carved the massive block by using a chainsaw, angle grinder, die grinder and various sanding tools. There were a lot of challenges along the way, but I am beyond pumped with how this sculpture turned out!" -Blake McFarland
---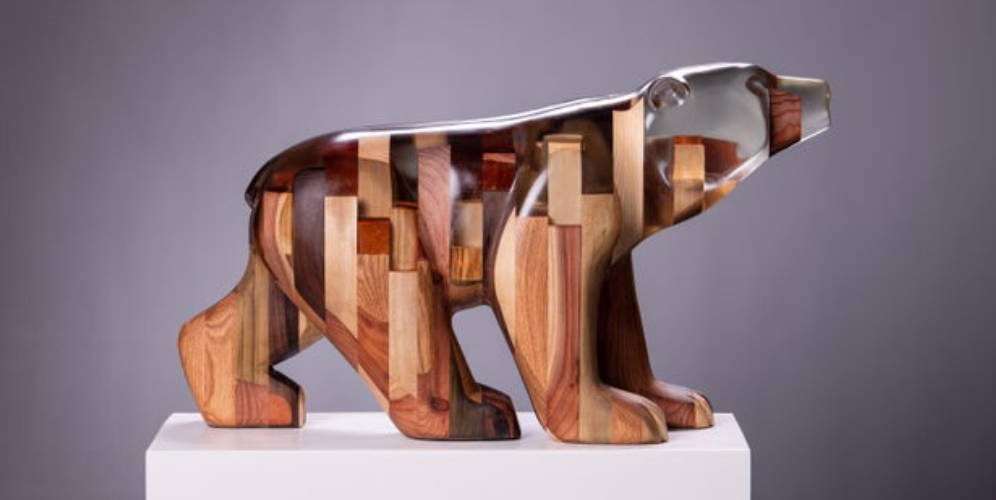 ---
Here's a little more about Blake!
---
I am a retired professional baseball player who now creates unique sculptures full time using a variety of materials including recycled tires, wood, epoxy, metal and more. I love working with new materials and always challenging myself to learn something new. I have created sculptures for companies and venues like The Golden State Warriors, Goodyear tires, Lululemon, the Milwaukee Bucks and more. I was also recently a contestant on season 3 of NBC's "Making It" where I met some amazing makers and friends. I am excited for what the future holds and looking forward to learning new things along the way.
---
---
Use Code: BLAKE for 10% Off + Free Shipping!
---
---
Check out Blake's full tutorial video!
---
---
---
I first milled up Walnut, Mahogany, White Oak, Redwood, Poplar and Pine by running them through the jointer to get one perfectly flat side. I then ran them all through the tables to make them the same height and thickness.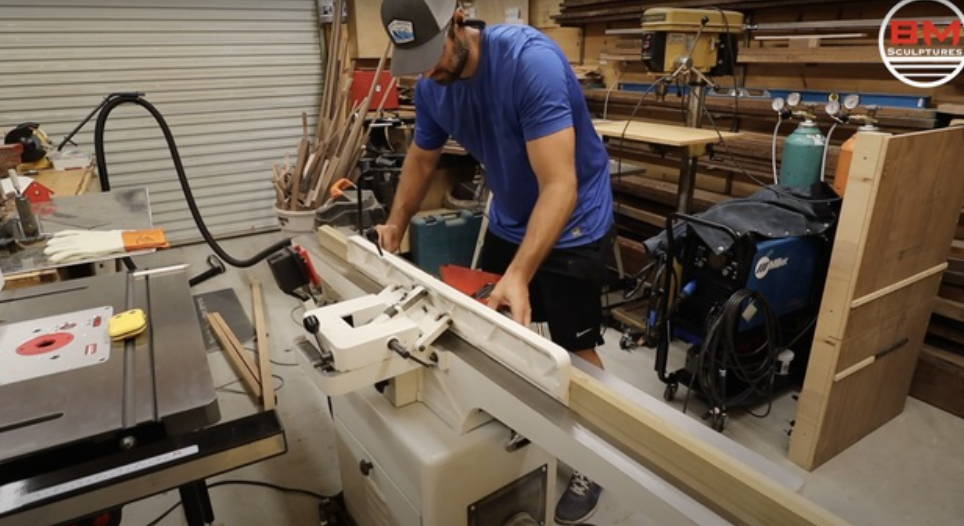 Step 2: Cut, Glue and Plane
I varied the different species of wood to get a random color pattern. I then cut them all at different lengths. I glued up 10 boards together because that is the thickness of the bear. I had to glue up 20 different pieces in order to get the length of the bear. I then ran all 20 glued up pieces throughout the planer to make them perfectly flat.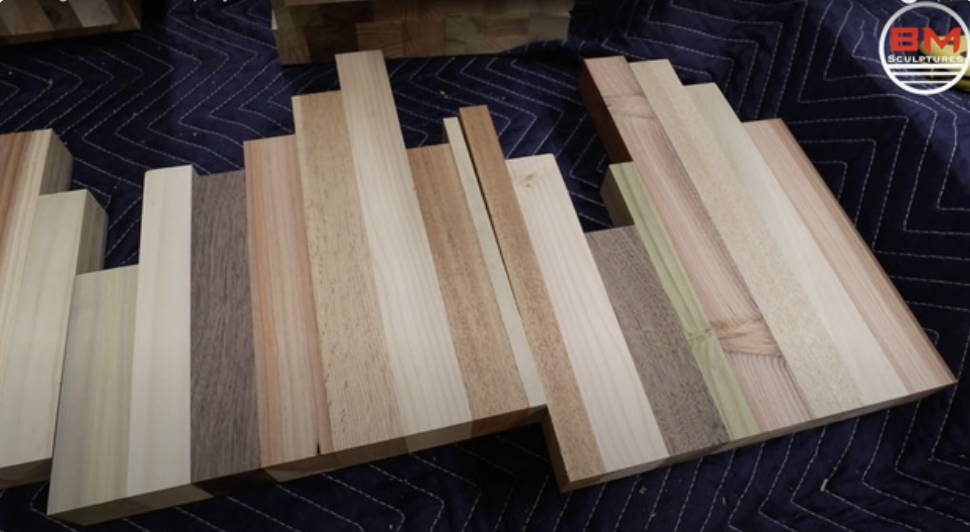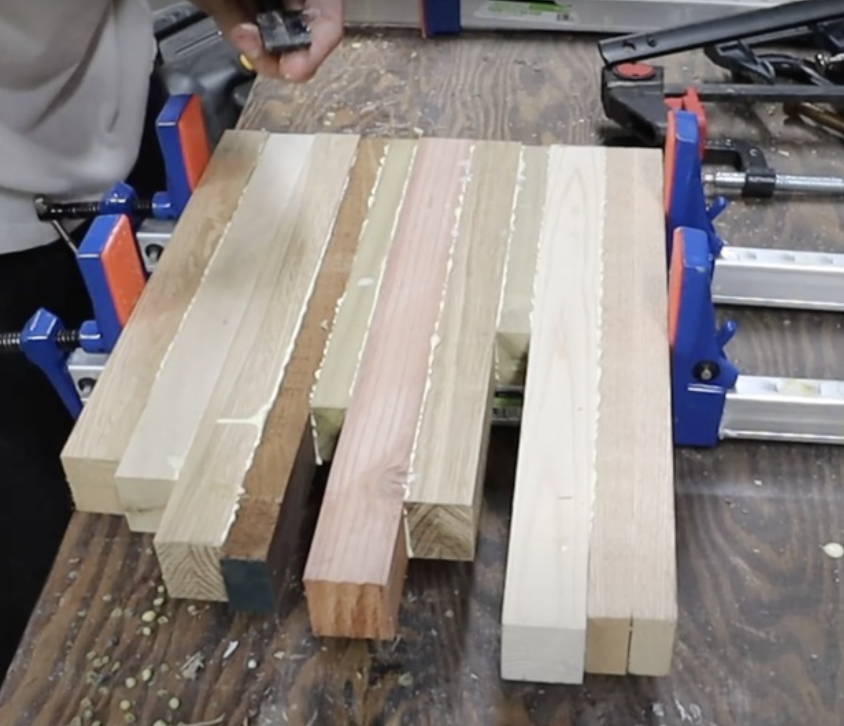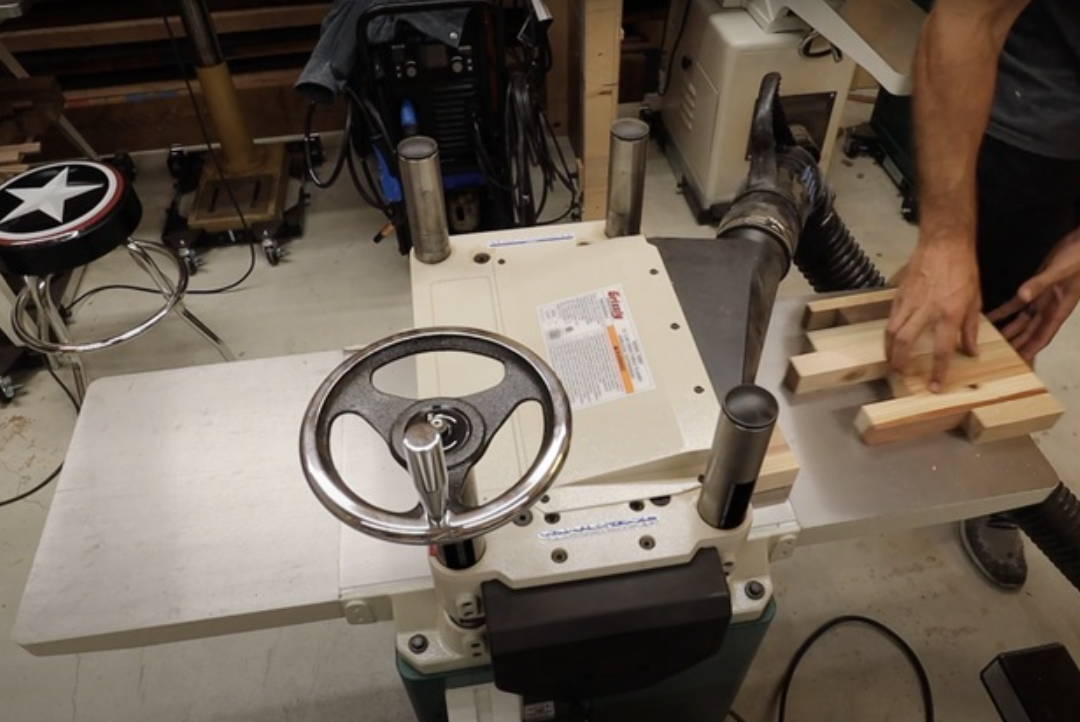 Step 3: Mold and Epoxy Pour
I created a melamine mold to fit the giant wooden piece. I used epoxy to laminate all 20 pieces of wood. I then used penetrating epoxy to seal all of the wood to prevent bubbles from forming. I poured 9 gallons of epoxy over the course of 2 weeks. I did 6 separate pours so the epoxy wouldn't get too hot and fracture. I also did the pour inside with a temperature of 73 degrees and a constant overhead fan to keep the heat down. This was a long process, but this would be unable to be poured in one shot, so it was the only way to accomplish a perfect pour of 9 gallons.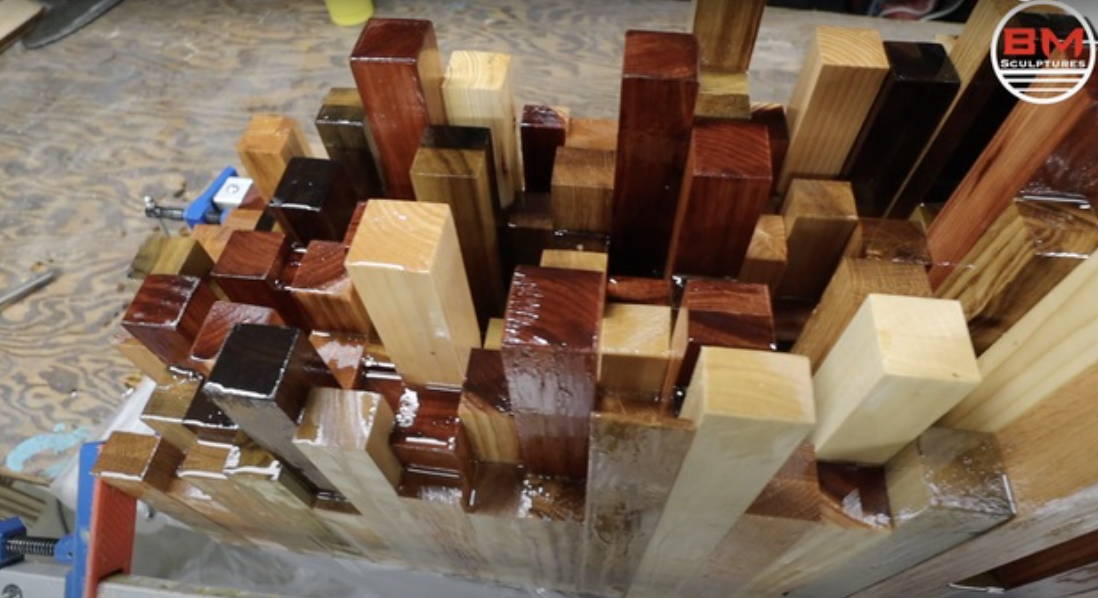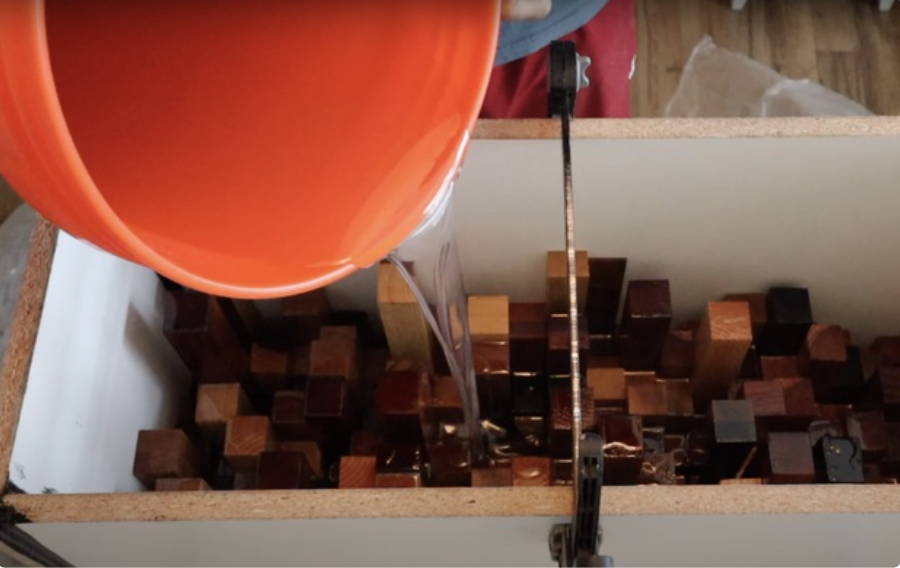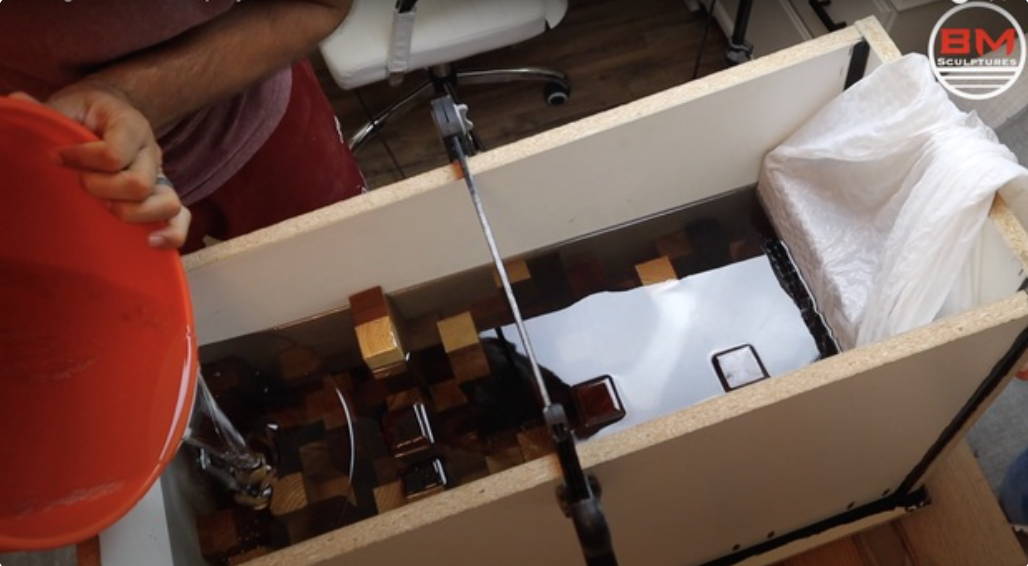 Step 4: De-mold, Outline Sculpture
After a week of fully curing, I de-molded the wood and epoxy. I was so happy with how crystal clear the epoxy turned out. I then outlined the bear on the side of the sculpture to use as reference for the carving.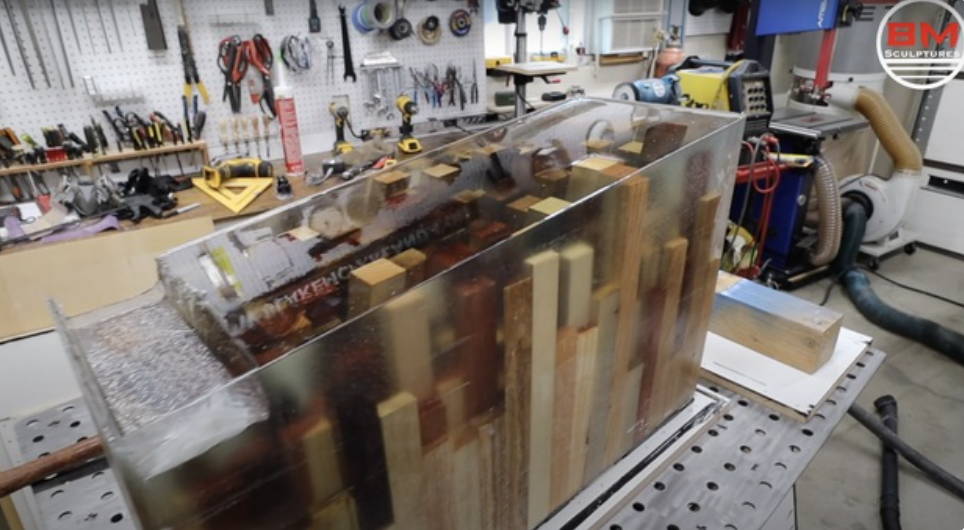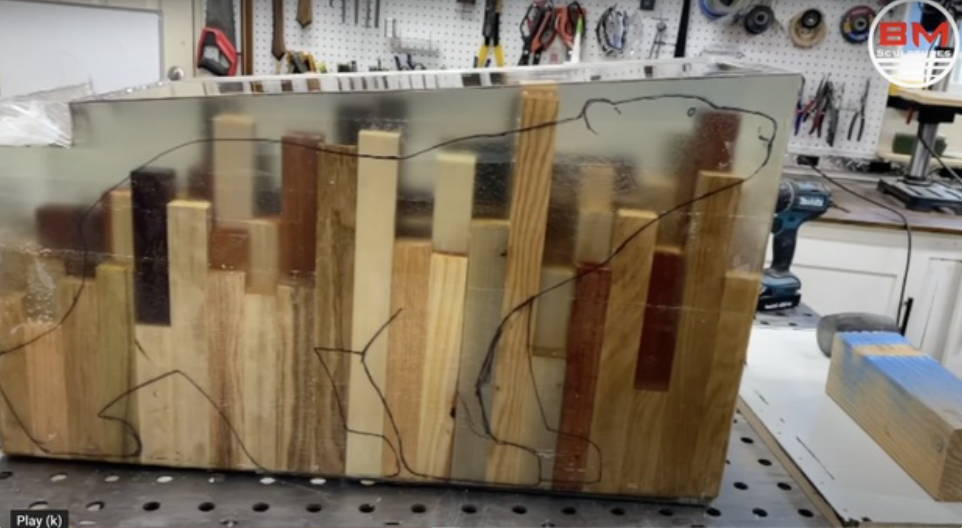 ---
Step 5: Chainsaw Off the Bulk Portions
I used my 12" chainsaw to remove large amounts of material. I made sure to stay away from my reference lines around 1" to prevent any fractures from happening too close for comfort.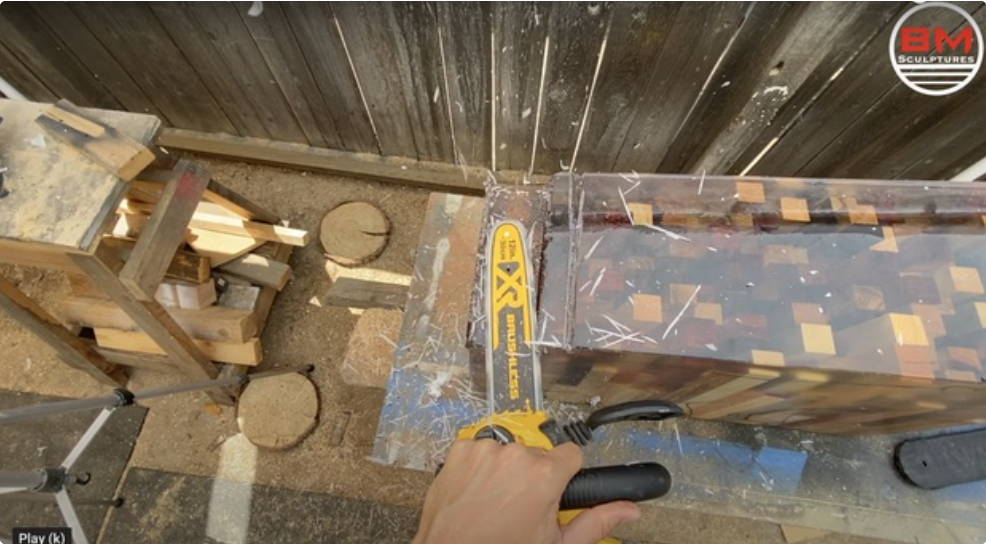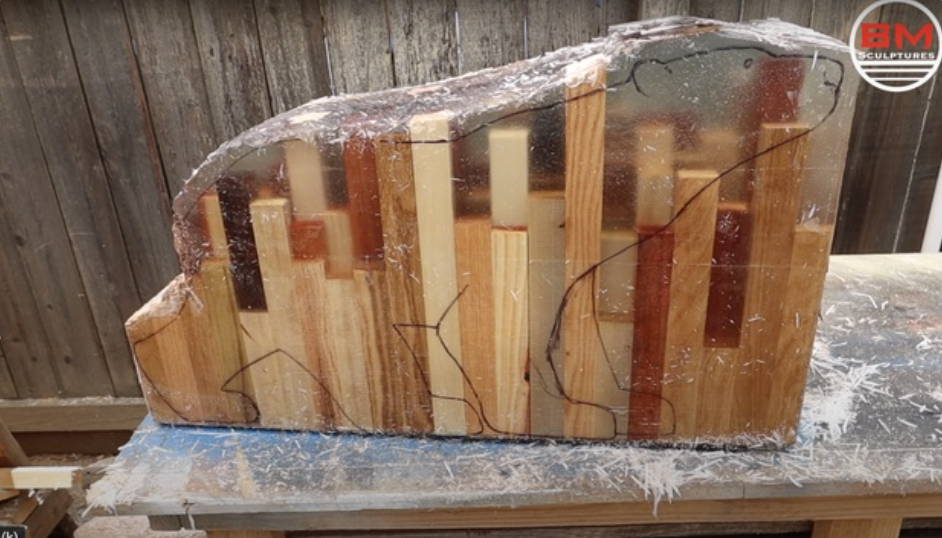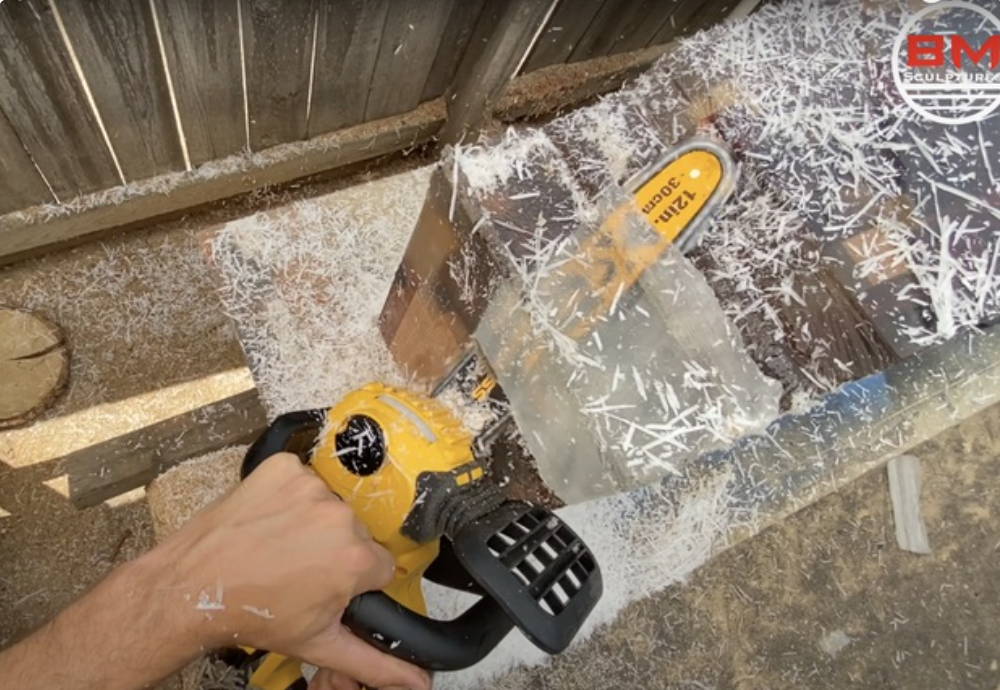 Step 6: Further Refinement
I used the angle grinder, die grinder, reciprocating saw and sanders in order to refine the shape even more. This took around 5 full days to refine it to my liking.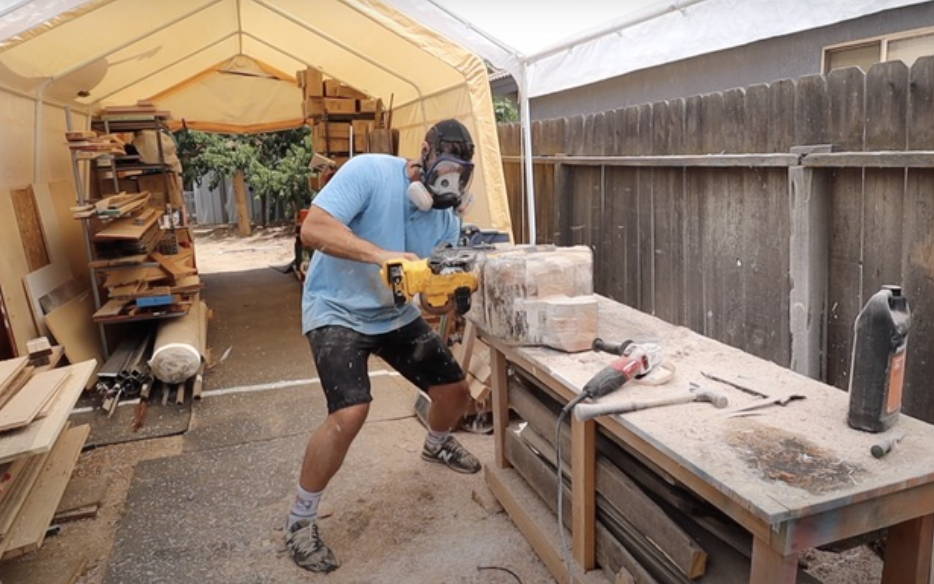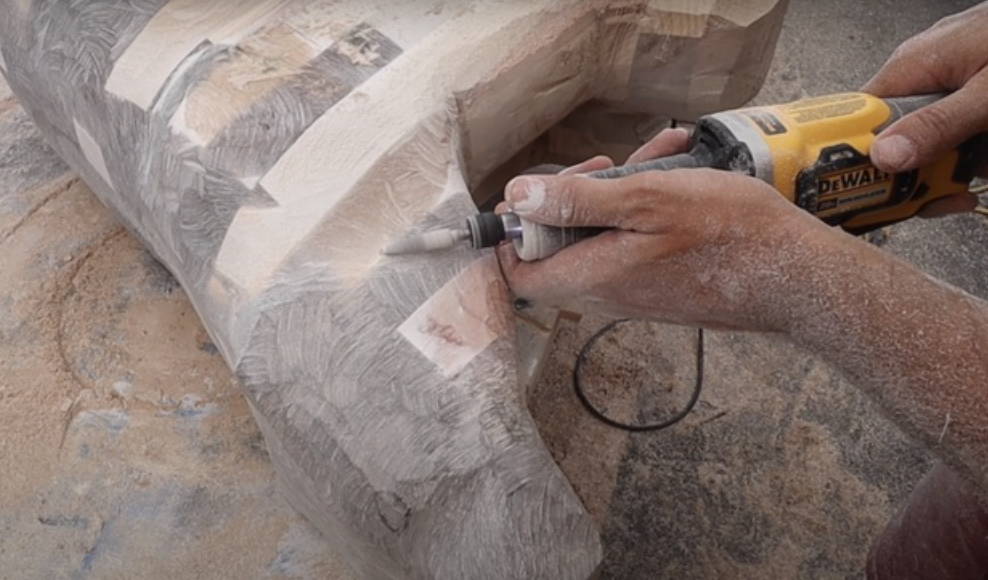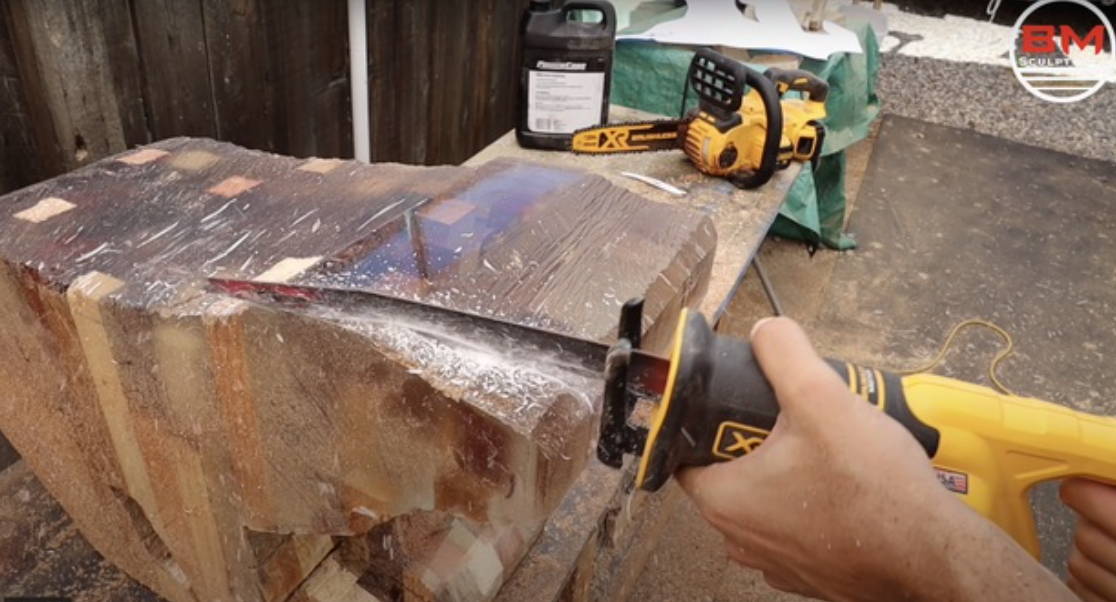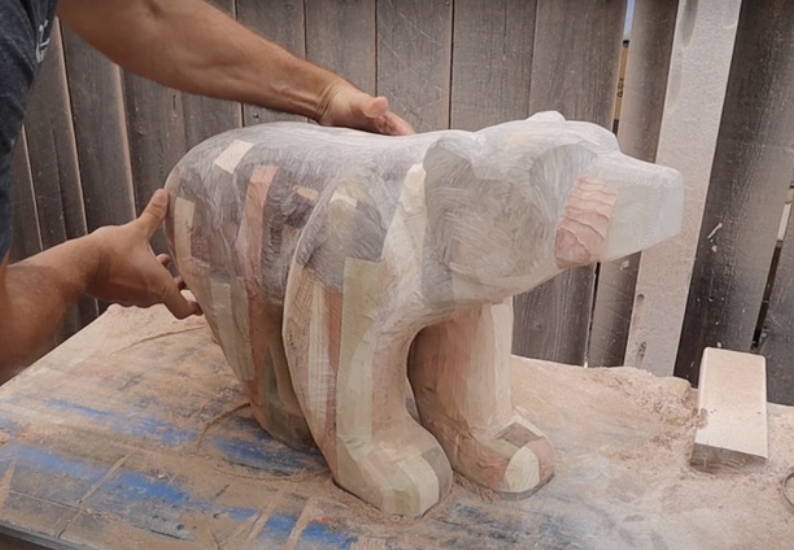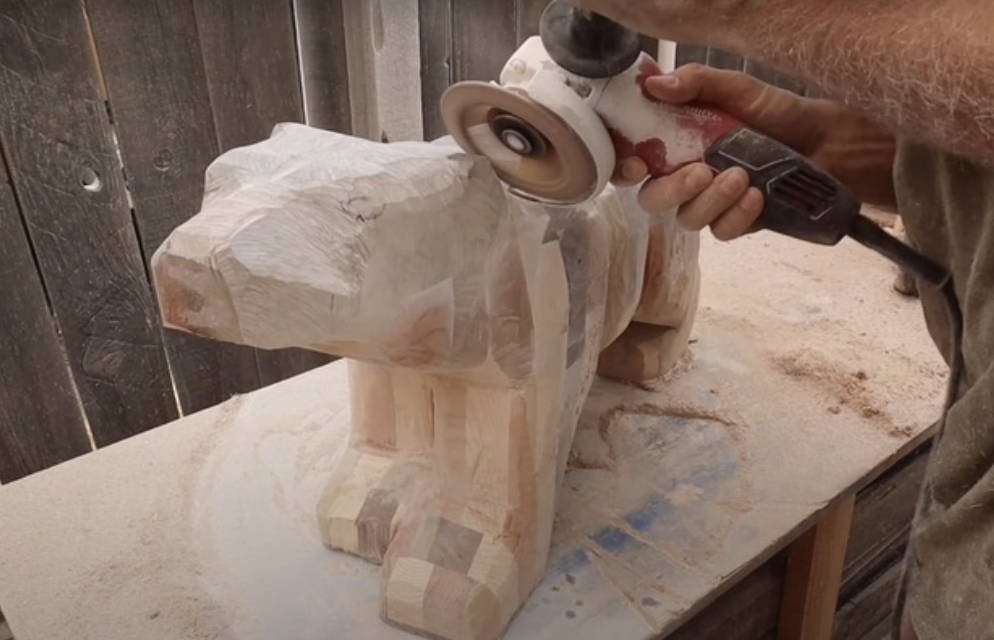 Step 7: Sand, Sand and More Sand
I sanded the entire sculpture down from 40 grit on the orbital sander to 1000 grit. This was a tedious task because I had to do the majority of it by hand.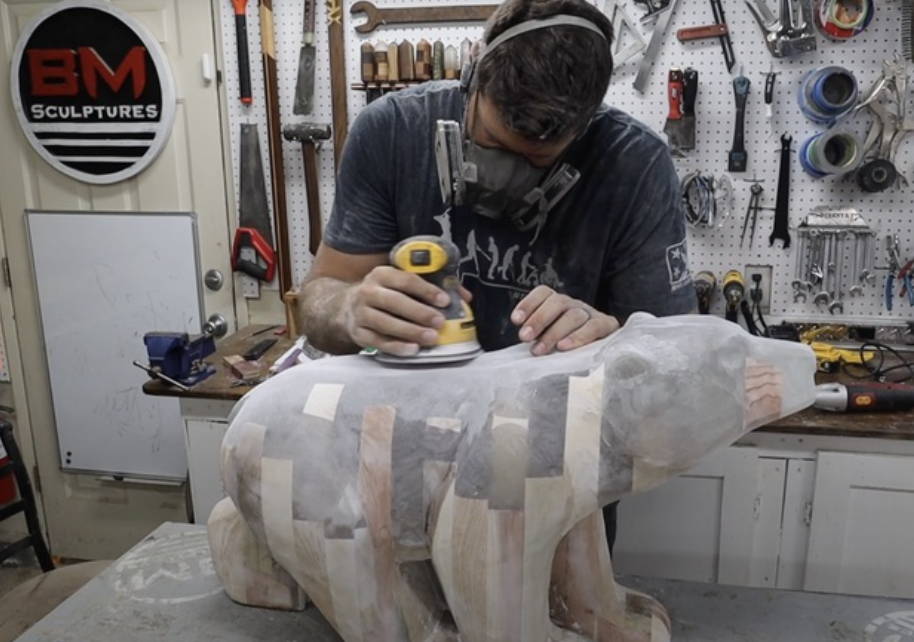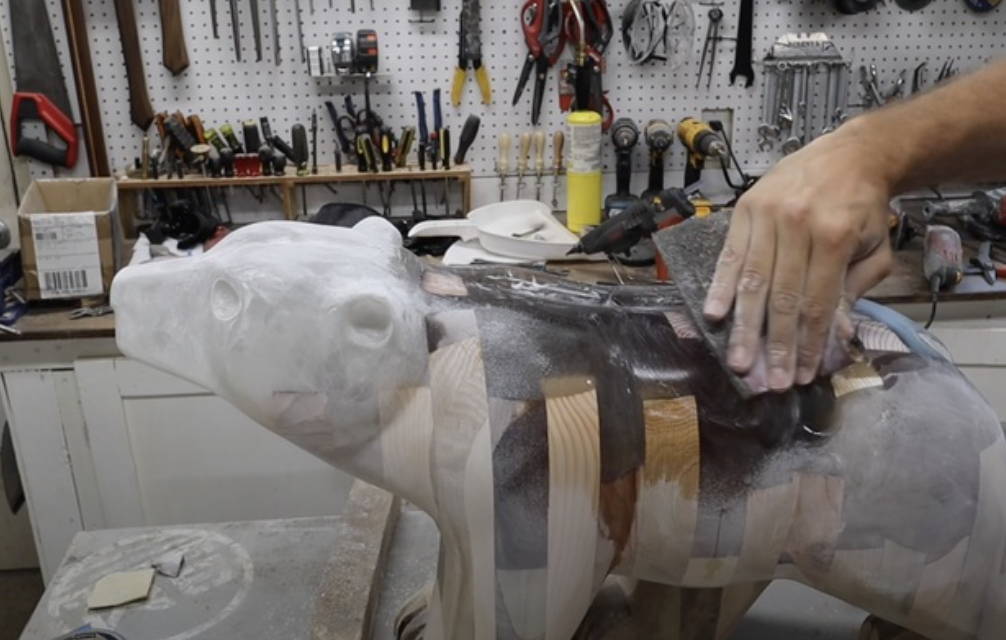 ---
I used 4 coats of Odies Oil to treat the wood and epoxy.