Epoxy Resin End Grain Coffee Table
Jul 22nd 2020
Getting Started
If you are looking for a budget-friendly table, bar or countertop that is really simple to build, look no further! You can likley source the branches and logs from your own yard! Follow along with Jessica @nottooshabbybyjess step-by-step to see just how simple this build is!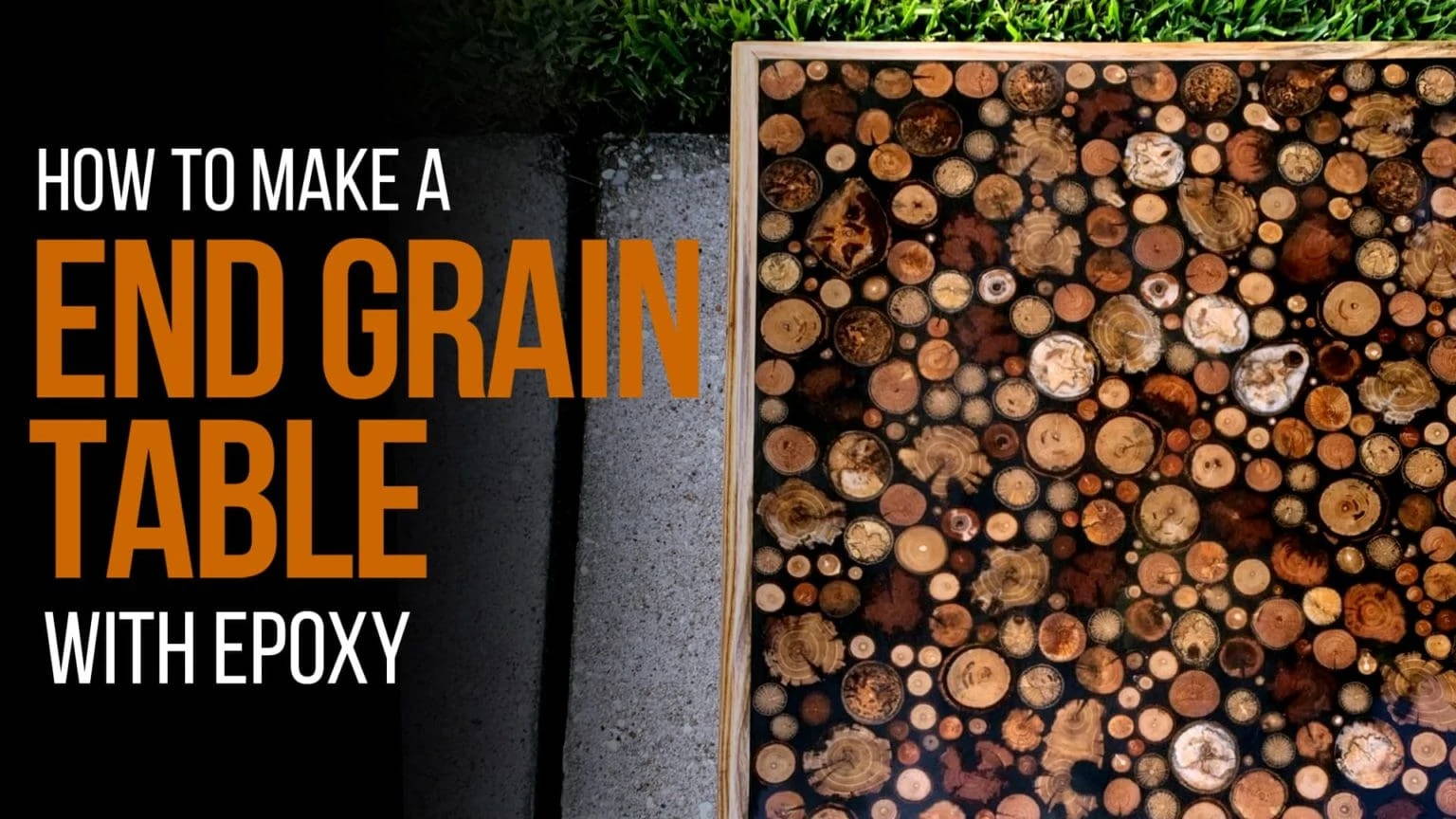 ---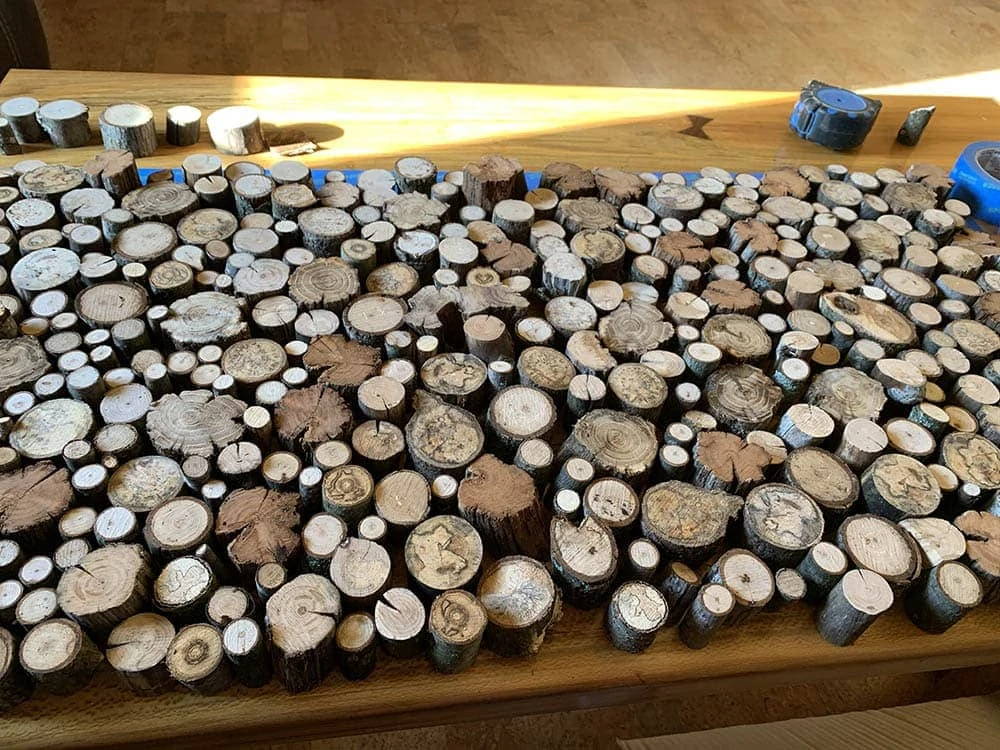 Materials Needed:

Pigment

Sheet of MDF

Ash or your desired wood for the outside frame
Tools:

Table Saw

Sanders

Router

Bandsaw

Log Jig

Notch Trowel
Some of our popular products
---
Cutting the Branches
Using a log mill jig you can easily contain the branches for sawing. You can either build your own jig or purchase one, there are a wide variety of commercial options on the market. There are many different means to cut the branches, pruning loppers work great if the pieces are small or if you don't have a bandsaw.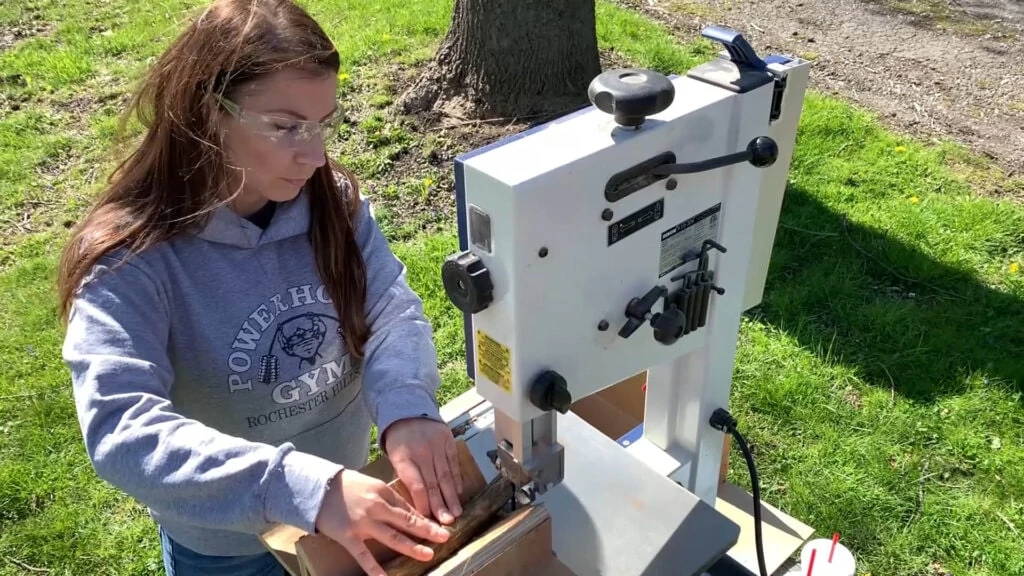 Adhering the Pieces
You'll want to adhere the wood cookies to the surface of the table, you can use wood glue like Jessica did or you can pour a thin layer of epoxy and begin placing the pieces. After the glue or epoxy fully cures proceed to the next step seal coat!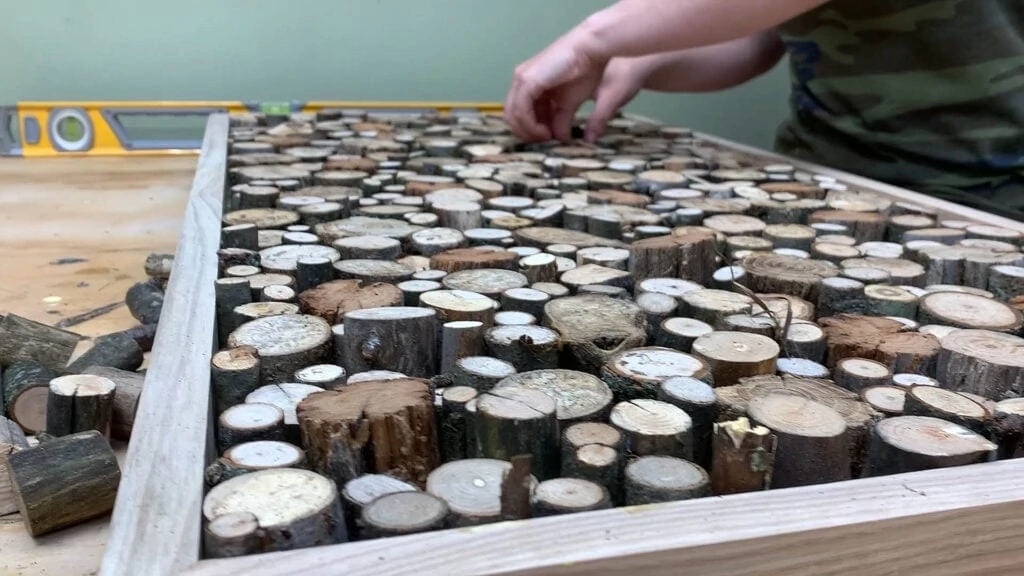 Seal Coat
Always apply a seal coat before flood coating. To start, the surface must be clean, dry and free of contamination. Next, apply a thin coat of mixed epoxy to surface.  Take care to cover and seal any voids or cracks present.  Allow the seal coat to cure to a rock hard solid, and sand with 80-120 grit paper, paying special attention to imperfections such as air bubbles. Lastly, wipe clean with a cotton t-shirt rag and denatured alcohol.  The purpose of a seal coat is to minimize the effects of off gassing by creating a thin air-tight barrier between a porous wooden surface and the Table Top epoxy flood coat so air bubbles won't percolate up through the curing epoxy creating cosmetic defects.
You could seal coat your project with the MAS 2:1 Non-blushing system or MAS Penetrating Epoxy, but we recommend sealing with MAS Table Top so you don't have to invest in multiple systems to complete one project. That being said, MAS Table Top is the absolute clearest epoxy system we offer, and specifically formulated for flood coating applications. You can dilute down the mixed Table Top resin/hardener with 2-5% denatured alcohol to stretch the material a bit further on seal coats. A little goes a long way. Do not over dilute. Only dilute for seal coat. Never for final flood coats.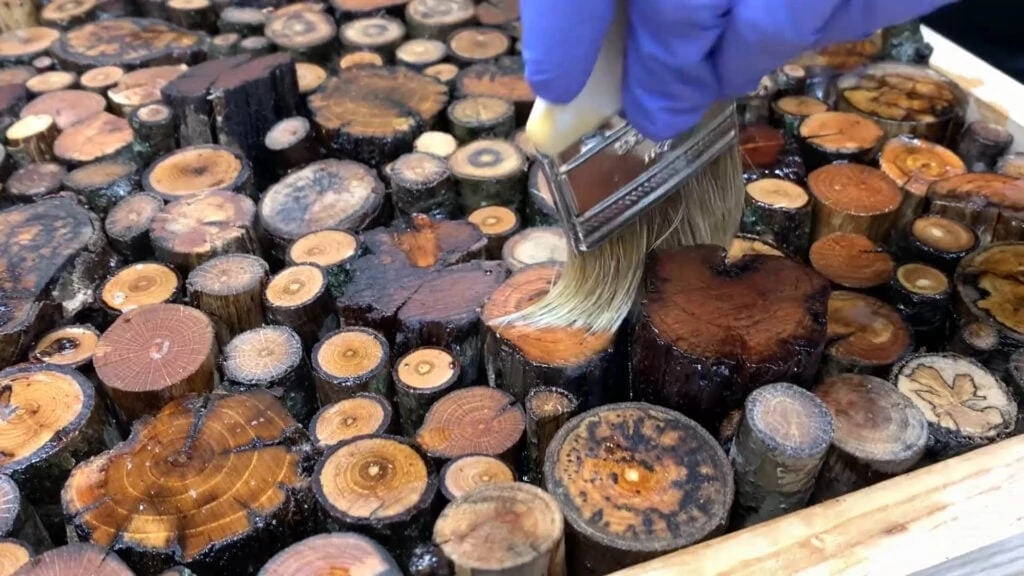 Color Pour
To tint epoxy, simply use an epoxy compatible colorant and follow the manufacturer's instructions. Typically, you would add a small amount of the colorant into the resin or into the blended resin and hardener. 2-5% loading level should have no significant effect on cure. A wide range of colorants, pigments, dyes and tints are compatible with MAS Table Top Pro. Opaque pigments such as One-Shot Lettering Enamels, K-Bond Color Pigments and most oil based alkyd paints work well. We've also had great success with Gamblin Dry Pigments and Black Diamond powder mica pigments, both metallic and flat, to get a marbled or colored effect with the Table Top Pro epoxy.  Lastly, translucent dyes such as Transtint and Piñata Colors are also compatible with epoxy. Most acrylics are also epoxy compatible. Do not use water based paints or pigments like latex as they can cause foaming. As with most projects, artwork especially so, each piece is unique.  A quick small-scale compatibly test is recommended to make sure the colorant stays evenly dispersed and the epoxy cures properly. It should be noted, pigmented epoxy may be somewhat more UV resistant than unfilled epoxy, but should still be protected with a UV resistant coating for outdoor use.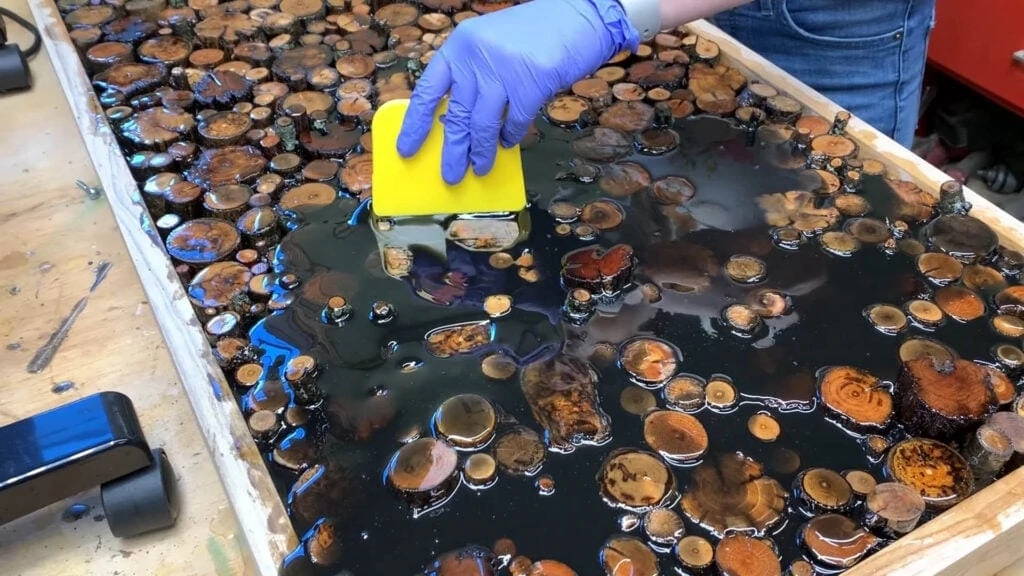 Flattening the Slab
Using a router sled you can surface the tabletop. Jessica used a 1 1/2″ Straight bit and made short work of the surface. Once flattened sand the surface progressing to 220 grit to remove any tool marks from the grain.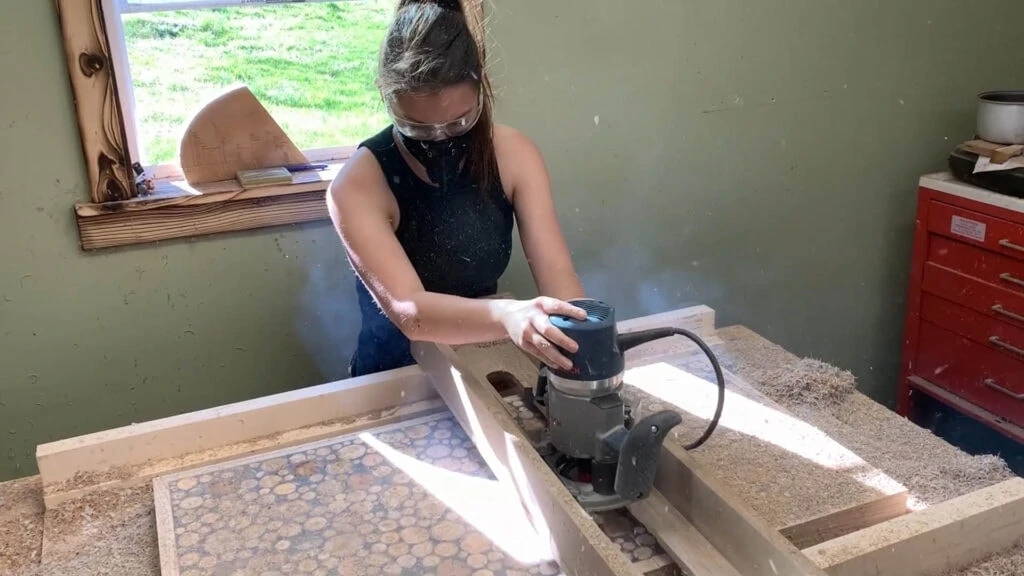 Flood Coat
Pour mixed epoxy in a "S" shaped pattern on to surface.  Using the plastic spreader or foam brush provided, spread epoxy over entire surface pushing epoxy to the edges.  Do not apply thicker than 1/8"-1/4" per application.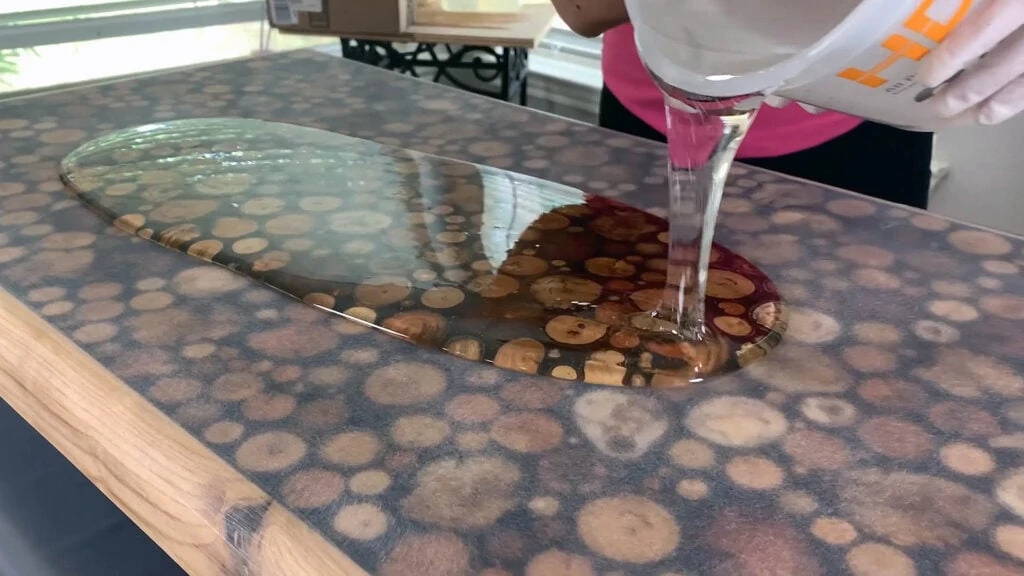 Finishing Touches
You've got a tabletop but now you need legs!! Fortunately there are countless options! If you're looking for a high quality sturdy base we really like the options at Rockler Woodworking if "budget-friendly" better suits the build Amazon has wide variety of bases.
We hope this build inspires you! We'd love to see your work, you can tag us on social media or send an email to hello@masepoxies.com telling us about it! We look forward to hearing from you!