Epoxy Resin Pumpkins
Oct 18th 2022
Epoxy Resin Jack-o-Lanterns
Learn how to create some amazing Halloween Pumpkins or Jack-o-Lanterns with scrap wood, a little bit of epoxy resin and a few power tools. This resin woodworking craft project has a ton of different applications... literally you could use the same techniques and create projects for every season! Once you've learned the basics from this video tutorial you'll be ready to tackle whole new style of customer requests and project!
Materials Used
Orange and Copper Mica Powder

Alcohol Ink - White & Orange



Tools Used

Table Saw

Drill Router

Scroll Saw

Random Orbit Sander

1/4" Round Over Bit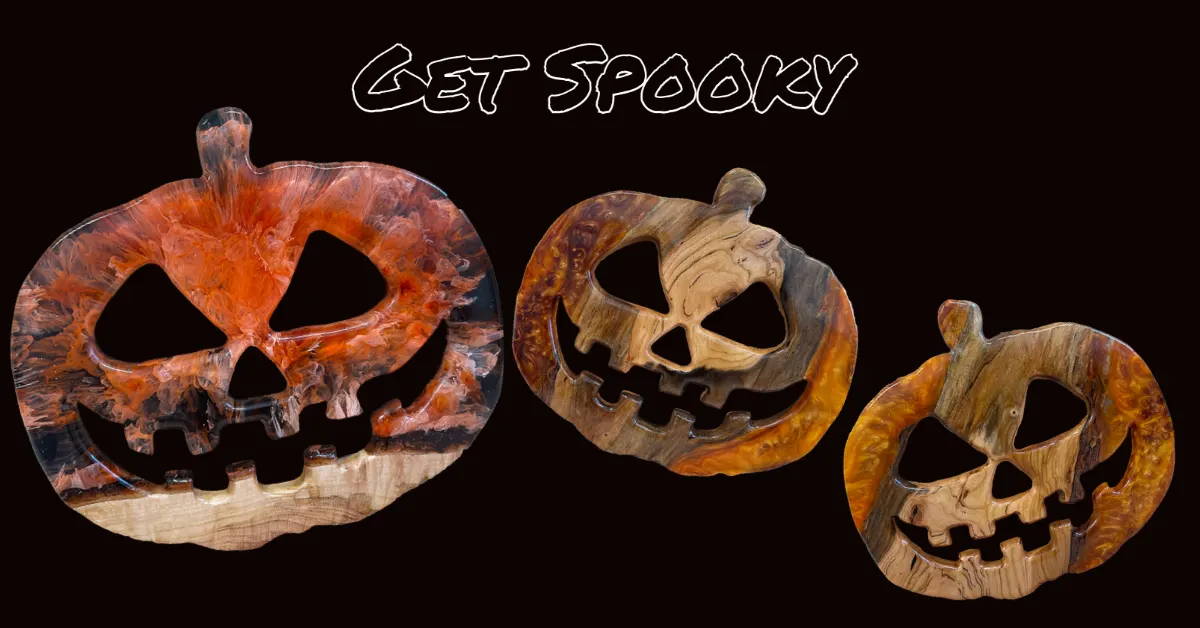 Full Length Video Tutorial
Chapters
00:26 Sealing the Wood
01:22 Timelapse of Penetrating Epoxy Soaking into Rotted Wood
01:52 Creating your Mold
03:00 Pouring the First Layer of Resin
04:00 Alcohol Ink Resin Pumpkin Pour
05:07 Flattening your Resin Slabs
06:12 Tracing Patterns and Drilling Insert Holes
06:31 Cutting Out the Resin Pumpkins
07:36 Round Over the Edges with Router
08:04 Epoxy Resin Flood Coat
08:55 Apply Wax for that Extra Sheen
09:20 Fun Story About Kelsey
10:29 Until Next Time!
---
Step 1 - Clean Debris Off Wood
If you're using live edge you can clean up the edges with a Nylalox Flap Brush which you can find on Amazon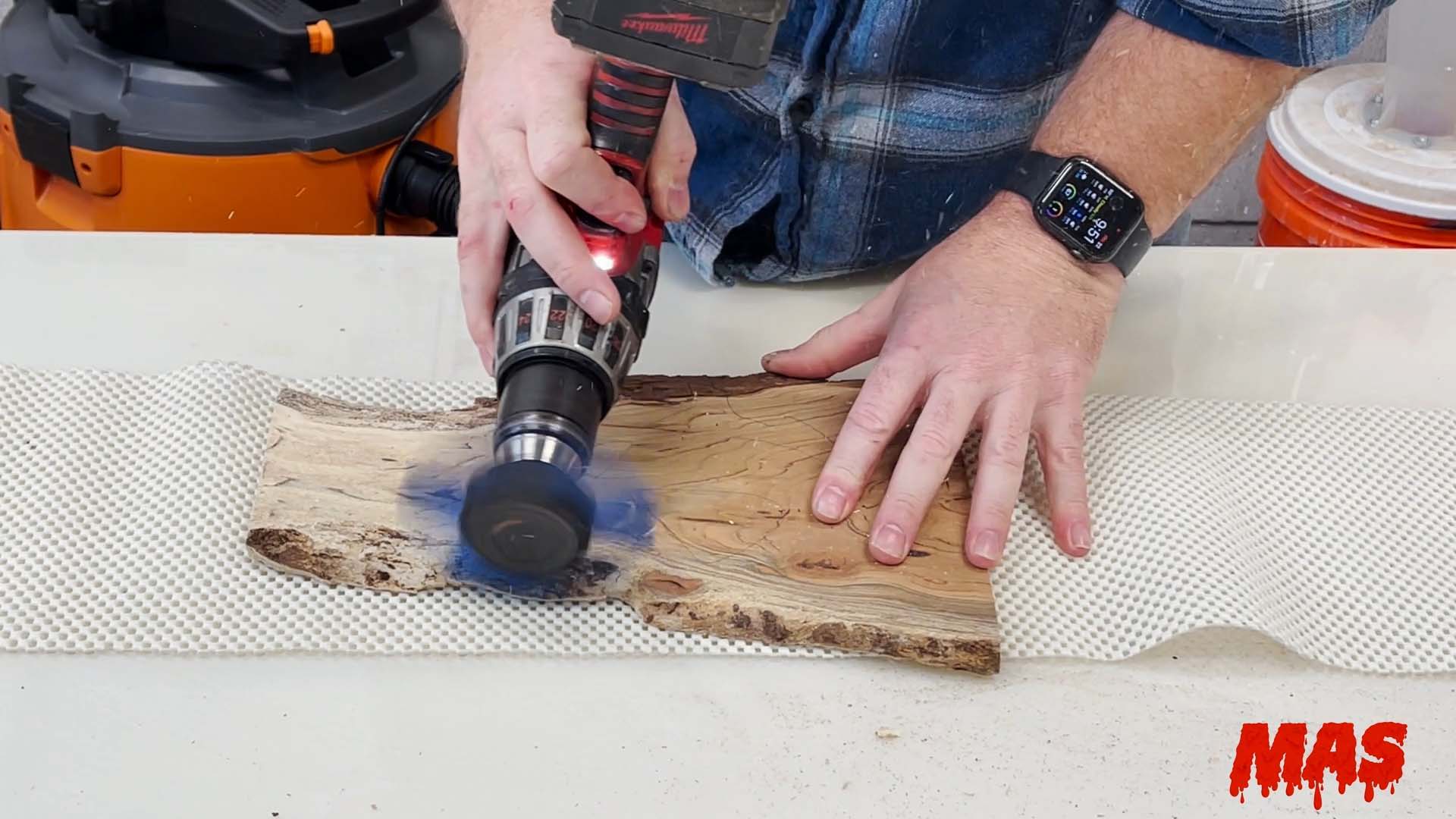 ---
Step 2 - Clean Debris Off Wood
Apply MAS Penetrating Epoxy. The wood used was very punky and rotted. The Penetrating Epoxy will seal the wood (preventing bubbles) and soak in much further than a traditional flood coat. The goal is to stabilize the rotted wood with all its figure to translate that grain detail to the end piece. Without the Penetrating Epoxy we would not be able to tool this piece easily. If you wood is in good condition you can simply seal it with a thin coat of TableTop Pro.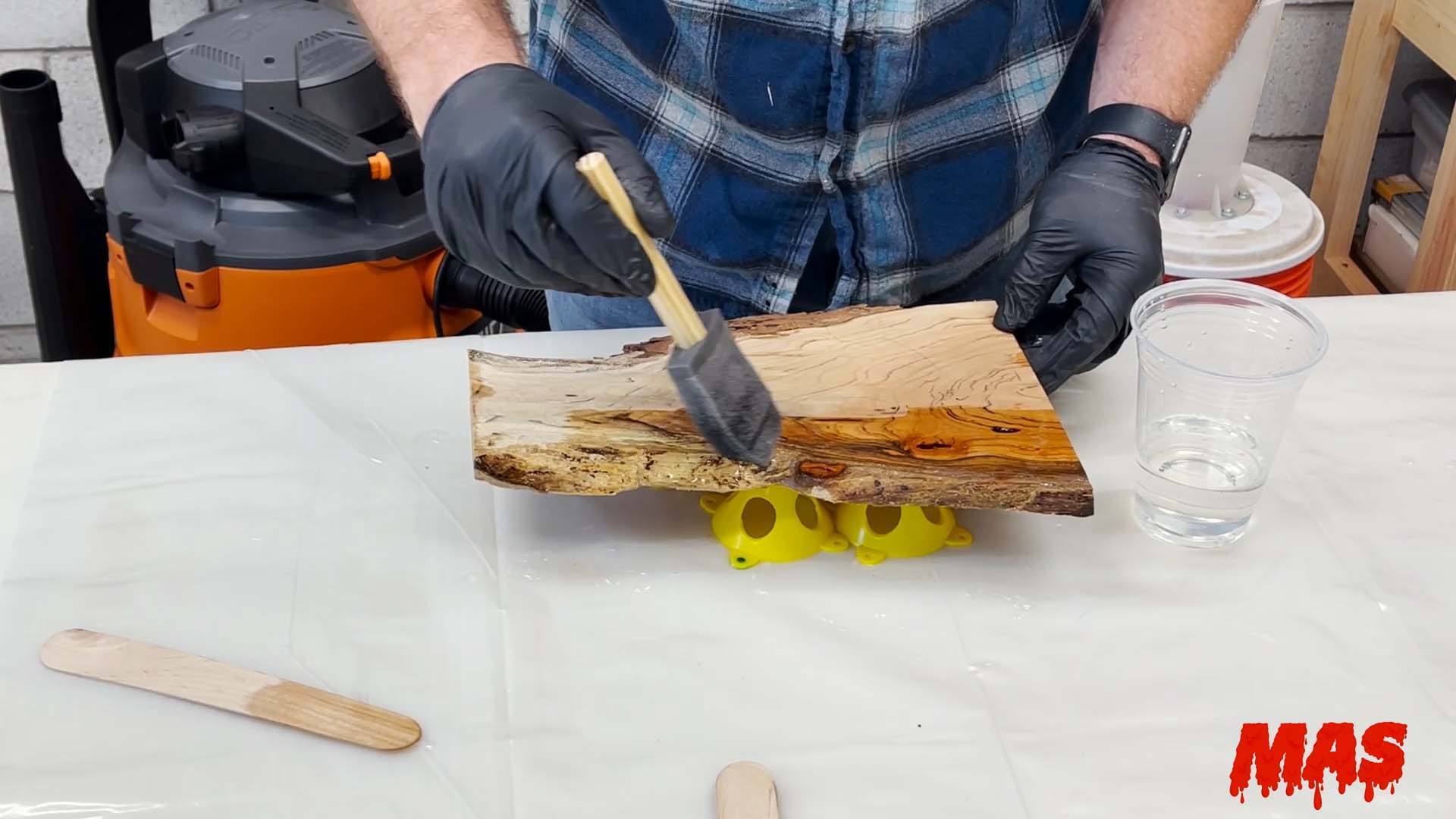 ---
We've constructed our own mold out of some scrap MDF and the bottom is a piece of 12" x 24" HDPE plastic ordered from Amazon. Using 3M Stucco Tape we lined the walls of the mold then caulked the seams with 100% Silicone Caulking.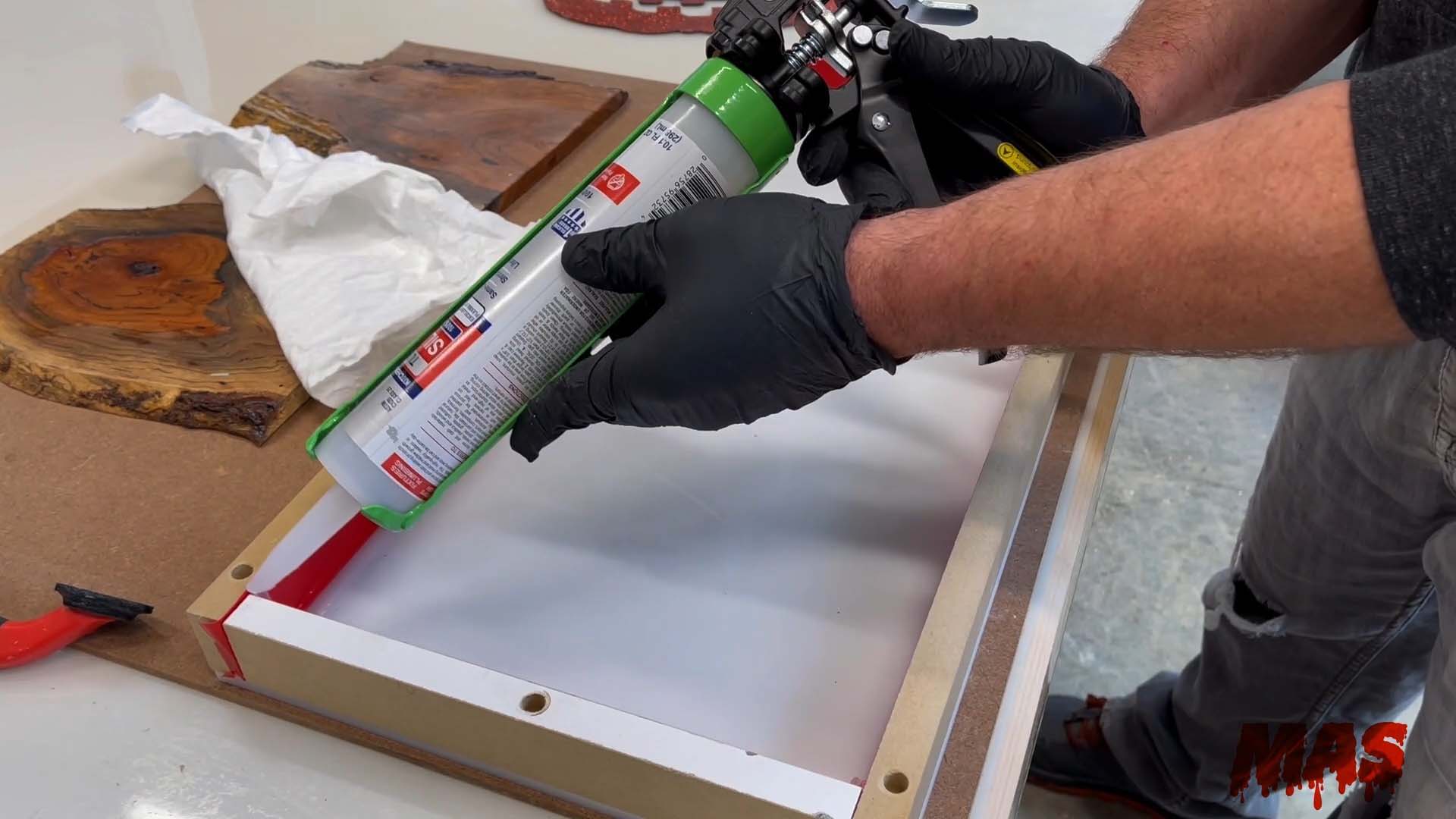 ---
Step 4 - Mica Powder Pumpkins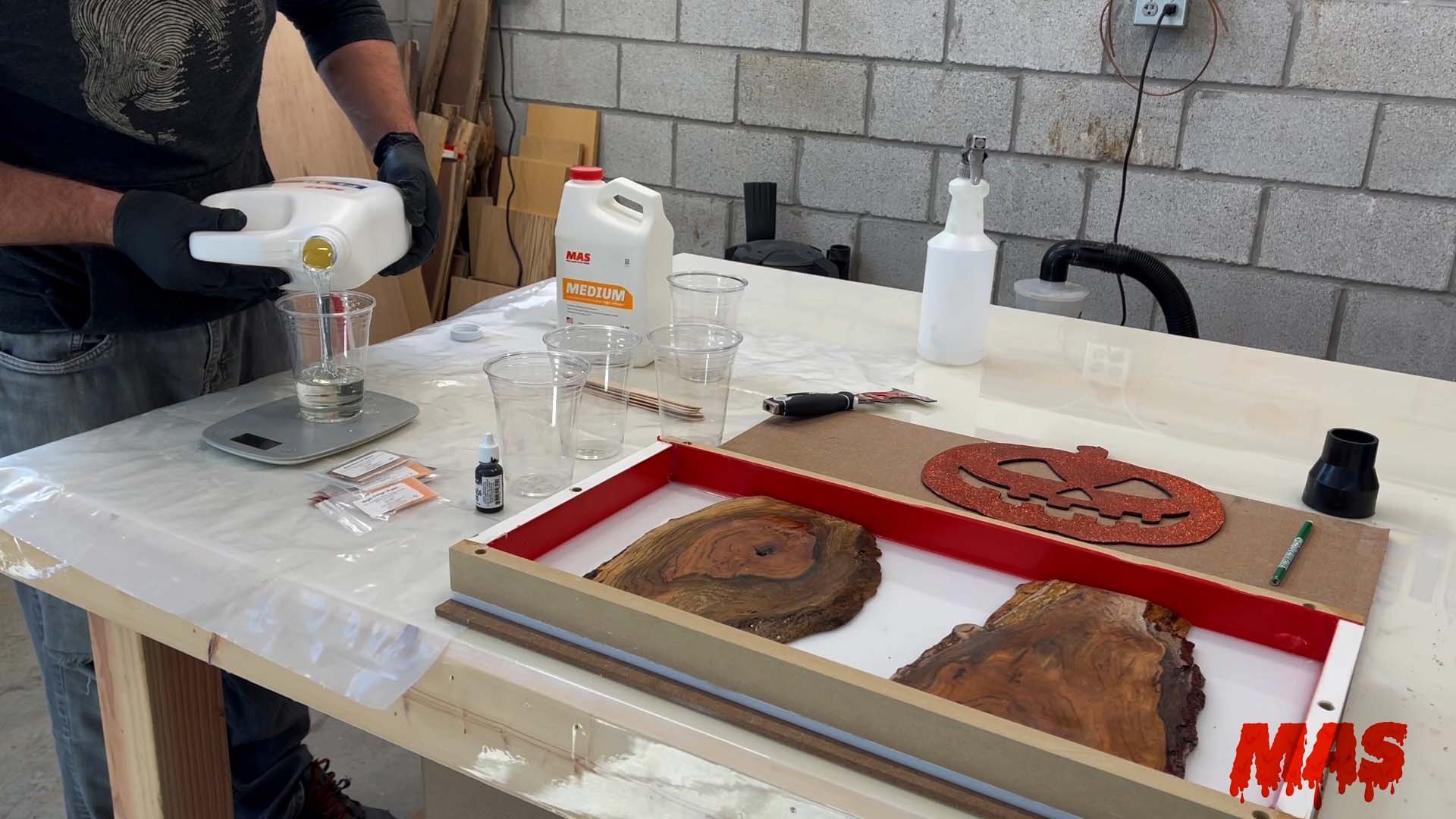 ---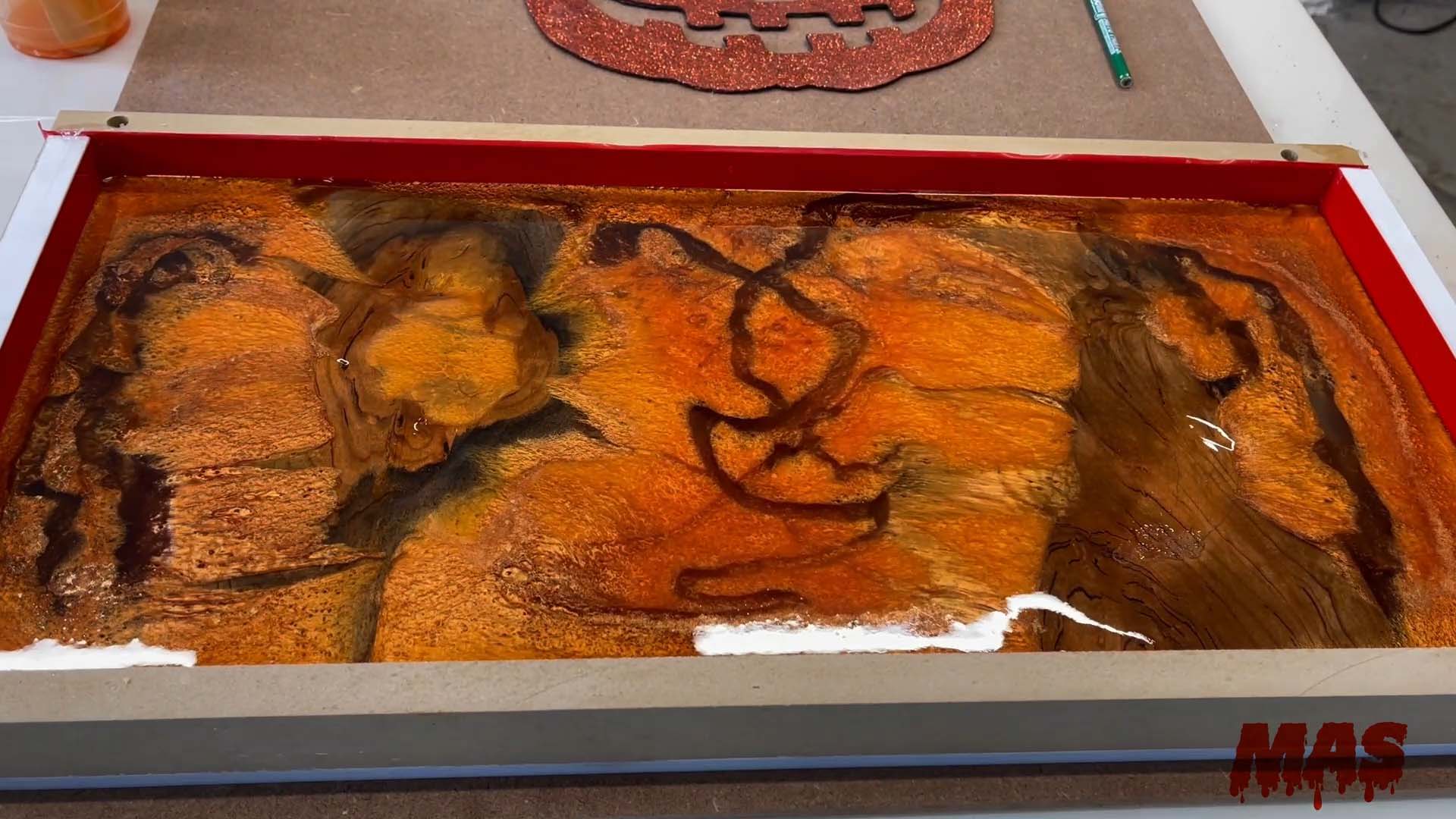 ---
When I published the first slab on social media it was met with crickets ( I promise I'm not bitter hahaha! ) In August of 2021 I was visiting Tito of @titowilsondesigns and we did some experiments with Alcohol Ink and the results were stunning. Be sure to check out his feed, he's taking the concept to a different level!
Mas Table Top works well with alcohol inks but MAS Art Pro is even better! I live in Nashville but the plant and facilities are in Minnesota, I only had Table Top on hand but I would highly recommend using ArtPro or at the very least experimenting alcohol ink with it!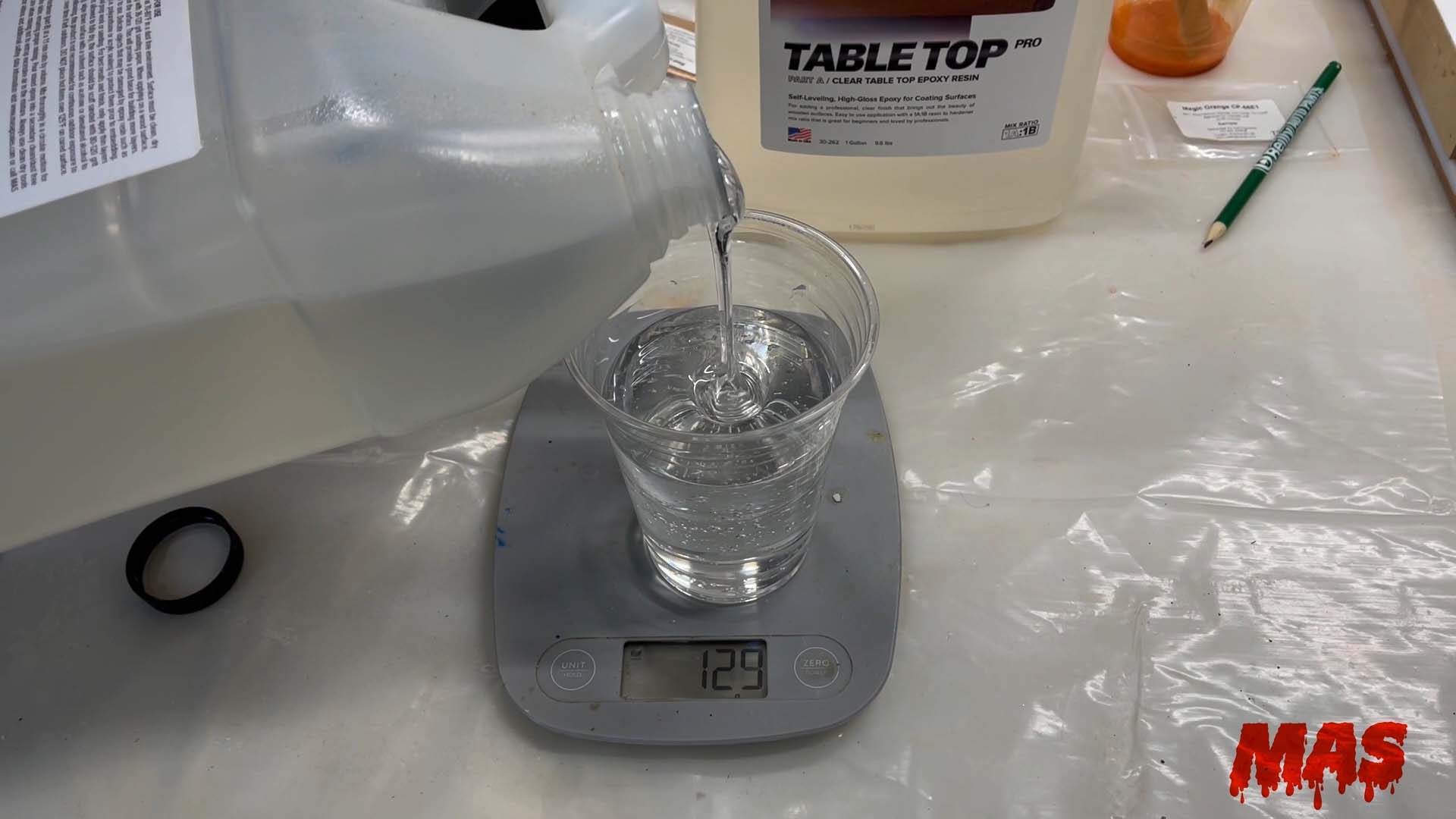 ---
I used Pinata Alcohol Inks (orange and white) then drizzled clear Table Top Pro on top to push the colors down.
---
Step 8 - Flattening with a Router Sled
Having limited resources in the Nashville shop, I quickly made a router sled to use with a plunge router and a straight bit. I suggest checking out my good friend Tamar's of @3x3Custom video on making a cross cut sled and my buddy Adam @lazyguydiy who has a great tutorial building a router sled!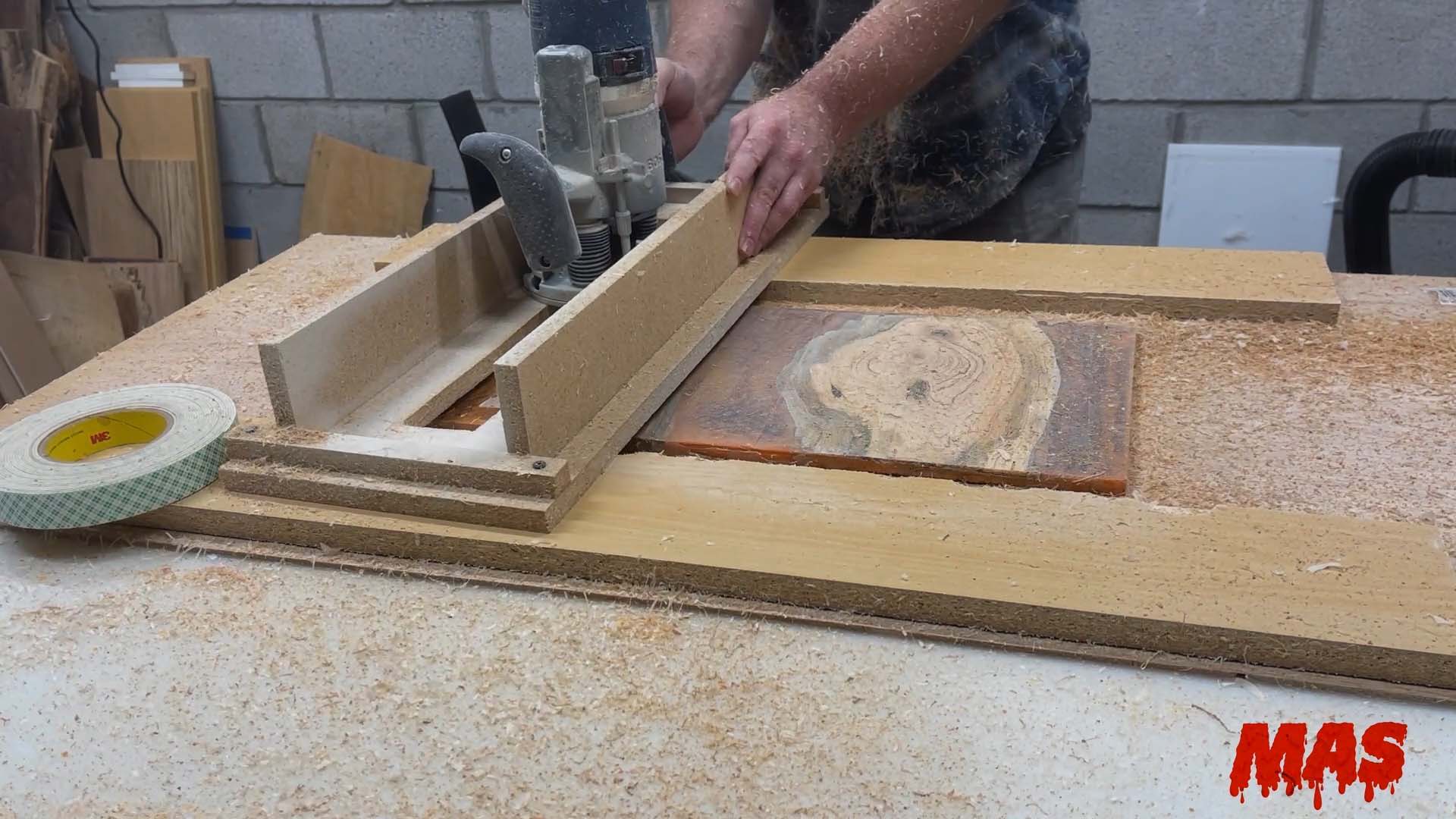 ---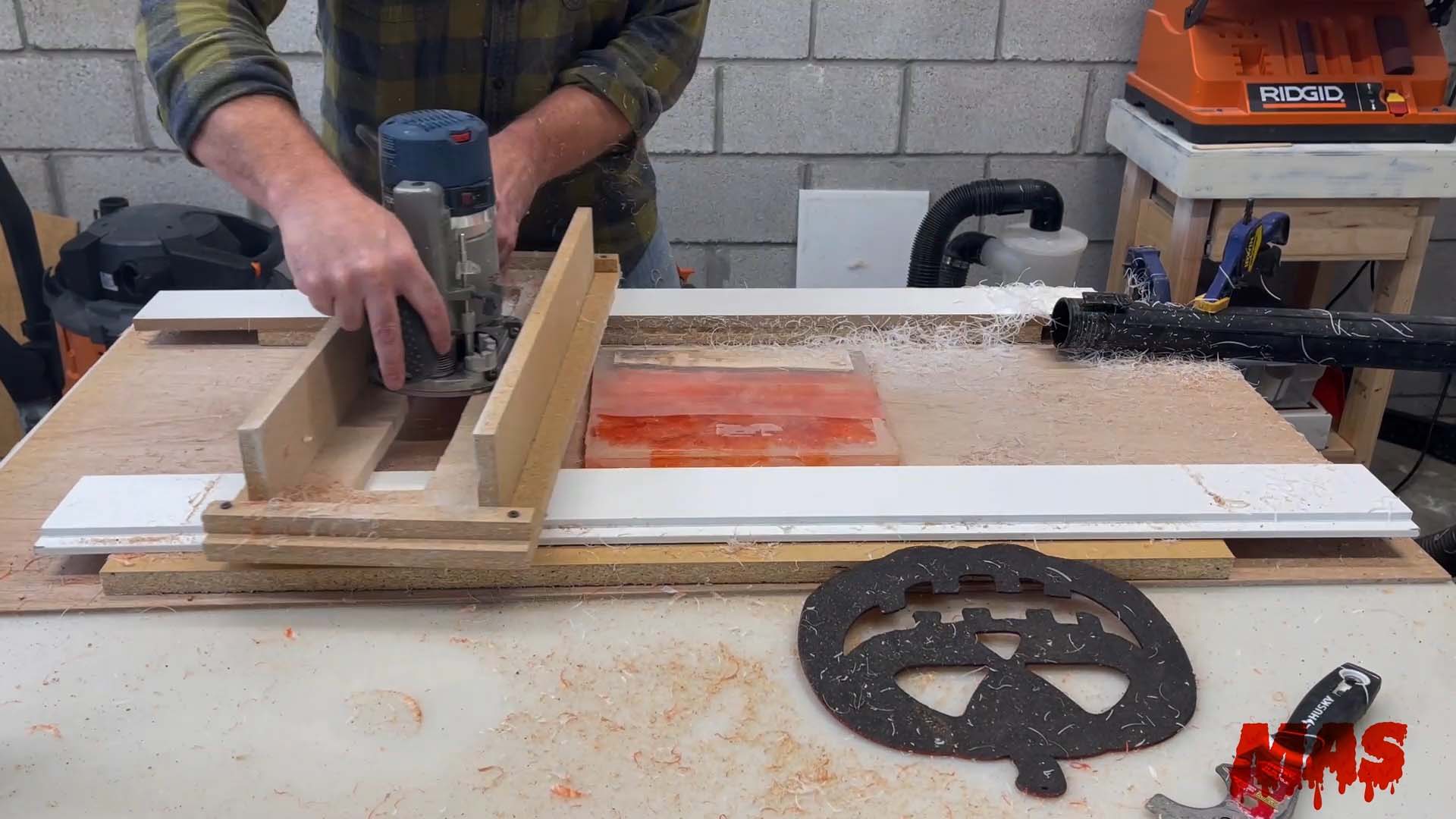 ---
---
Step 9 - Drill Blade Insert Holes
For inside scroll saw cuts (eyes, nose mouth) you need to drill a hole so you can insert the blade into the piece.
---
Step 10 - Start Scrolling
Scrolling requires a bit of patience, once you do a few practice cuts and get a feel, it's pretty straight forward. I do recommend checking out these three wildly talented scroll saw masters!
Lizzy @thehouseoftimber
Kendra @kendrasgotwood
Cass of @Stonemillandco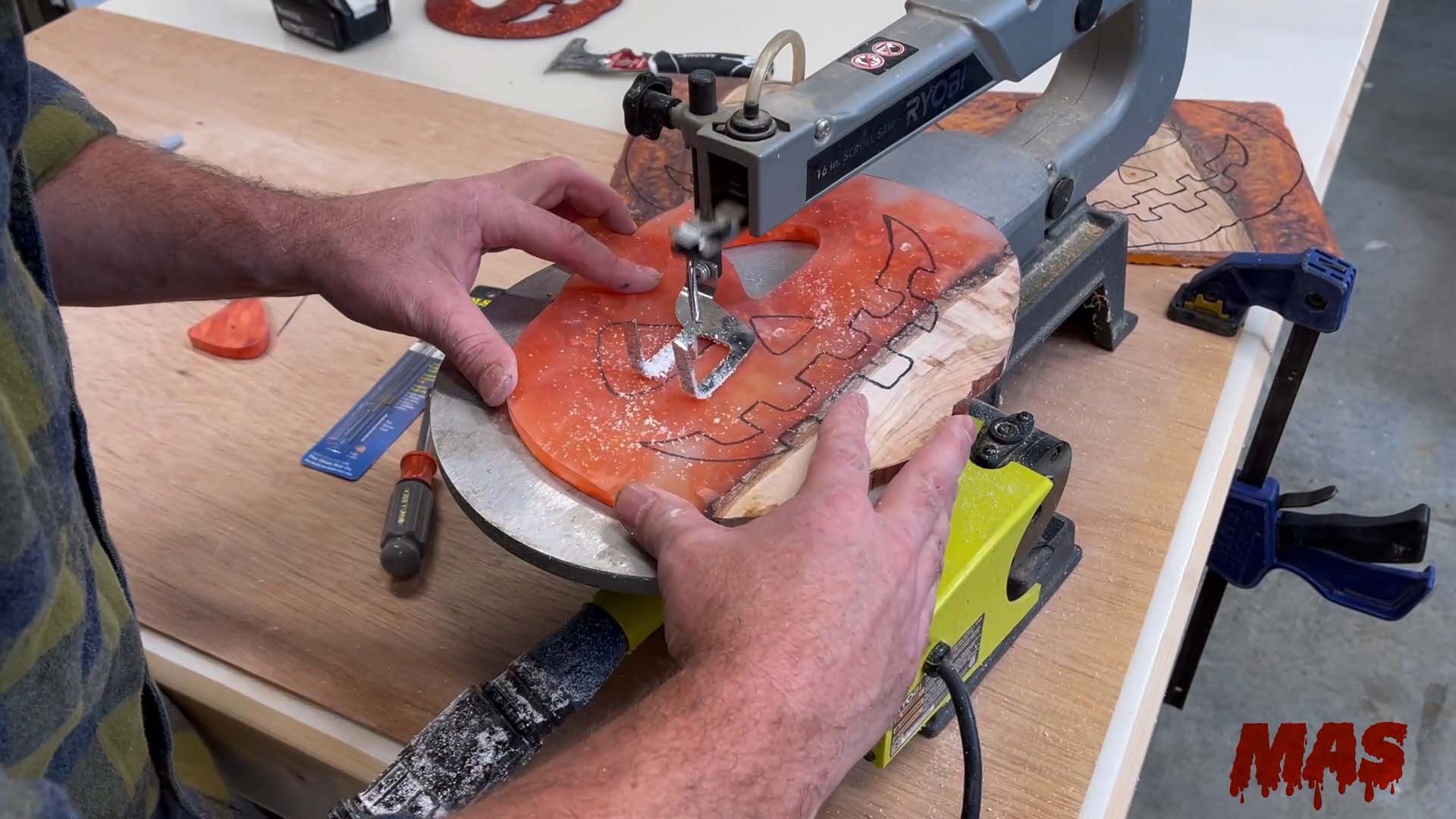 ---
Step 11 - Round Over Edges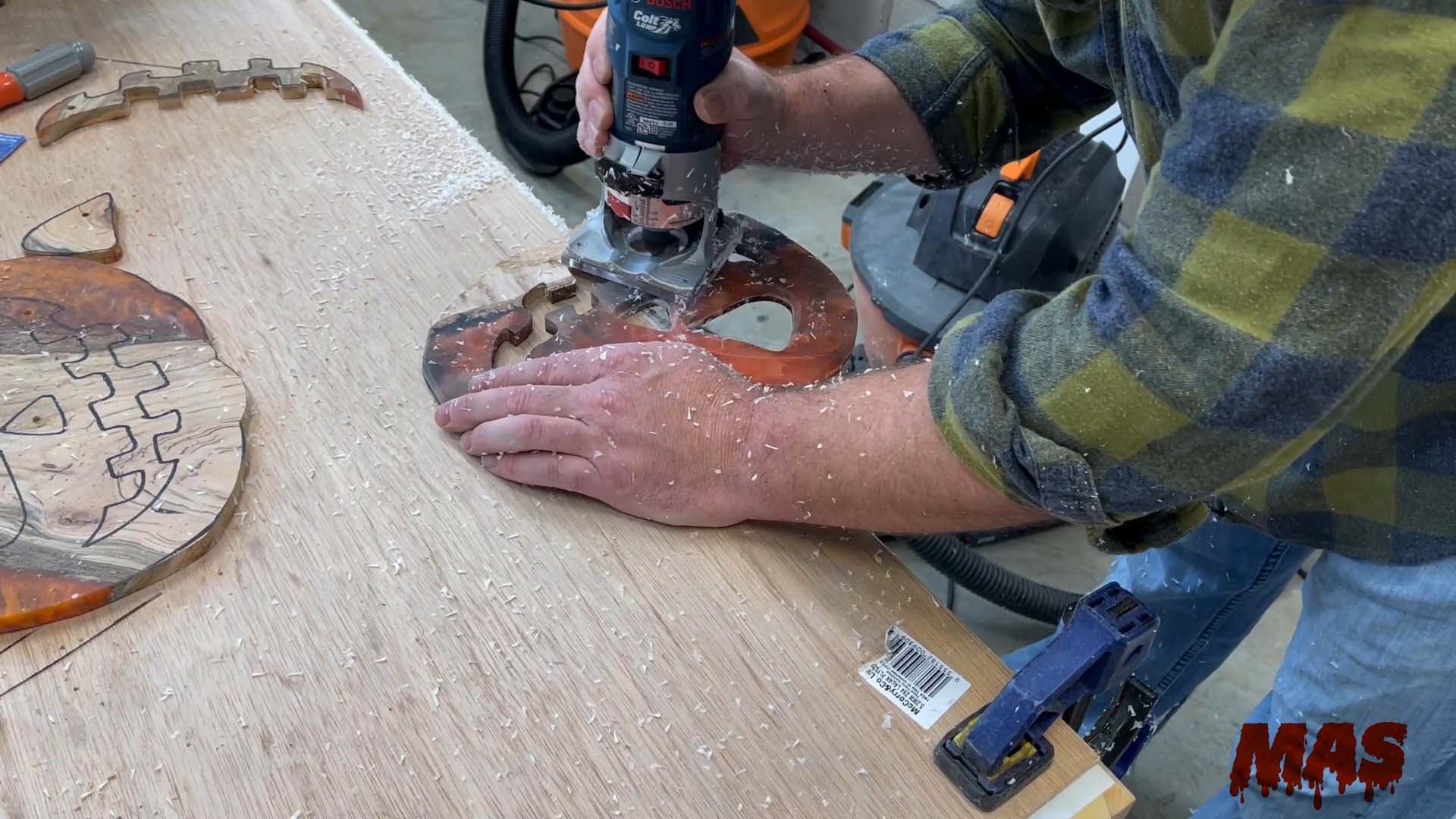 ---
Sanding... the most dreaded task of many... Since we're doing a flood coat, we simply want to remove any deviations and clean up the edges o the piece looks uniform and smooth. The epoxy flood coat will fill in all the scratches and voids and make this crystal clear again!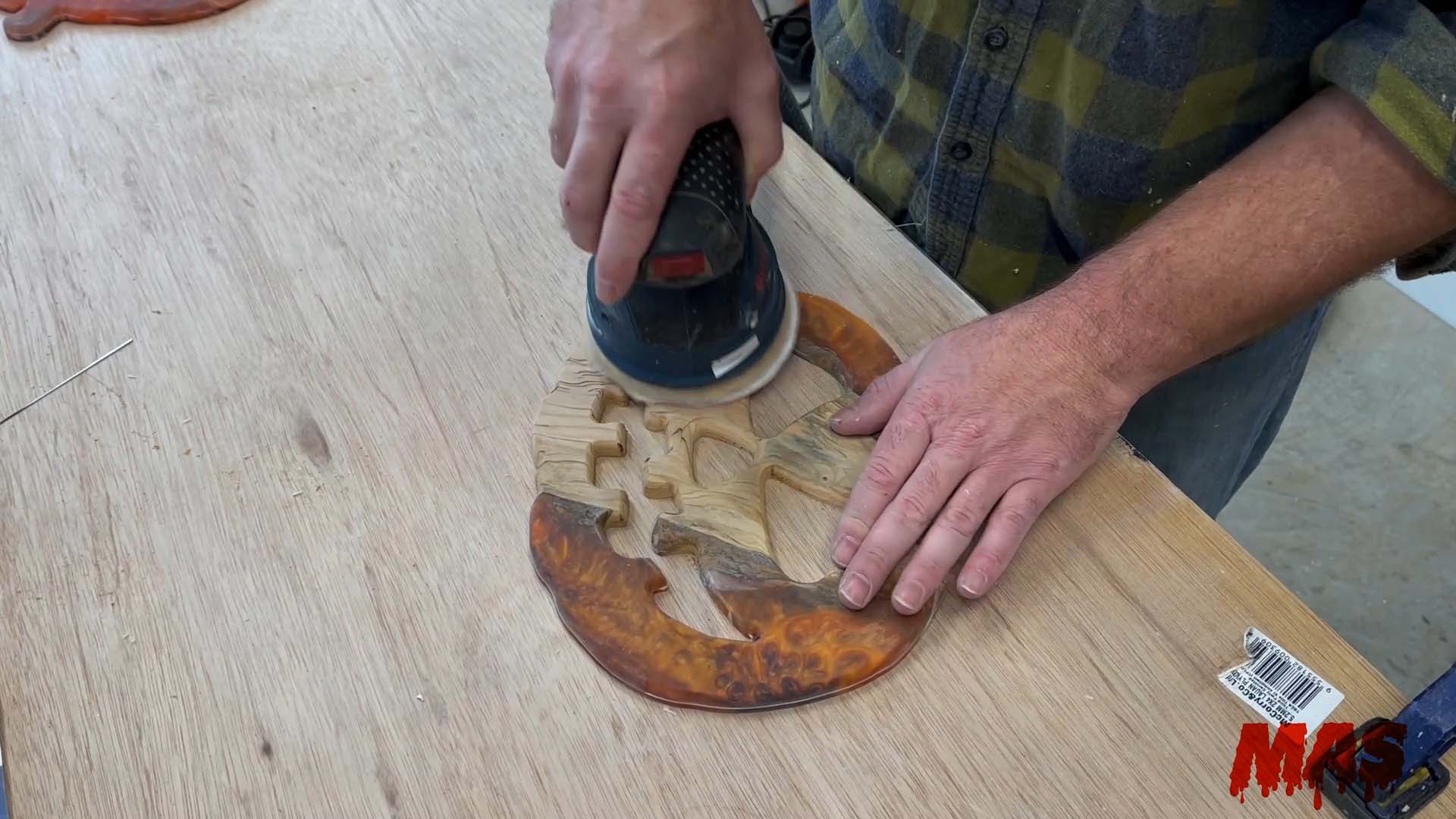 ---
I used MAS Flag and Medium for the flood coat. Typically I would of used MAS Table Top or preferably Art Pro but I was crunched for time and Flag has a much faster cure time which allowed me to get this project done on time!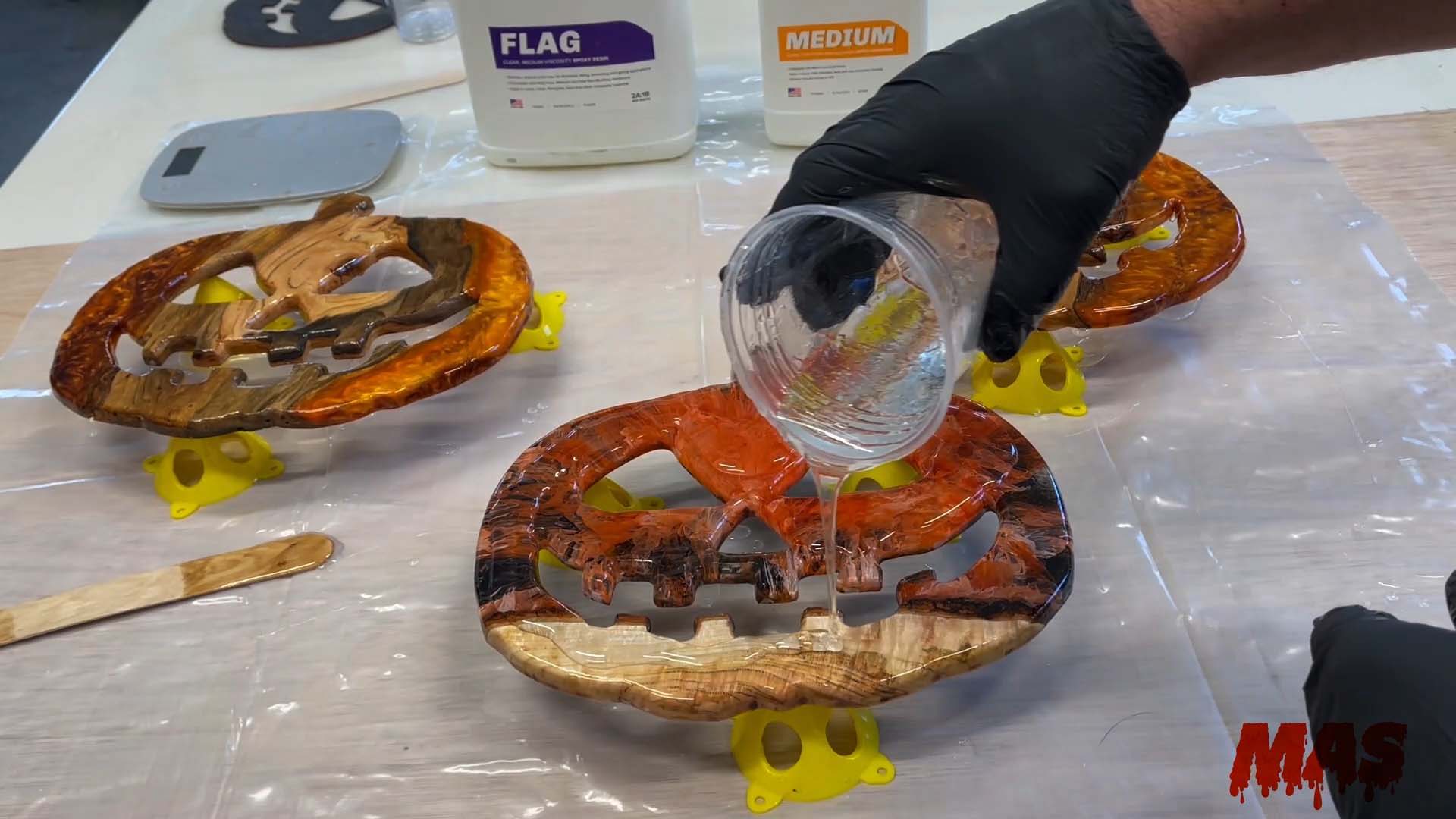 ---
After the flood coat cures and you've cleaned up or sanded off the drips on the back the piece is complete! I went a step further and applied some wax to the piece. The brand I used is no longer in business but it's a combination of Beeswax and Mineral Oil. You simply wax on and wax off! I wouldn't say this creates a satin finish but it slightly dulls the epoxy to take some of the sheen off and gives the piece of very smooth soft feel!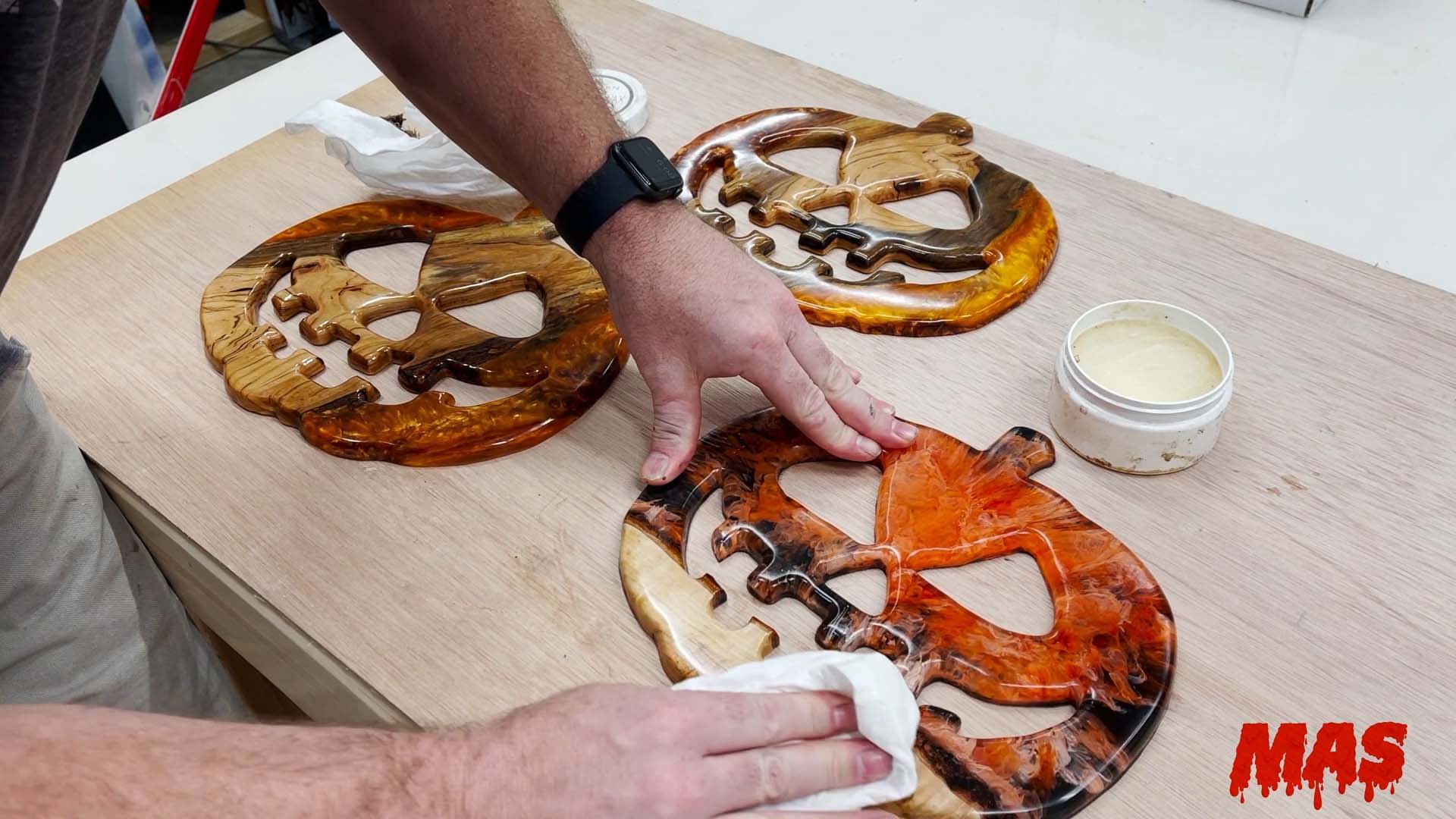 ---