Faux Terrazzo Resin Coasters
Nov 11th 2021
Learn How To Make DIY Terrazzo Resin Coasters
Let's embrace the current terrazzo trend with this super easy DIY dupe! Instead of using pricey chips of granite, marble, quartz, and glass set into concrete…we will be using epoxy resin and polymer clay to create a fabulous faux terrazzo coaster set! This project is perfect for epoxy beginners and super customizable for epoxy pros. Mark my word, you will be wanting to create a terrazzo resin dining table by the end of this tutorial…it's THAT easy!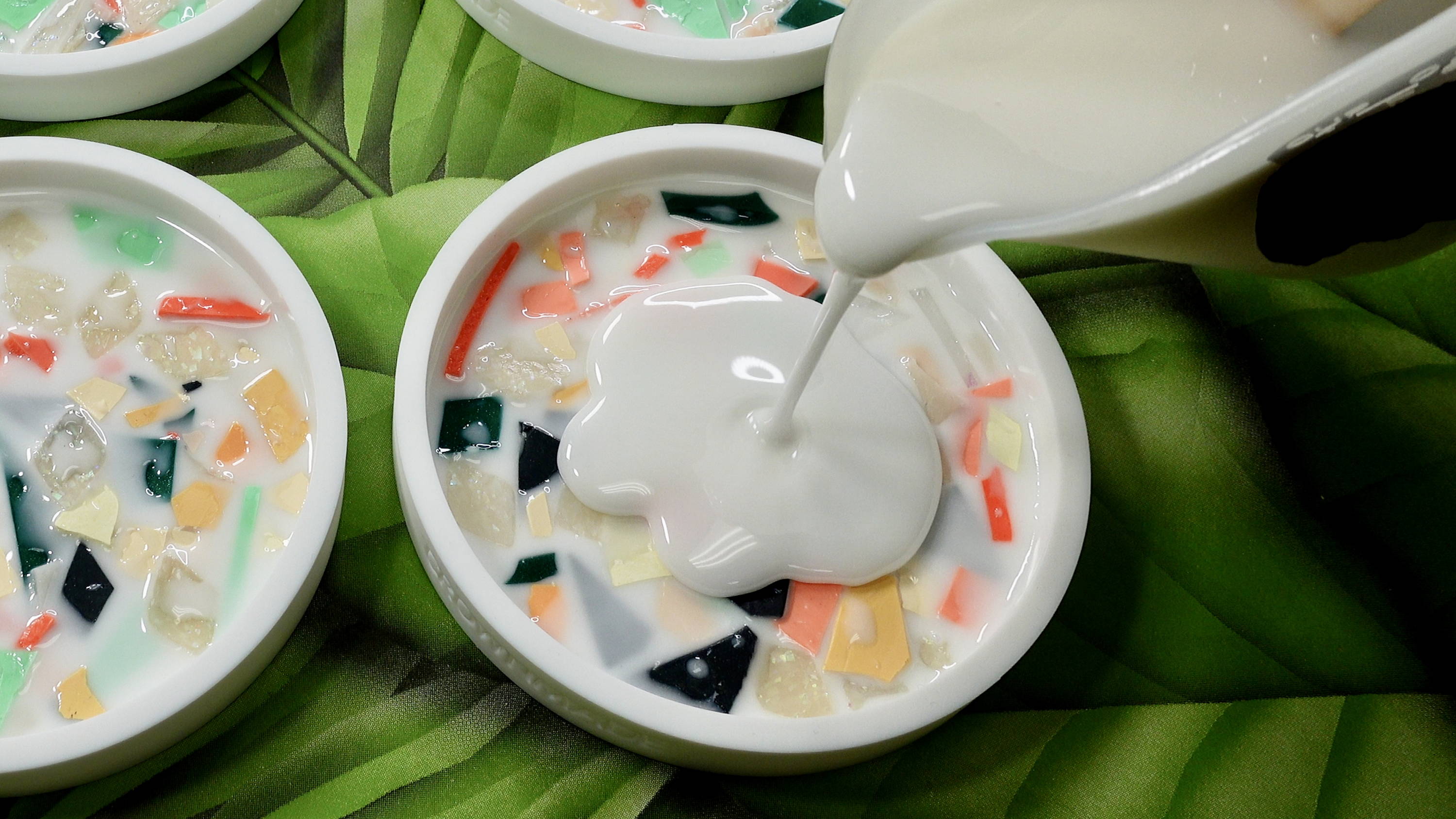 ---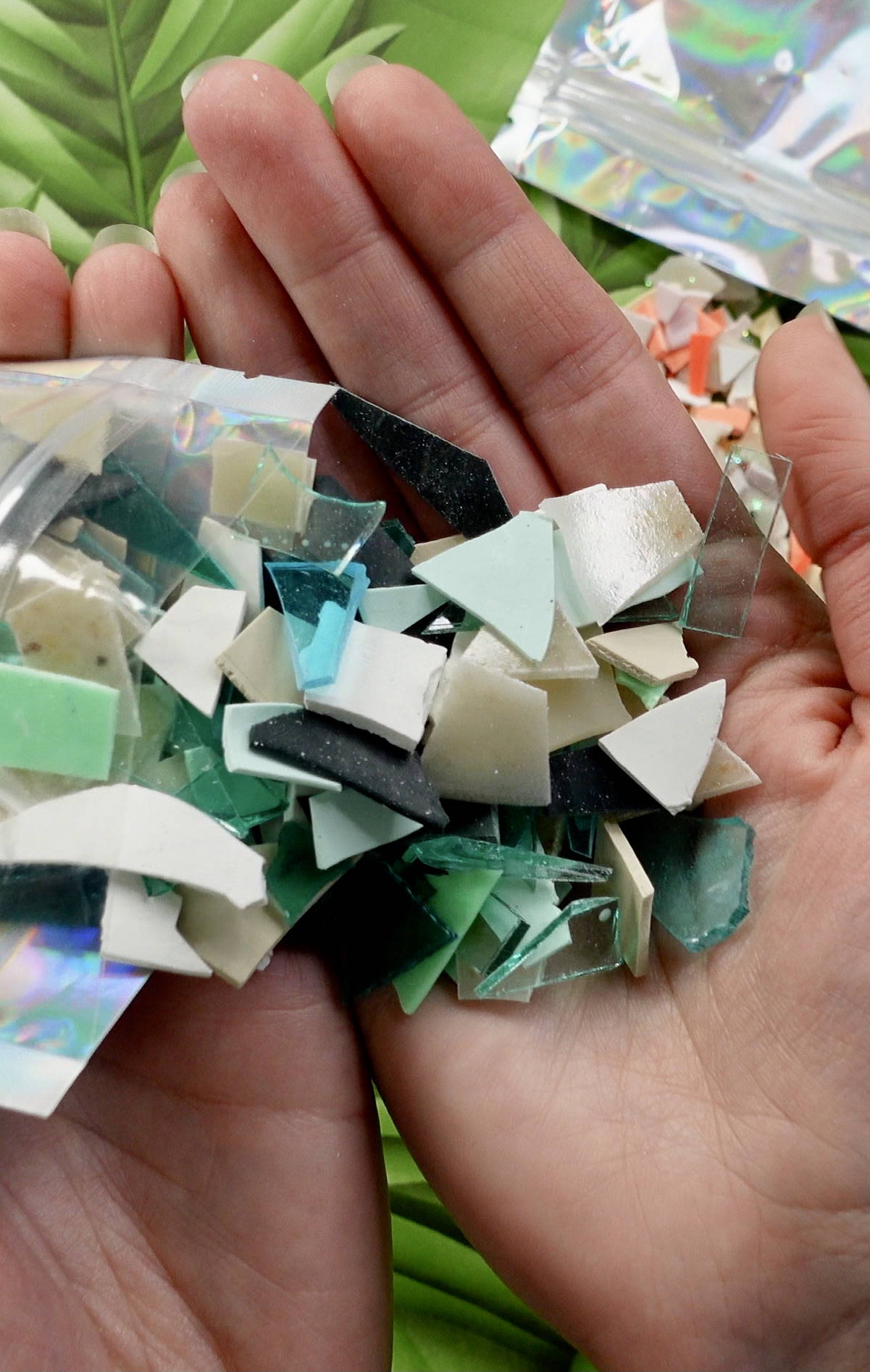 MAS Epoxies Flag Resin and Medium Hardener
Mixol white pigment
Starbond medium adhesive and accelerator
Adhesive cork backings
220 grit palm sander
Liquid latex
Wood burning tool
Torch and heat gun
---

Here are the epoxy resin systems that were used in this project!
---
MAS Flag resin and Medium hardener is a versatile 2:1 system that is perfect for casting resin up to a 1/2" in silicone molds and it has a lower viscosity with excellent bubble release. The working time for this system is 20 minutes at 70F and can be recoated or another layer added once every 2 hours. Projects can be demolded 24 hours after pouring, sometimes sooner depending on studio or workshop conditions.
We will also be using MAS Table Top Pro epoxy system. This 1:1 epoxy system is an easy-to-use table top finish that is a maker's dream medium! It's compatible with pigments, alcohol ink, acrylic paints, and more! This system has a 30 minute working time and can be recoated in about 2-4 hours after your pour.
---
---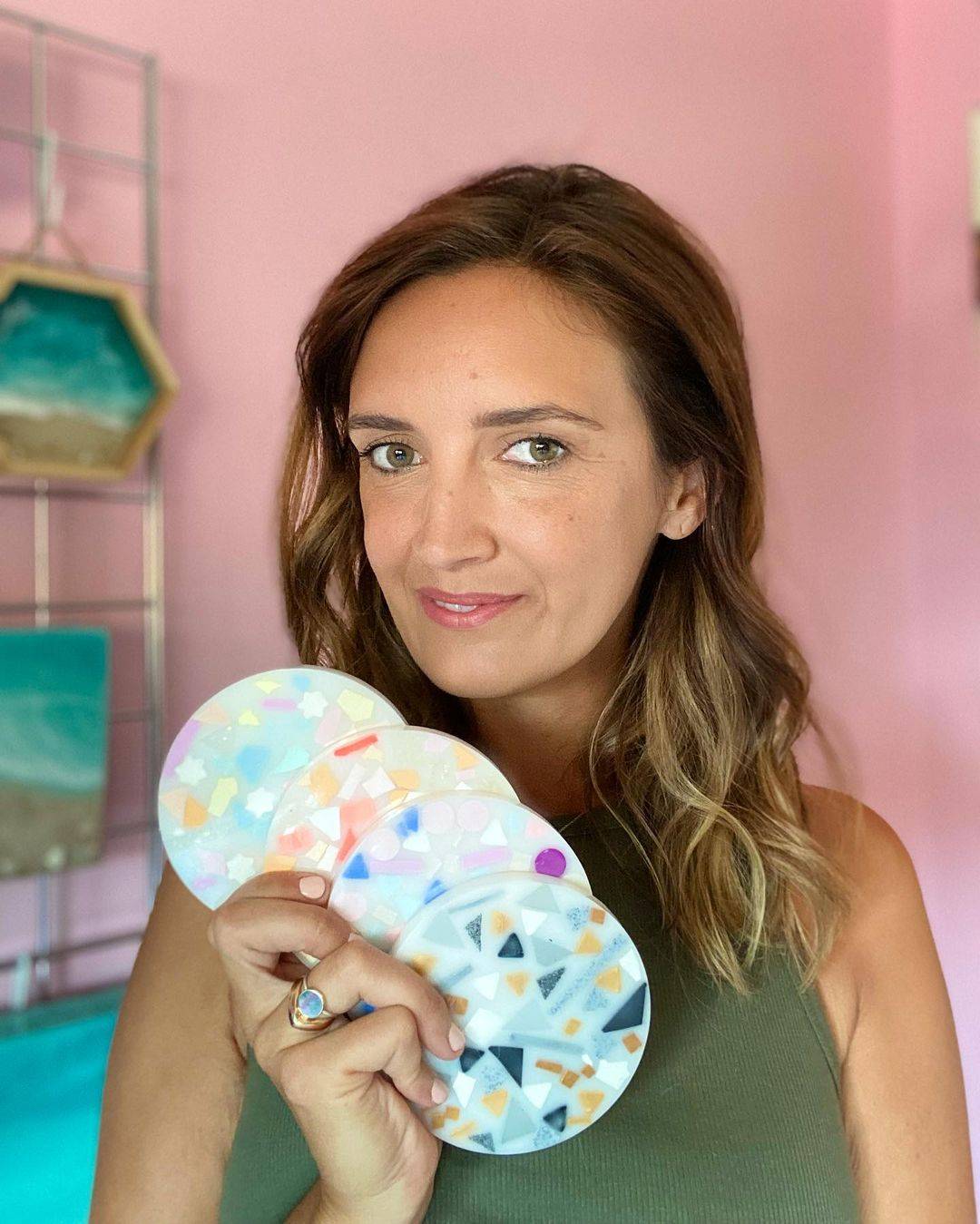 "My painting journey began 16 years ago. My main focus has been contemporary and geometric abstract art, but I have fallen in love with painting with resin. Resin is a limitless medium and after working with it for almost 5 years, I am still not bored! I am constantly experimenting with new ways to paint. I love to play with texture, viscosities, materials, colors and methods of applying paint to canvas."
---
STOP scrolling! Check out this video first!
---
---
Here's the FULL tutorial!
---
Step 1: Preparing the terrazzo chips
Crystal Low Art creates amazing terrazzo resin art chips from polymer clay and epoxy resin! She offers a variety of gorgeous terrazzo chip colors, so I decided to mix and match to create my own custom combination.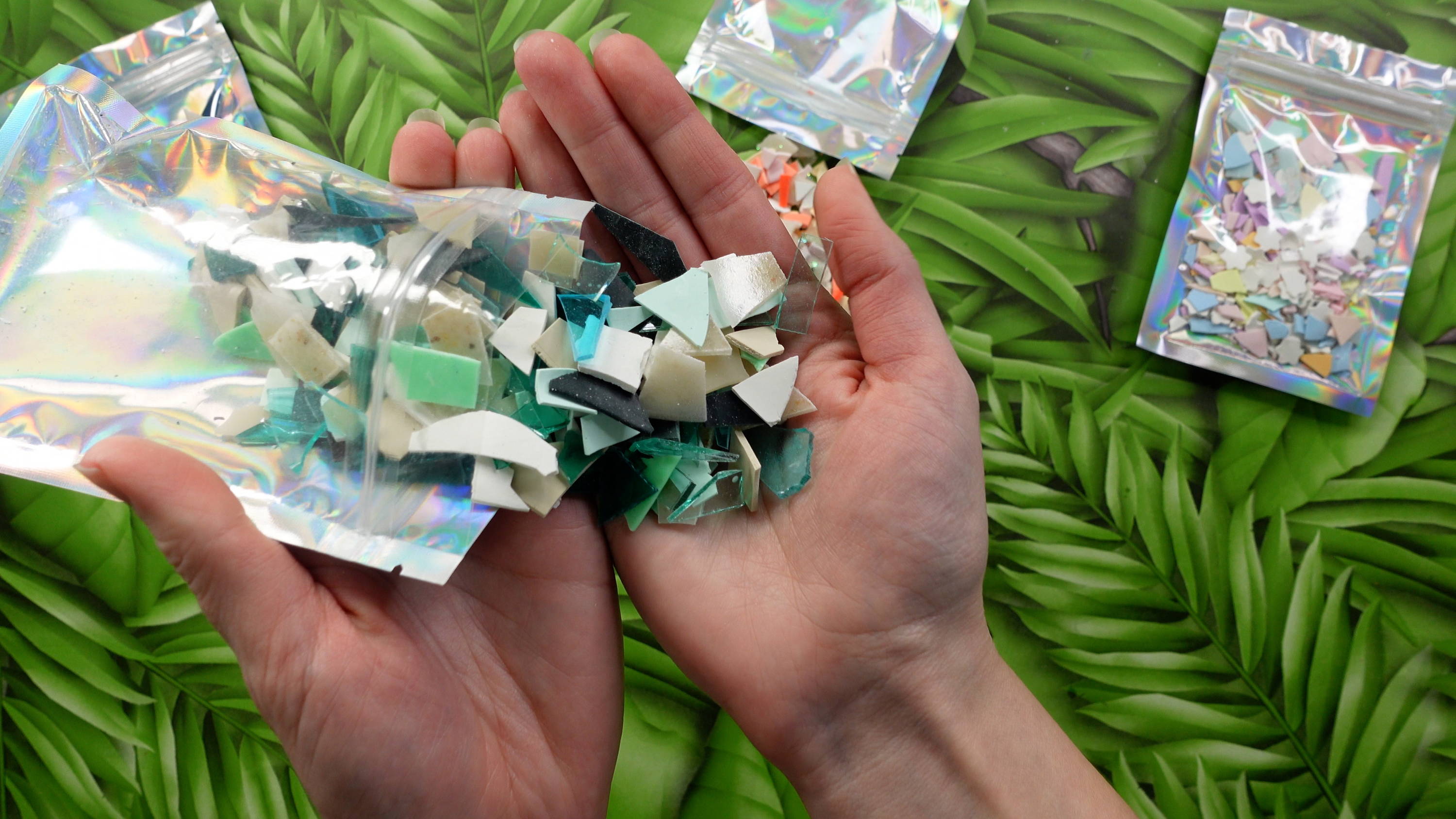 ---
Step 2: Mixing and pouring the epoxy resin
After properly mixing the Flag resin and Medium hardener, tint the epoxy with your favorite white pigment. I wanted the color to look milky and not 100% opaque. Once you achieved this look, pour a very thin layer into your coaster mold. Pop any remaining bubbles with a light mist of rubbing alcohol. (You can also use a heat gun or torch to pop the bubbles, but do NOT be heavy handed with the heat since you run the risk of melting the mold to your epoxy coaster.)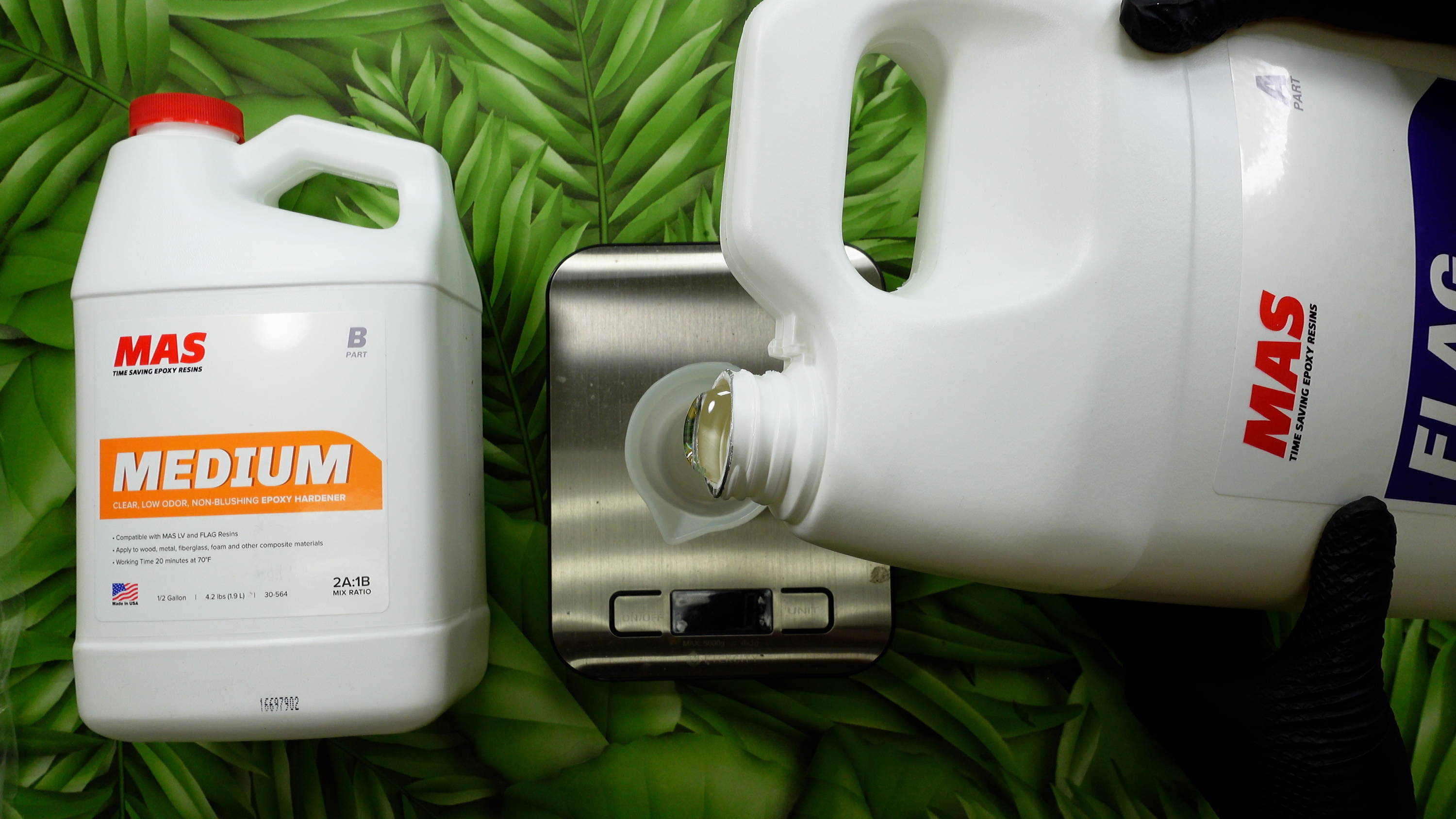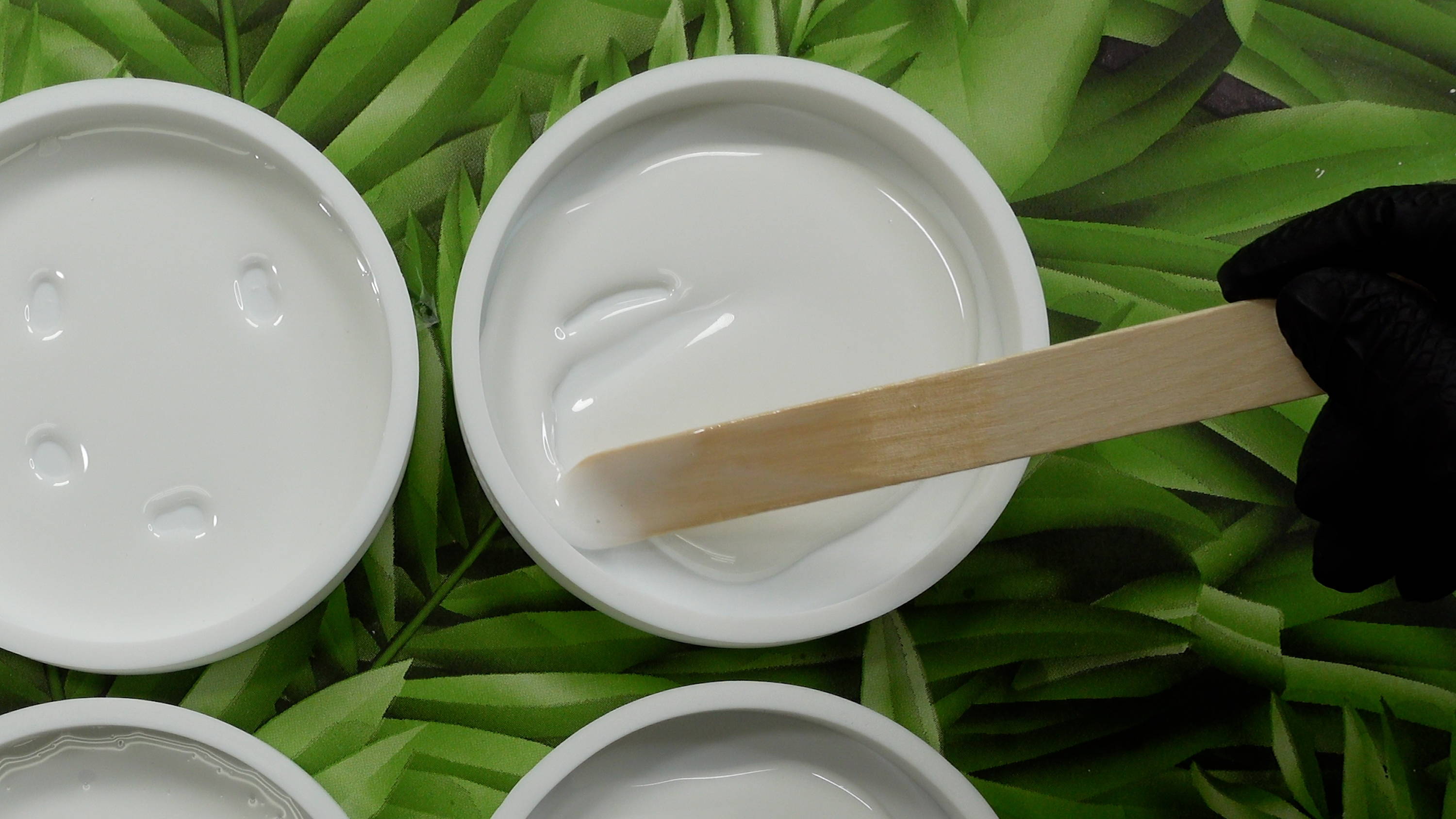 ---
---
Step 3: Adding the terrazzo chips
Now it's time to pour in Crystal Low's terrazzo resin art chips! You can add as many or as few chips as you would like to the wet epoxy layer. Once you're happy with the amount of chips, gently push them down so they are touching the bottom of the mold and are placed exactly where you want them. Let this layer cure for 2+ hours before moving on to the next step.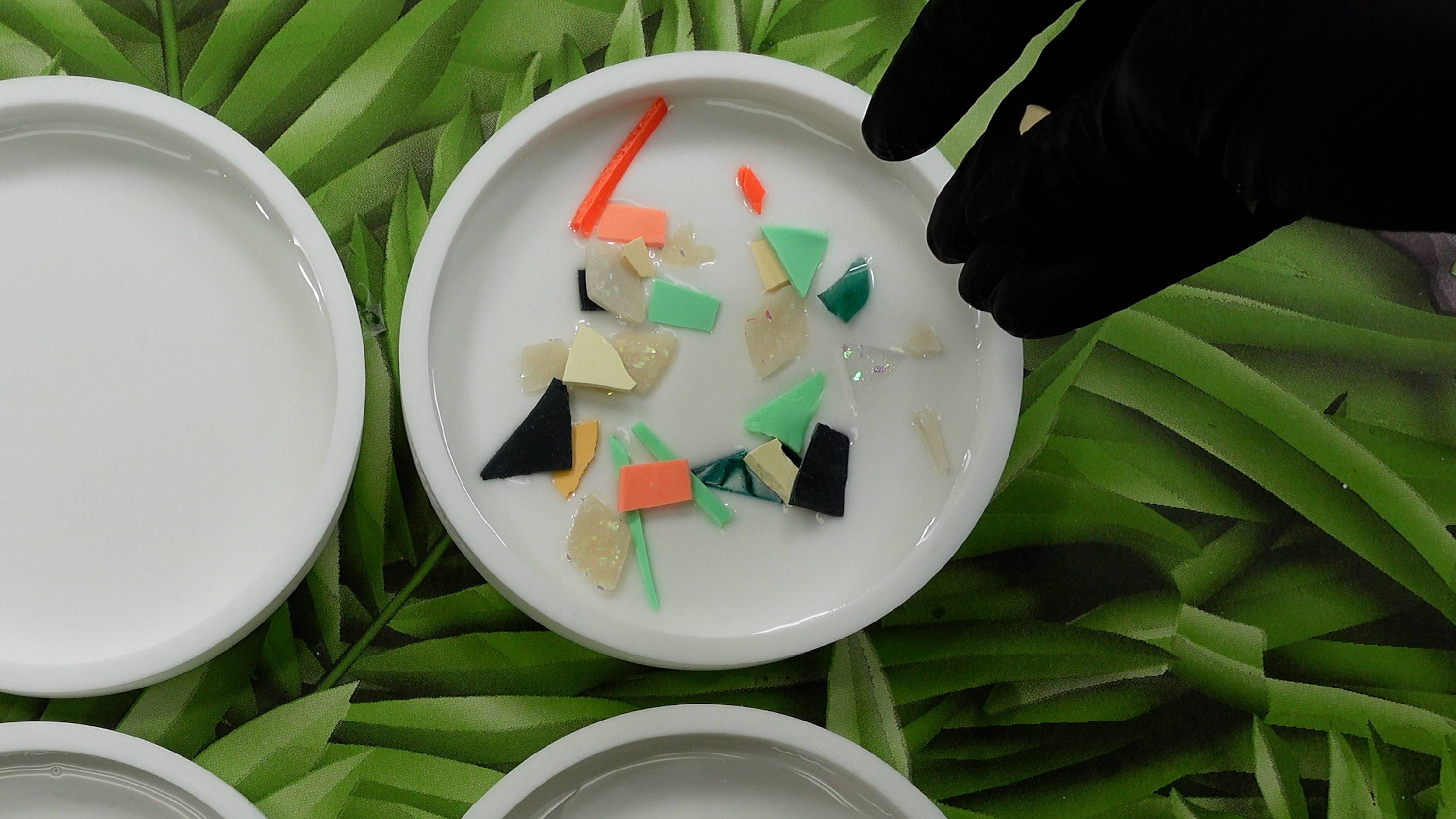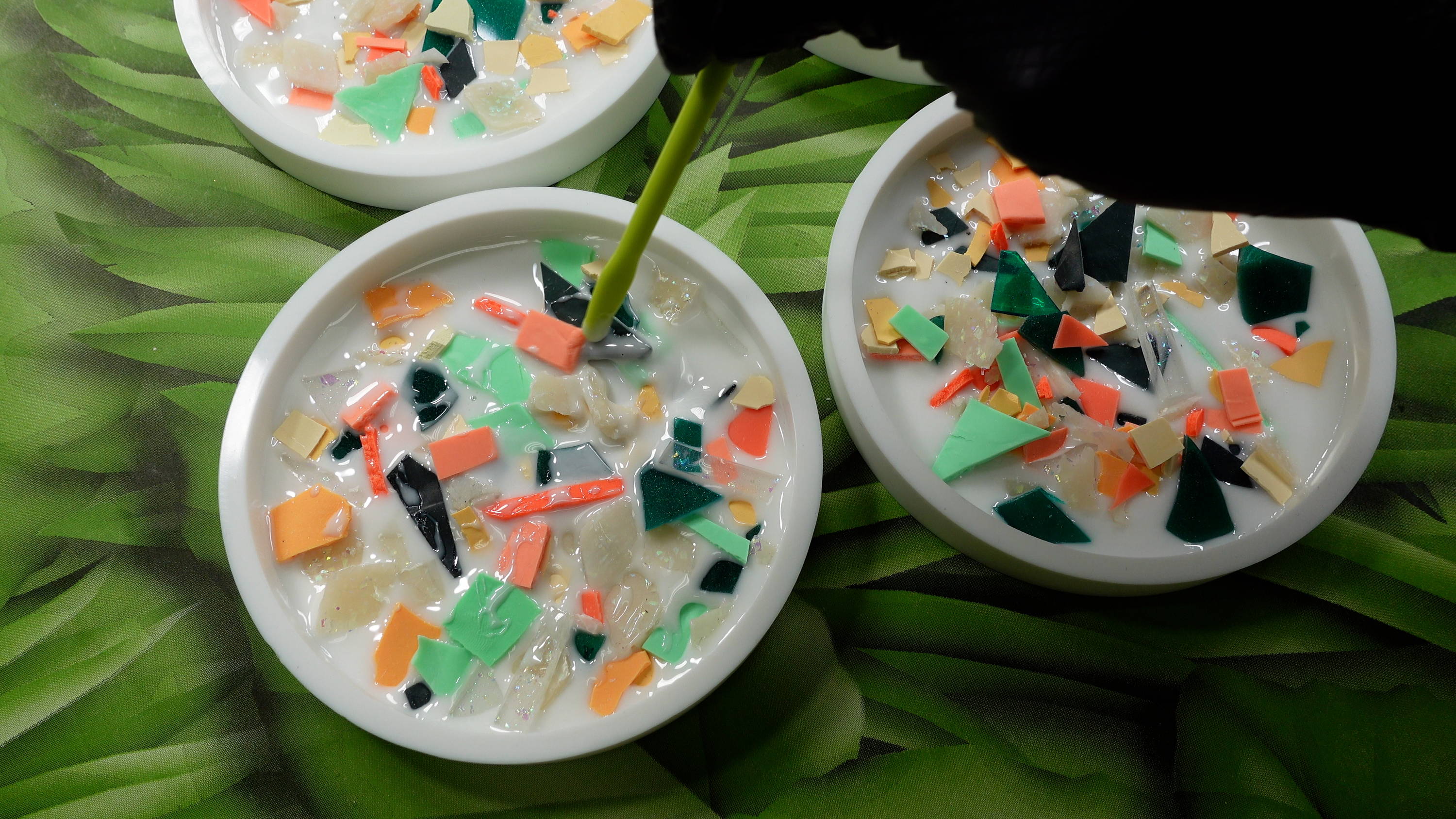 ---
Step 4: Adding more epoxy resin
Mix up another batch of MAS Flag resin and Medium hardener and use your favorite pigment to color it a solid white. Pour the white epoxy into the mold so that it completely covers the first layer of epoxy and terrazzo chips. Pop any remaining bubbles with a heat gun, torch, or rubbing alcohol and let it cure for 24 hours before unmolding.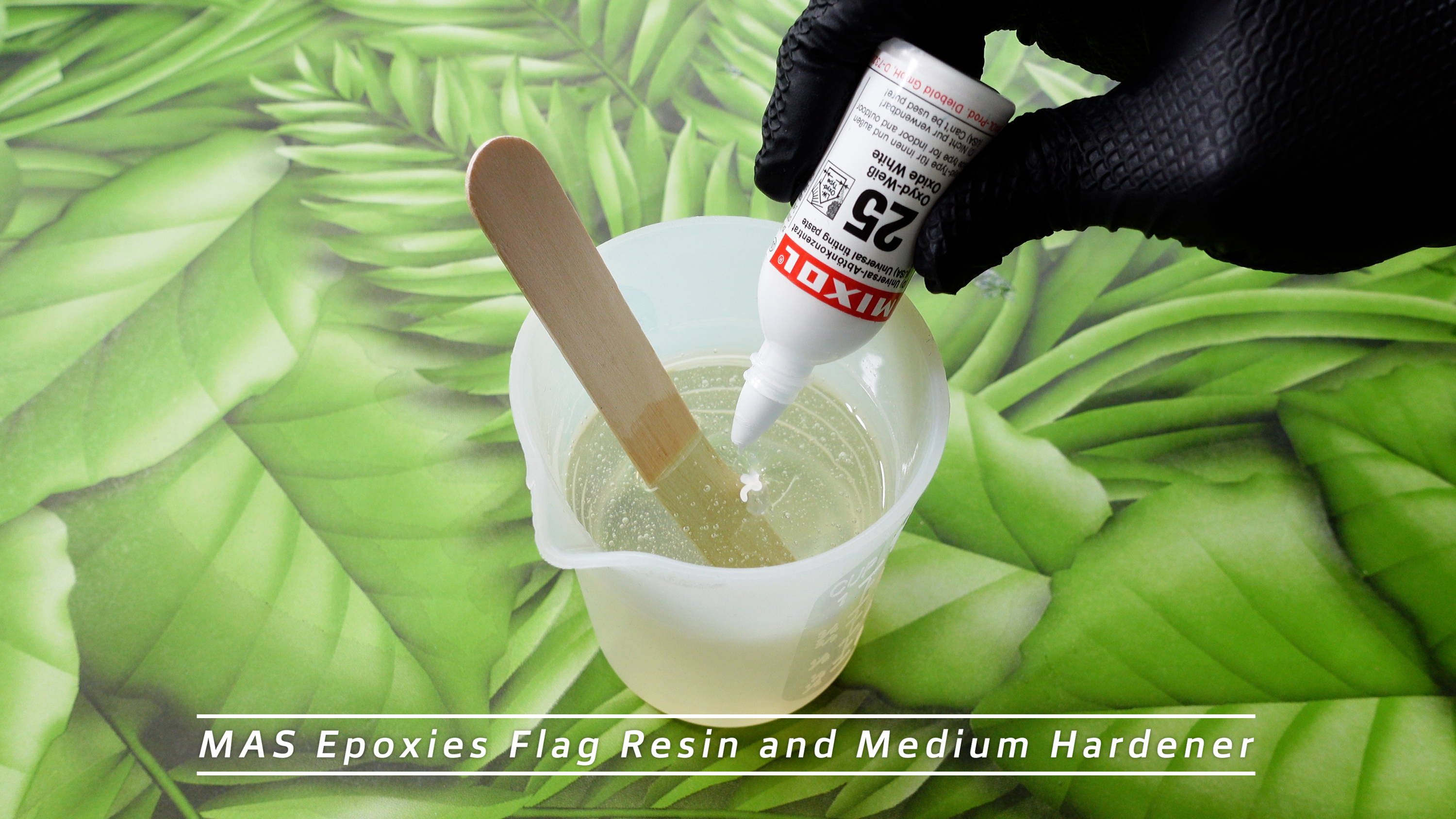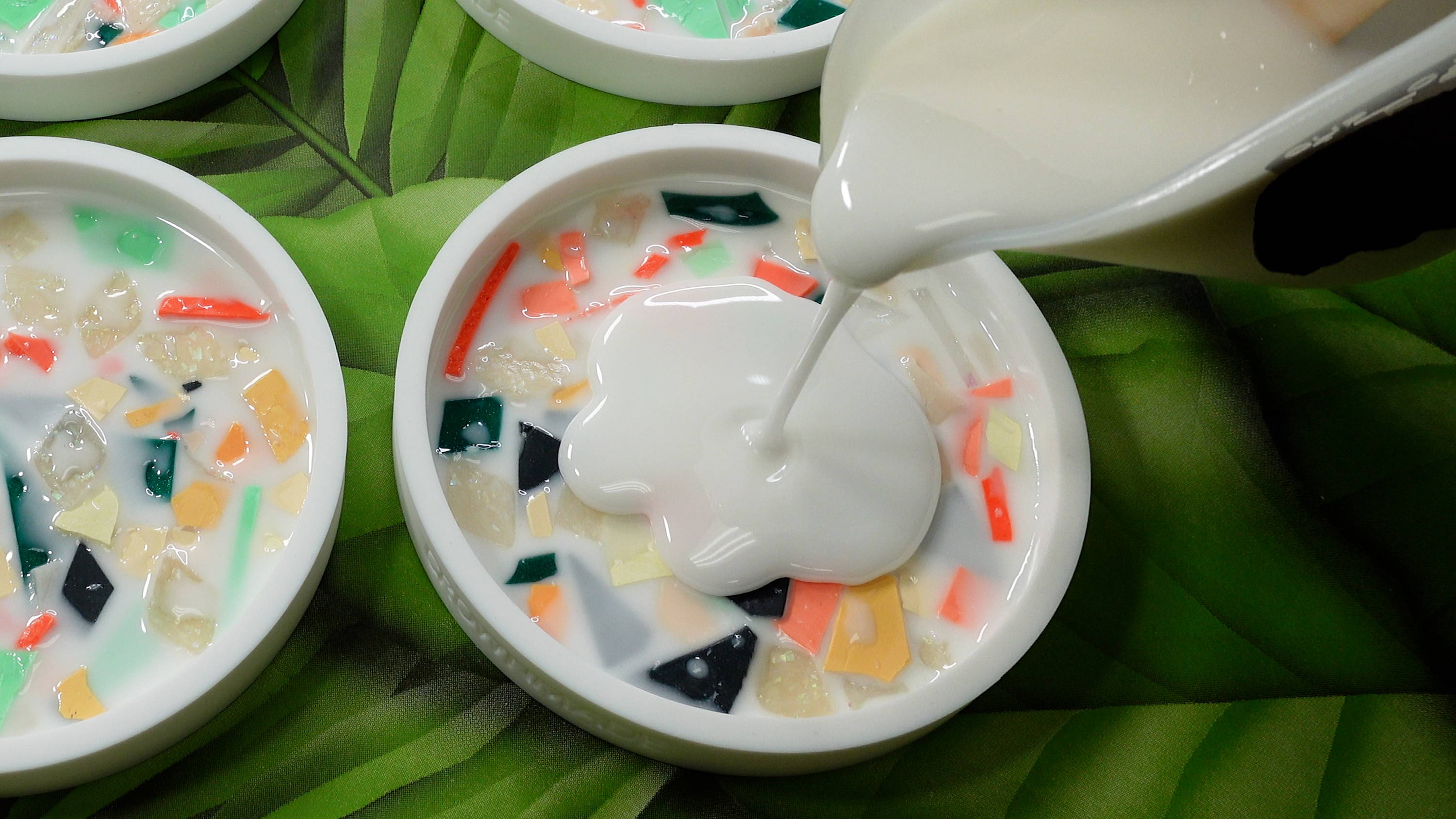 ---
---
Step 5: *OPTIONAL* Sanding the epoxy resin coasters
The coasters are perfect right out of the mold but if you want to take them a step further, you can sand down the very top layer of milky epoxy to reveal more of the terrazzo chips. I used a 220-grit palm sander to remove the top layer of epoxy and a sponge sander for detail sanding. Make sure to thoroughly clean the coasters before moving on to the next step.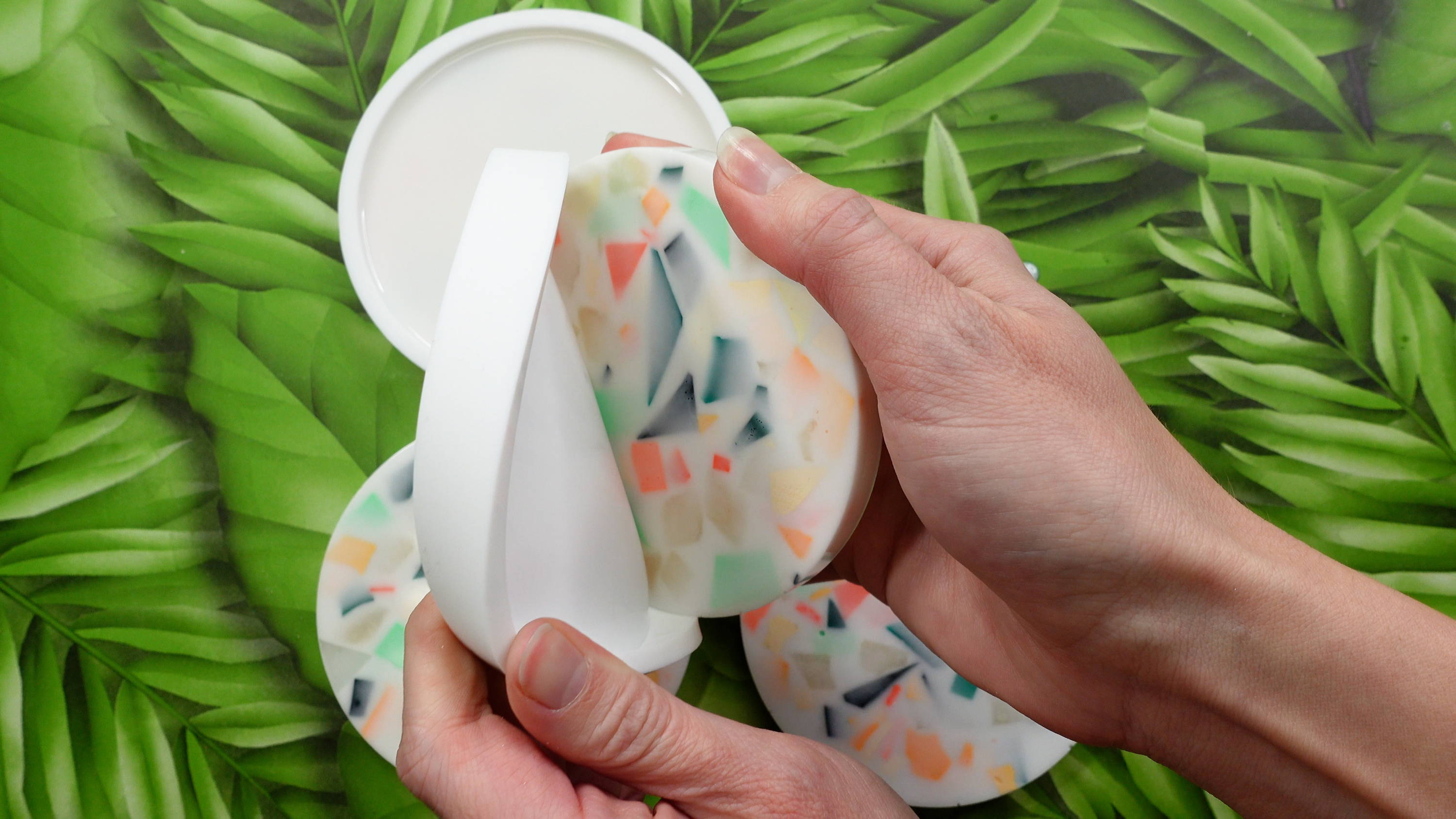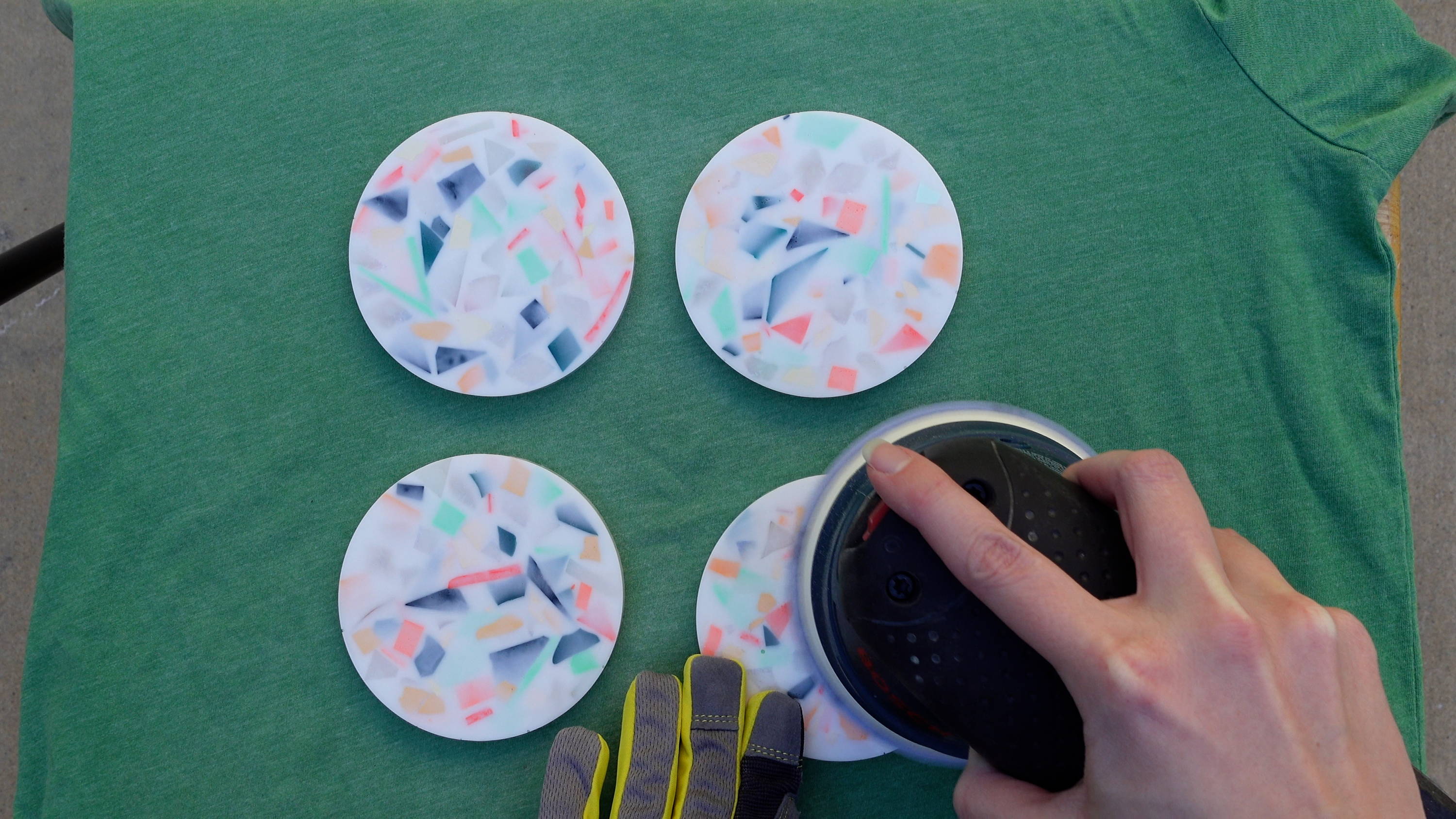 ---
Step 6: Liquid latex masking
Before adding an epoxy topcoat, we need to protect the back of the coasters from pesky resin drips. Smear a semi thick layer of liquid latex on the back edge of the cured and sanded coasters. Let the latex dry completely before moving on to the next step.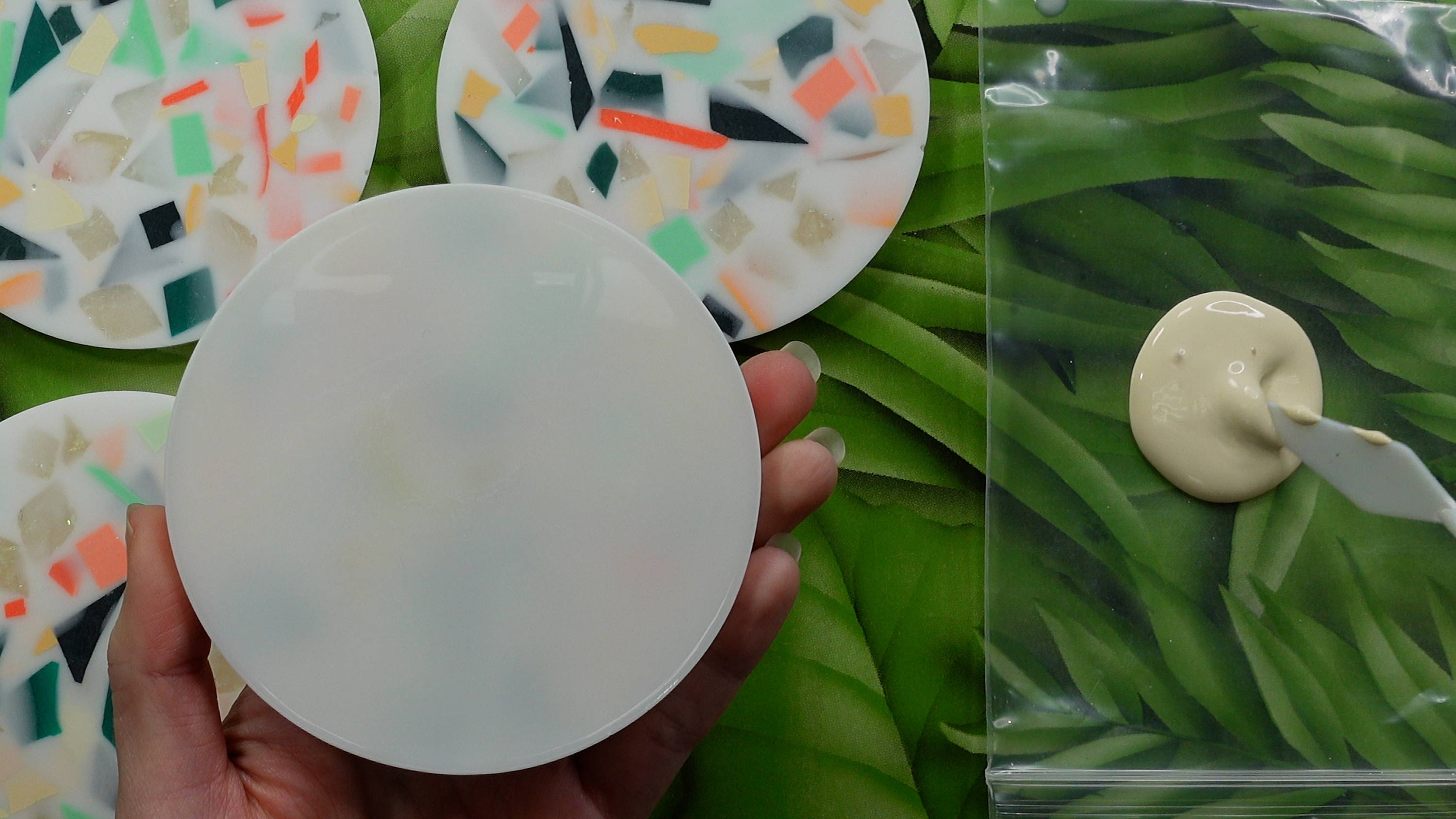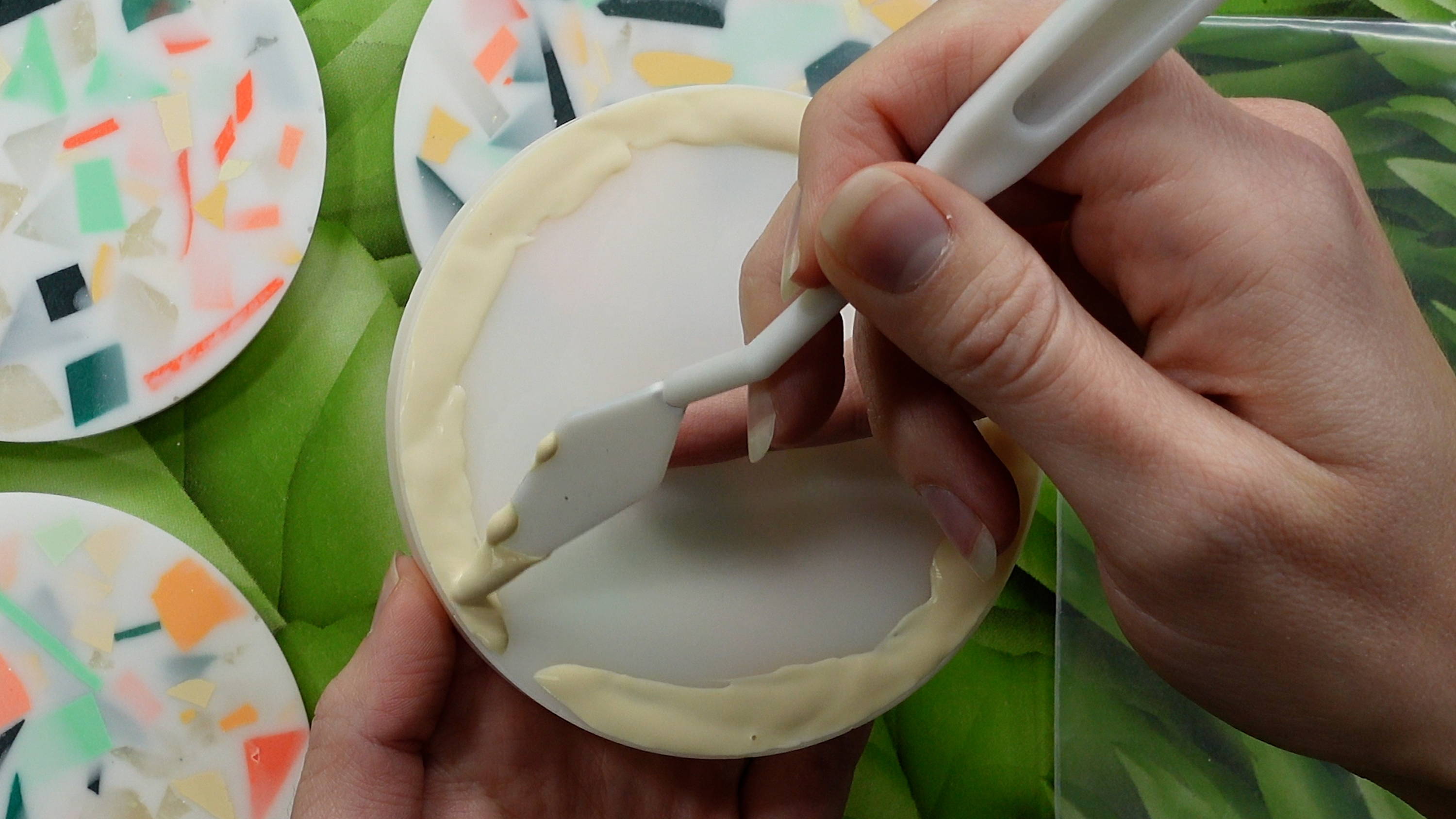 ---
Step 7: Epoxy resin topcoat
It's time for the final layer of epoxy resin! We will be using MAS Table Top Pro for the top coat. Slowly pour your mixed epoxy onto the coaster and spread evenly with a popsicle stick. Pop any visible bubbles with a torch, cover to protect your piece from dust, and let cure completely.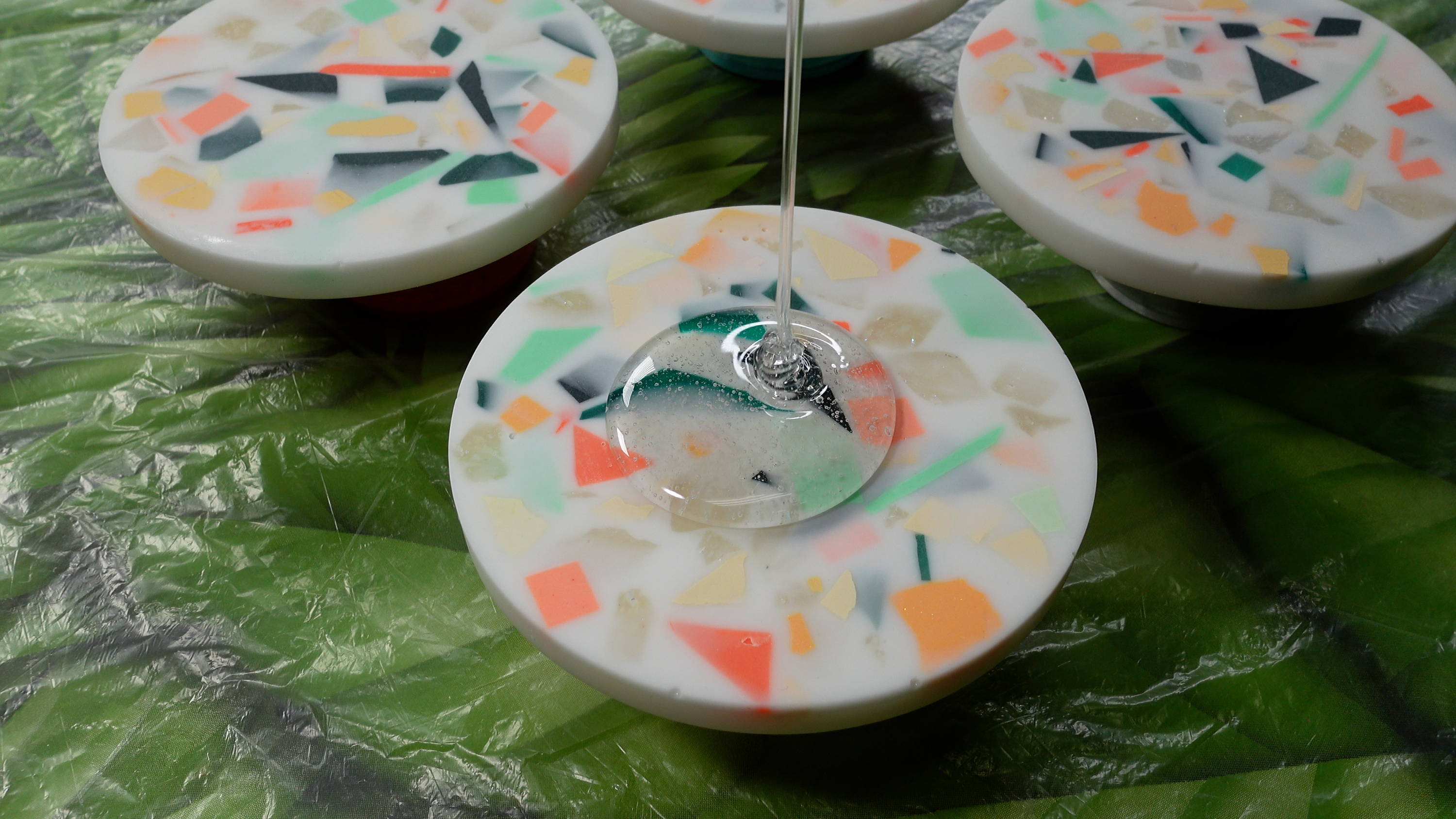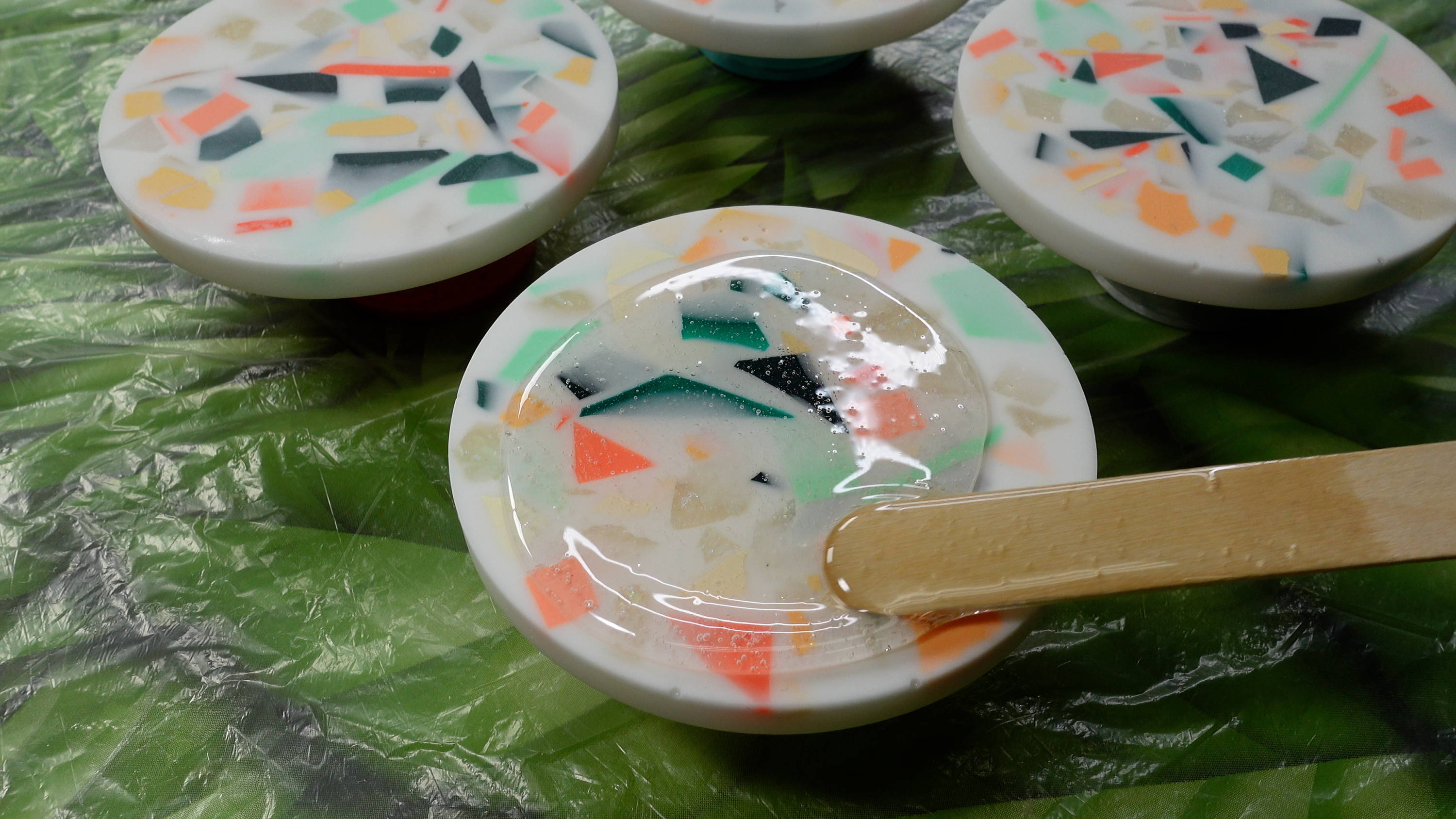 ---
---
Step 8: Finishing touches
Once your coasters are cured, you can peel off the liquid latex and move on to the final step! To protect the back of the coasters and your furniture, I glued on cork backings with Starbond medium adhesive and accelerator. Don't forget to sign your coaster set! I used a wood burning tool to burn my signature into the back of the coasters.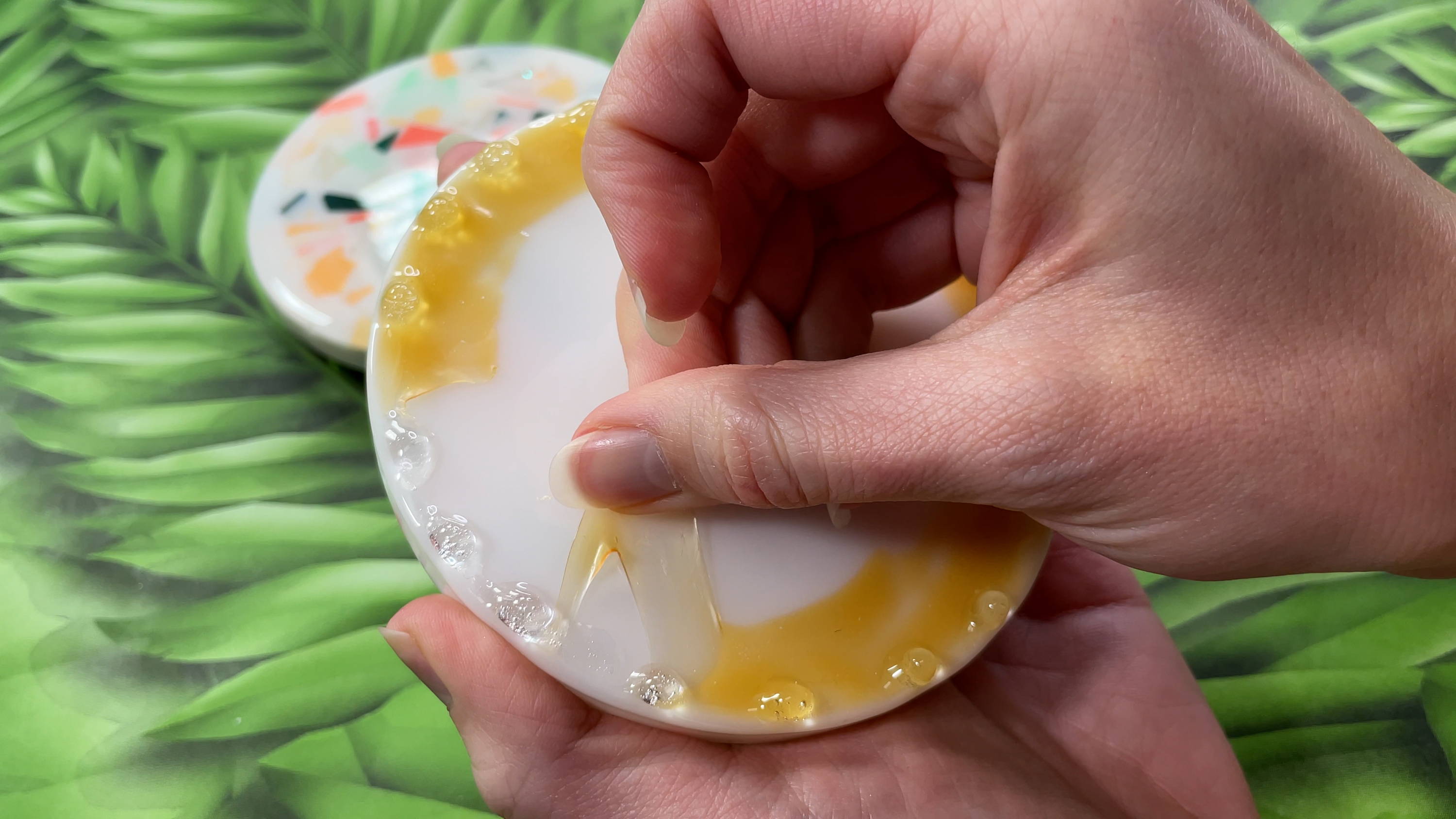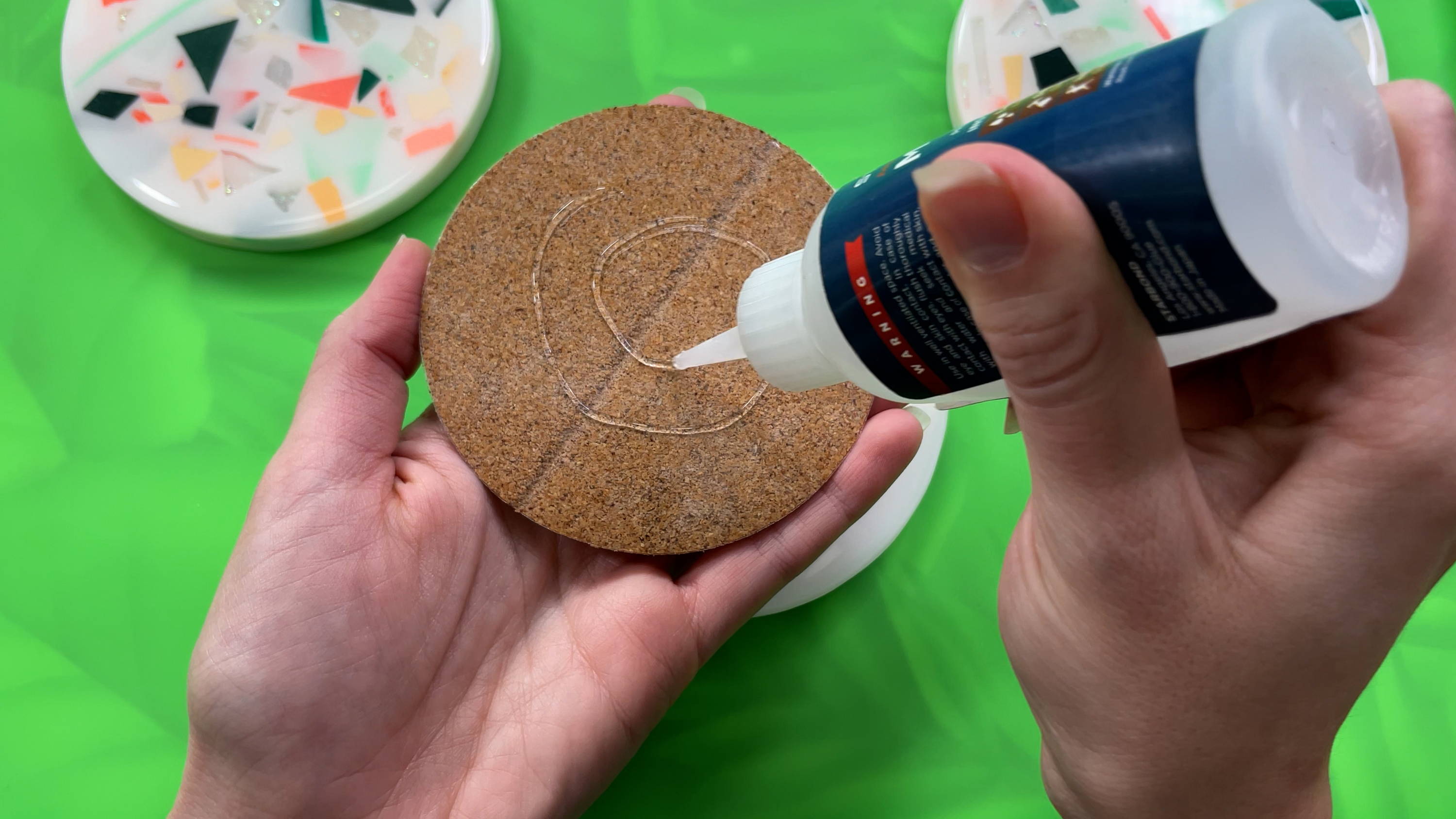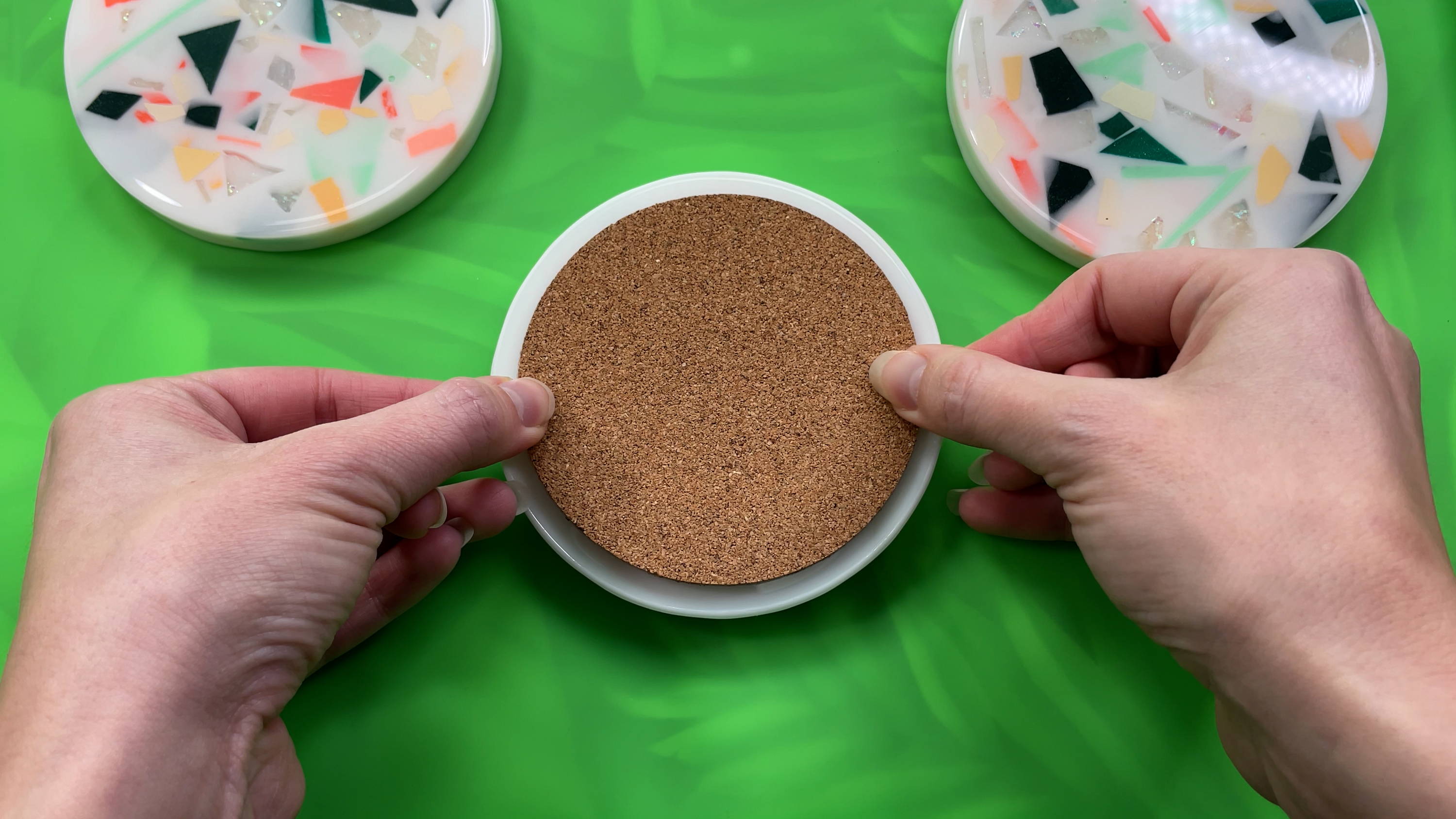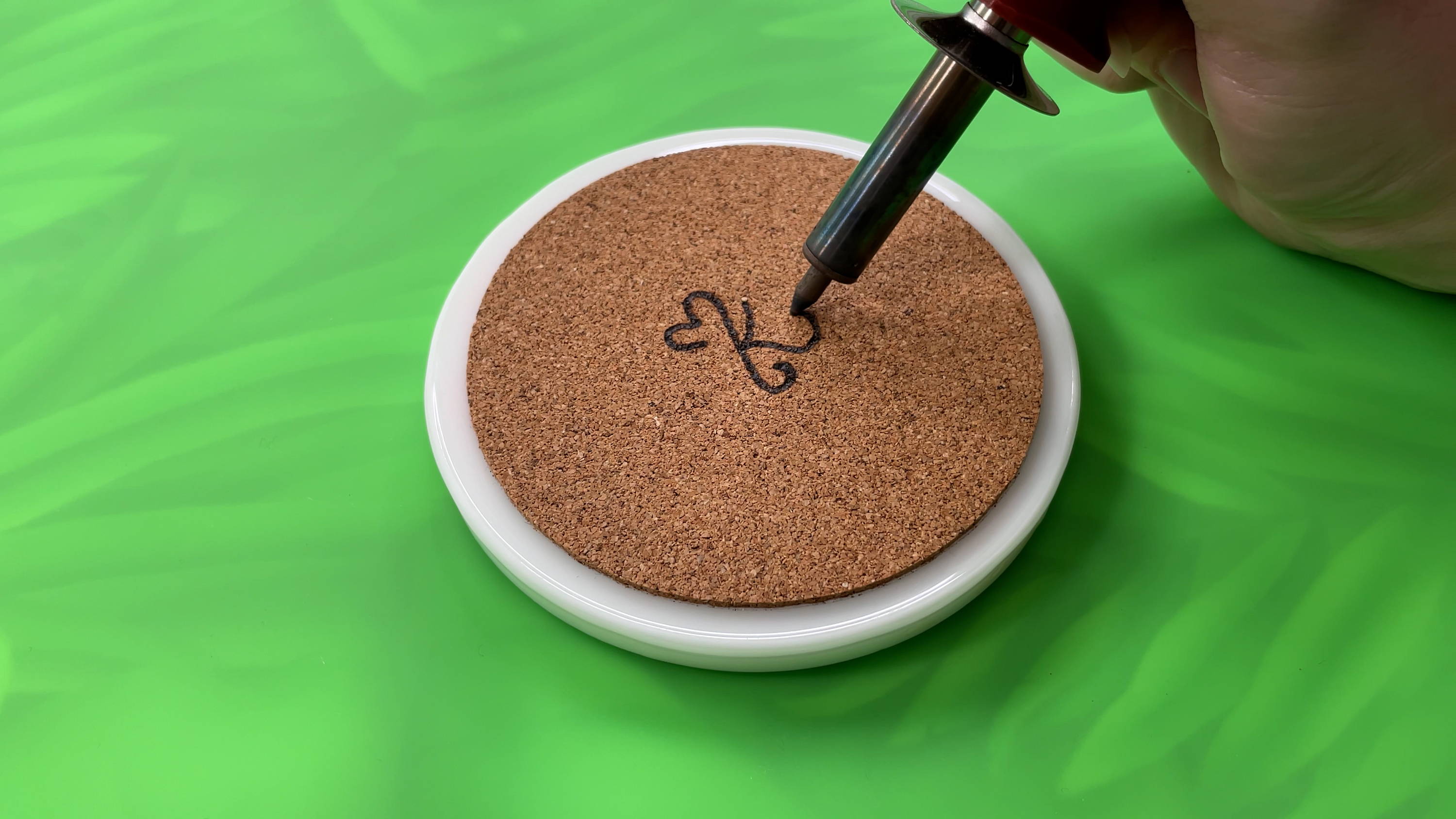 ---
If you felt inspired by this tutorial to create a faux terrazzo piece of your own, please post and tag @masepoxies #masepoxies on Instagram for a chance to be featured! We love seeing you explore new ways to resin! Stay creative and happy crafting!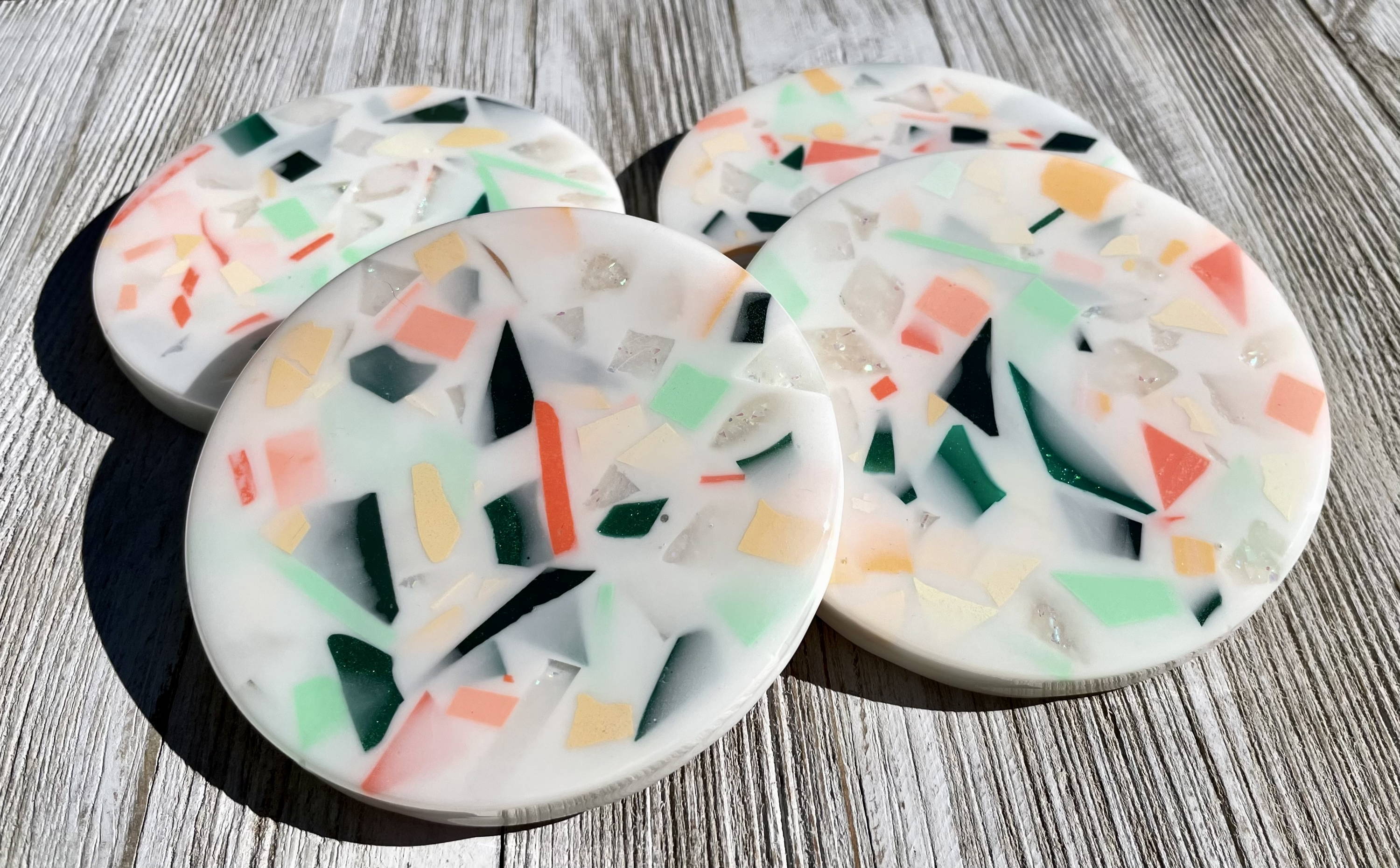 ---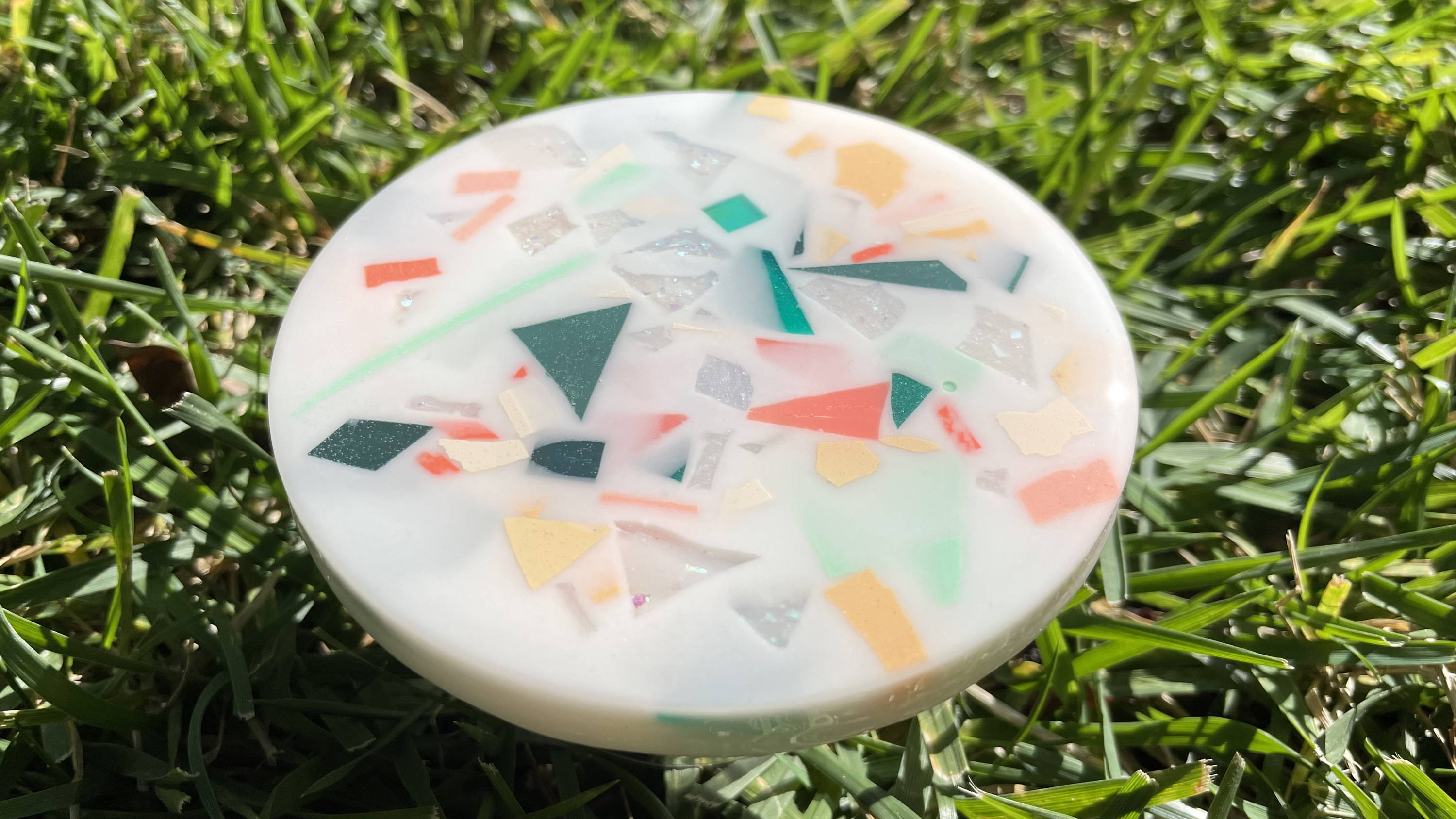 ---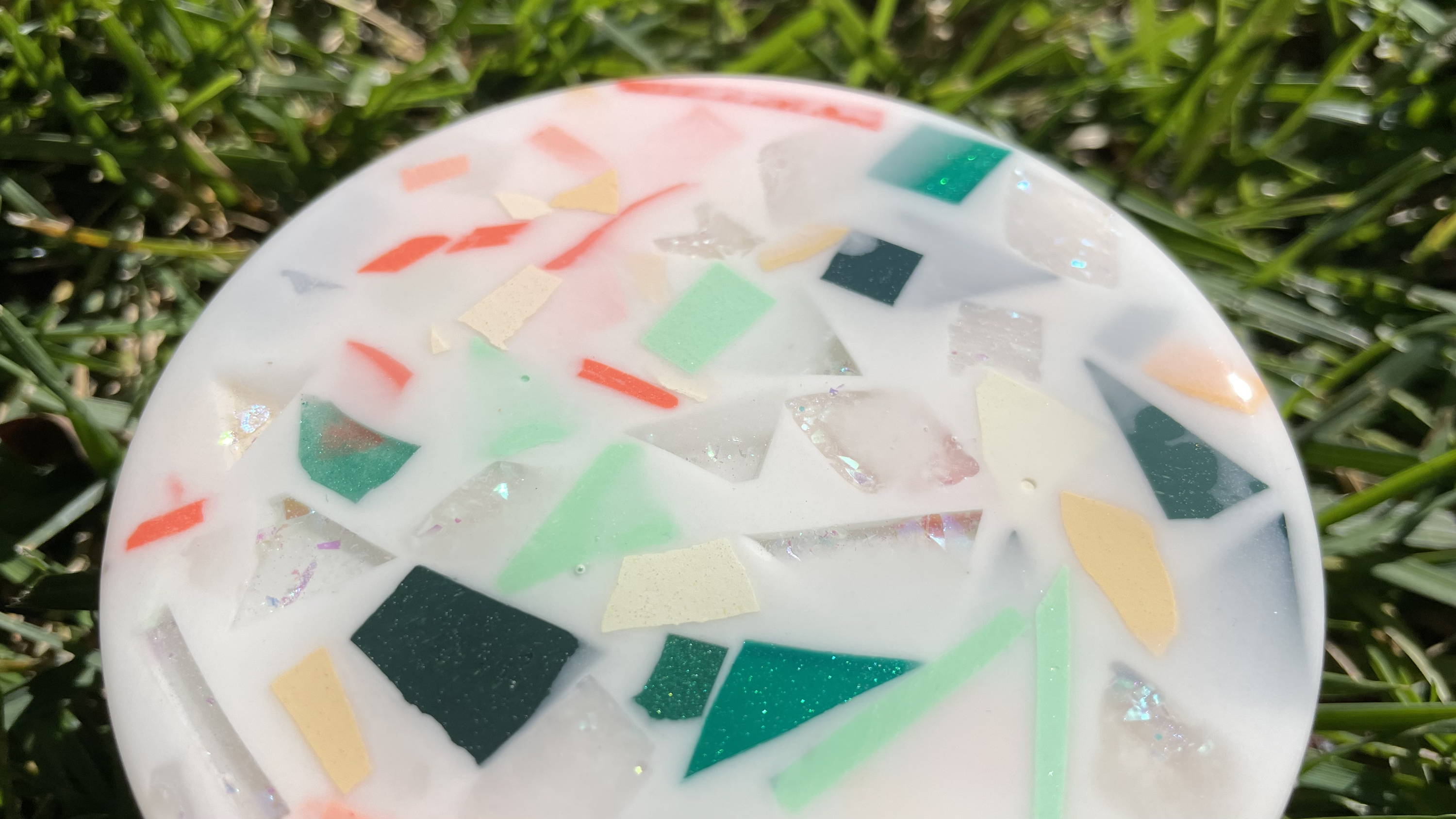 ---
Thank you for joining us on this crazy adventure!