How to Build a Spear Gun
Nov 6th 2020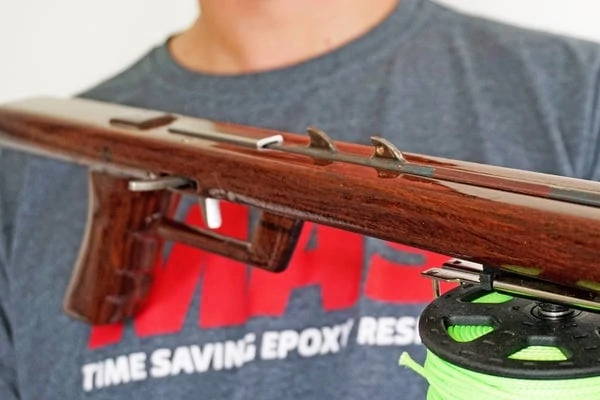 Chris reached out about building a speargun and and we offered up some products that we felt would serve well but it was largely uncharted territory! Chris documented the process and sent over this write up of the process.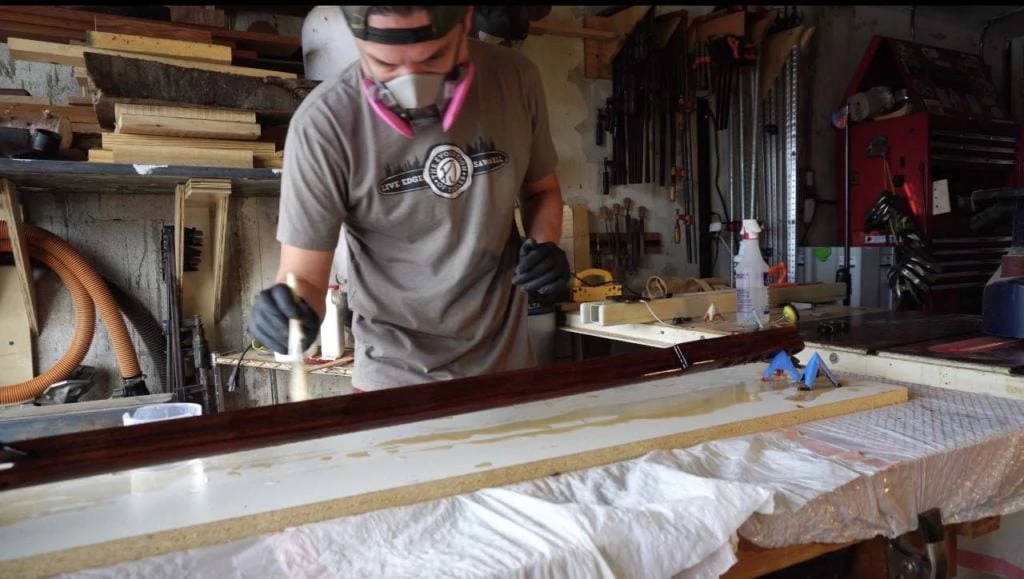 As a woodworker and creative, I spend a lot of time trying to push myself into the new, weird, and uncomfortable. An 18th century workbench? Sure. A Japanese toolbox with western dovetails? Check. A spearfishing gun from locally harvested rosewood utilizing traditional mortise and tenon joinery? Well, that box can officially be checked.
Typically, high end spearfishing guns are unfinished. Most teak blanks are raw and left raw due to their heavy weather resistance and ability to be brought back to life with, you guessed it, teak oil. However, with the rosewood stock that I sourced for this build, I didn't want to chance anything with its water resistance, especially since I was largely unfamiliar with its properties, other than its general oiliness. The solution? Layered epoxy resin topped with a Bristol Finish urethane.
Prior to this build with MAS, I'd never used the three MAS products I used on the speargun: penetrating epoxy, 2:1 epoxy, and Bristol Finish. They were laid down in that order respectively onto raw wood, and the results on the ultimate finish of the speargun speak for themselves.
It's important to note that prior to application on such an oily wood, I wiped everything down with denatured alcohol to help break down and draw out some of the remaining oils. This ensured proper adhesion of the product to the wood. I did it during the glue up process, but also once again before applying the penetrating epoxy. Failure to do so with such an oily wood could affect the bond between the epoxy and subsequent urethane layers to the wood itself.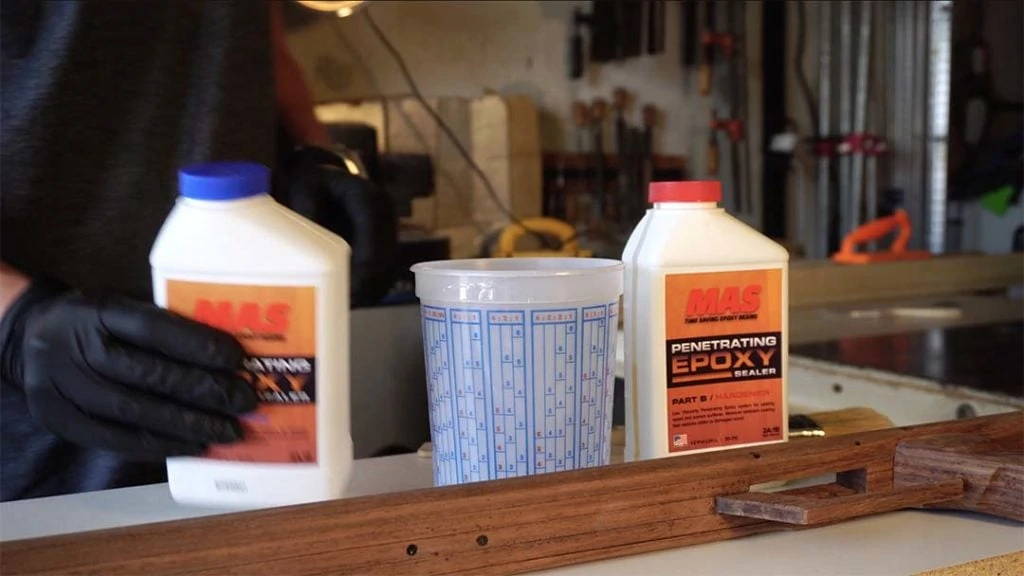 Penetrating epoxy was important as the first step as it created an eggshell barrier that allowed all the following layers of finish to set up correctly and provide the ultimate even sheen and surface that was desired. Perhaps one of the most important tips with penetrating epoxy is to take the instructions quite seriously. Penetrating epoxy needs to be mixed in small batches that can be used relatively quickly. Mixing too much penetrating epoxy at one time in a large batch risks an exothermic reaction, especially in warmer climates. It is quite thin, so no thinning agents need to be used and application with a chip brush will help you keep the drips to a minimum.
For the most part, I didn't have to do too much sanding before applying the much more substantive 2:1 epoxy. With a lightly scuffed surface, the 2:1 was applied also with a brush. As typical with epoxy, there can be bubbles in the mix. Denatured alcohol becomes your best friend with such a project, as I had a spray bottle ready to mist speargun after application, to break the surface tension and allow the bubbles to release. Prior to using denatured alcohol for this purpose, I'd used a heat gun or a propane torch for the same purpose, but denatured alcohol gives an impeccable surface with no pitting. Unfortunately, if you live in California, the sale of denatured alcohol is unlawful, so you'll have to use the aforementioned methods. Outside of that, 2:1 is pretty fool proof so long as it's mixed appropriately. I should add, that since this project I invested in a small postage scale to aid in more accurately measuring epoxy by weight instead of trying to match up lines on a mixing cup.
Bristol Finish was the true star of this build, or as the kids say: "The real MVP". This urethane topcoat sprayed like a dream using just a basic HVLP sprayer available at any home center for about $60. There's a lot of methods to applying Bristol Finish but my favorite was the "wet finish" method, which is not necessarily "wet" per se, but instead a method to prevent having to sand between coats. I did about six to eight coats and so long as you re-spray at around the one hour mark, each coat will burn into the next much like with lacquer. If you're spraying something cylindrical or spearfishing gun shaped, I highly recommend finding a place to hang the item for spraying instead of trying to work it flat. My first couple coats were done with the speargun horizontally and it wasn't as ideal as rigging it vertically so that all sides could be sprayed evenly. I also went with the satin additive as I'm not as big a fan of gloss finishes. Apply more satin additive than you think you need and mix it well. If you're doing a number of different coats like I did, I also recommend cleaning your gun around the three to four hour mark, as some residual product in the well from prior coats might start curing, which can cause some clogs or imperfections in the spray. Finally, Bristol Finish has high slip resistance too, so even in a wet environment, the speargun maintains an ability to be gripped securely with extremely high abrasion resistance and low future maintenance.
As I said earlier, this was my first experience with all three of these products and the ease of use is the first thing that stands out to me. As far as applications that aren't speargun related, I believe that this three-part method would be a pretty smart way to finish outdoor furniture in a long lasting way. There's a lot of potential too for interior surfaces that are going to get a lot of traffic, perhaps flooring or decking. If you're looking to maintain more of the natural character of the wood, eliminating the epoxy and only using the Bristol Finish would be an option. However, the epoxy guarantees a more substantive barrier between the underlying project and the elements.
Check out the YouTube video on the build, check the MAS online shop for the products mentioned, and stay tuned for more projects coming in hot.