Layered Resin Dining Table By Chica and Jo
Nov 18th 2022
Learn How To Create an Old World Style Layered Resin Table
---
We love creating unique resin tabletops, and after experimenting with layered designs on a smaller scale, we decided to try applying the technique on something grand, like a dining room table. Inspired by our recent trip to Italy, we decided to create an old world style tabletop that looked like it had been plucked from the frescoes on the ceilings of an Italian cathedral. With a romantic wallpaper mural design to start, and lots of ornate molding and trim, we knew we had the makings for a piece with detail and dimension. When we added in layers of crystal clear resin, we ended up with a spectacular work of art that's now the main focal point in the dining room.
---
Here's A Little More About Chica and Jo!
---
Chica and Jo are a fearless DIY duo of best friends who focus on creative and unique solutions to everyday challenges. From converting a china cabinet into a fireplace to building a 6-foot Lite Brite; Chica and Jo use their imaginations and their power tools to create projects and provide full tutorials with all the details you need to make something truly amazing. We especially love the challenge of working with resin in new and different ways that you haven't seen before!
---
Use Code: CHICAANDJO for 10% Off!
---
Check Out Chica and Jo's Full Video Tutorial!
---
---
Let's Make a Masterpiece!
---
Step 1: Prepping the Table
We started with a dated, old oak table that was super sturdy and had a great oval shape that fit perfectly in the dining room. To get it ready for resin, we first cleaned it thoroughly with a degreaser, and wiped it really well to remove any dust. Then we primed the top with white Chalky Finish paint and the base with a dark gray.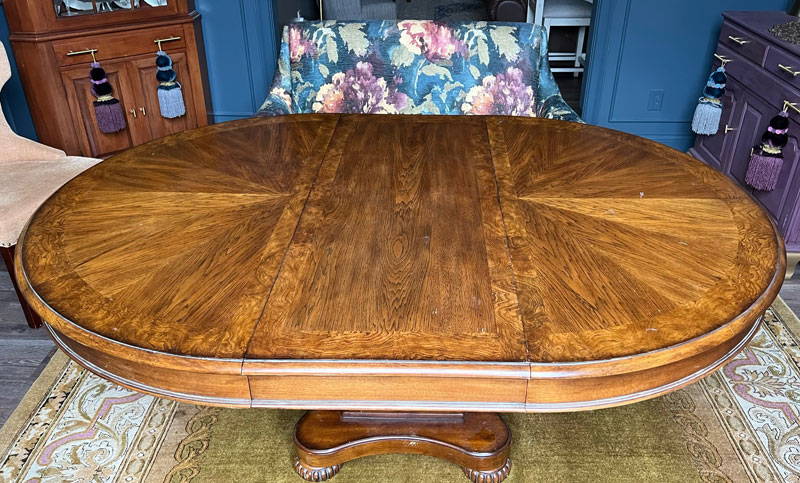 ---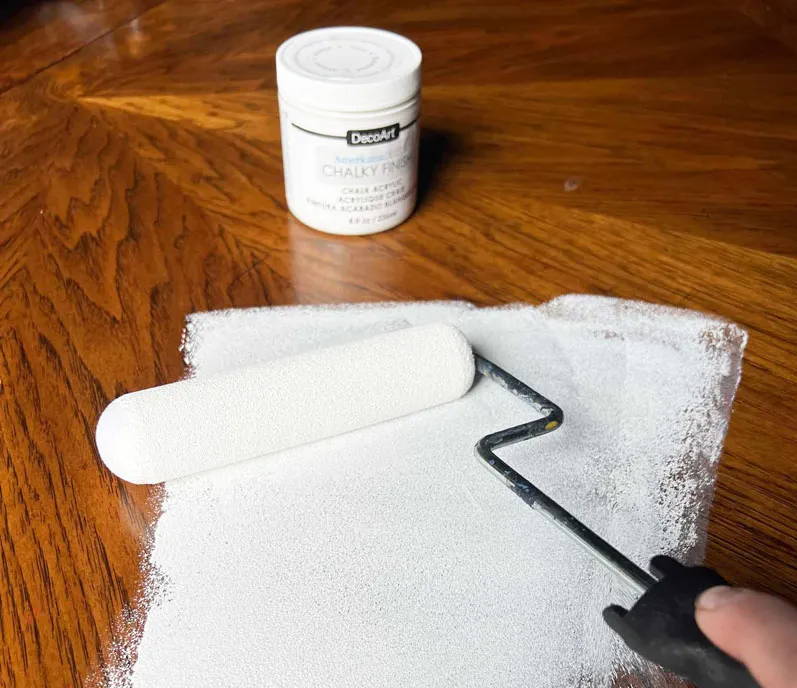 ---
Step 2: Planning the Design
Because we wanted this table to look like an old Italian fresco, we chose an image that fit that style. We found the perfect image at Limitless Walls, where we could get it custom printed on mural wallpaper to the size we needed for the table. We had two copies printed, one for the base and one for adding 3D accents later. We cut out the first copy to an oval shape and put it on the table to be sure it would work. We had the perfect amount of border around it, so we knew we were good to go. Then we cut out the main image elements from the second copy and played around with positioning them. We knew that we would be layering a few pieces between the resin layers to add depth and dimension, and playing around with them dry first was a great way to plan exactly how that would go.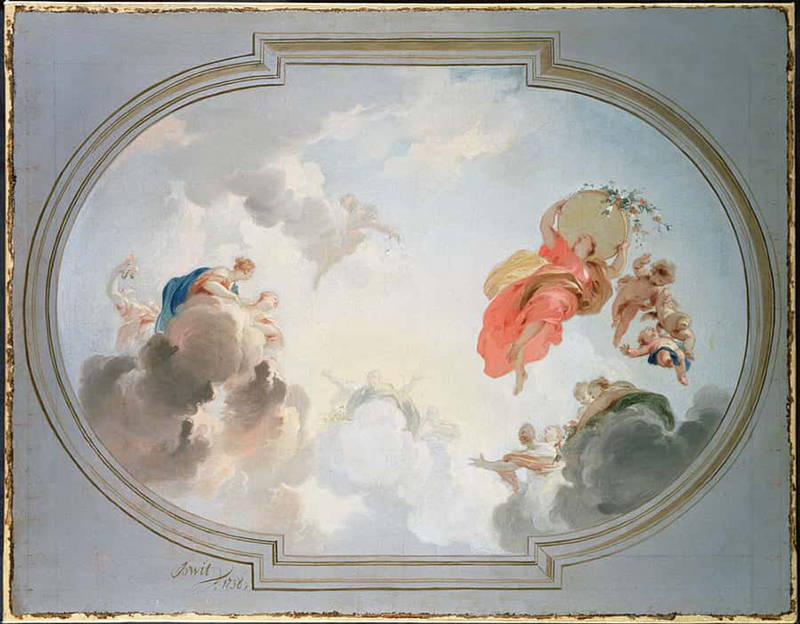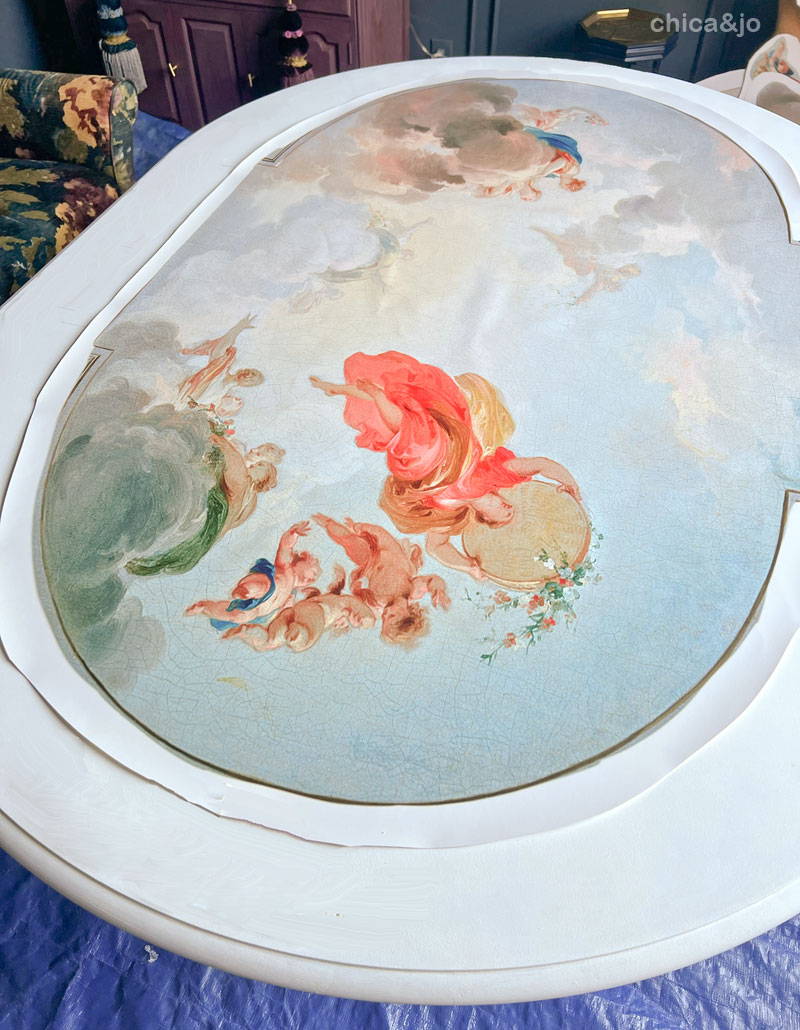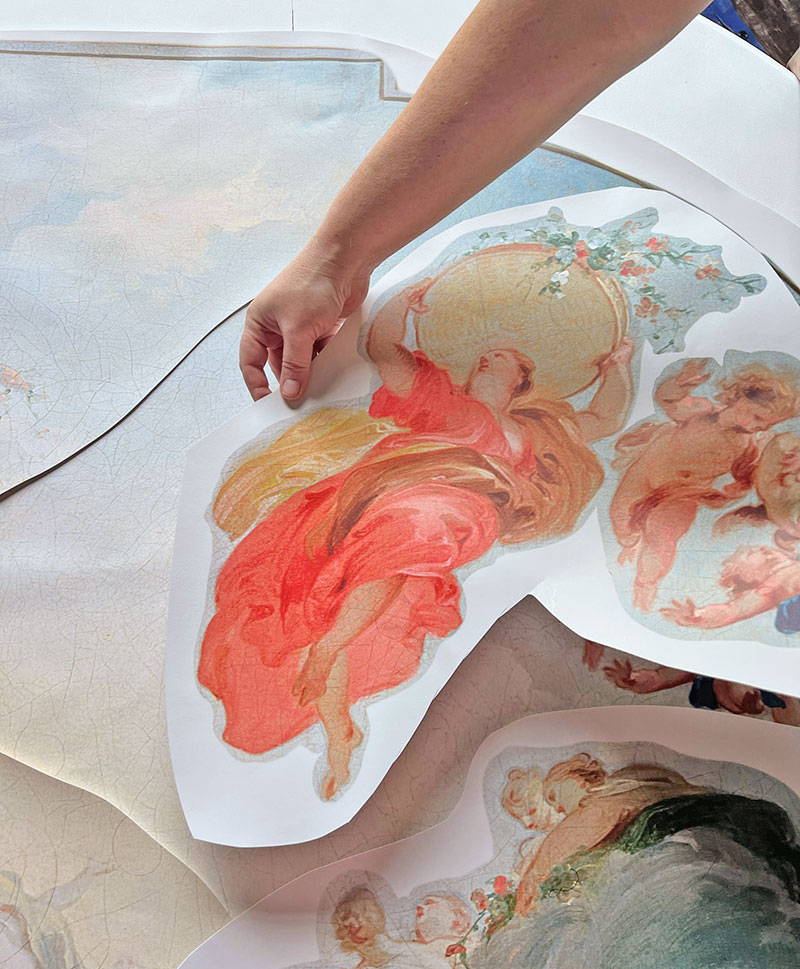 Step 3: Creating the Base Layer
We trimmed the first oval down exactly and sprayed the back with adhesive, put it in the middle of the table, and smoothed it out carefully to get rid of any air bubbles and to ensure good contact.
To turn that plain white edge into an elaborate frame, we started by adding trim around the edge of the mural and the edge of the table. We used flexible material to create a 3/4" high border, and covered it with paintable caulk to make it look seamless and a little rough, like old plaster. Then we filled that frame with lots of ornate plastic trim pieces, making it look super luxurious, and hot glued it all in place. To make the trim all blend into the table and look seamless, we liberally applied more Chalky Finish paint over it, allowing it to puddle and glob so that it looked even more like old plaster.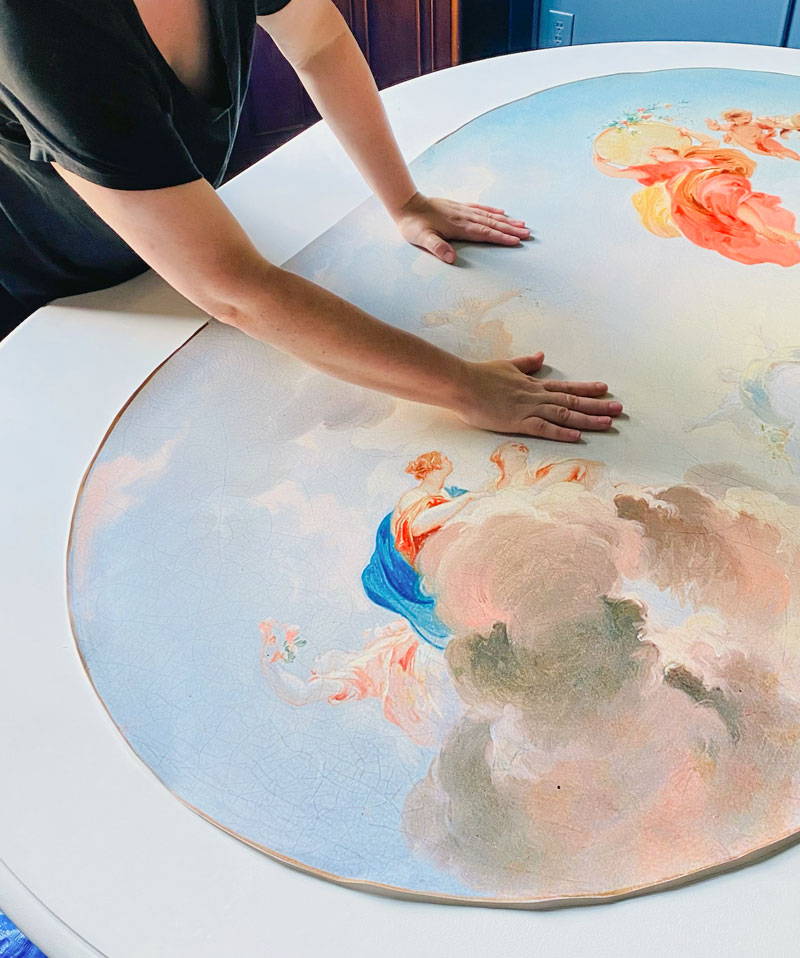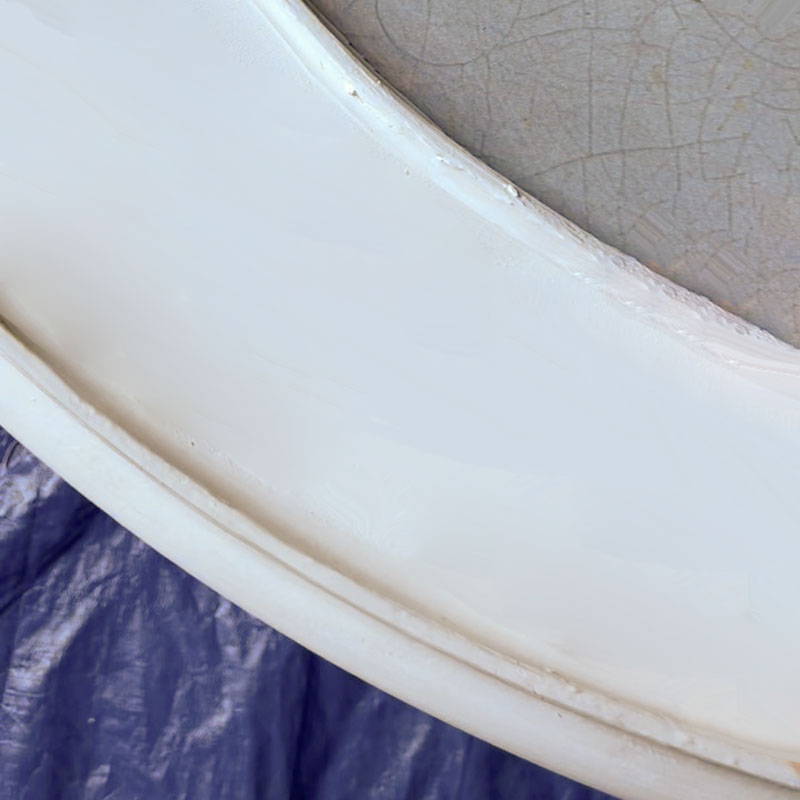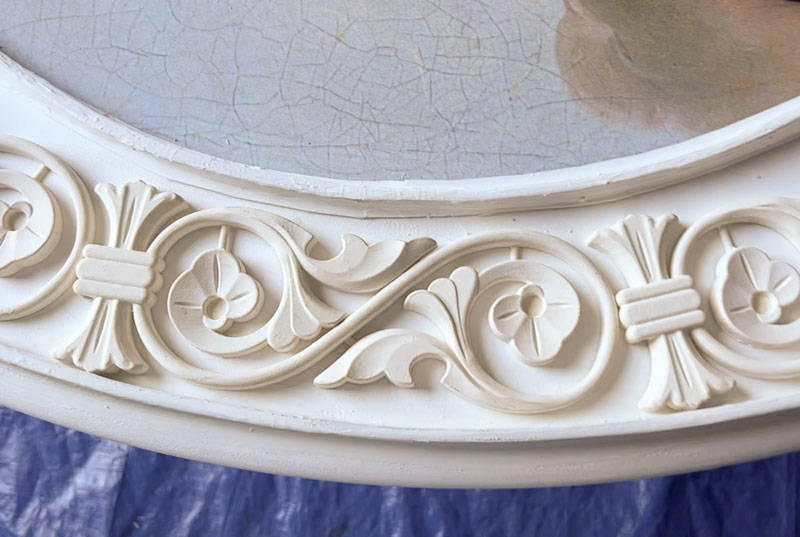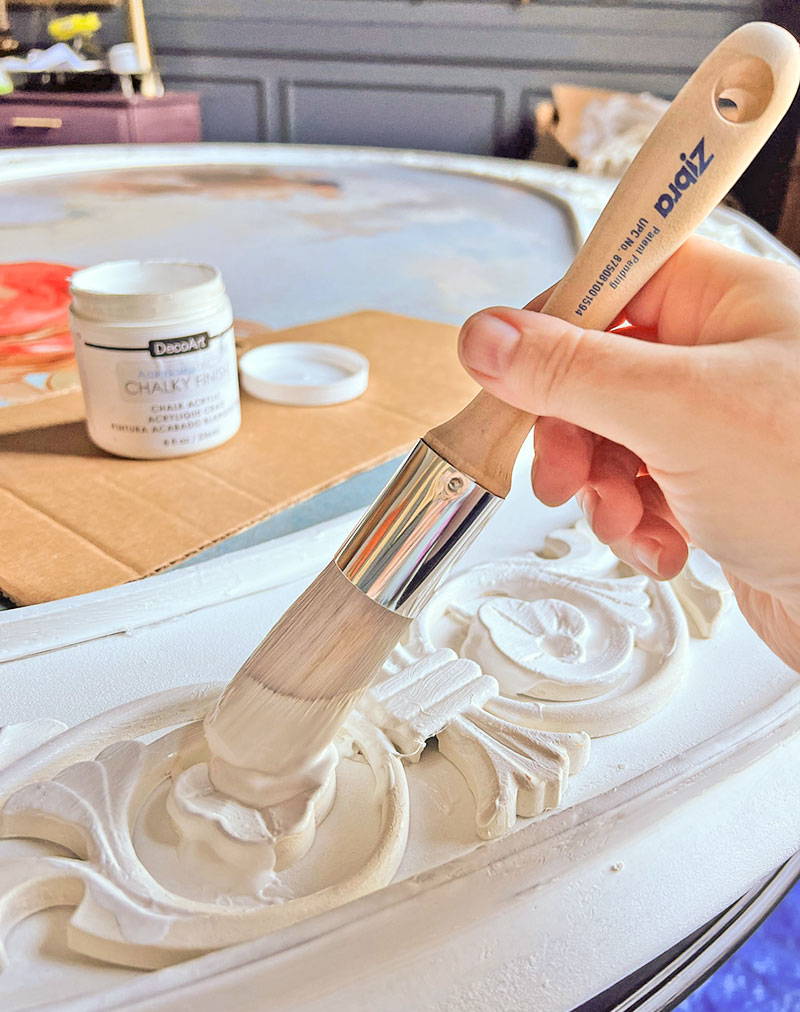 ---
Step 4: Pouring the First Resin Layer
Once all the paint was dry, it was finally time to add our first layer of resin! We thoroughly mixed up plenty of MAS Table Top Pro according to the package directions and poured it over the mural, starting in the middle. We used our gloved hands to spread it out evenly to help create a thin layer of resin over everything. On this first layer, we also poured a thin layer over all the molding in the frame, allowing it to drizzle down into the nooks and crannies of the trim. We then used our heat gun to warm up the resin so that it flowed evenly and leveled out to create a smooth layer across the surface.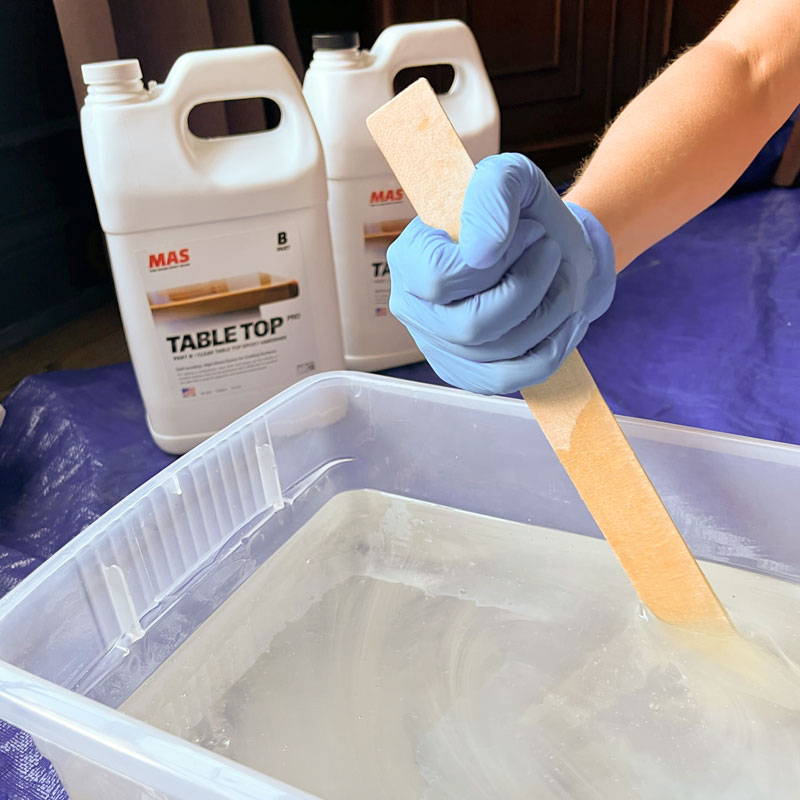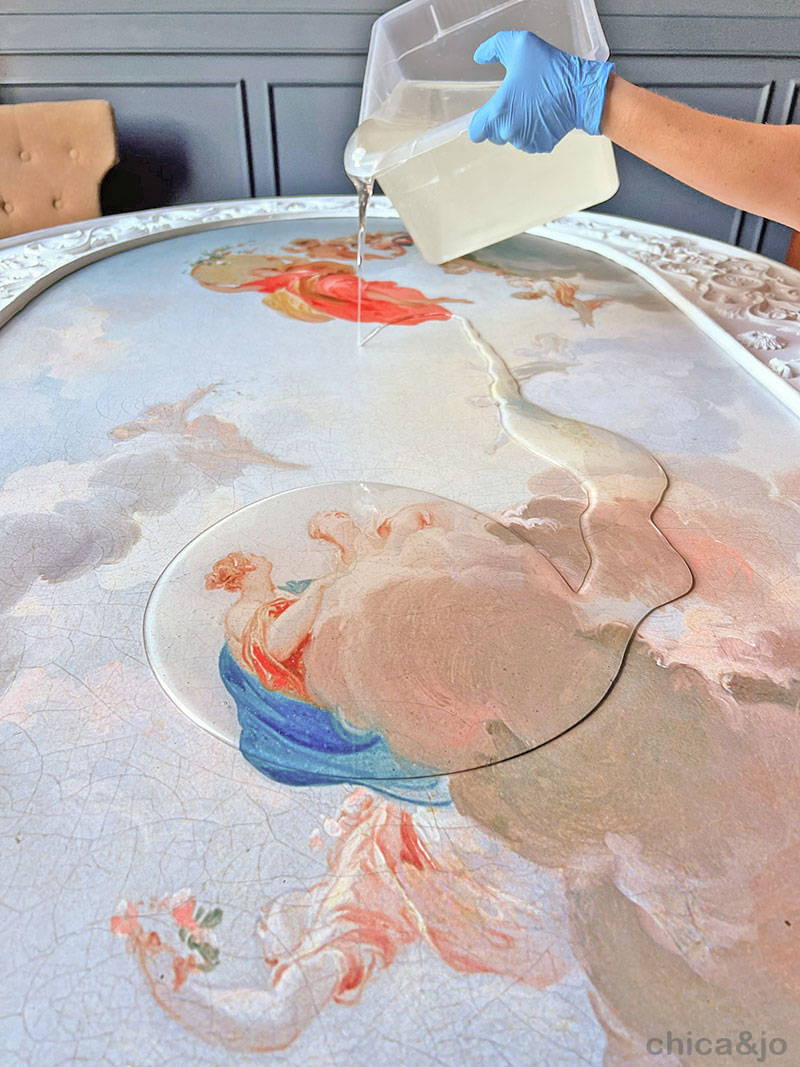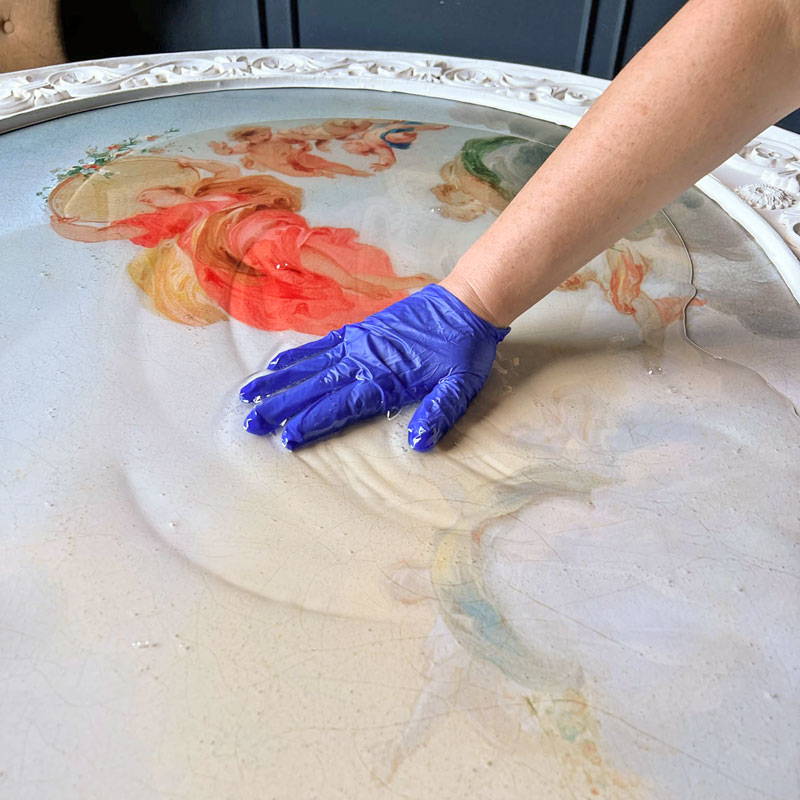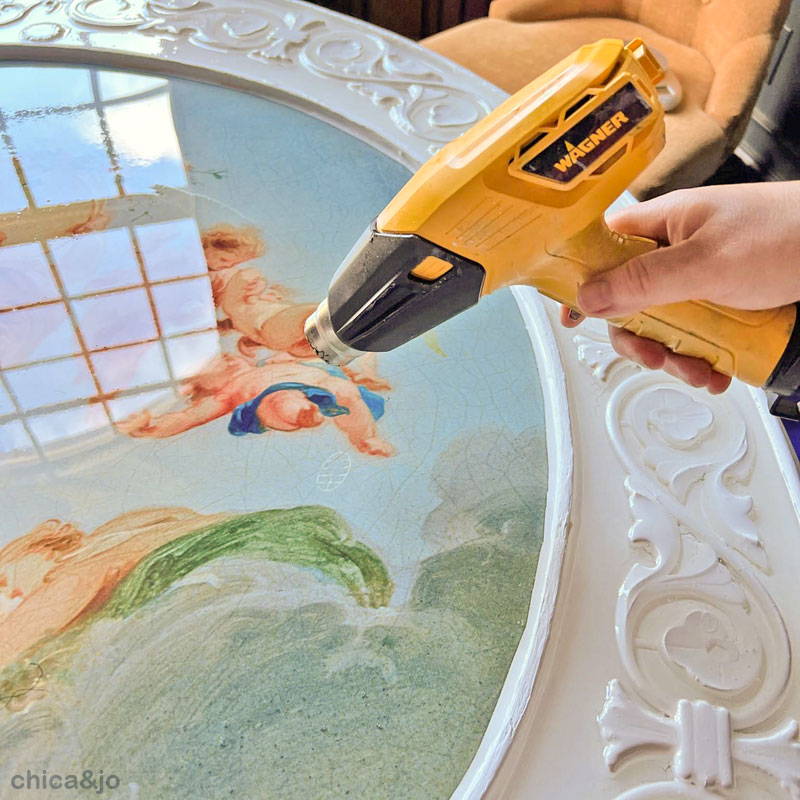 Step 5: Adding the Second Layer of Images
Once the first layer of resin was dry, it was time to add the second set of mural images. We trimmed our selected pieces down exactly, and used a little more wet resin as "glue" to hold them in place. We made sure to line them up exactly over their mirror image below. After the "glue" resin had dried, we poured another full layer of MAS Table Top Pro over top, sealing it all in. The 3D look that these popped images gave, added such dimension with the subtle shadow.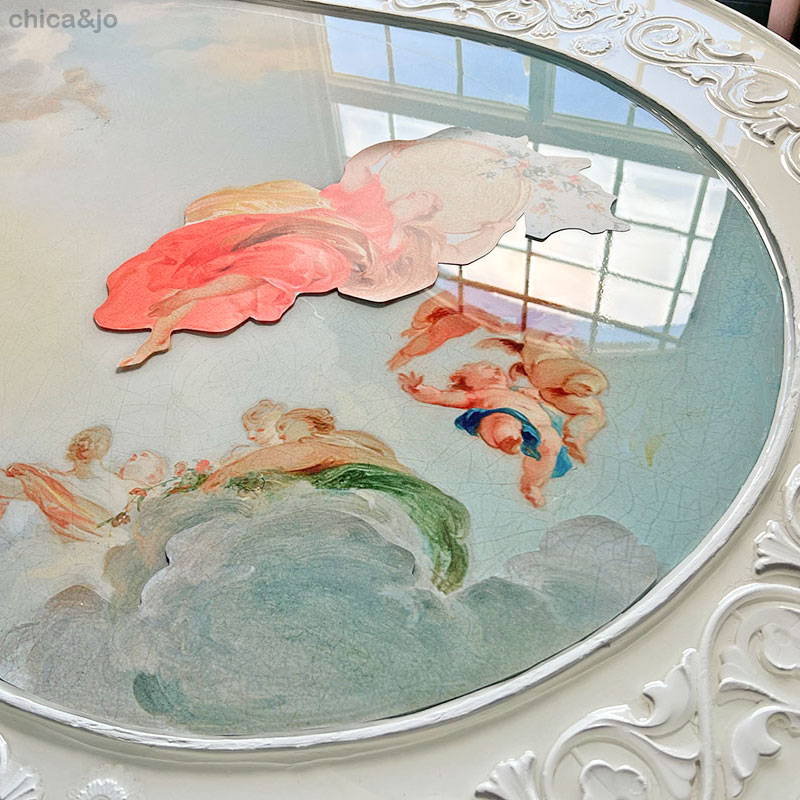 ---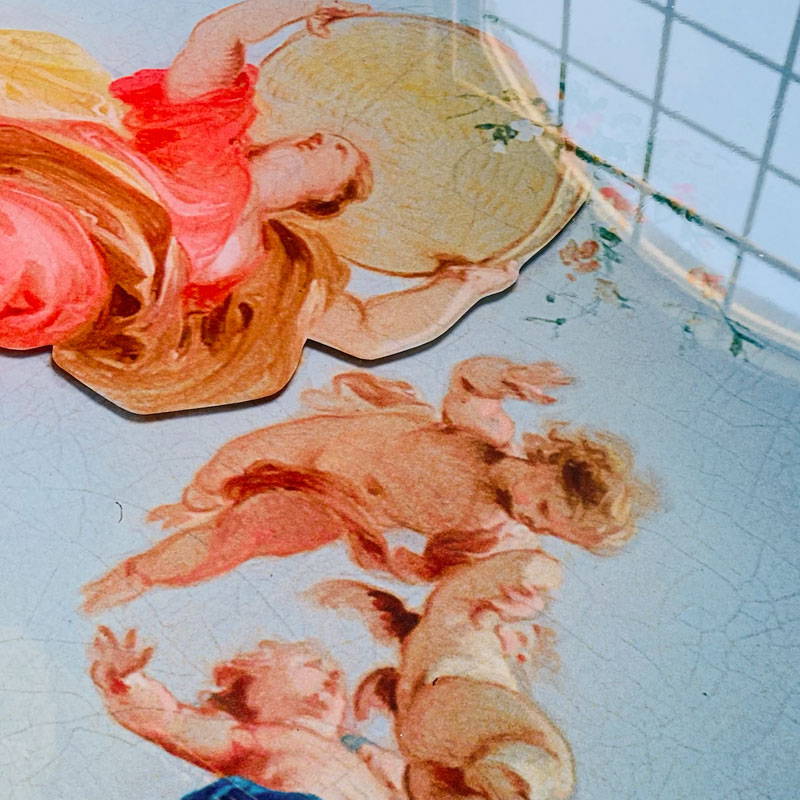 ---
Step 6: Finishing the Resin Layers
With all the tricky 3D elements done, all that was left to do was continue filling the table with resin. We poured layer after layer, doing a scuff sanding between each one to ensure a good bond between them. We kept going until the trim was completely covered with resin and it started dripping over the edges, creating a perfect glass-like finish on top. A quick sand of the dried drips was all it took to finish the edges off and the table was done.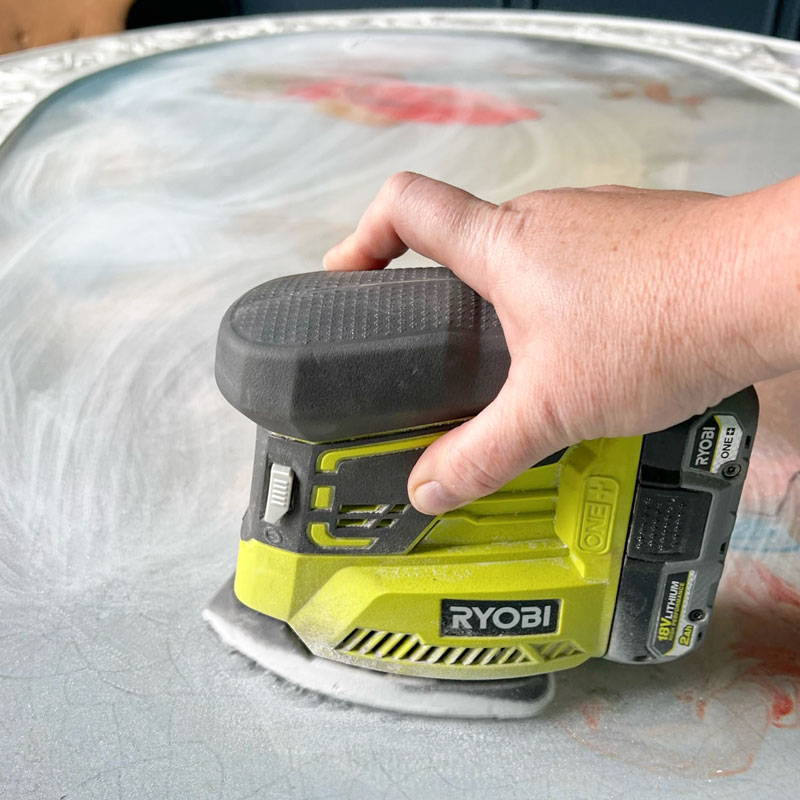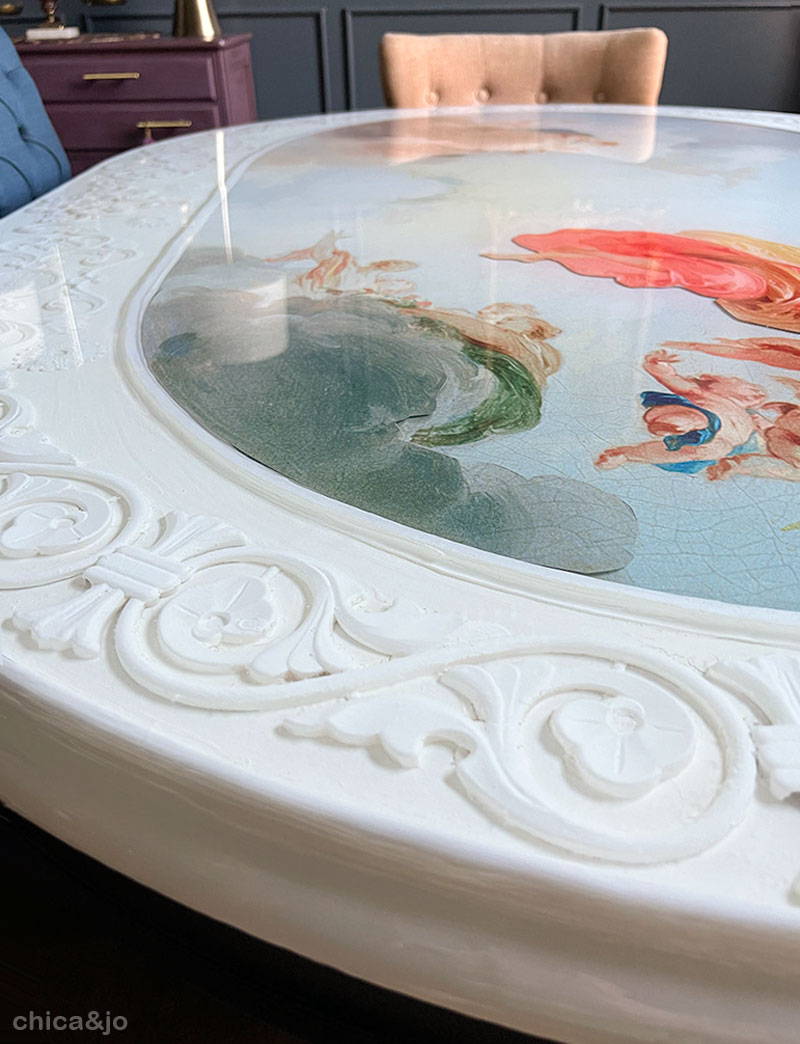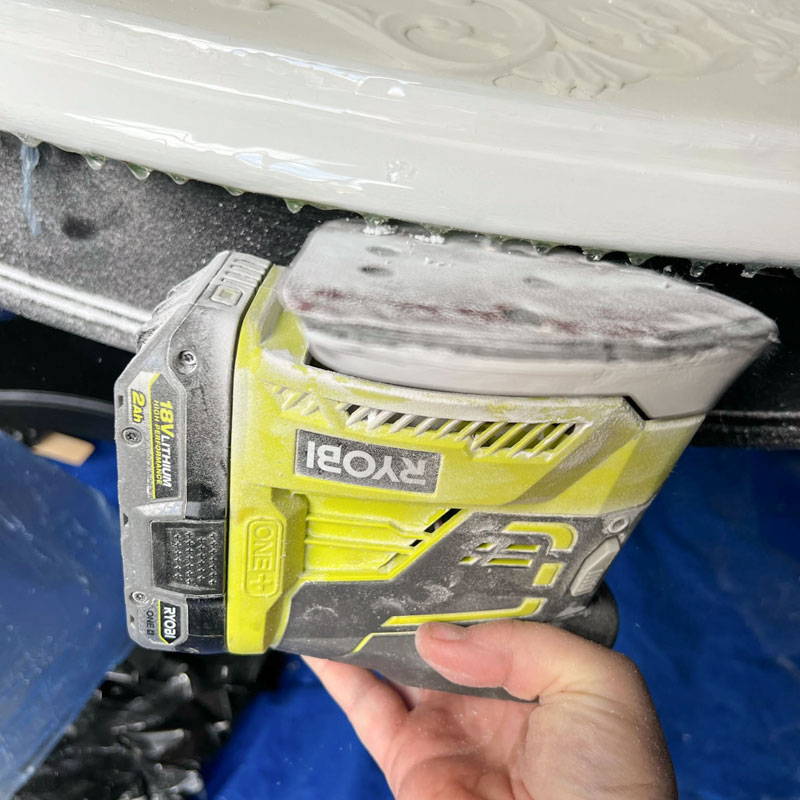 We could not be more thrilled with the results. The mural was gorgeous and all the trim provided such rich depth and luxuriousness to the table. And that crystal clear resin will preserve it in all its glory and protect it so we can actually use it as a dining table!
---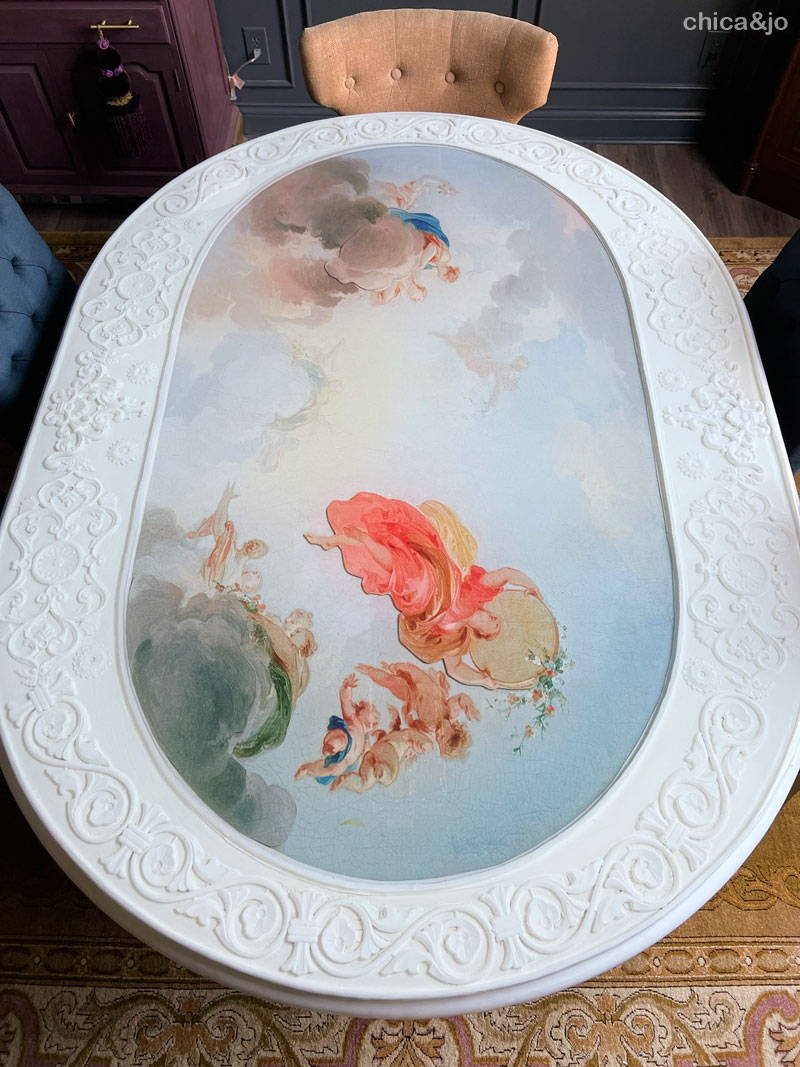 ---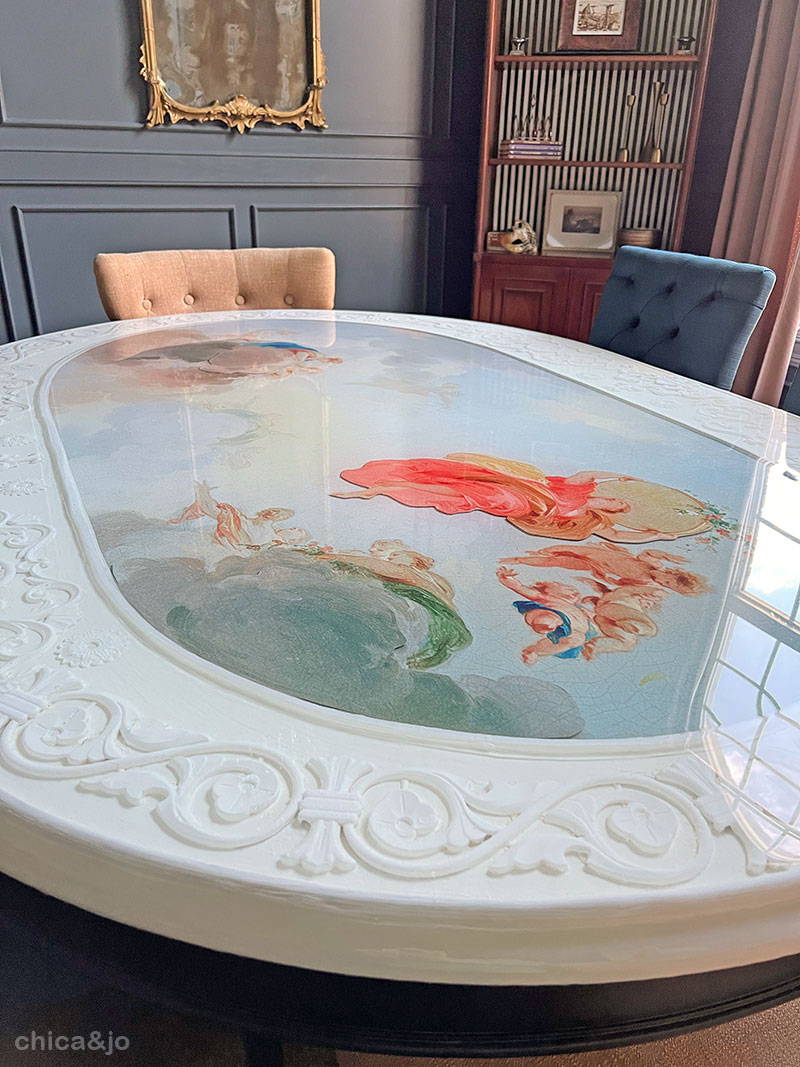 ---