Penetrating Epoxy Sealer Cannonball Test
Jul 14th 2023
An Epoxy Sealer can be used in a variety of applications. Whether you're working with new, old, damaged or rotten wood there are so many uses for this ideal product. Some users find it helpful to apply penetrating epoxy as seal coat. This helps add strength and structure to the wood. With so many applications for this product, we asked our local customer and boat builder Dennis Davidson, of NorthWest Canoe, the advantages of using PES as a seal coat. He was nice enough to share how he uses our Penetrating Epoxy Sealer on his 21 foot cedar strip canoes.
First of all, he starts out by applying a seal coat with MAS PES to the bottom of the hull. He thins down the epoxy sealer with xylene at 50%. Using a pin roller, he applies the epoxy sealer to the hull. Because this product provides strength and reinforcement, it helps protect the wood from rocks and logs that could cause damage to the hull. Therefore, he uses penetrating epoxy sealer as a structural application to his canoes.
The Impact Test
After learning the process he uses PES for, Dennis invited us over to his shop Northwest Canoe to test the effect our epoxy sealer has on a piece of wood. We coated three boards with 6 ounce fiberglass, non-blushing epoxy and penetrating epoxy sealer. Since Dennis is very familiar with this product, we put together some video and photos to document the controlled test. In the end, the goal was to see which test board held up against the impact of the cannonball falling from twelve feet.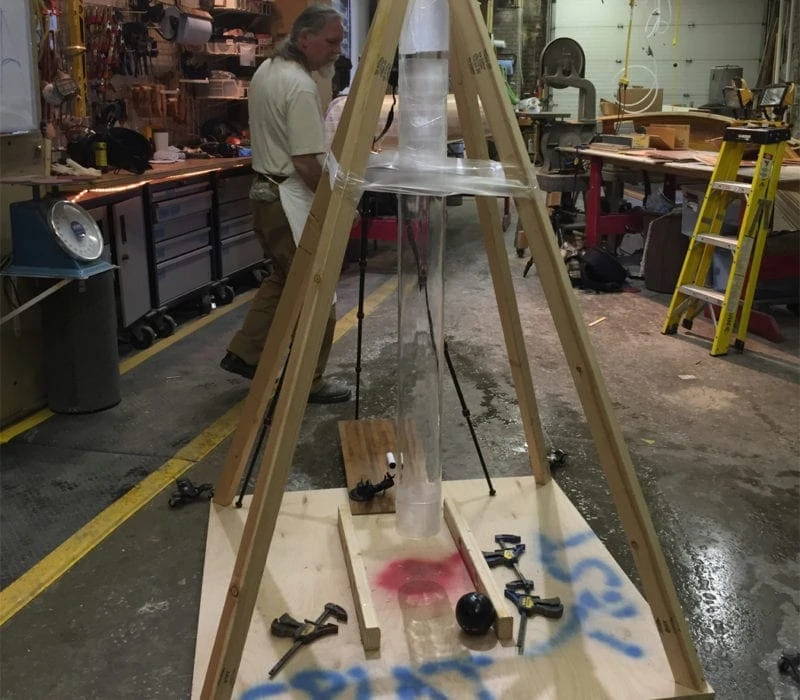 Dennis built this controlled testing stage using some 2 x 4's, 12 foot plastic tube, clamps and a 12 pound cannonball.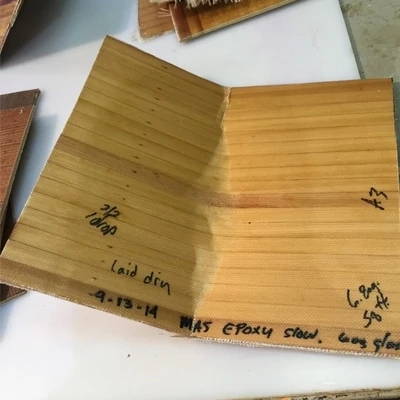 2:1 Non-Blushing Epoxy
6 ounce fiberglass was coated with MAS Low Viscosity Resin and 2:1 Non-Blushing Slow Hardener.
Results
First test shows the 2:1 epoxy system. Therefore, the cannonball split the wood easily.
Video results of the 2:1 epoxy system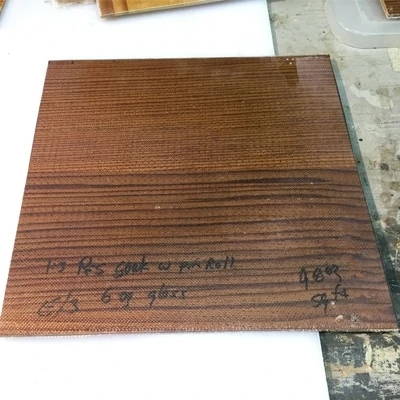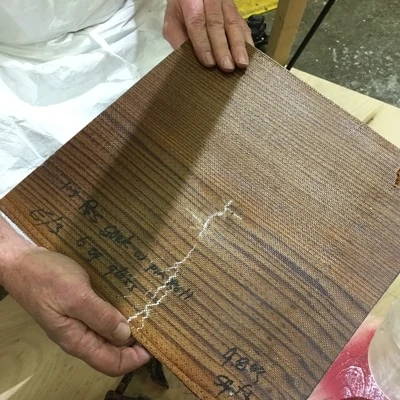 Penetrating Epoxy Sealer
6 ounce fiberglass was coated with MAS Penetrating Epoxy Sealer.
Results
More resistance on impact. Due to the reinforcement of PES when added to the wood as a seal coat.
Video results of Penetrating Epoxy Sealer with Xylene
Epoxy Sealer Test Results
In the end, this impact test was very interesting and helpful. The first board with low viscosity resin and slow hardener did not provide as much strength compared to the penetrating epoxy sealer. Meanwhile, the second test board with PES seal coat by itself showed much more reinforcement to the wood. Our best results were with the third test board. While our epoxy sealer is able to be thinned down with xylene or denatured alcohol up to 50%, this allows the mixture to penetrate the wood completely. Resulting in the strongest reinforcement to the wood against the impact of the cannonball.
Epoxy Sealer Hull Application
Dennis uses MAS Penetrating Epoxy Sealer as his first step when constructing the hull. This process provides the hull with excellent impact resistance below layers of epoxy, fiberglass and carbon fiber. Resulting in a tough, durable and reinforced wooden canoe. In the end, we're fortunate enough to have a customer open to trying new applications and the final results speak for themselves.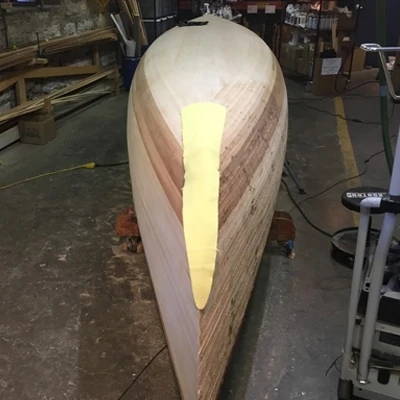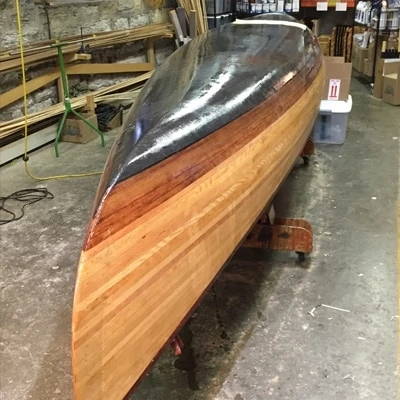 Before
21 foot cedar strip canoe before epoxy sealer coat, fiberglass, epoxy, skid plate and carbon fiber were applied.
After
The outside of the hull completed with epoxy sealer, fiberglass, epoxy, skid plate and carbon fiber.