Resin and Wood Charcuterie Board by James Payne
Dec 15th 2021
Learn How to Make an Epoxy Inlay
Charcuterie Board!

So, if you want something to turn heads at your next party, look no further! Check out the tutorial below for the steps and tools to complete your own.
---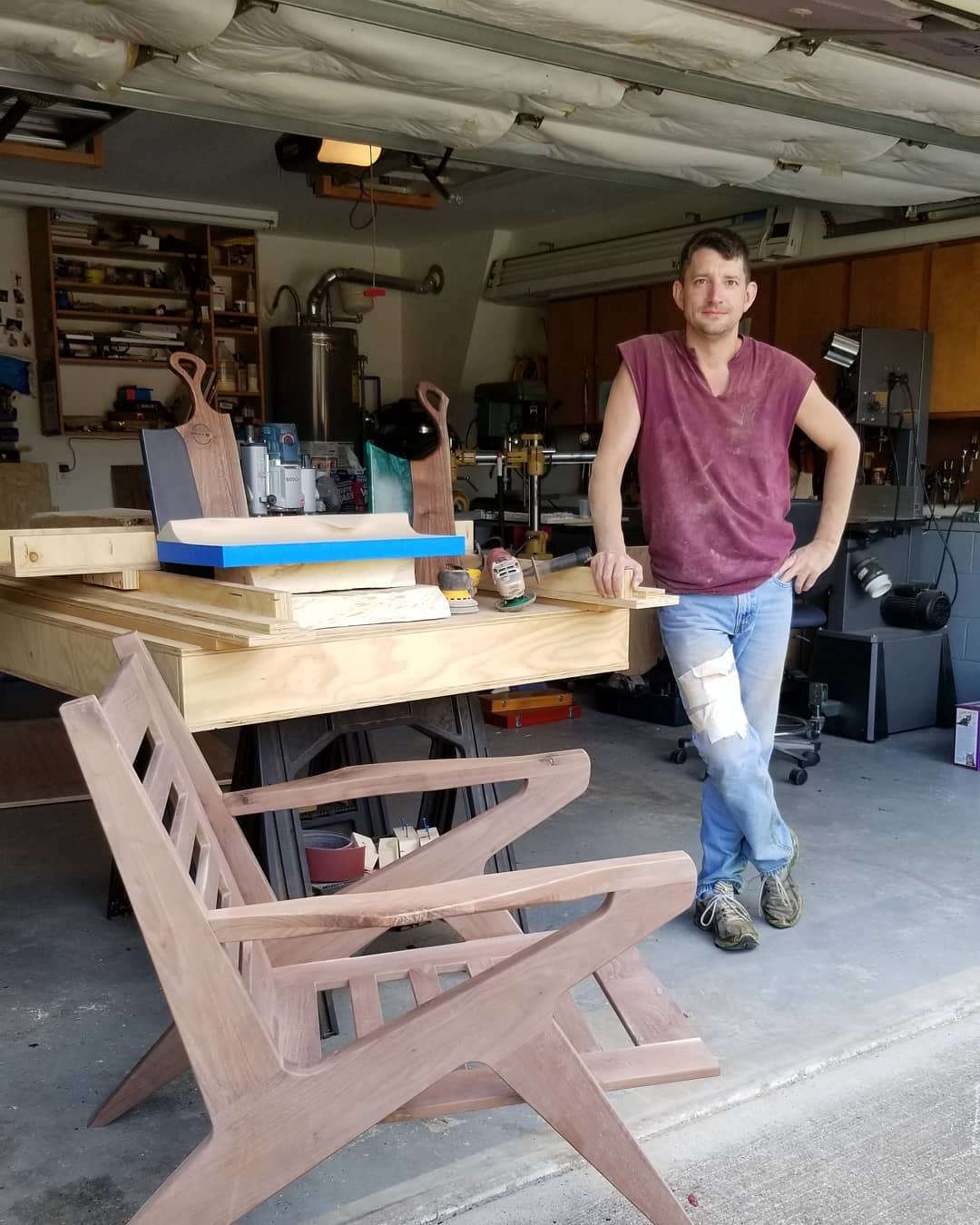 For starters, my name is James Payne of @james_payne_woodworking_. I've been woodworking on and off for the last 15 years. I started working with epoxy two years ago after my wife convinced me to get on Instagram. How, might you ask? Well, she had 97 followers and I said I could beat her to 100 followers. So it began, and it was no challenge at all! I quickly passed her up, but she did eventually make it to 100. I've been married for 19 years to my lovely wife Brenna and we have a beautiful daughter named Jocelyn. I love working with mediums of all kind, but wood and epoxy are my main staples.
Wood board
Jointer / Planer
Orbital Palm Sander
60/80/120/180/220/320/400/500 Grit sandpaper disc
CNC / CNC Software

Alternative tools: palm router, up-cut bit jigsaw, and transfer paper

Odies Universal Oil
Spray bottle with water
Foam brush
---
Full Tutorial with Alternative Tools!
---
Step 1: Prepping the wood board
If you are using rough lumber, you will need to joint one side flat and then run it through the planer to make the other side parallel.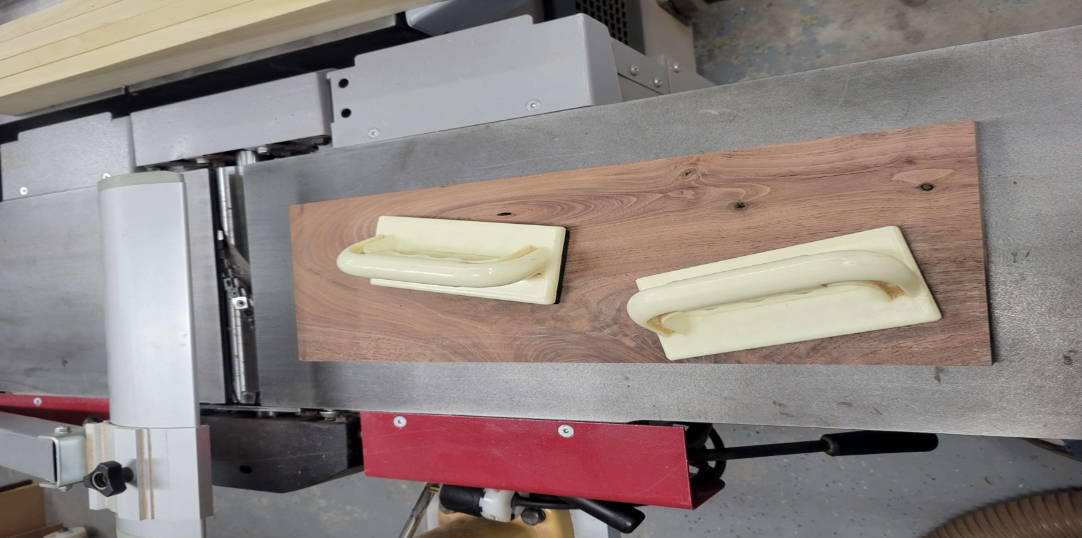 ---
Step 2: Cutting the outside shape and inlay
I used Vectric software to transfer one of my old handmade boards into it and use as my outer template shape, then took the MAS Epoxies logo and attached it to the board outline. After positioning it, I transferred it into Vectors and set my tool paths up.
---
PART 2 of Step 2: (ALERNATIVE Tool Method)
If no CNC is available, you can also do this by drawing your outer shape on the board by hand and using a jigsaw to cut it out, then print off the image and use the transfer paper to trace your printed image onto the board. After you complete that, use your palm router and upcut spiral bit to route out the material.
STEP 3: Sand and Seal the Inlay
Sand any fuzz off after the CNC work is complete, then take the MAS Penetrating Epoxy Sealer and seal the inlay so that you do not have off-gassing when you pour your finish layer of epoxy. Let cure 24 hours before moving to the next step. Same instructions for alternative tool method.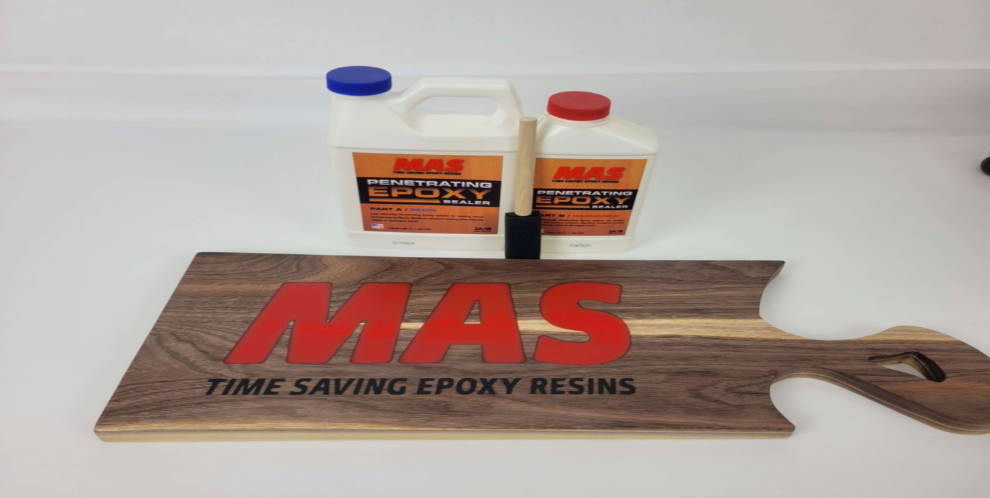 ---
After the Penetrating epoxy has cured, lightly sand with 220 grit sandpaper to give the next Table Top Pro something to adhere to. Then wipe off with Denatured Alcohol and let dry. Next pour your epoxy, filling the inlay! Let this cure and move on to the last few steps.
---
Not everyone's favorite thing, but now that your epoxy has cured, it's time to sand. I started with 60 grit and worked my way through the grits until I reached 400. Then, I branded the board with my logo and wet sanded with 500 grit and let it dry completely to let the grain raise. Very lightly sand with 500 grit again to knock the high fibers off.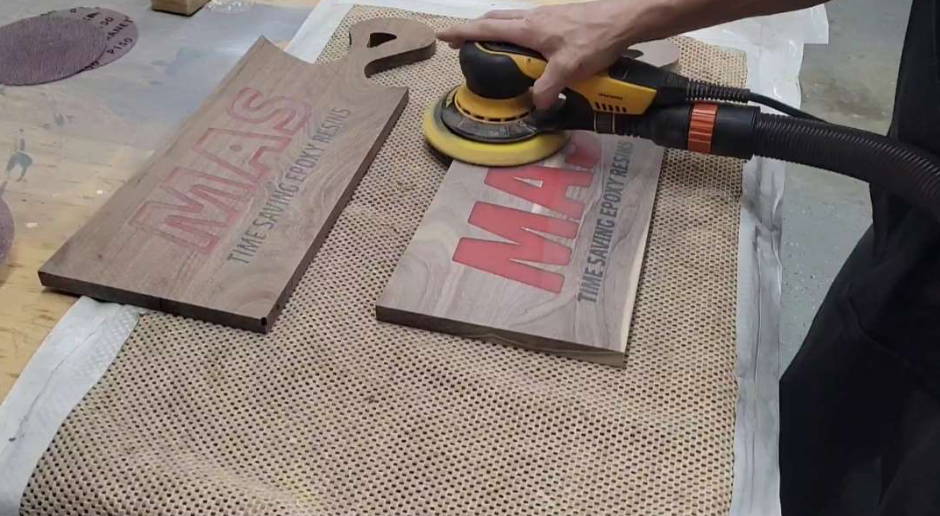 ---
Step 6: Add a finish to your board
I like to use Odies oil, but you can also use mineral oil and beeswax to finish your board. Buff the oil on with a white scotch brite pad in a circular motion, working it into the wood pores. Let it sit 90 minutes before buffing it off until it leaves no finger streaks across the board.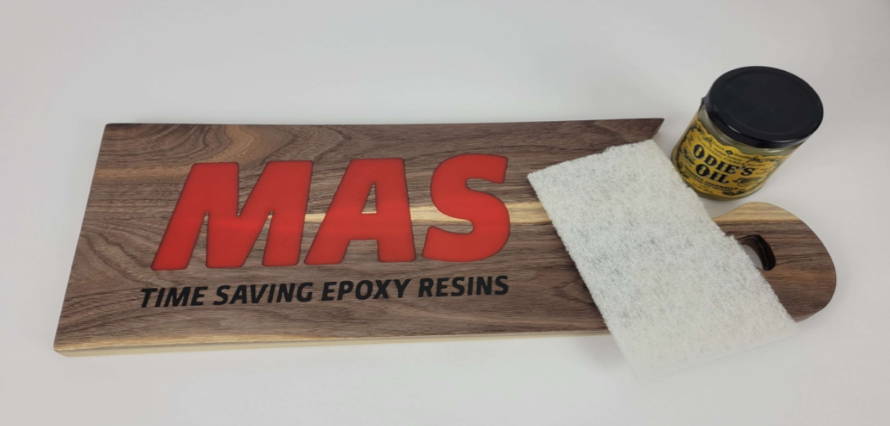 Now you have your own epoxy inlay board to wow your guests at your next party!


From all of us at MAS Epoxies, we want to thank James Payne for such a great project and tutorial! Make sure to follow James on his Instagram and YouTube! (Links below)