Wood Burned River Art by Kelly Daniels
Nov 8th 2022
Learn How to Prep a Slab, Build a Form, Pour Resin, and Pyrography!
---
This wood burned river art is a memorial piece in honor of sweet Ella, who recently crossed the rainbow bridge. A unique way to honor man's (and woman's) best friend! The celestial pattern layered within the river pour, charts the stars in the sky on Ella's birthday, over her hometown and her portrait is burned into the finished board. A beautiful way to honor our fur babies forever!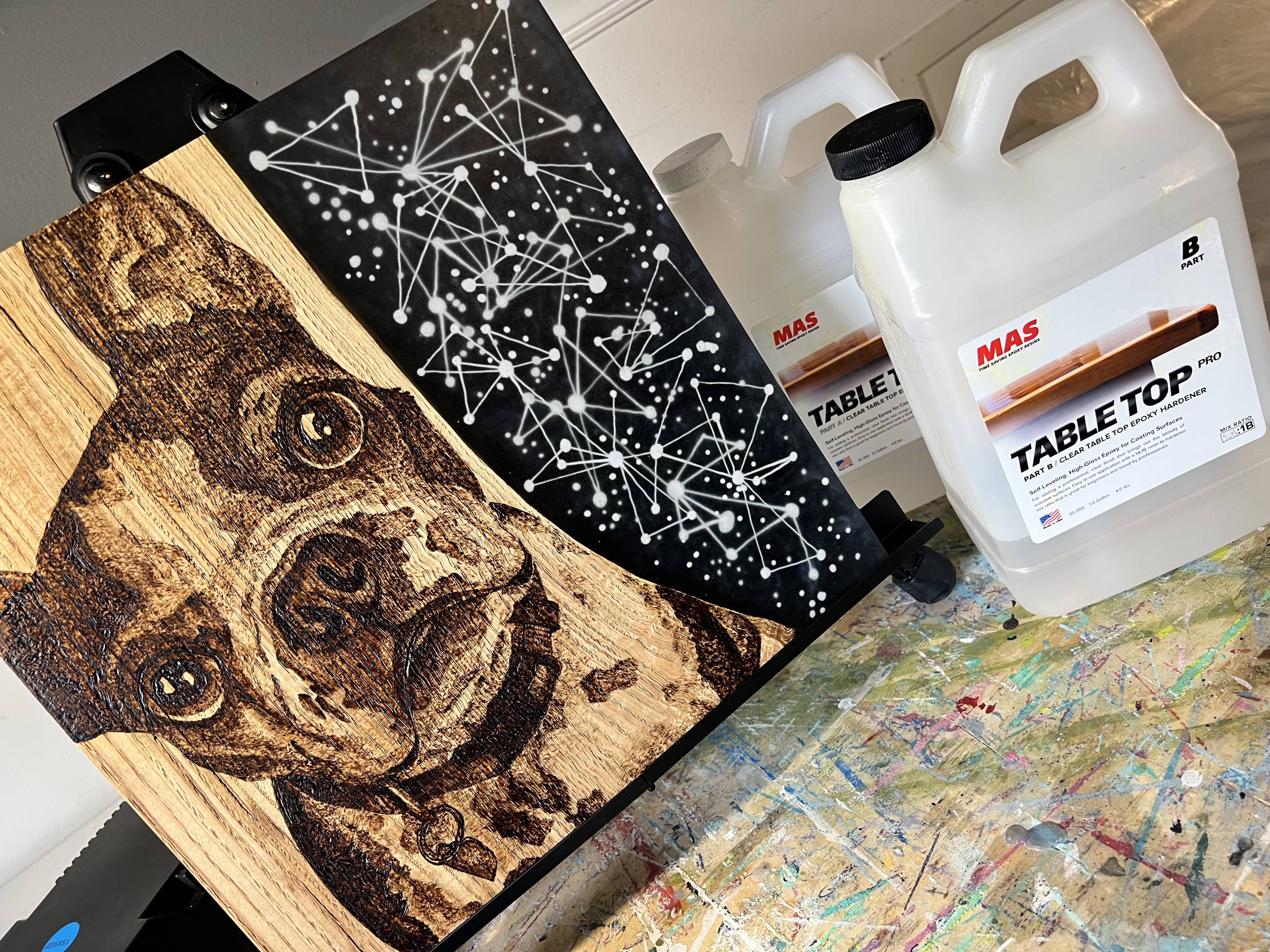 ---
Here's A Little More About Kelly Daniels!
---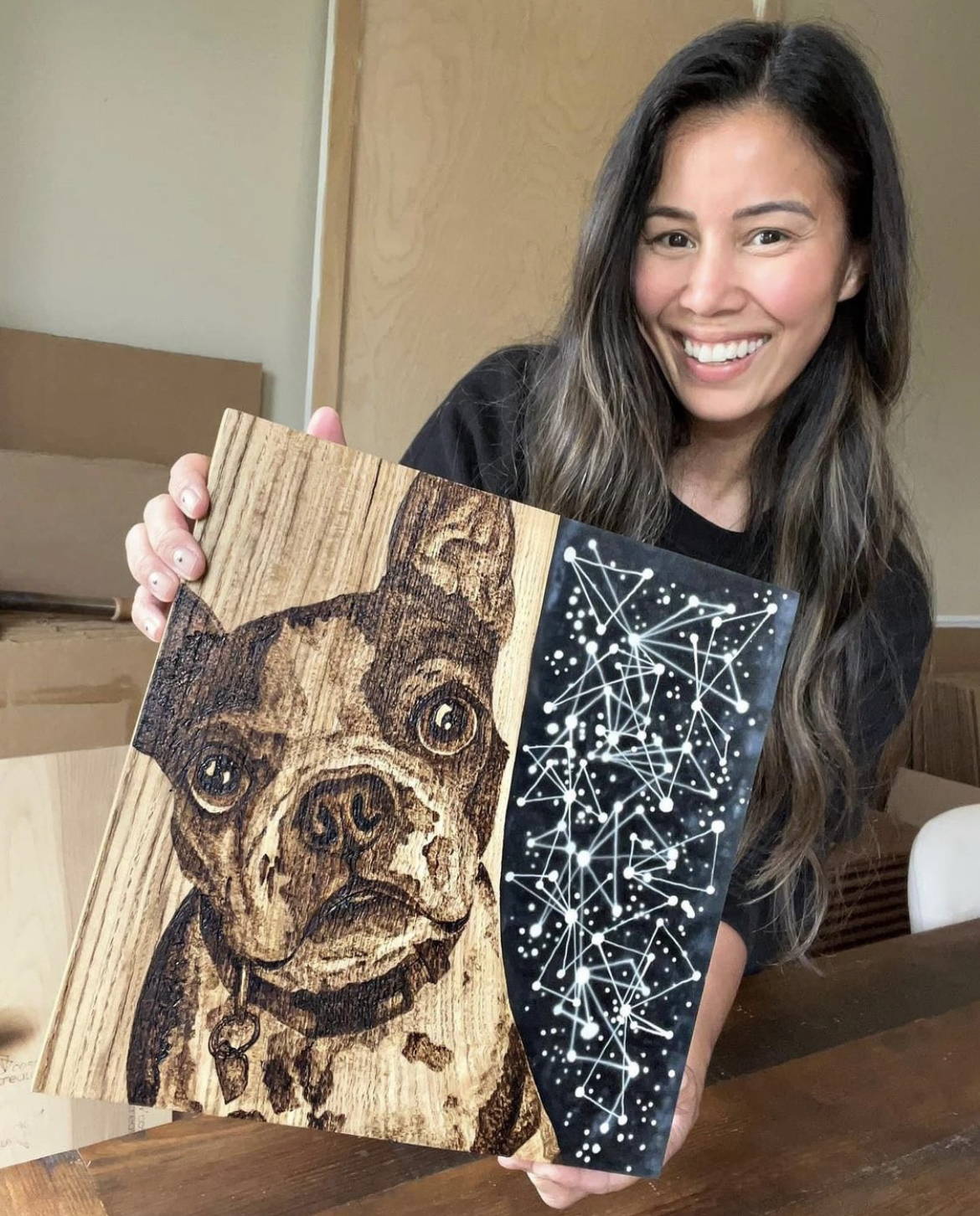 ---
---
I'm Kelly of @cosmiccreativ, nice to e-meet you! I've lived my entire life drawing, painting, & making... so truly, this is the life I was always meant to live! I've been a full-time artist & furniture maker for 9 years; resin is my featured material of choice! Thousands of home goods, pieces of wall art & furniture pieces I've made are out there living their lives with you. It's more than I ever hoped as young girl dreaming of endlessly making & imagining. My words to live by: have fun & experiment often!
---
Use Code: COSMIC for 10% Off!
---
---
American Chestnut live edge slab

Table saw

Planer

Melamine boards

Scissors

1" screws

Clamps
---
Check Out Kelly's Full Video Tutorial!
---
---
---
First, we need to pick a slab & get her ready to pour! When doing pyrography, you really can't use a dark colored wood like walnut. The contrast isn't high enough in your wood burning & once you oil, you could lose all the detail. For this project, I've picked American Chestnut! I use a pull saw to remove the bark (sooo much easier than a hammer & chisel) and then my orbital sander & a 40 grit sanding disc to clean up the edges. Break your slab down to size on the table saw & run it through a planer to your desired thickness.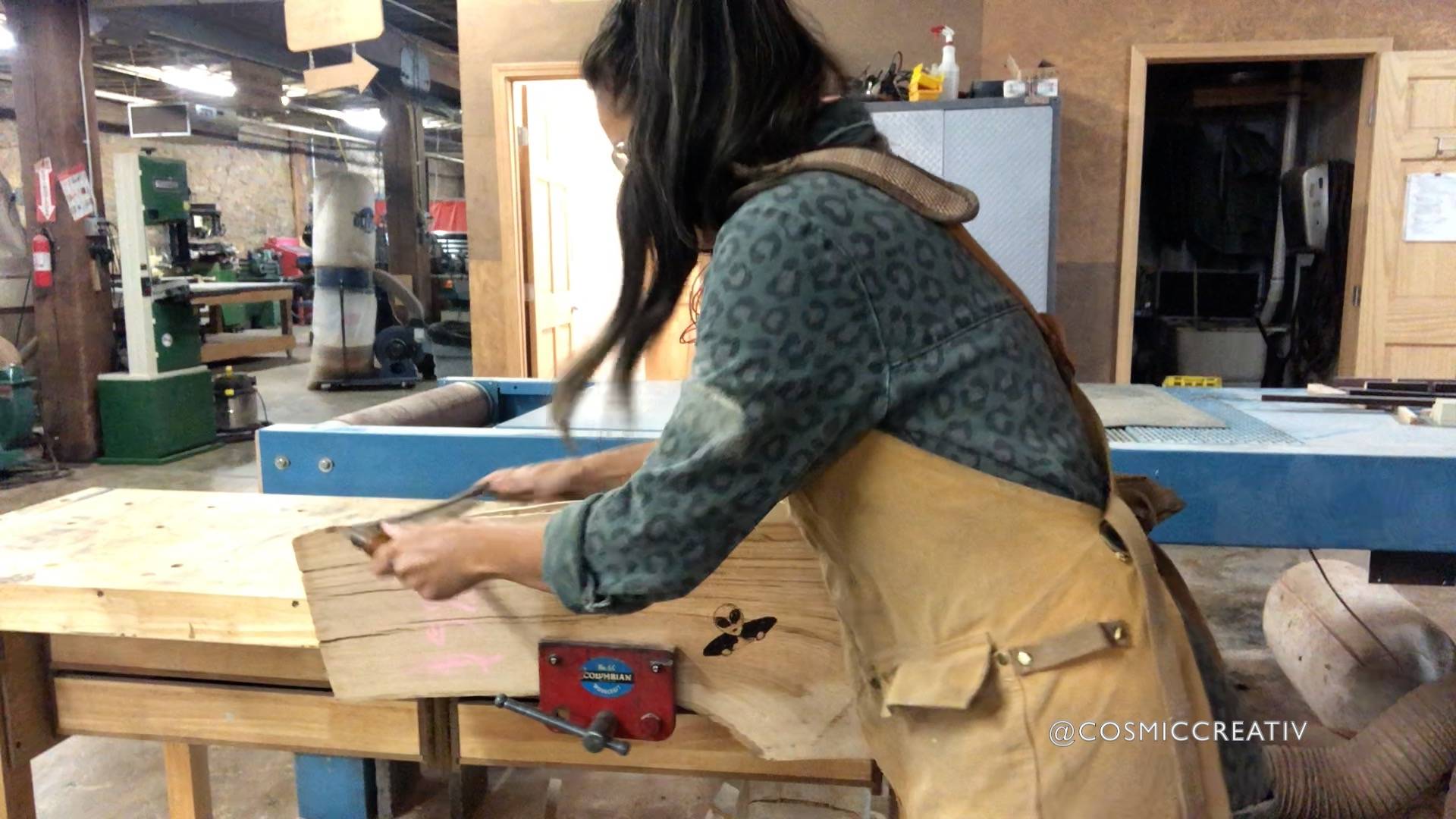 ---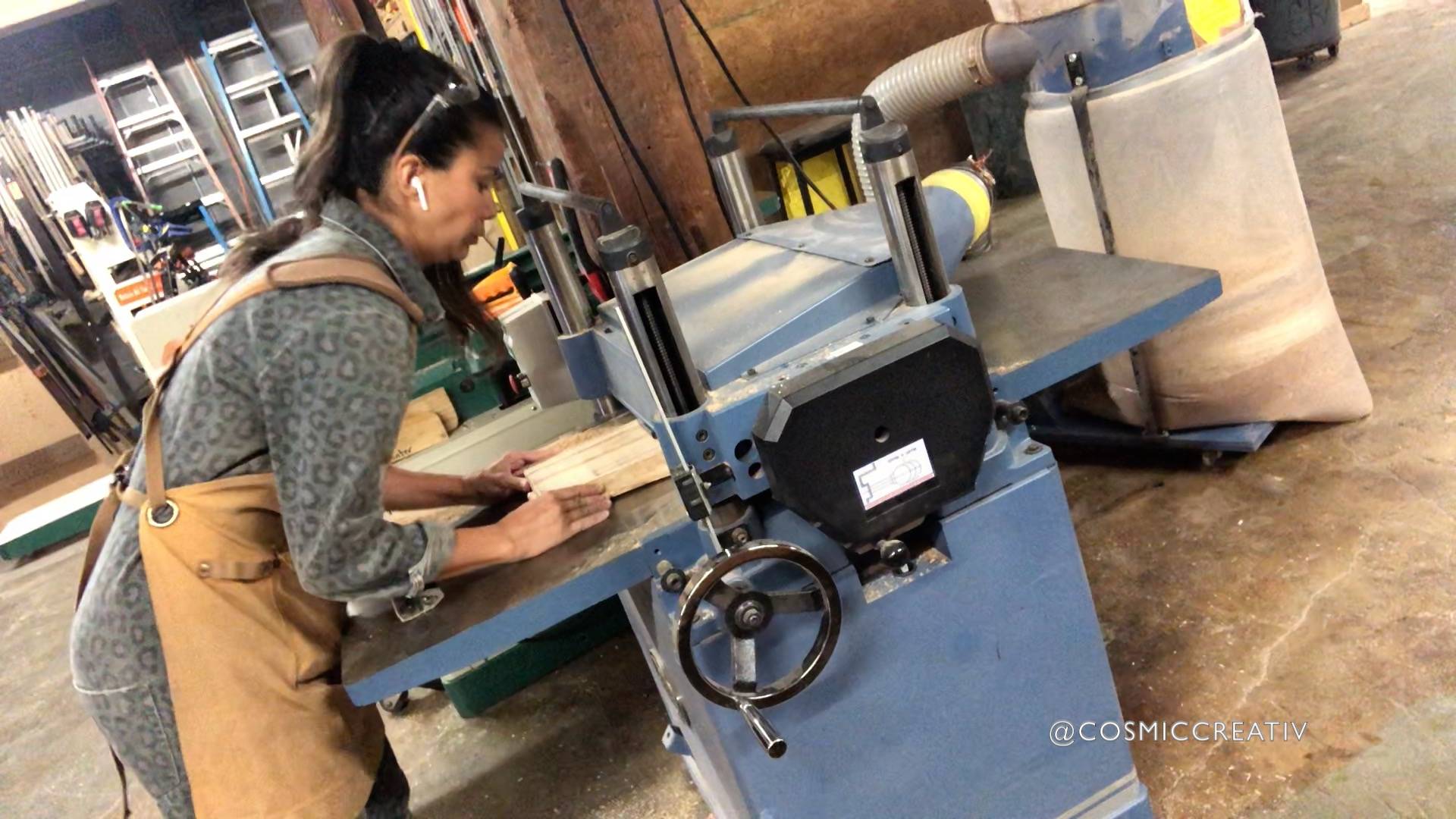 ---
Bonus Points: "I use a forest free supplier for my slabs, meaning they're harvested from the logs of specimen trees that would otherwise be turned into mulch or dumped at the landfill. See if there's a forest free supplier in your area!"
---
I always use melamine for my formwork because any resin can be easily removed & the pieces reused. Make sure to cover your melamine with Tuck Tape (it's even easier to peel your epoxy off than the melamine). You can also use clear packing tape for this, but I always use Tuck Tape at least on the edges & corners. Since it's red, you can see any potential leak spots you may have missed; where this is harder to see with clear packing tape. In this tutorial, I'm only using formwork on three sides. This can be done if you've got a great seal of silicone underneath your board to stop your resin from creeping & tight clamps pulling in the top & bottom.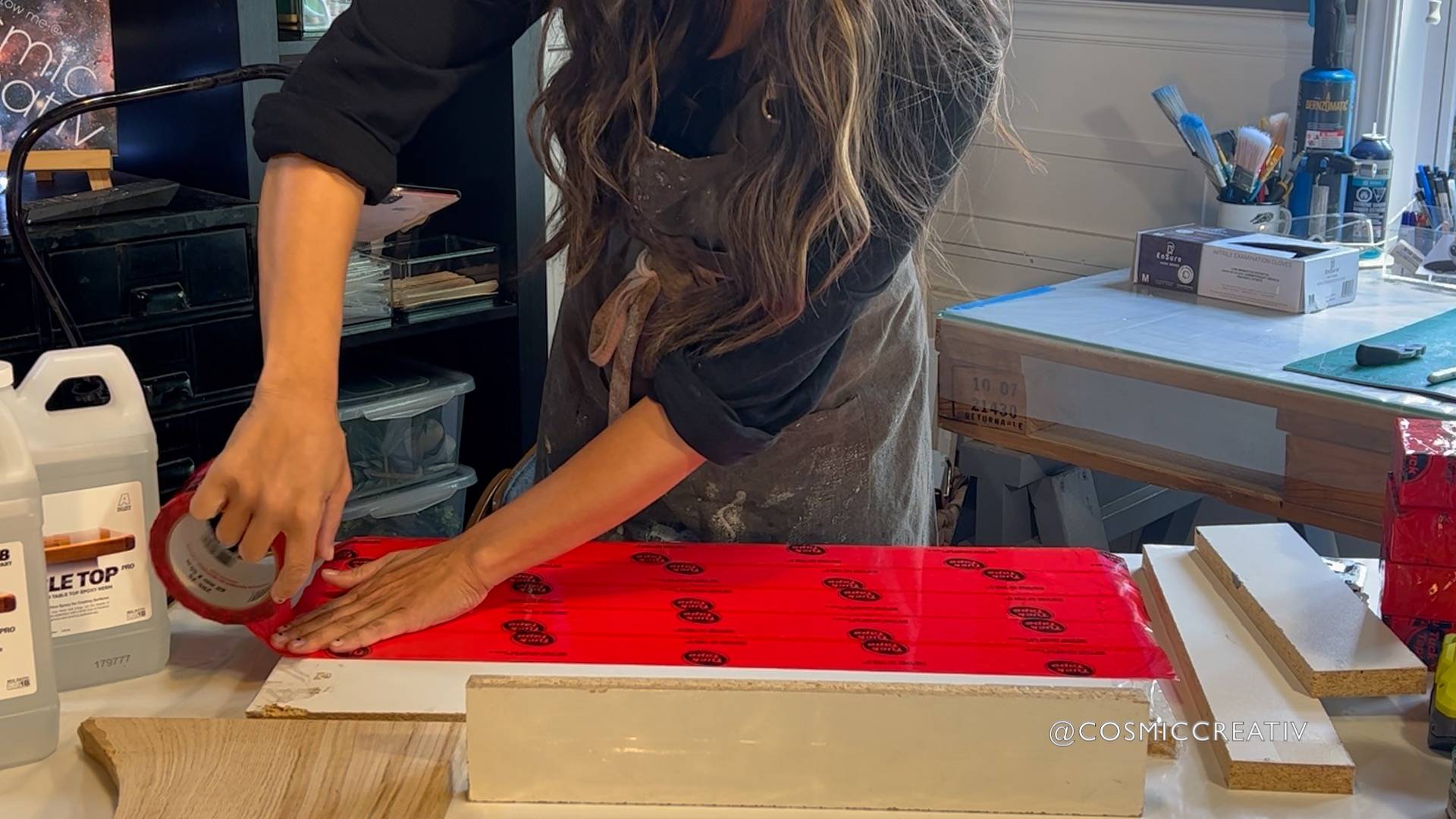 ---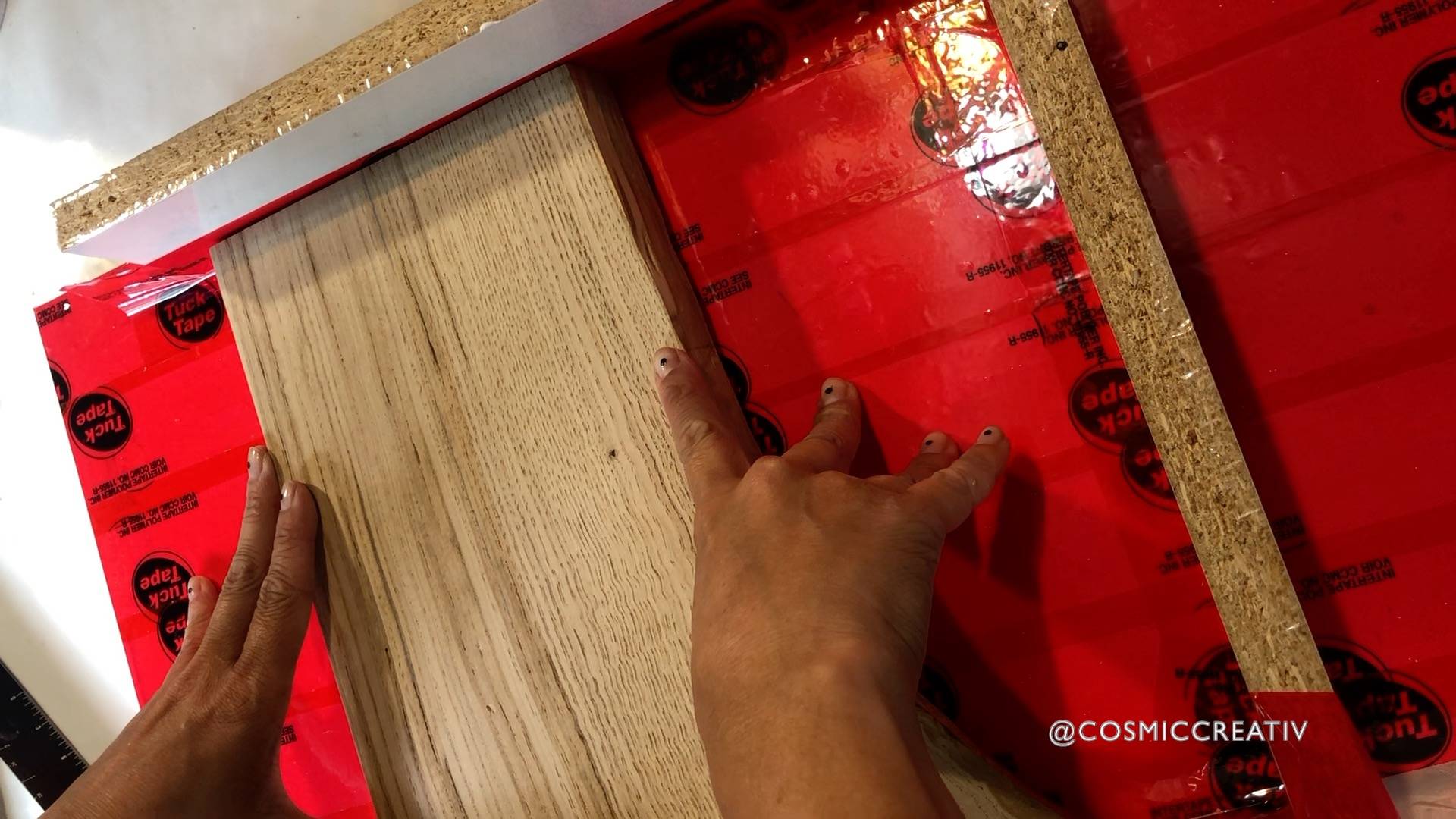 ---
For this river, I'll be doing 4 layers of resin, each about 0.25" thick, so MAS Epoxies Table Top Pro is the perfect resin for this volume. It's an easy 1:1 ratio with a short working time, allowing for multiple layers in one day! Always read the instructions of your resin to confirm its volume capabilities & required working temperatures. Mix your resin slowly & thoroughly, until it goes from cloudy to clear. And don't forget to wear your respirator mask & dump excess fumes with a window unit. Doesn't hurt to be too safe!
Now to color our resin! I like to use a black alcohol ink for a nice opaque base to this resin, and then add metallic powders for a cool shimmery detail. Pour & swirl! The earlier you create swirls after pouring, the more they will dissipate. The later you wait, the more they'll hold their swirl. I swirled early to create more of a background detail & let the line work I'll draw later become the focus. Don't forget to torch out your air bubbles!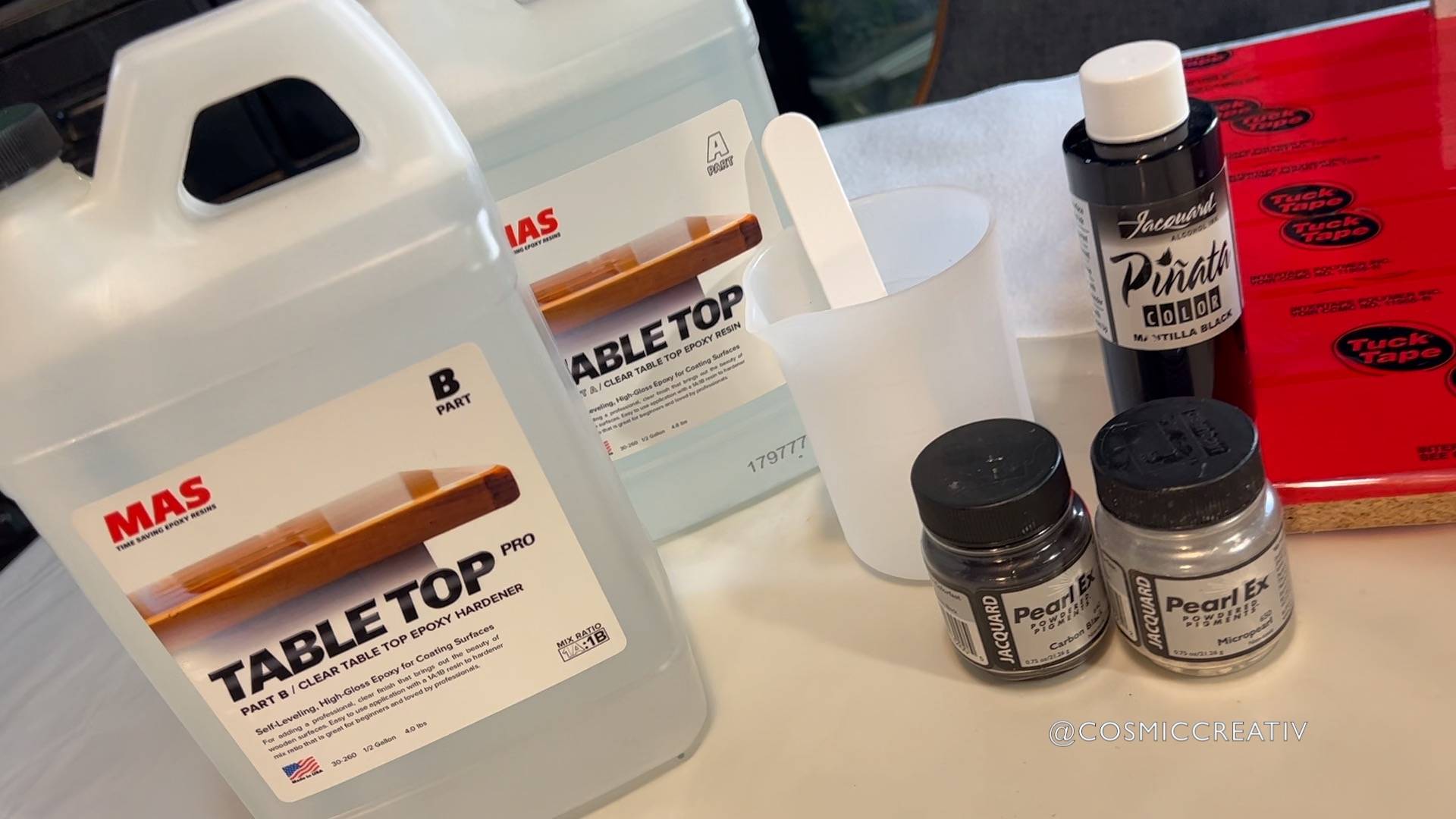 ---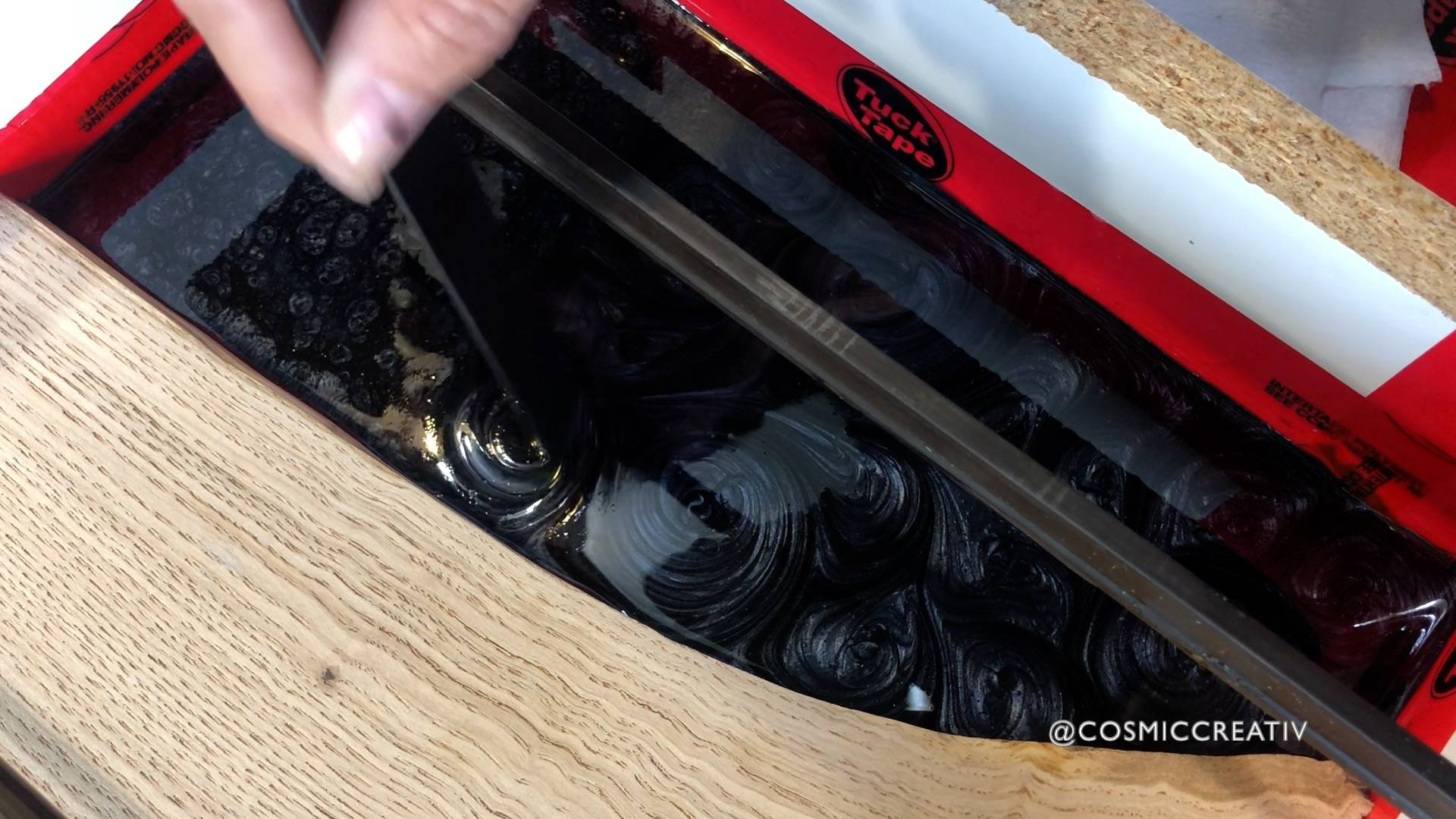 ---
Step 4: Clear Coats and Linework
On top of this base pour, I'm adding a clear coat so that the hand painted linework I'll be adding floats above the layer below. When adding multiple layers of Table Top Pro, I like to wait 4 hours between pours. So, I'll wait 4 hours, then I'll pour my clear coat onto the base layer & let that cure. Since I'll be drawing on this clear coat, I'll wait 24 hours before the next step to ensure the resin isn't tacky.
For my linework, I'll first tape down my design, then slip a piece of graphite paper underneath to transfer my design onto the resin. Posca paint pens are my go-to for drawing details on resin. My design is a celestial overlay charting the stars on a certain date over a certain location, it's sort of become my signature!
After the painted linework dries, I'll add another clear coat so that my second layer of linework floats above what I just created. Don't forget to torch your bubbles out & wait another 24 hours to draw again and repeat. This can be any design of course, go wild & create something that's yours! You'll need to add a clear coat on top of this final layer to protect your drawing. As soon as your paint dries, add your final clear coat & torch those bubbles out!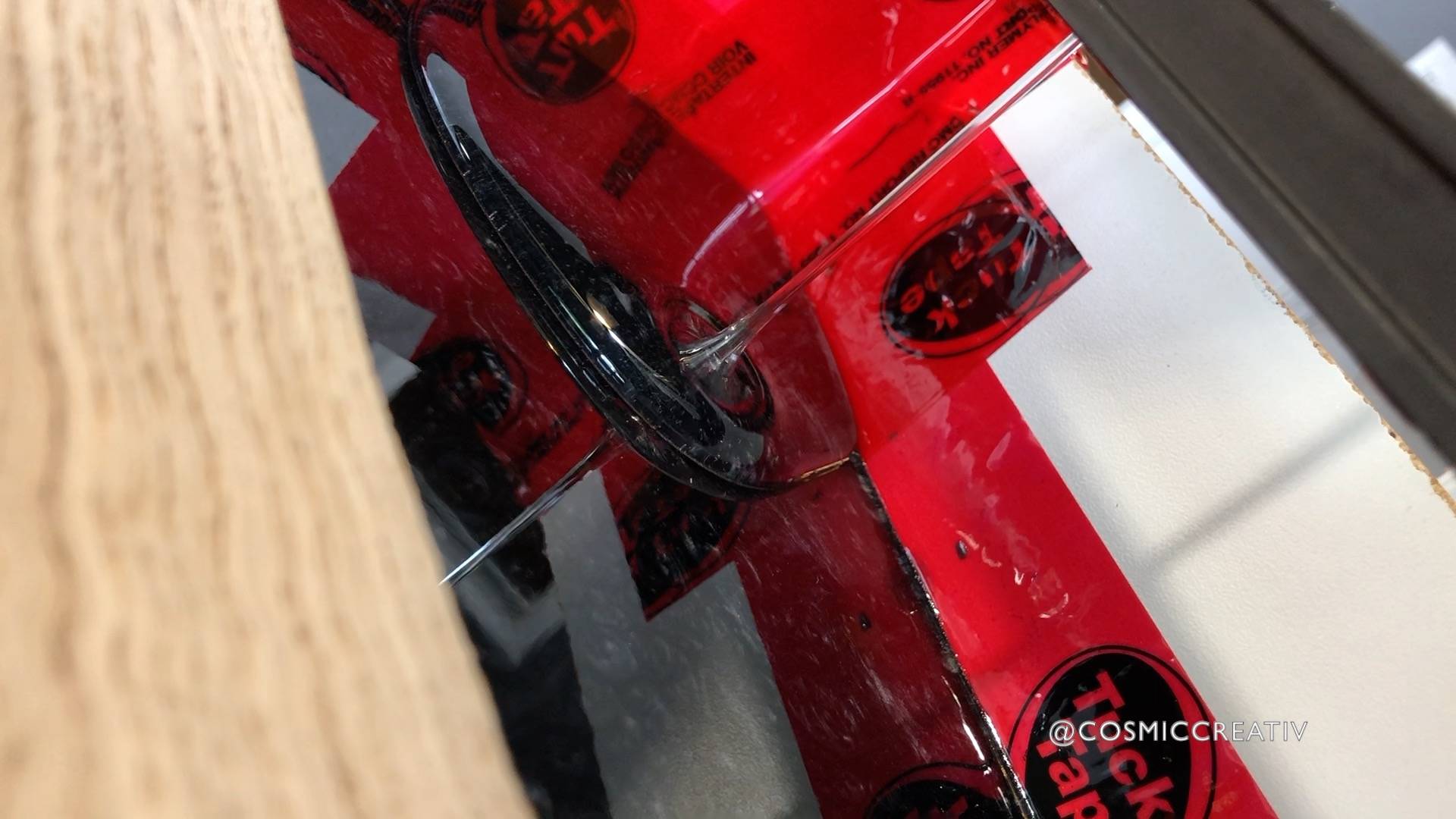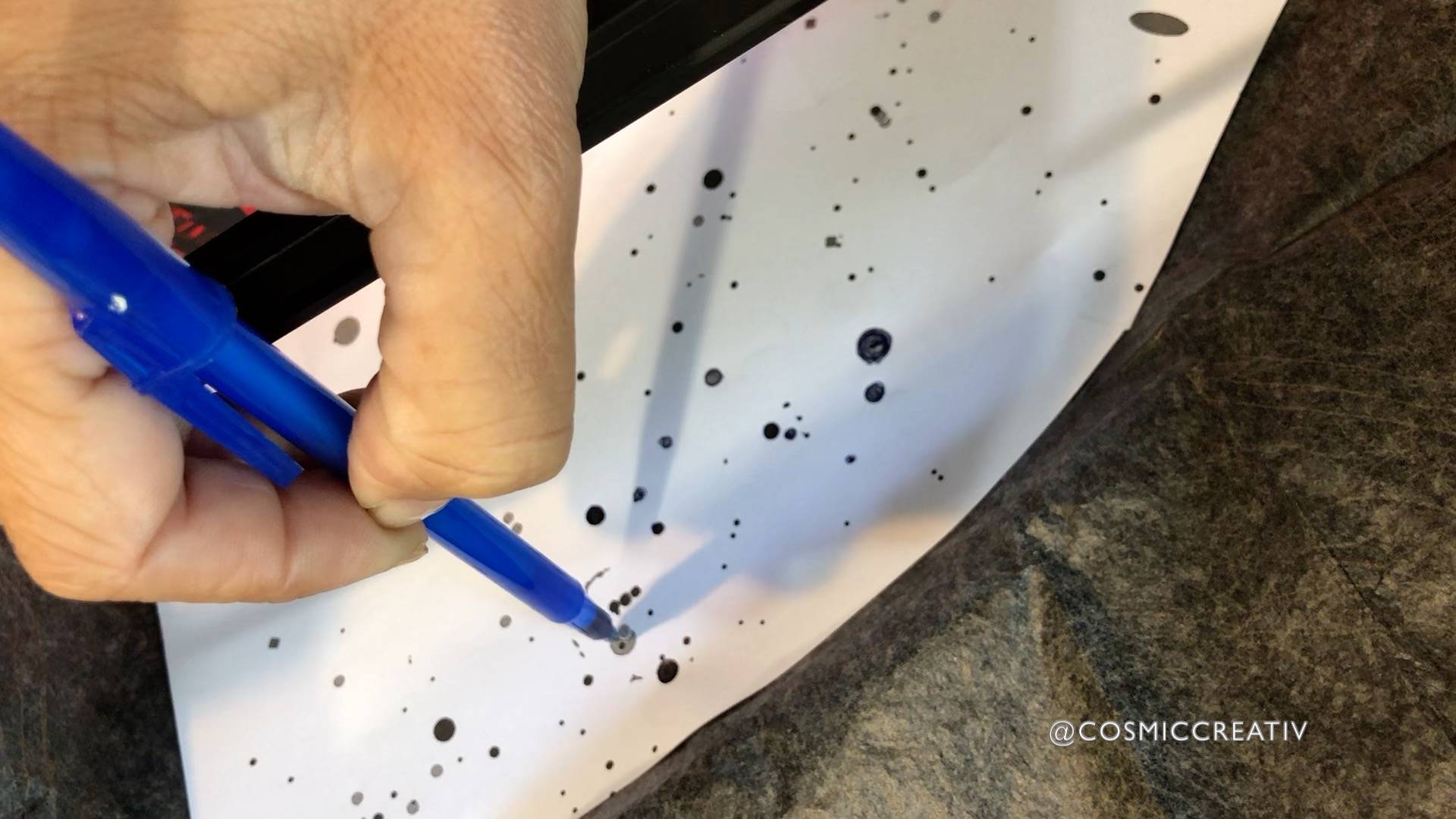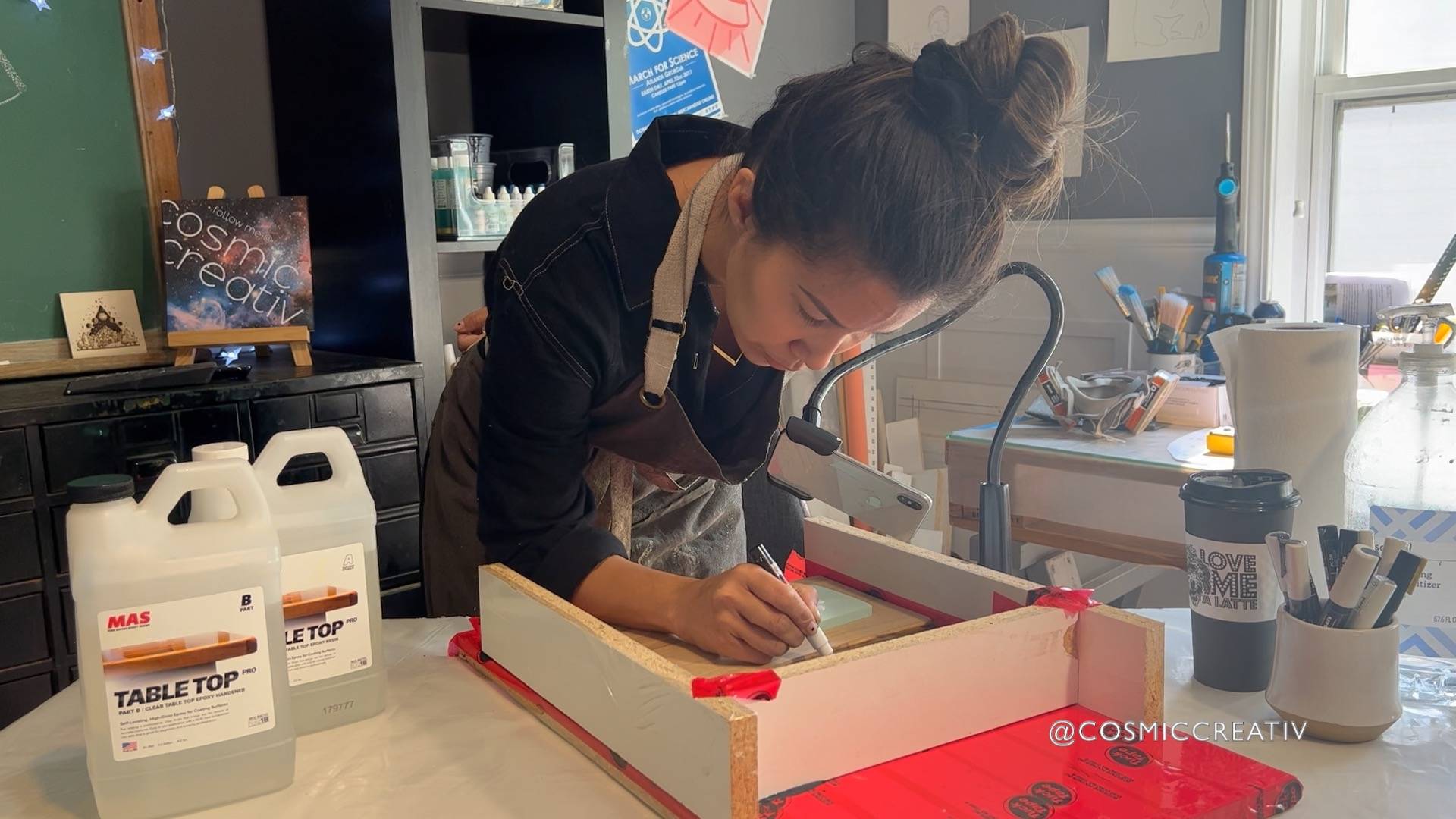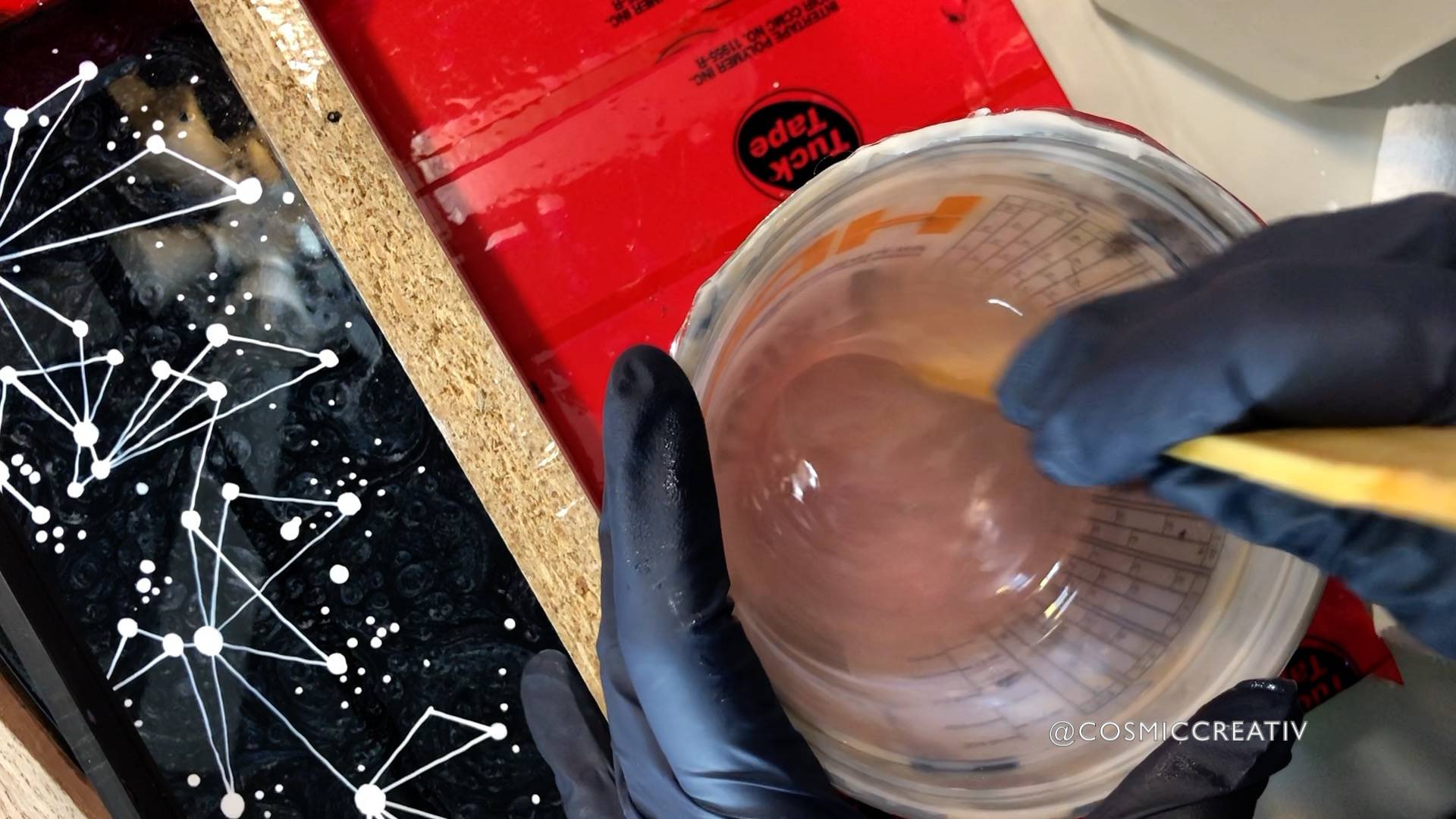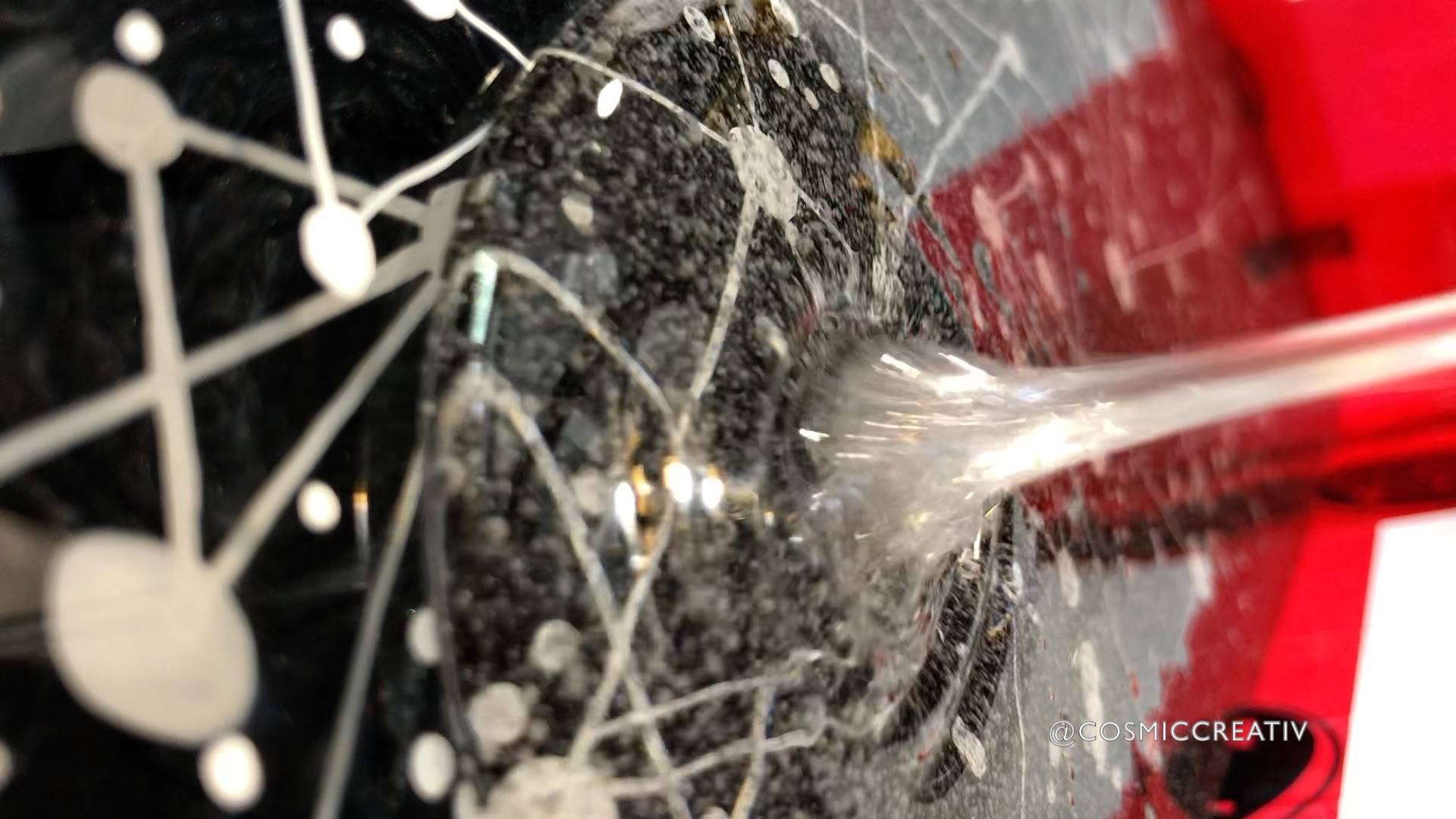 Step 5: Demolding, Trimming, and Sanding
When using Table Top Pro for my river pours, I like to wait 48 hours after my final pour before demolding & machining. Simply unscrew your formwork & use a rubber mallet to get those sides off. Wedge something underneath a corner & the whole board should pop off. The beauty of Tuck Tape!
Move your piece to the table saw to clean up your edges & trim your piece down to size. For my project, the final size will be 12"x12". I only needed to run the bottom through the planer once to level out that bit of resin that creeped underneath & the top was close to level, so I decided not to run the top through the planer & finish sanding the rest by hand.
The key to getting a beautifully polished river pour is sanding. If you get impatient & skip any grits, you'll never get the scratches out. So be patient & go fine. For all my river pours, I use my orbital sander with the following grits: 60, 120, 220, 400, 800, 1000, 1500, 2000. Don't skip any grits & don't forget the sides! You'll be happy you did this.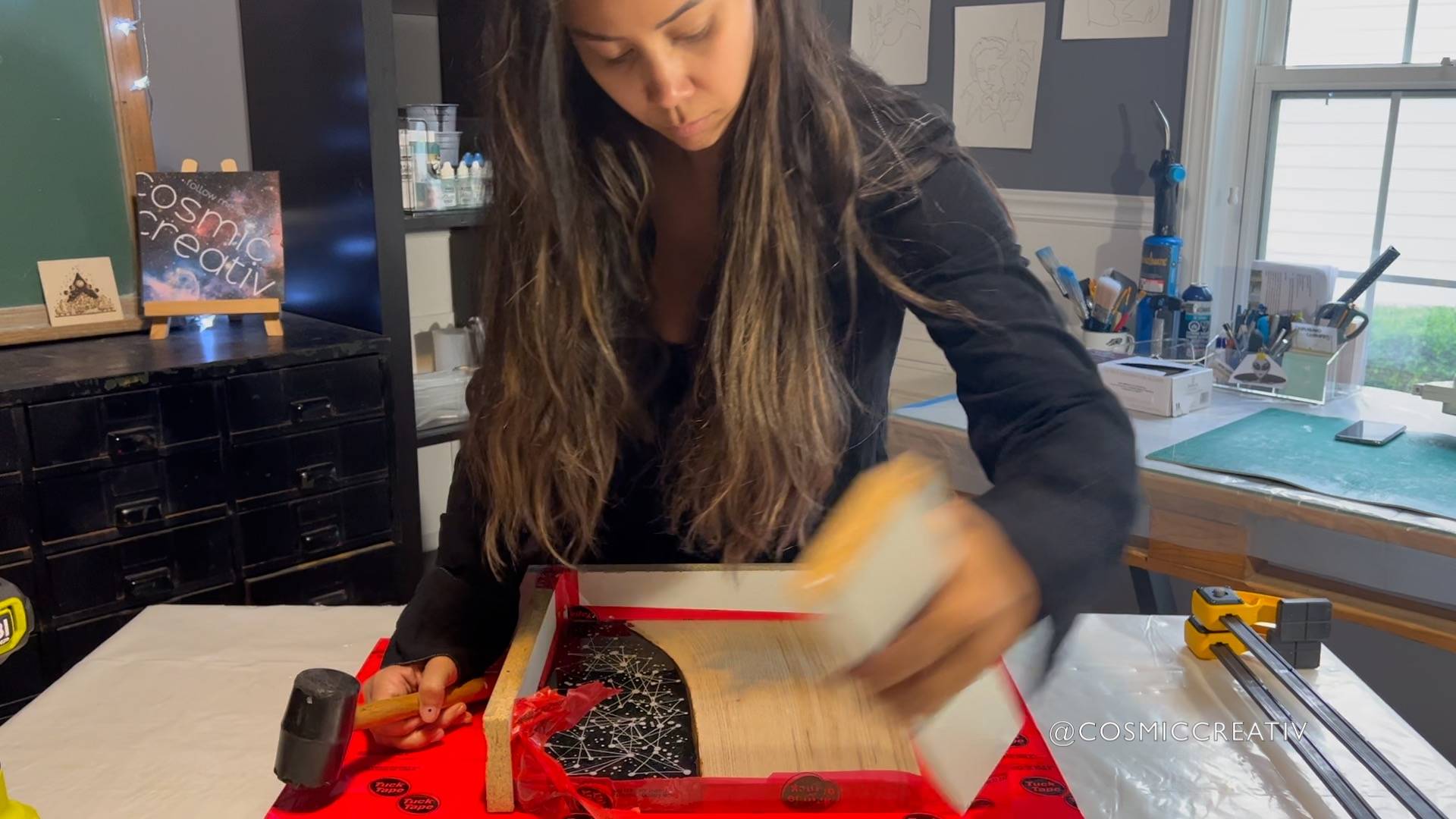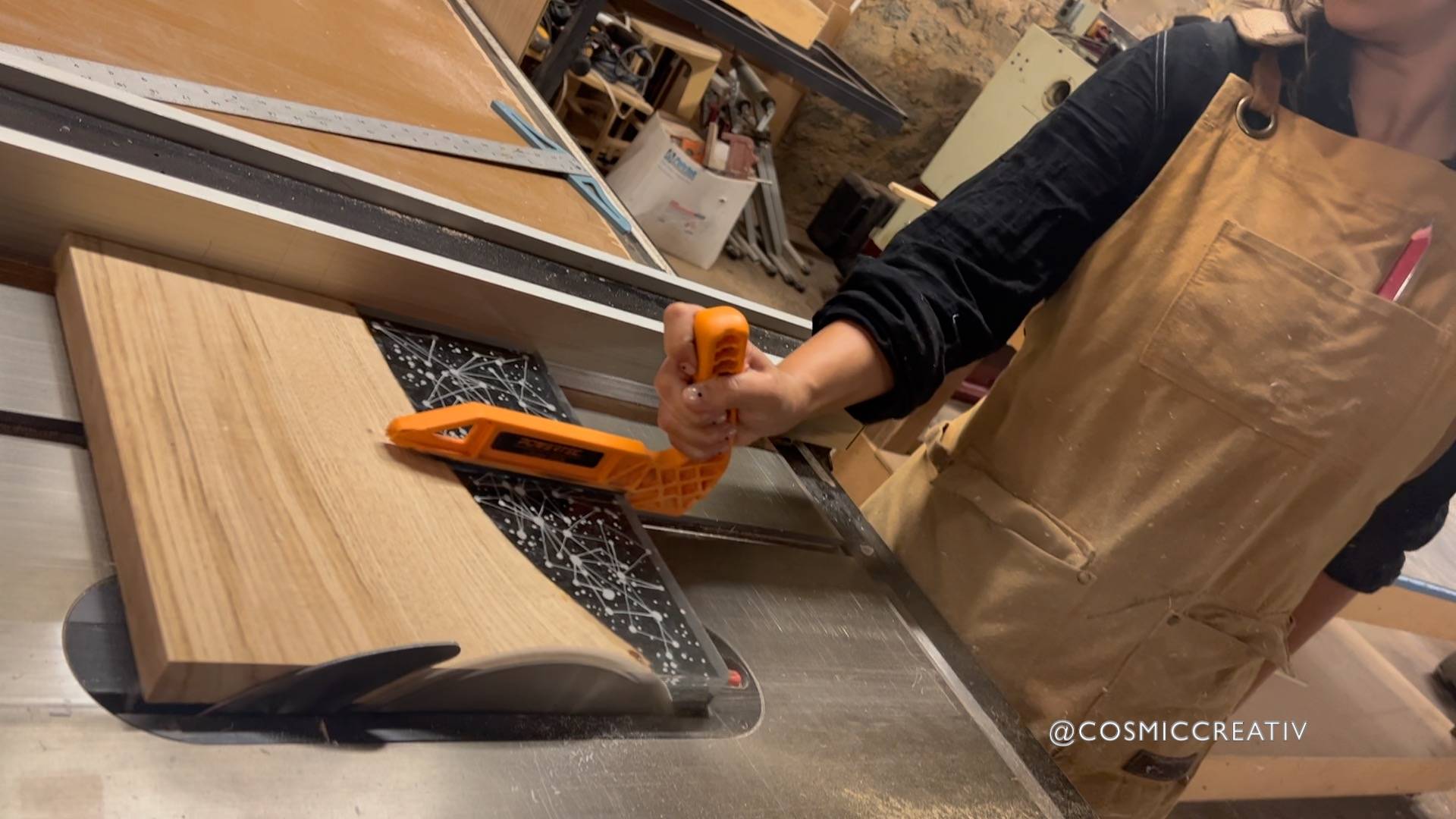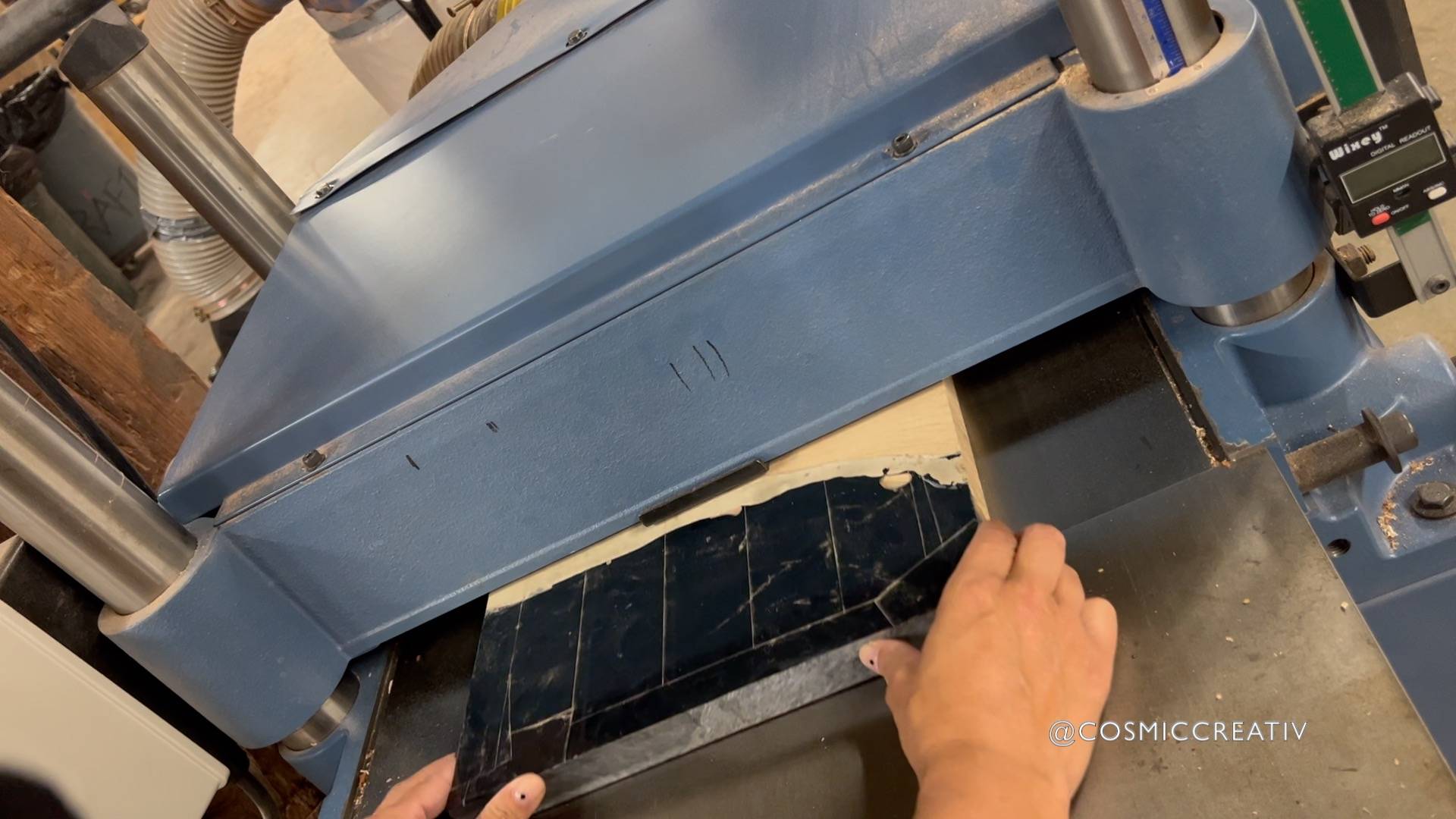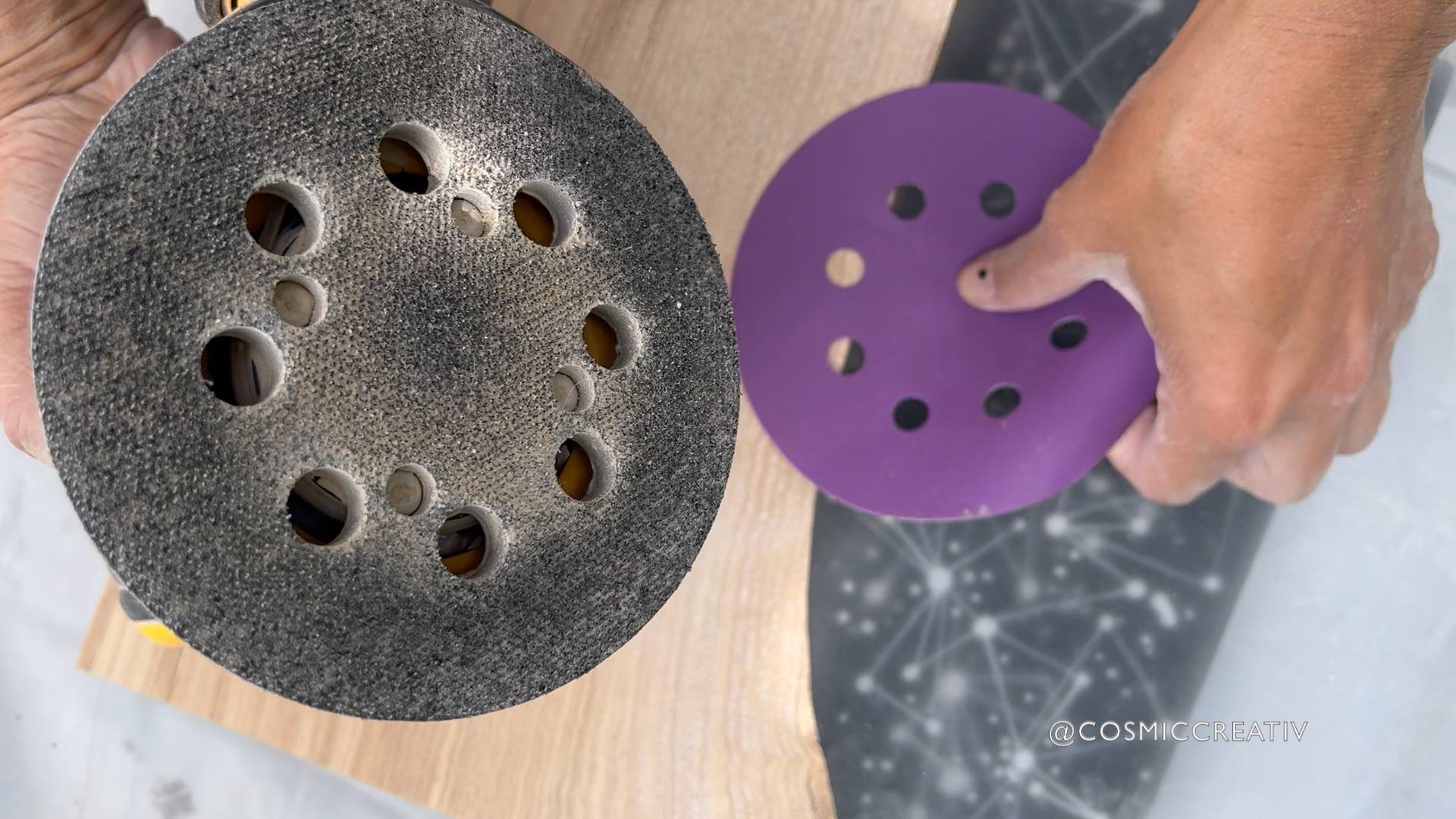 Step 6: Pyrography (Wood Burning)
I use the same graphite paper to transfer my design onto the board, then just draw! The key with pyrography is keeping your nibs clean. I like to use a fine sandpaper to remove the inevitable carbon buildup. This does wear your nibs down a little faster than other options, but it's faster, which means I can work faster. That's a trade I'll take. Having two pens helps too, because while one is cooling down for you to clean, you can grab the other & go!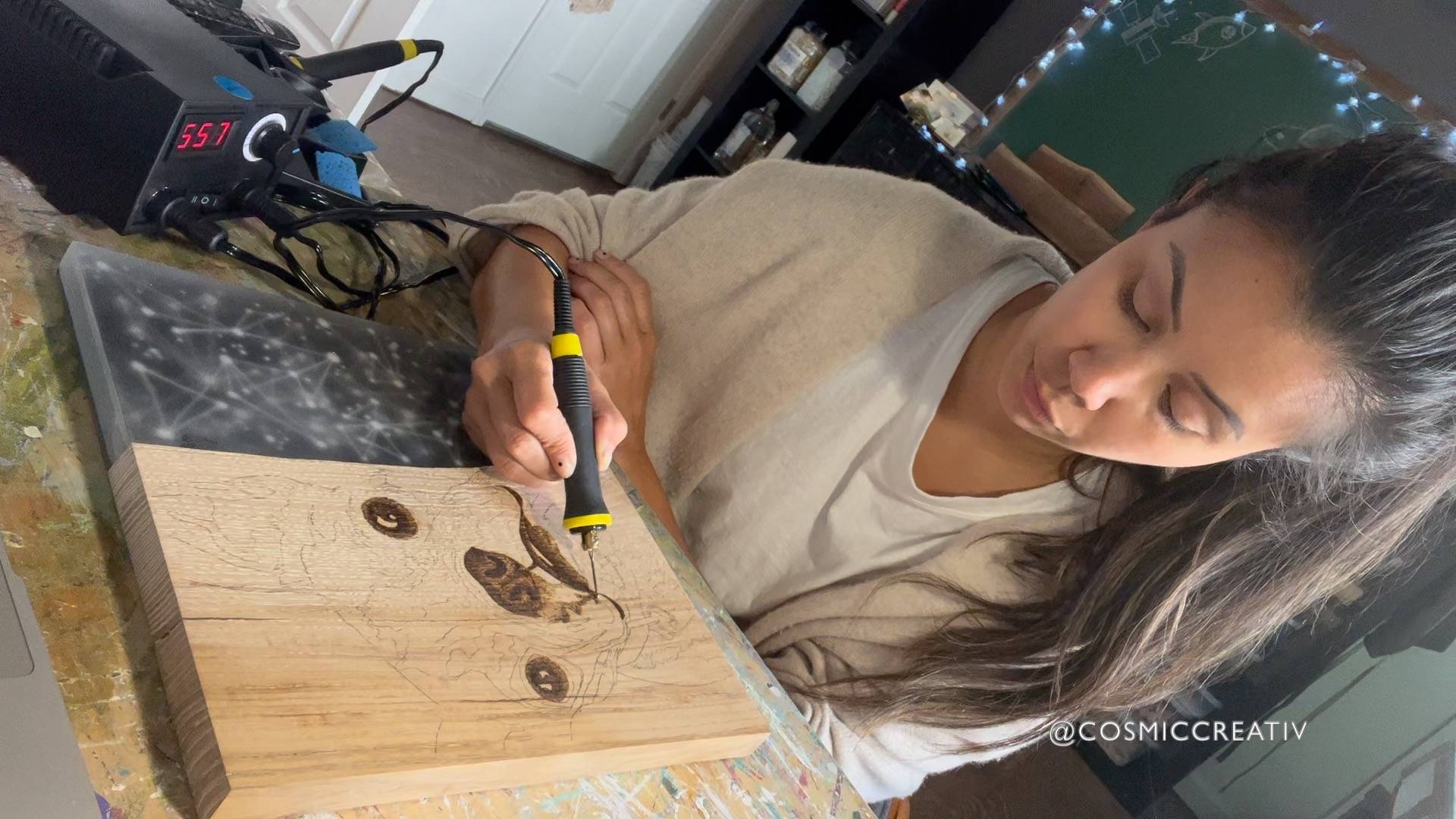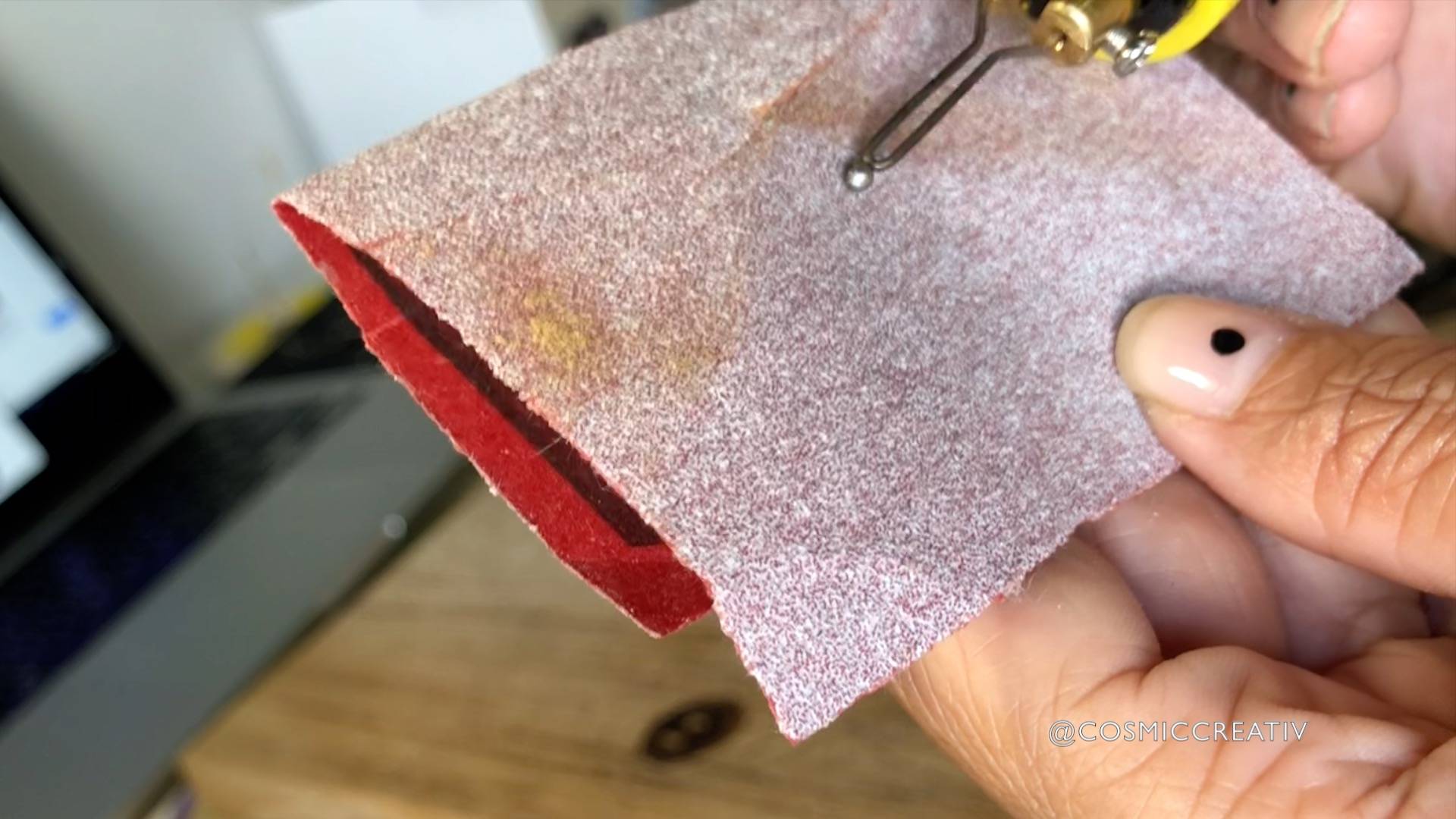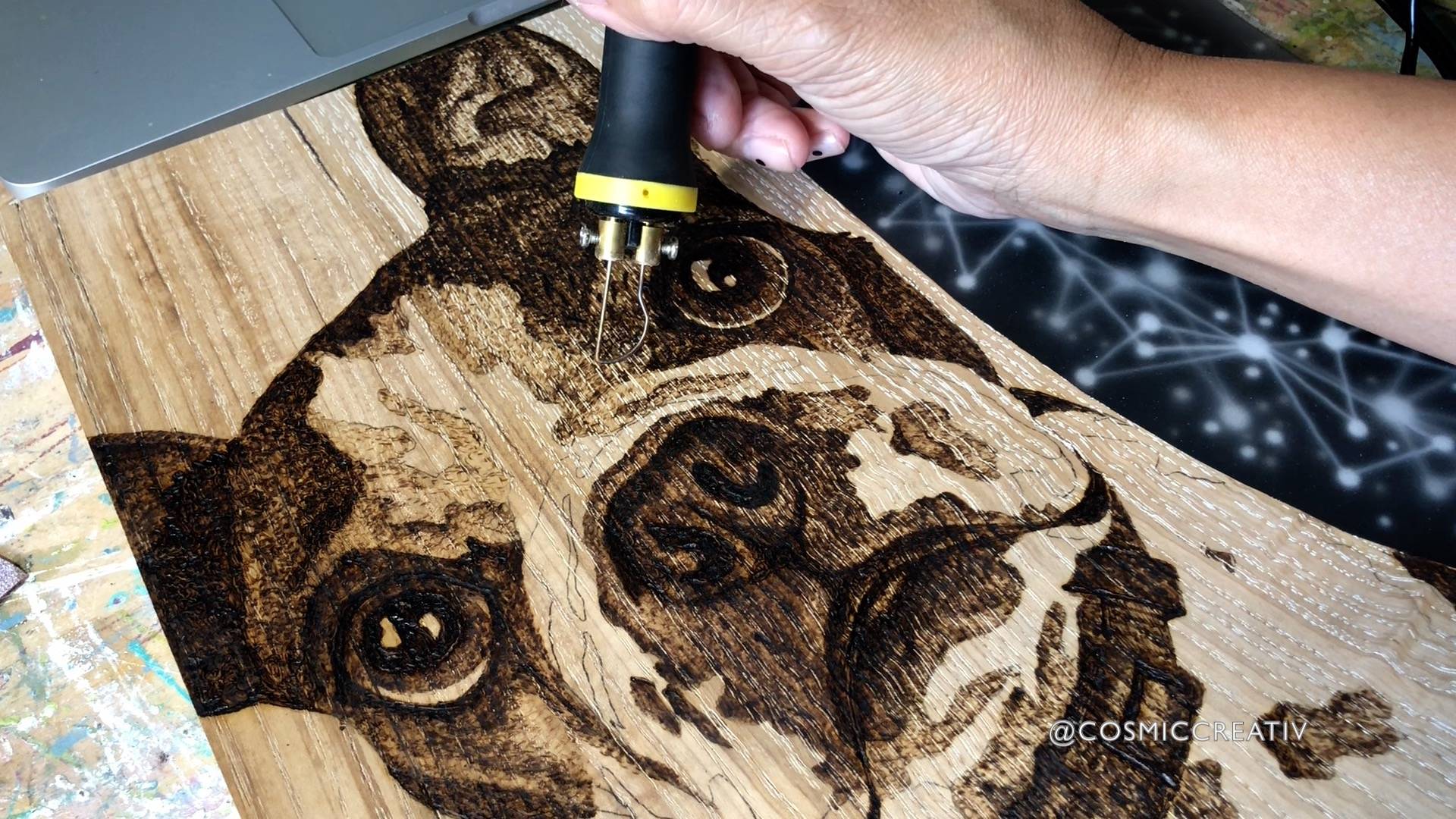 The best part! I use Osmo Polyx-Oil, based on renewable resources, safe for earthlings & "resistant" against water marks. Everyone has a different approach, but I like to use a microfiber cloth to apply the oil on my river pour & all around the sides & back, working the oil into every crease & crevasse. I'll also use a silicone brush to apply the oil on top of my wood burning. Wipe any streaks of oil off your river pour before it dries.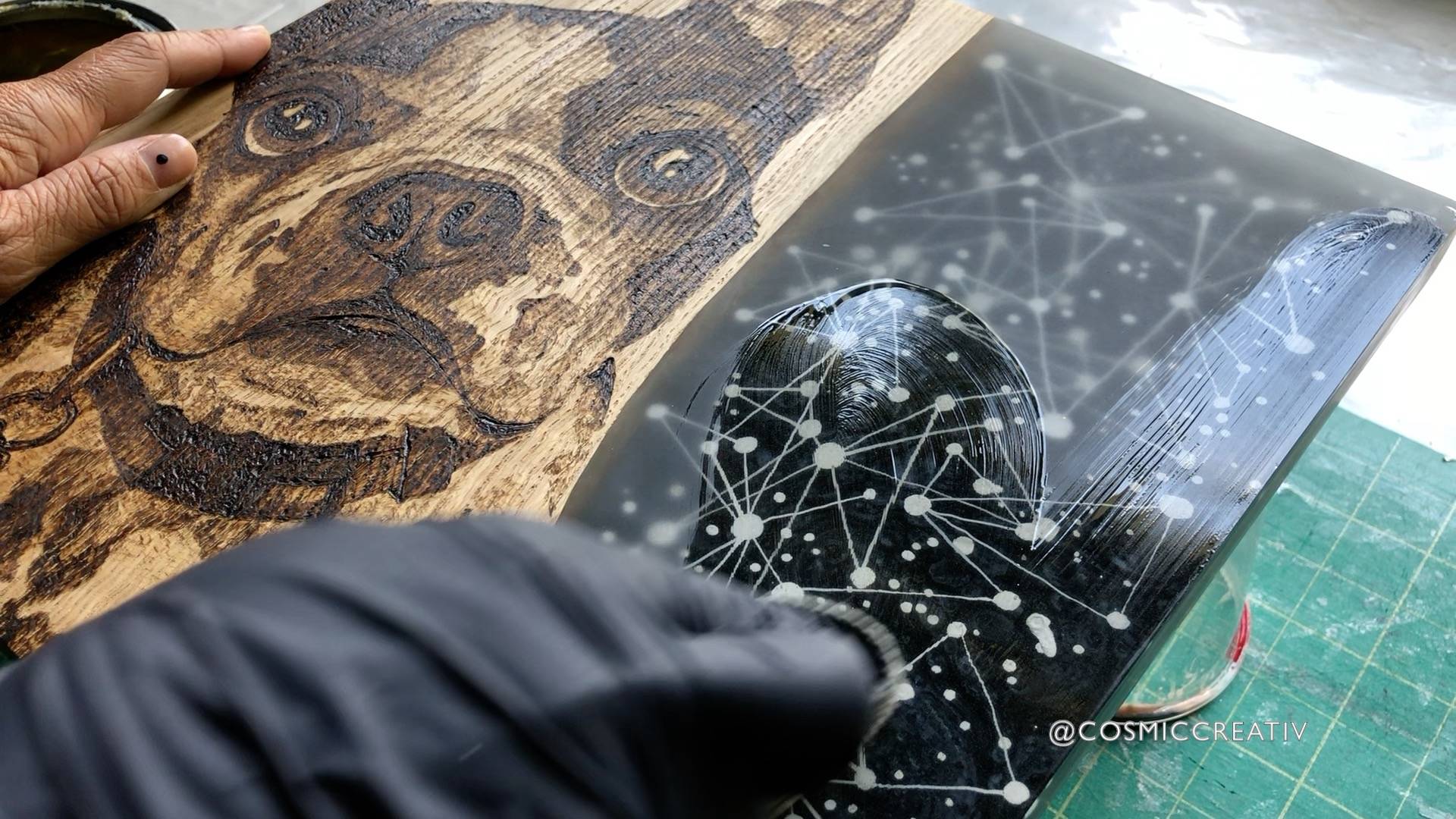 ---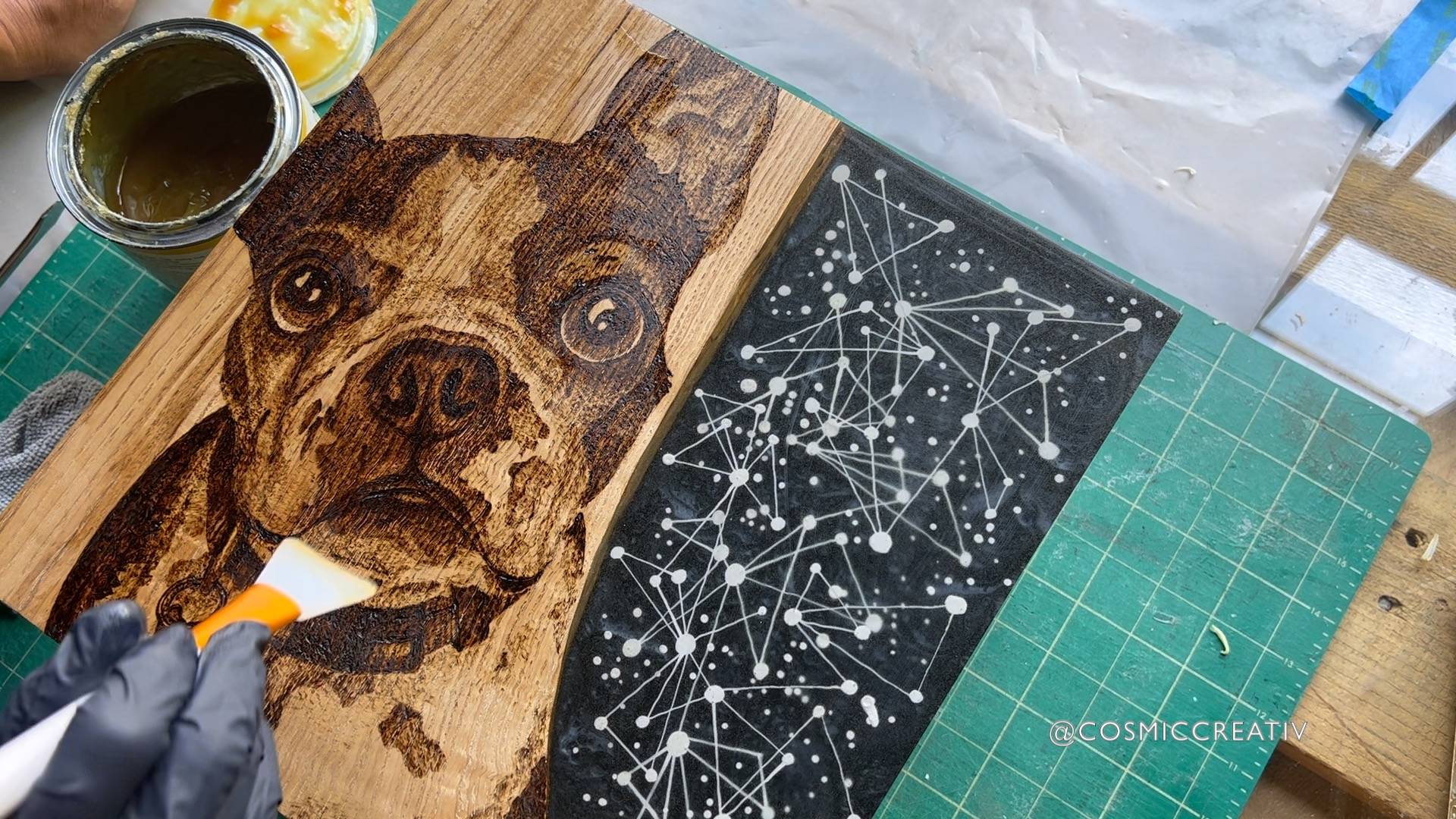 ---
VOILA!!! This style of project is particularly fun for me because I get to use lots of different skills – woodworking, pouring, painting, & drawing. Be sure to watch my 8min full process video with more detailed direction on my Cosmic Creativ YouTube page. Tag & share your work with me @cosmiccreativ, I'd love to see what you create!
---
---