River-Style Coat Rack with Cassidy Eck
May 20th 2022
---
Want to offer your buyers more than just an art piece? To some, adding functionality to a piece increases the value and leaves a customer more likely to purchase. In this blog post, Cass from @stonemillandco will walk you through the process of making a river-style coat rack, that is unique, modern, and functional! Follow along to see how YOU can make your very own coat rack as well.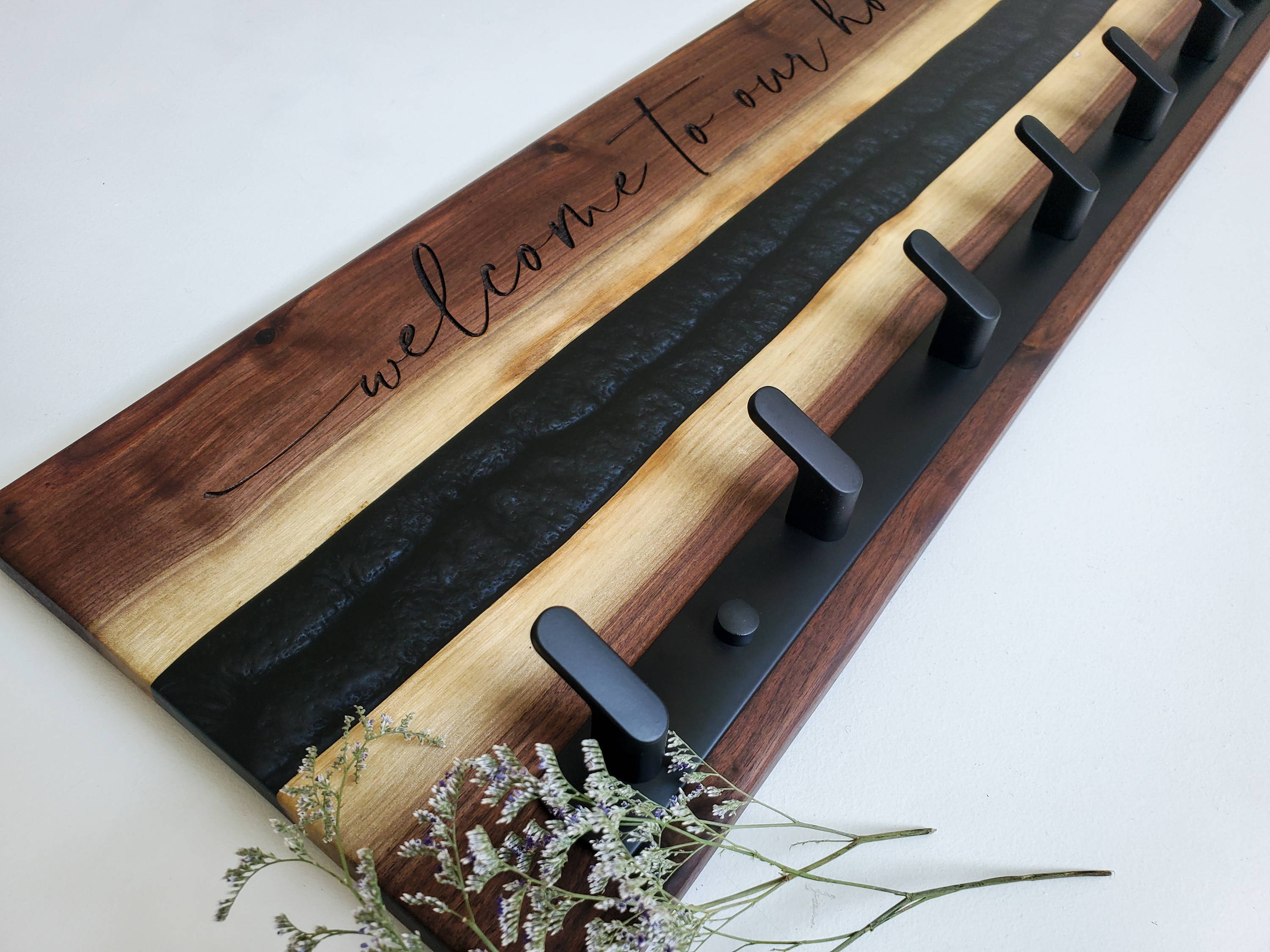 ---
Here's A Little More About Cass!
---
What's up guys! It's Cass from Stonemill & Co. I am a full-time maker of all the things! Growing up, I always wanted to be an artist, but I never would have thought I would be the artist/woodworker that I am today. I love sharing these DIY projects with you guys and I hope you love them too! Even if this tutorial doesn't lead you to build an epoxy river-style coat rack, I hope it still inspires you to create something unique of your own! I'd love it if you followed my socials below for more inspo, and always feel free to reach out with any questions!
---
Use Code: STONEMILL for 10% Off + Free Shipping!
---
Shop more of Cassidy's favorite products here!
---
Check Out Cass' Full Video Tutorials!
---
---
---
---
Step One: Choose & Prep Your Slabs!

The first step is picking out, sizing, and cleaning up your slabs. I went with walnut, which is a pretty popular favorite. I used my Miter saw to cut each piece to the same length. Next, I cleaned off the bark. There are multiple tools you can use to de-bark your slabs but I typically just use a chisel and a hammer. Once all the bark is off, I like to hit the sides with 80 grit sandpaper, and my Mirka Sander. I prefer a nice clean, smooth look so I try to get all of the bark off. Once the slabs are cleaned up, I wipe them down with a rag and get ready to mold!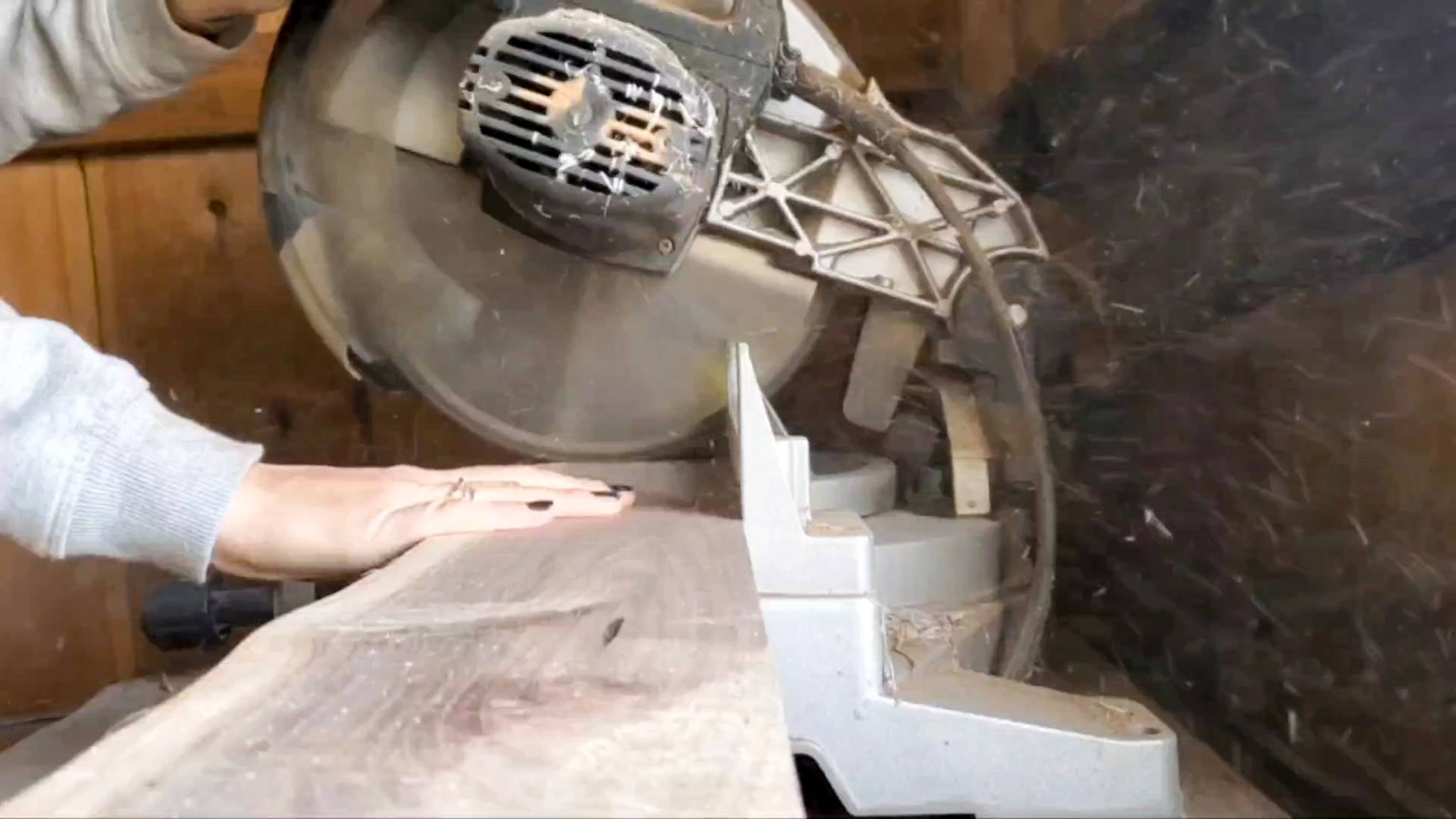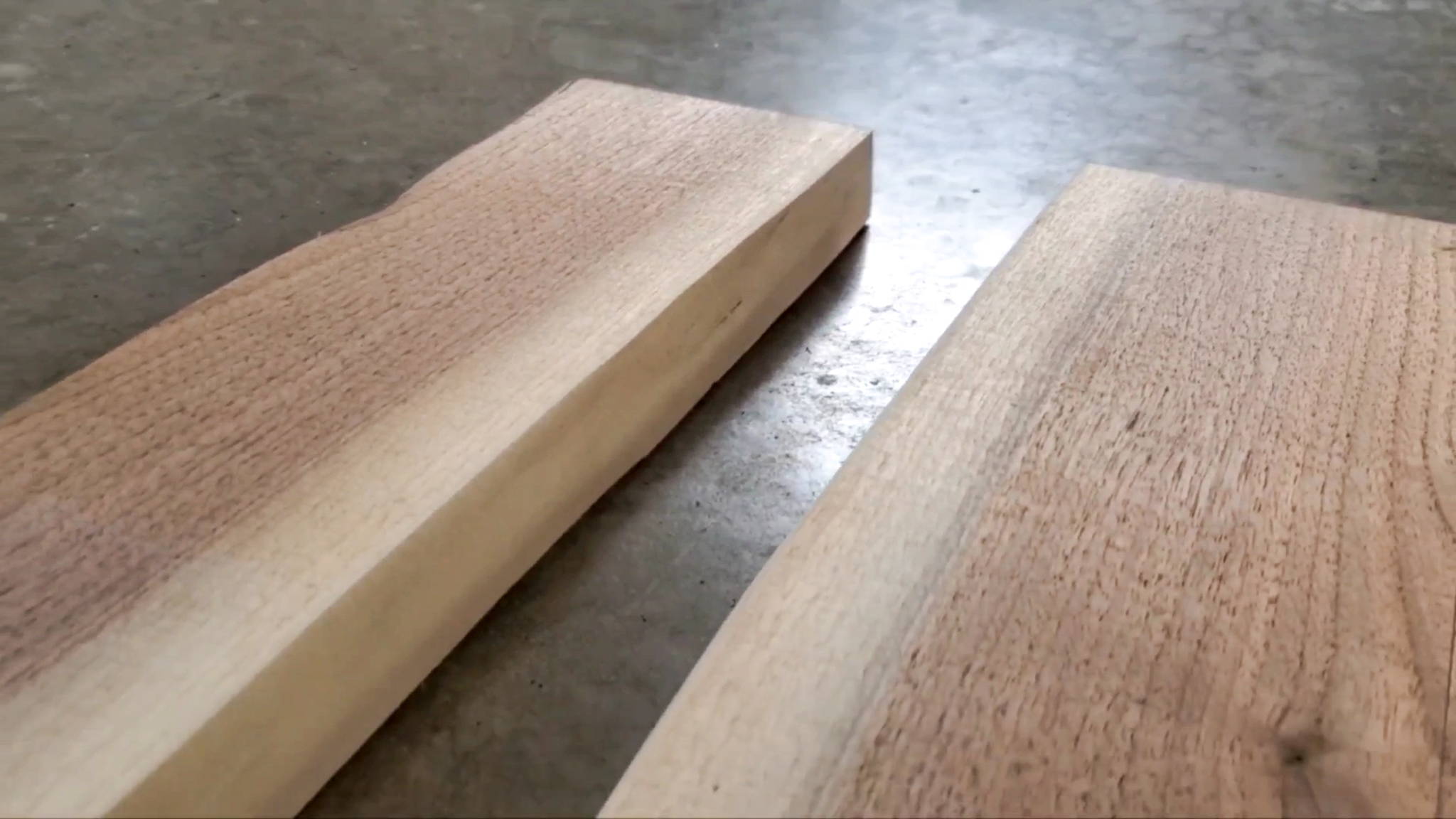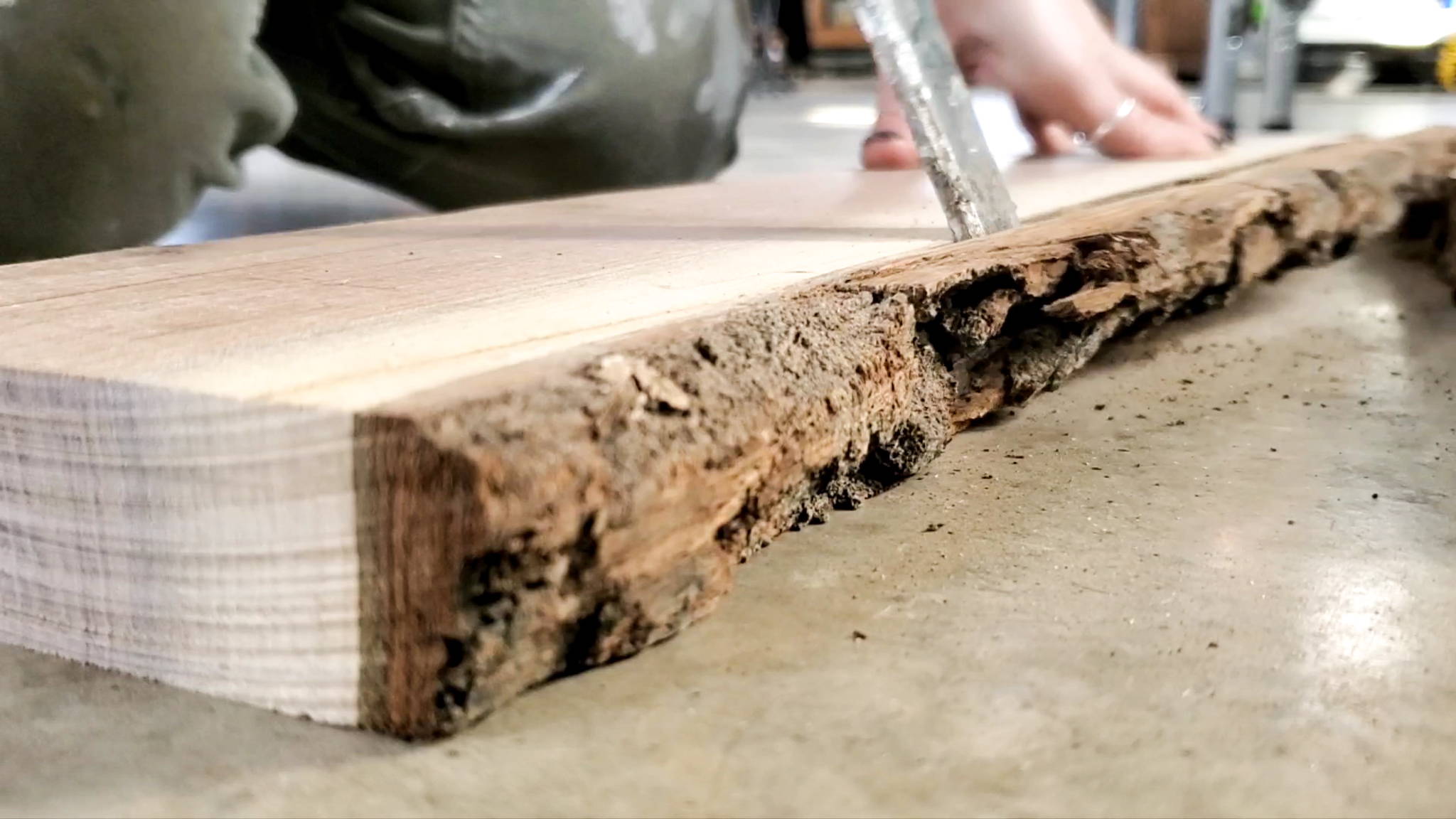 This step can be done in multiple different ways. I decided to use the base of my large Crafted Elements mold for this project, but you can also make your own mold out of wood, and tuck tape. Tuck tape prevents the epoxy from sticking to the wood. Since I used my crafted elements Mold, I didn't need to use tape.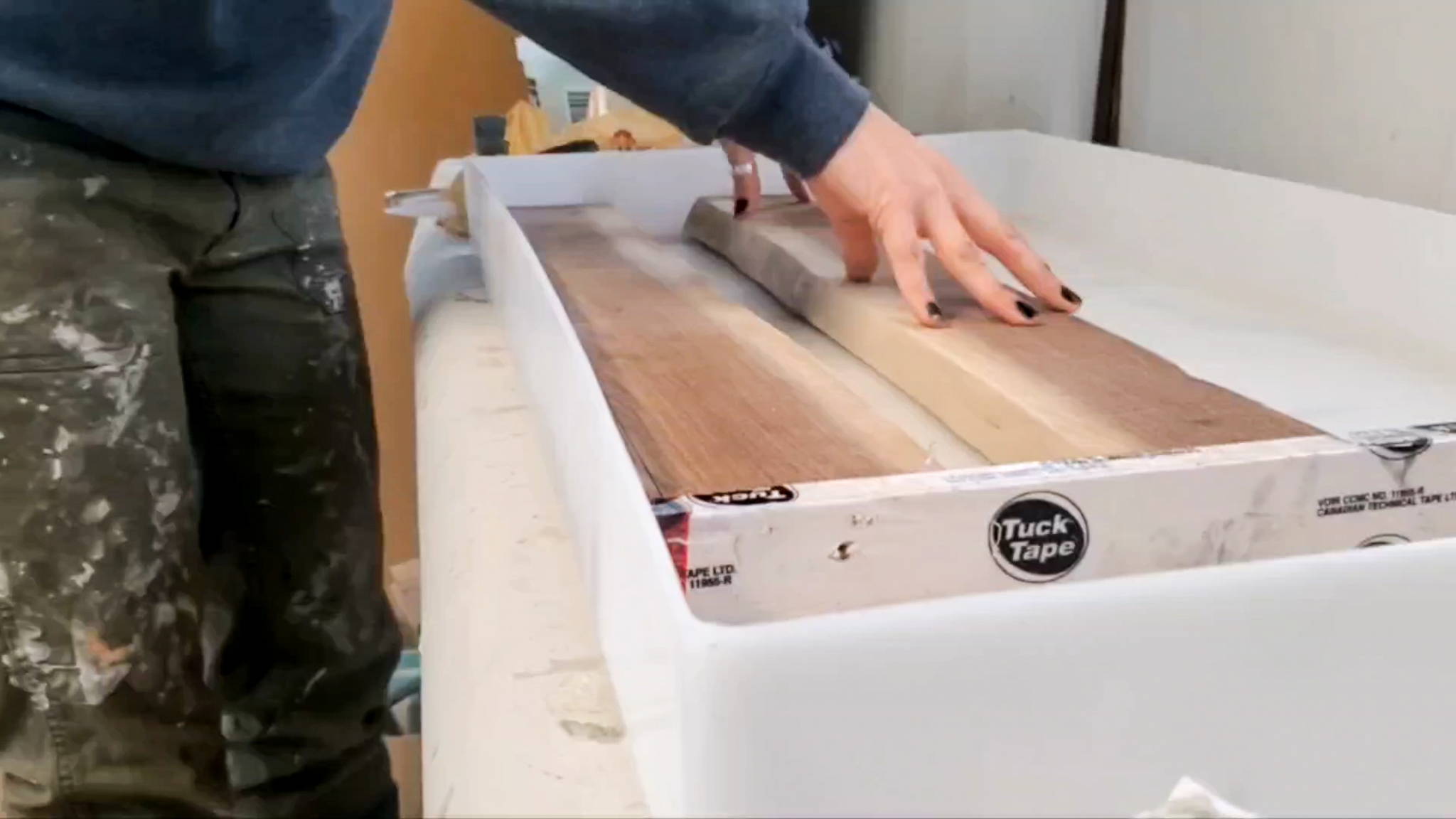 ---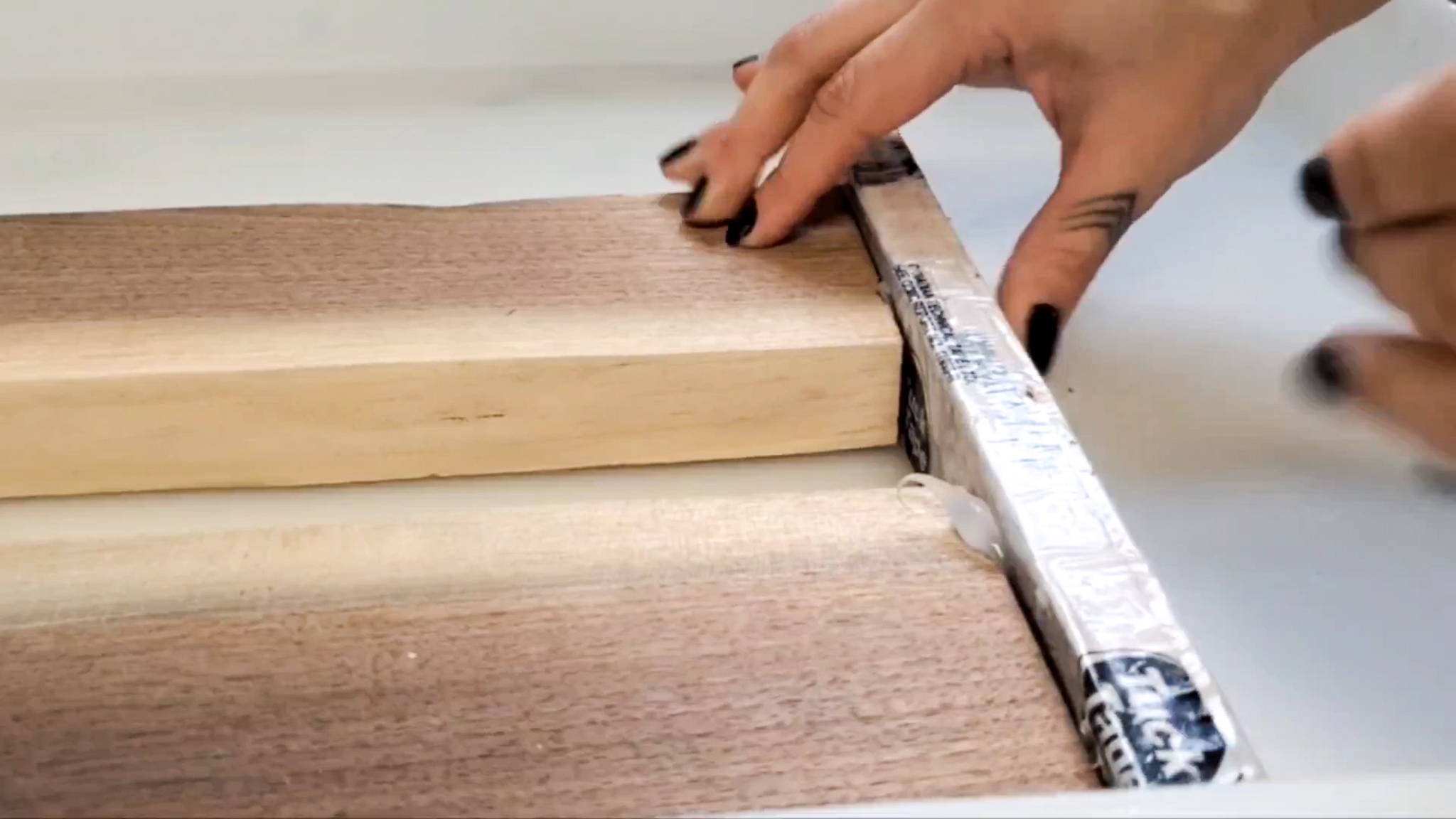 Caulking, however, is super important!! You will want to caulk the bottom and sides of your wood, as well as your end pieces. Now, you might want to jump right in to pouring, but it's also very important to let the caulking cure so you avoid any leaks. I let mine cure for roughly 24 hours before I pour my Deep Pour.
---
---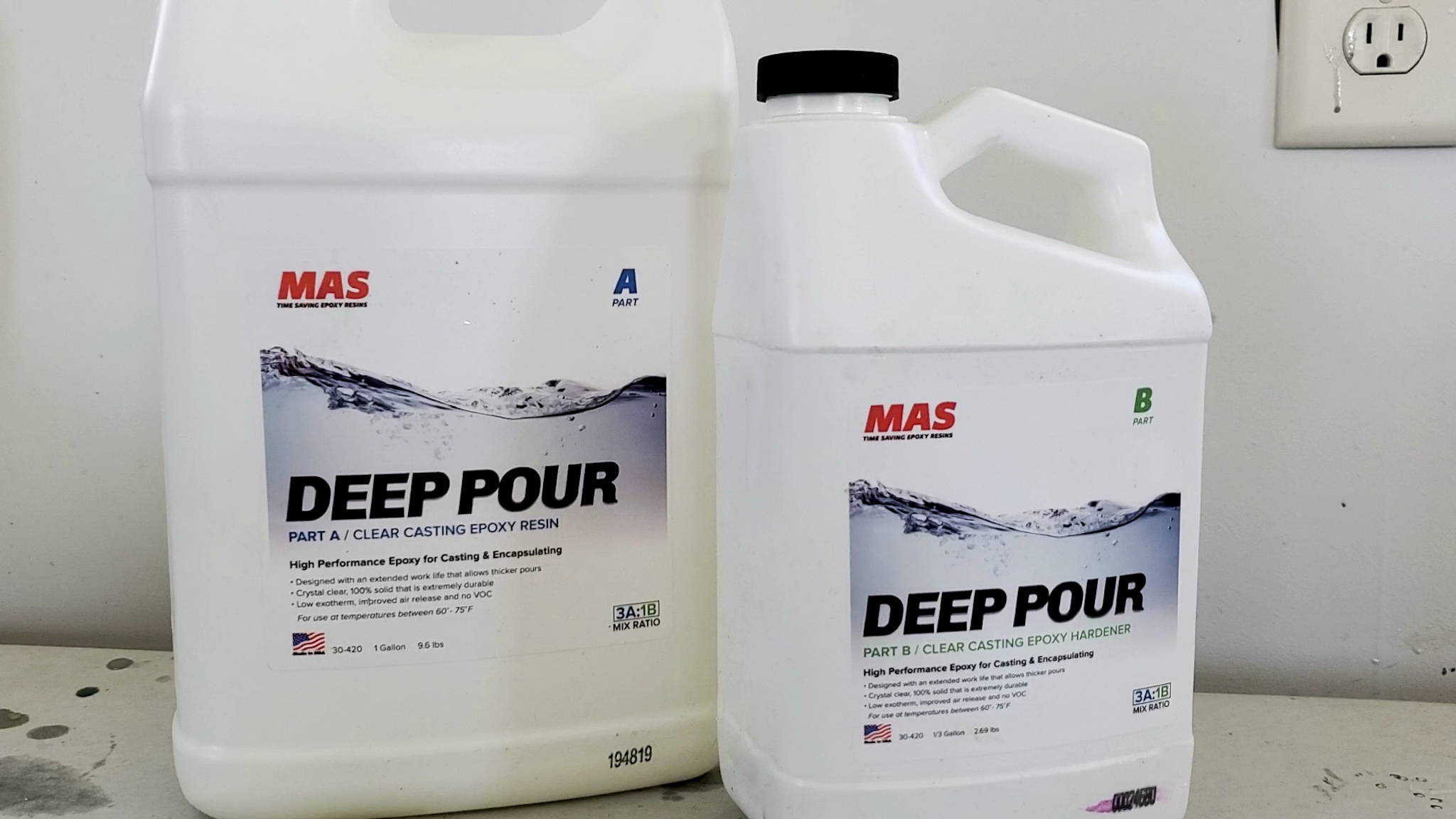 ---
This system is a 3:1 ratio. It is a slow curing epoxy that will cure in roughly 24-36 hours at 70 degrees F.

Pour depth- Maximum casting depth can vary depending on a few factors, but specifically depending on the volume and pour depth of the project. As a general guideline, do not exceed .5" casting thickness for a full mixed 1.3 gallon kit, or 1" for a half mixed kit. For more information on working conditions, mixing, and casting thickness, please read here.
-As always, read the directions. You would be surprised how many mistakes can be avoided by reading the label.
-Be sure you are measuring correctly! This specific Deep Pour system is a 3:1 ratio. (For example: for every 3 ounces of Part A, you will use 1 ounce of Part B.)
It can be stressful to work with epoxy, but don't overthink it! If you have never worked with it, take your time, and follow these important steps.
---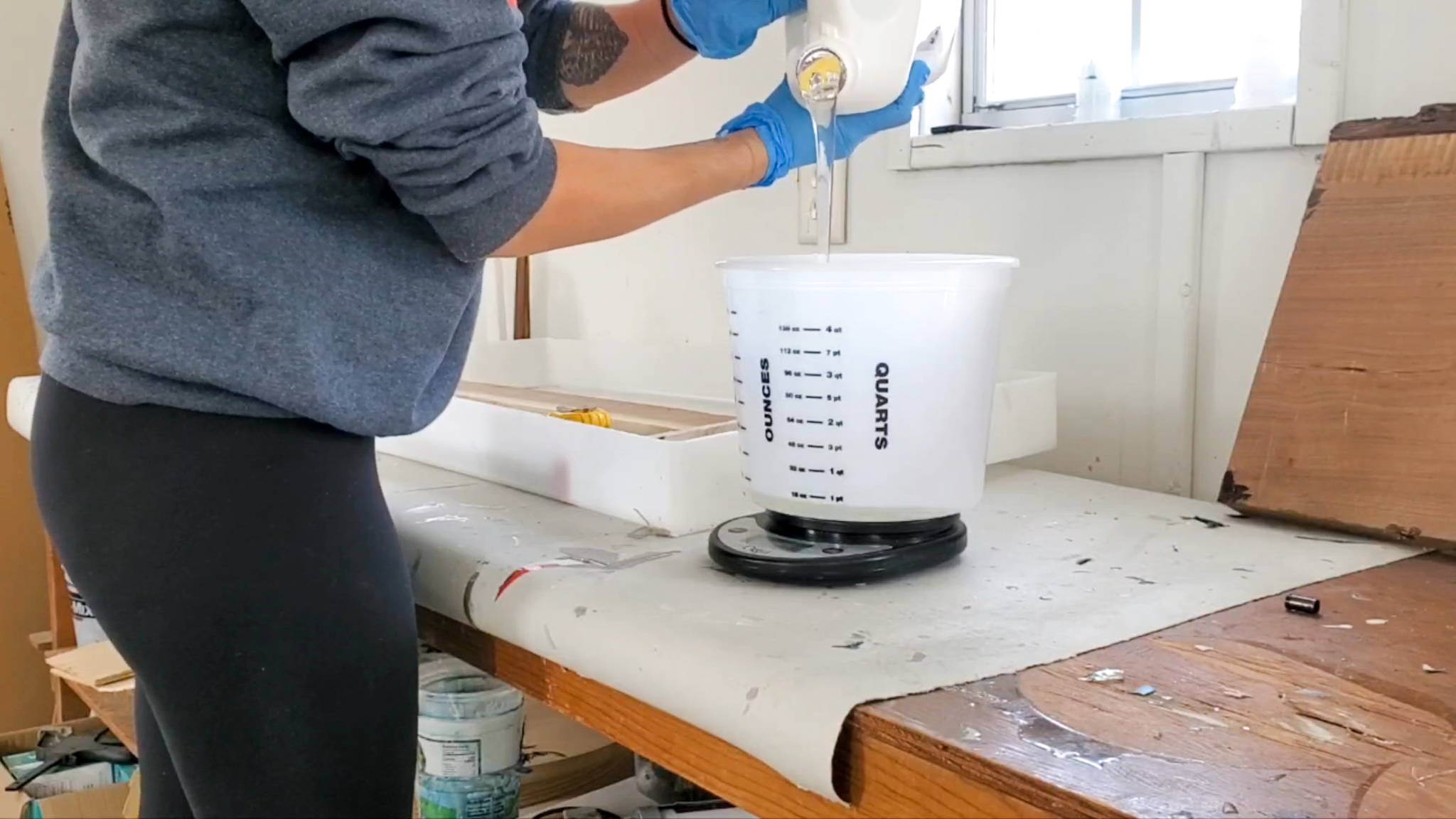 ---
Mas has an excellent calculator on their website that not only tells you the total amount of liquid that you'll need for your specific project size but also how much of both Part A and Part B to mix. Simply enter the length, width, and depth of your project area, select which resin system you are using, and let the calculator do the work! You can check out the calculator here!
Example: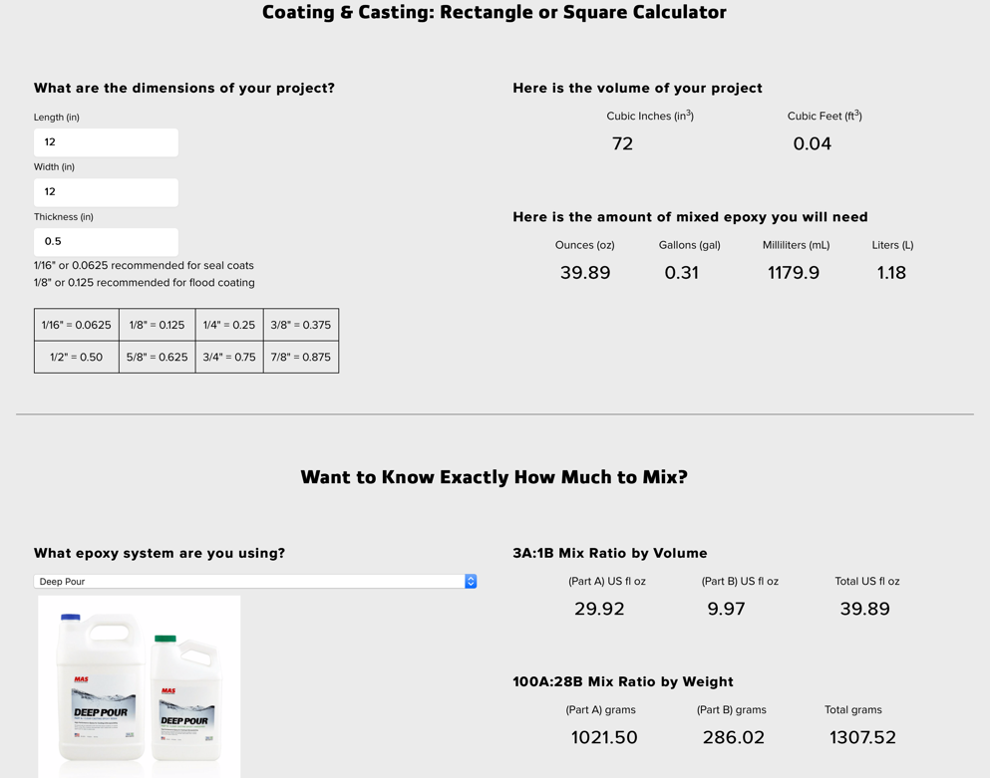 ---
-Mix thoroughly. Not only do you want to make sure you are mixing your resin for the suggested time on the label, but you also want to make sure you are mixing until you no longer see any string-like striations.
("String-like striations" Let's elaborate on that term. Think of mixing two colors of paint together. You would want to mix the paint until you can no longer see distinct "string-like" lines of either color in your paint mixture. Instead, your paint, or resin, should be smooth. For resin, you want it to be smooth, clear, and rid of any foggy, string-like lines.)
For this amount of resin, I decided to use a drill to mix. Keep your drill at a low speed, and again, mix until your system is clear. Do not add color until you have clear, well mixed resin to start.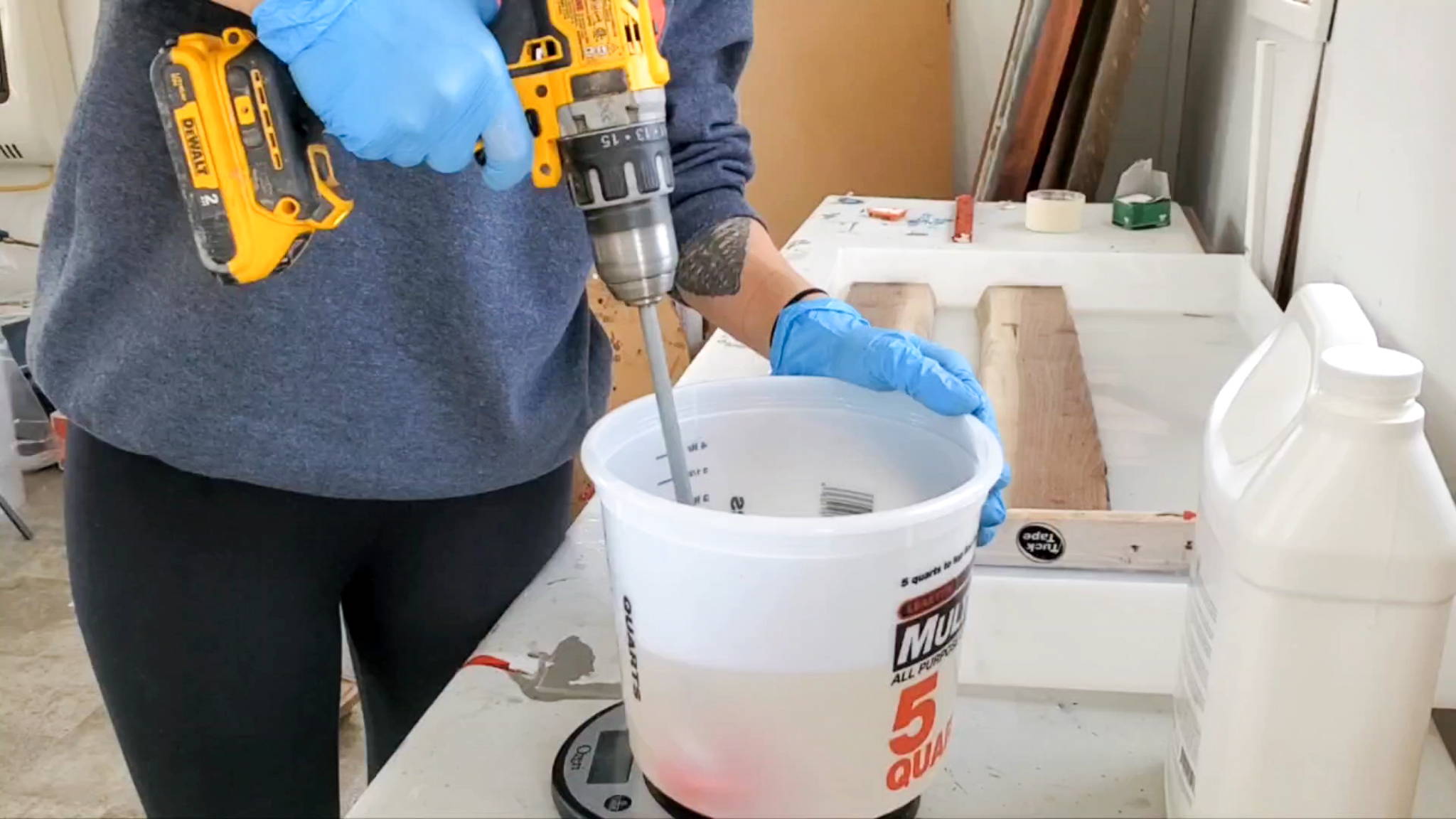 ---
If you're new to resin, I suggest watching this YouTube/Blog on Mixing resin!
---
I wanted a nice shimmery look for this piece so I used a shimmery Mica powder.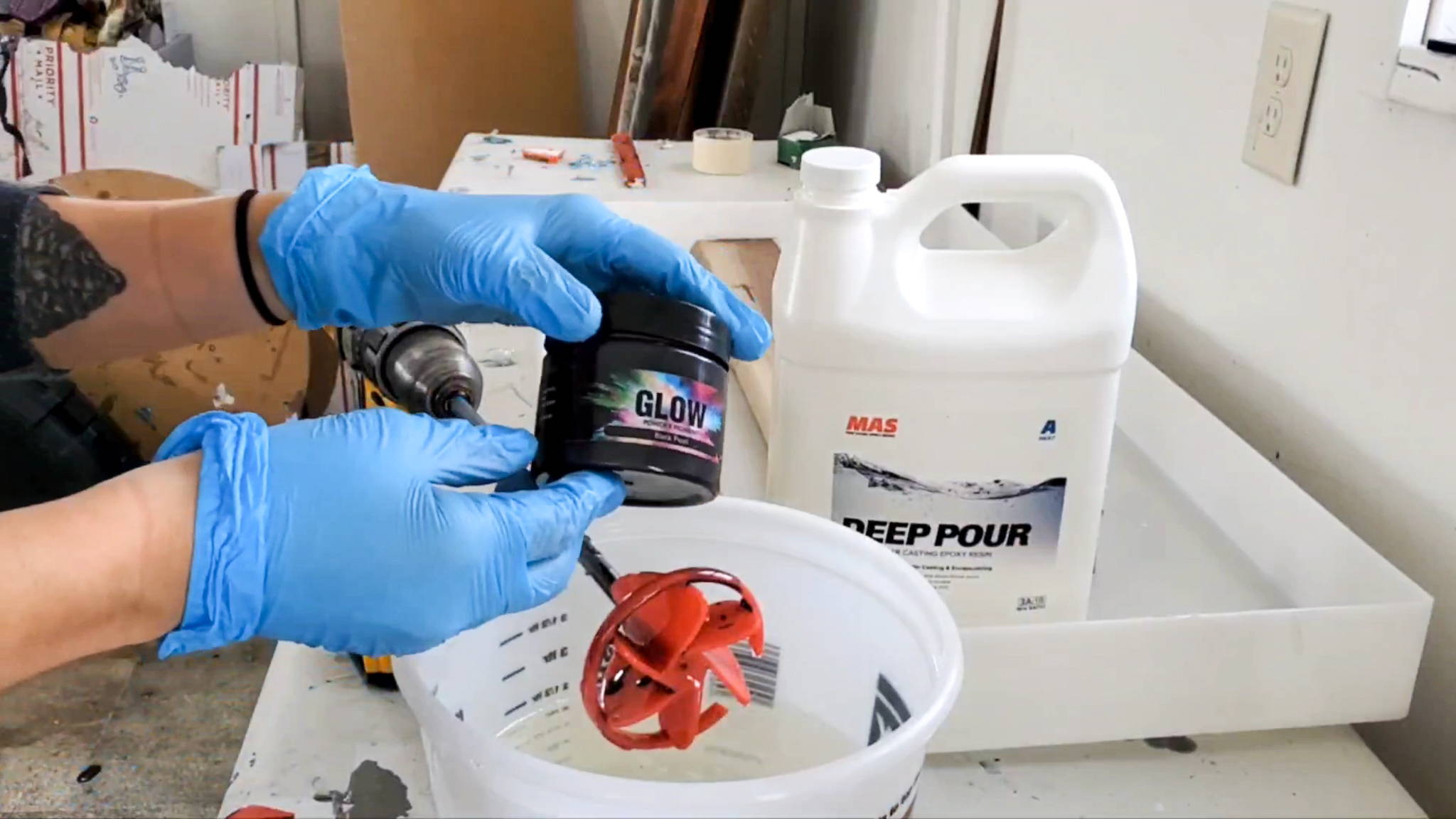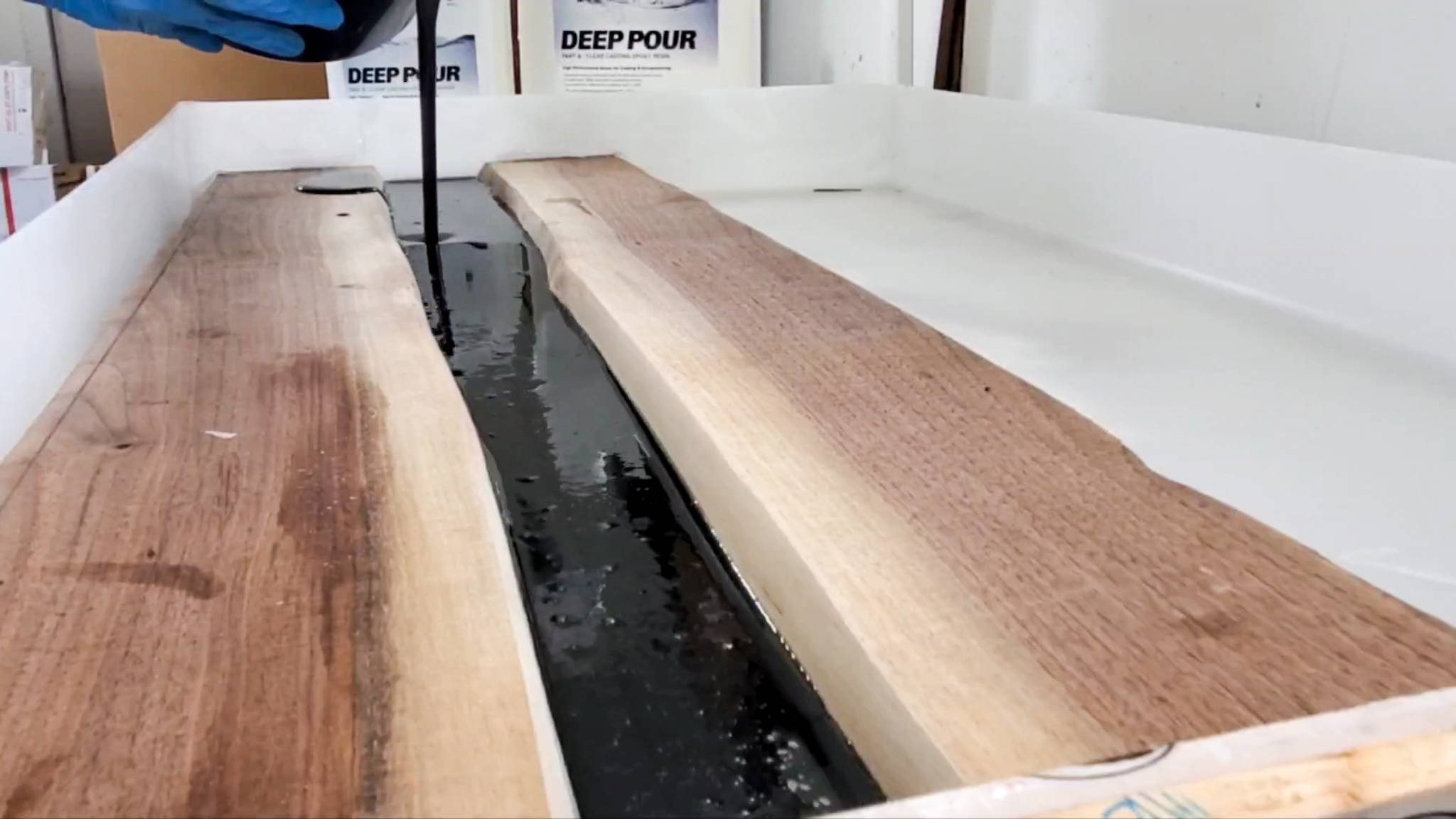 ---
To achieve the swirly look, pour your resin, and come back roughly 4 hours later (if working at 70 degrees F) and swirl your resin. You should still be able to move your stir stick freely. Waiting the 4 hours allows the resin to cure, or thicken slightly, preventing the mica powder from sinking and losing its pattern.
Place a box fan nearby to assist with air circulation while curing.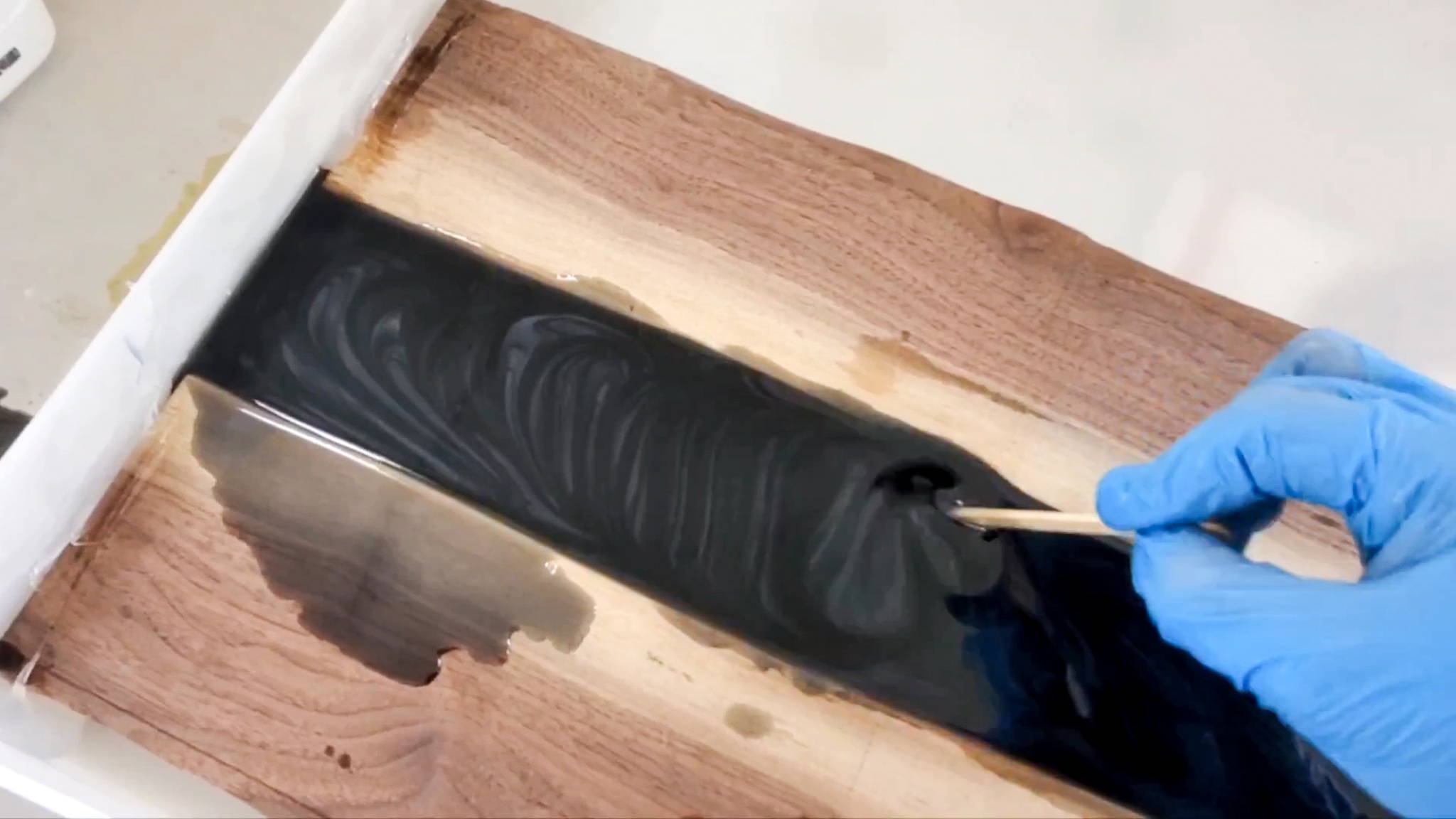 ---
Step Four: Demolding and Machining

Again, this system should cure in 24-36 hours at 70-degree F. Once cured, use a rubber mallet to loosen the piece and remove it from your mold.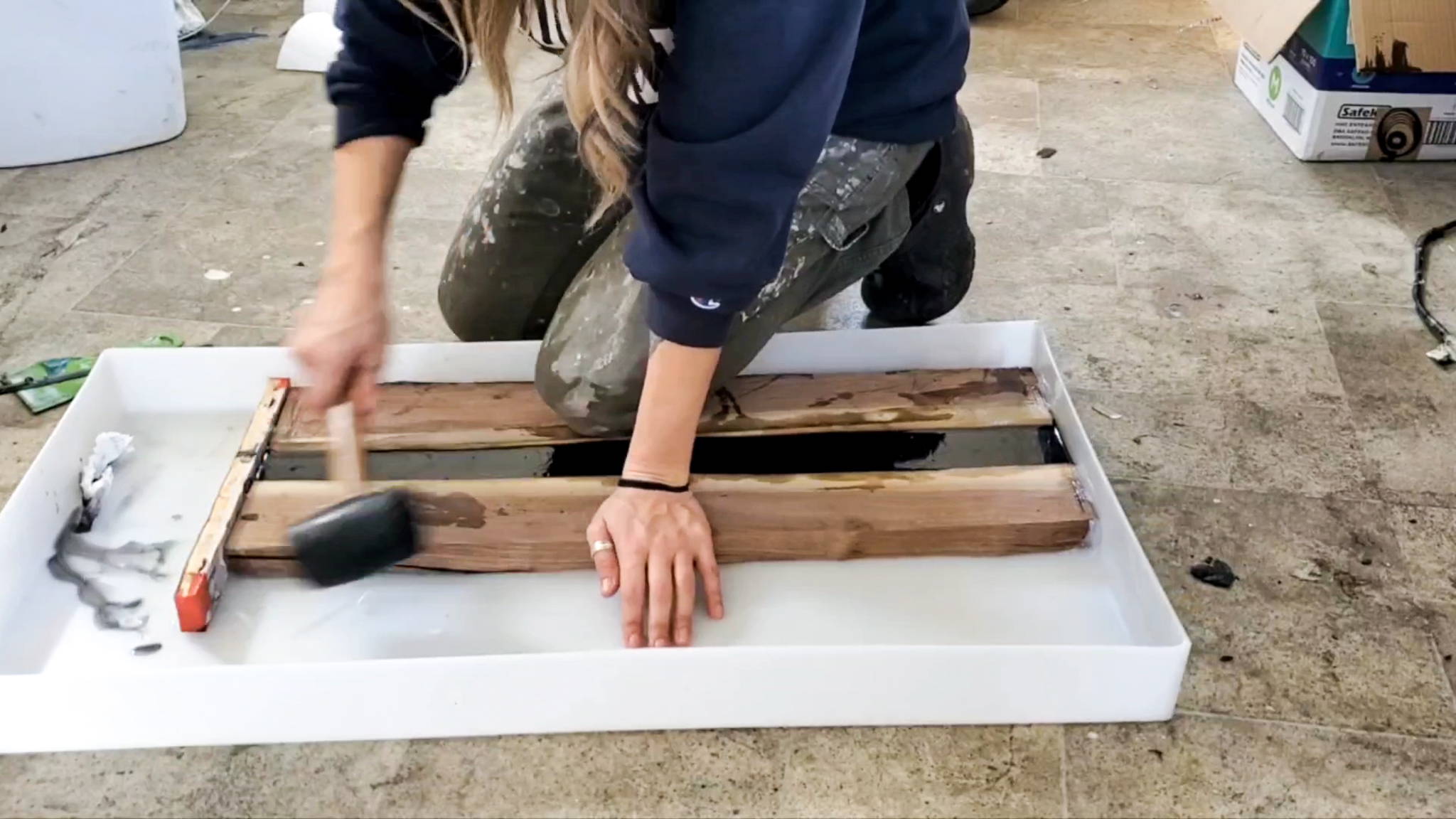 ---
Next up- squaring and flattening.
When machining a project, I usually like to wait a solid (at least) 48 hours to ensure everything is properly cured before I cut and plane it.
Use a straight edge and a circular or table saw to square off and cut your piece.
Plane flat. Run your piece through the planer on both sides to flatten the piece.
---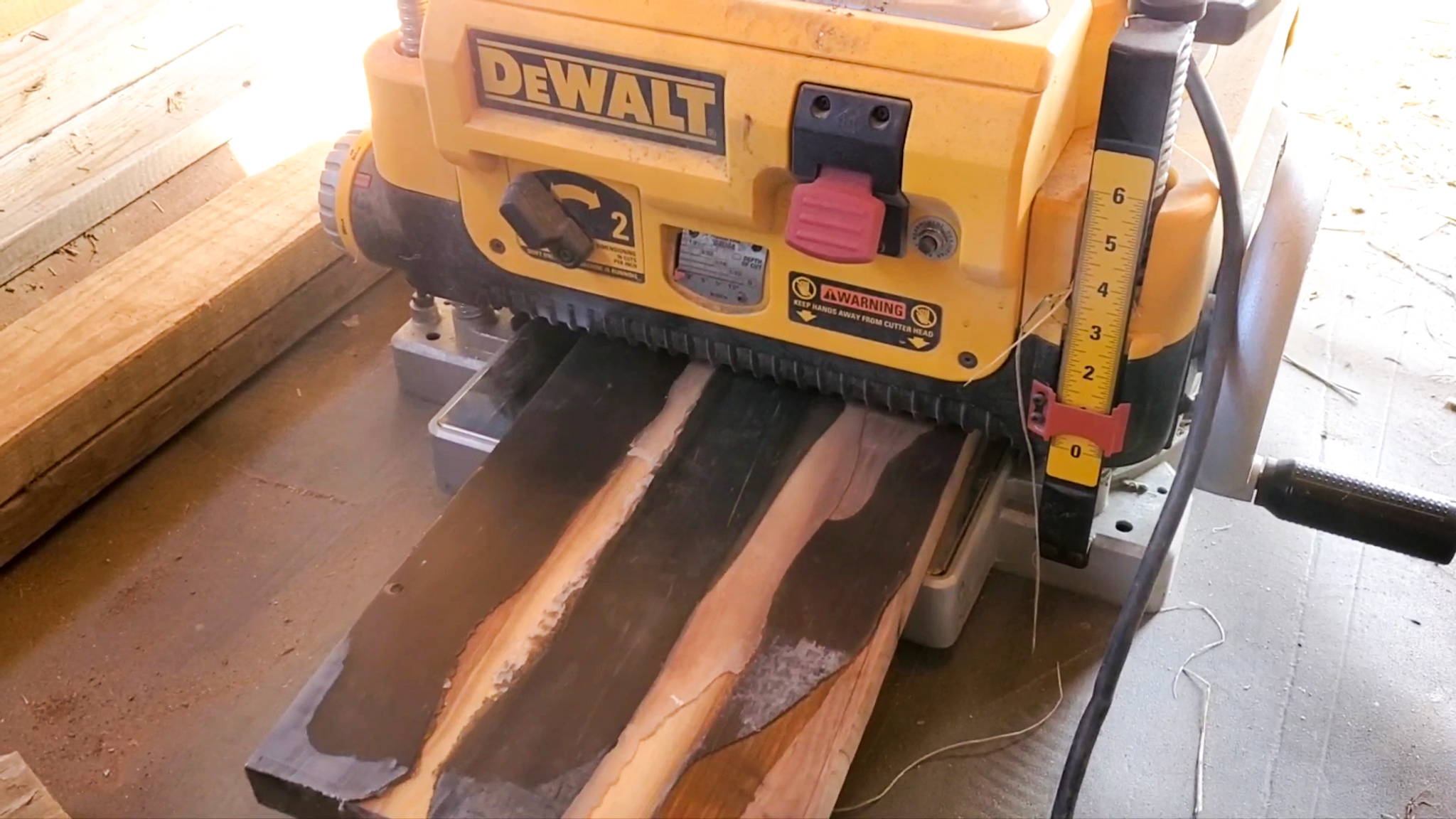 Step Five: Sanding and more sanding!

Using my Mirka sander/sandpaper, I sand my piece starting with 80 grit.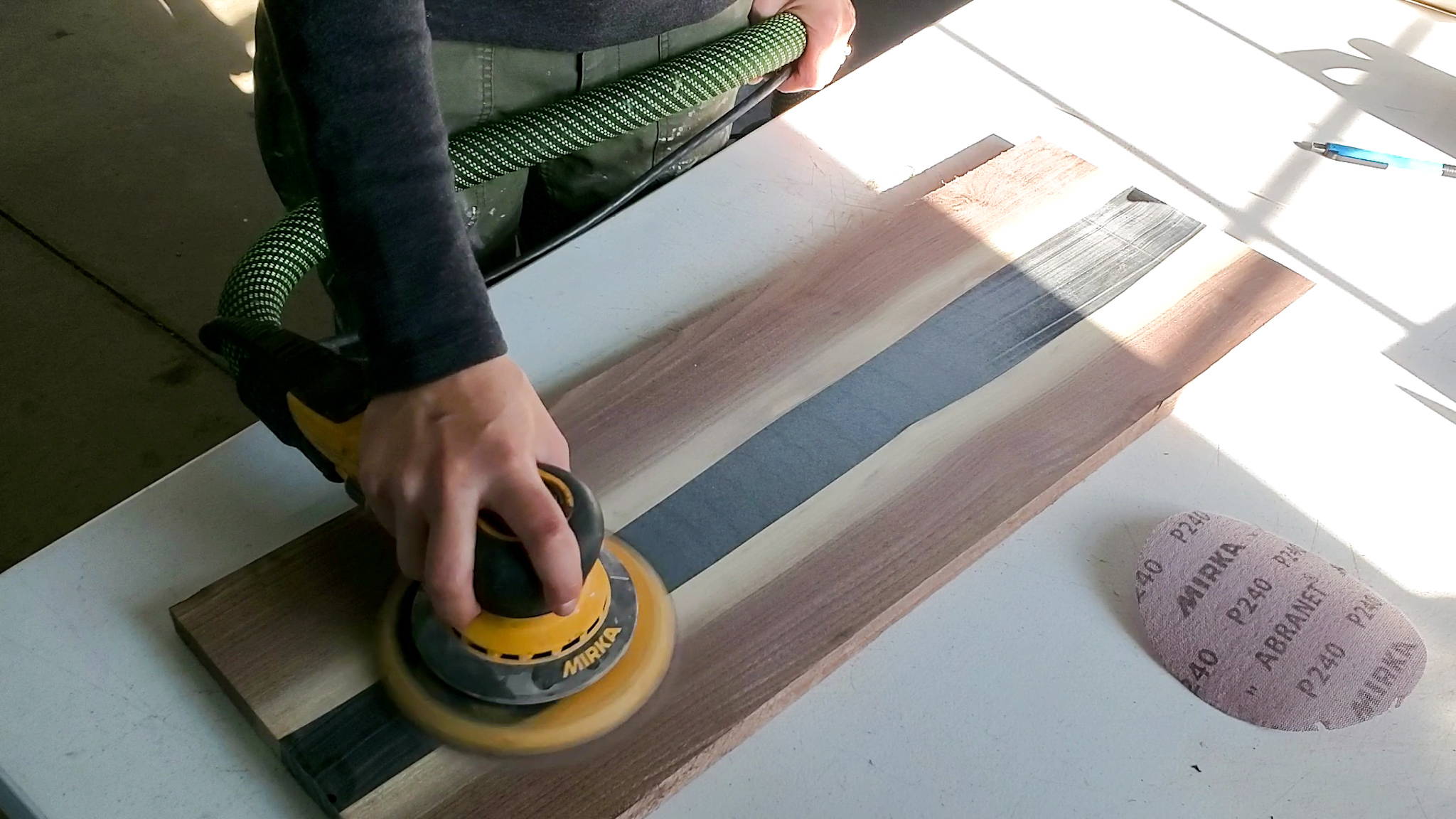 ---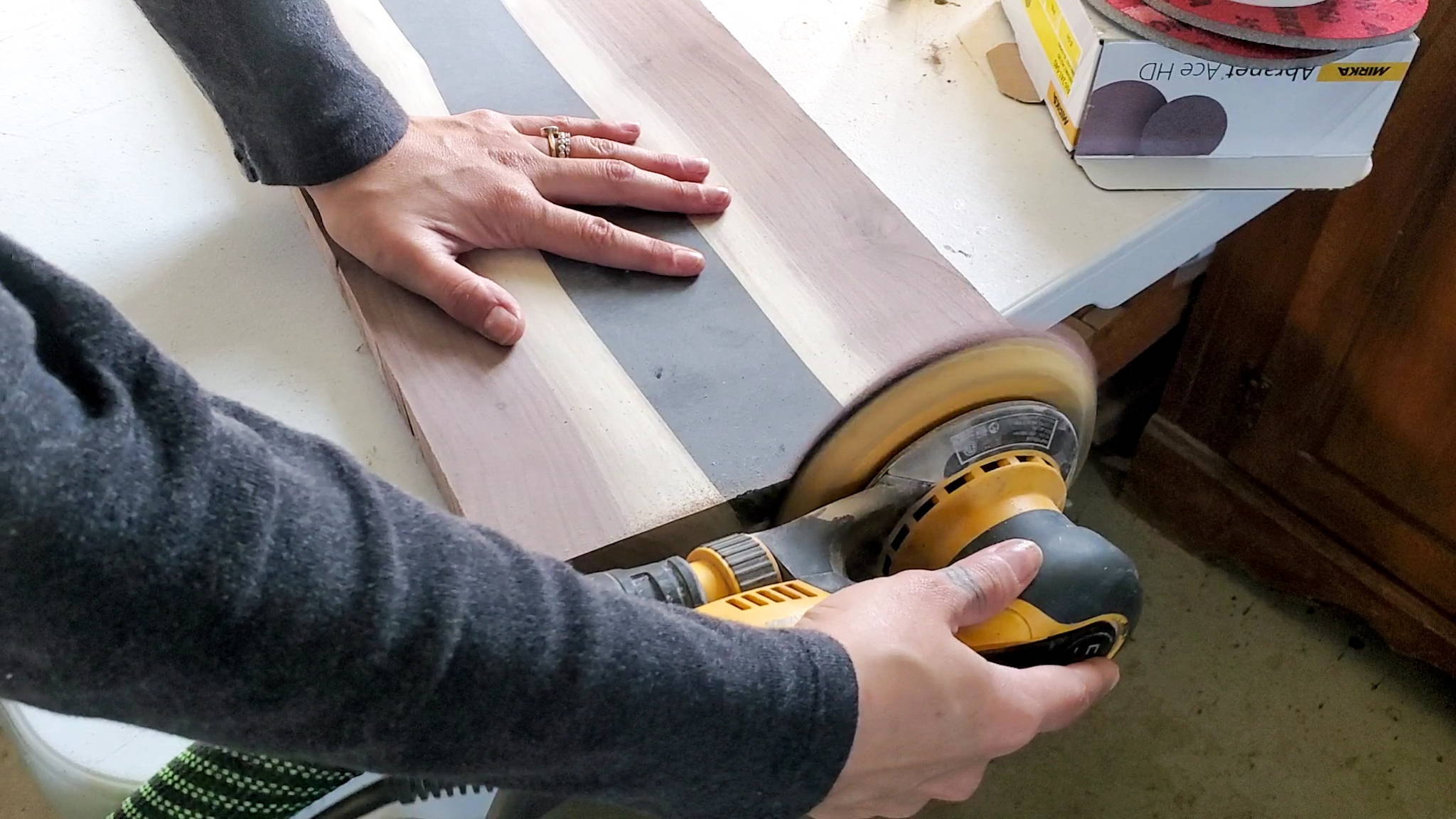 Occasionally, your slab will have tiny knots, or pin holes that need to be filled. You can use a quick curing epoxy, like Mas Epoxies Flag and Medium Hardener, but for this piece, I chose to use Starbond CA glue to fill the small holes.
Next, I will move up to 120 grit, followed by 240 grit, wiping the piece clean with alcohol in-between grits.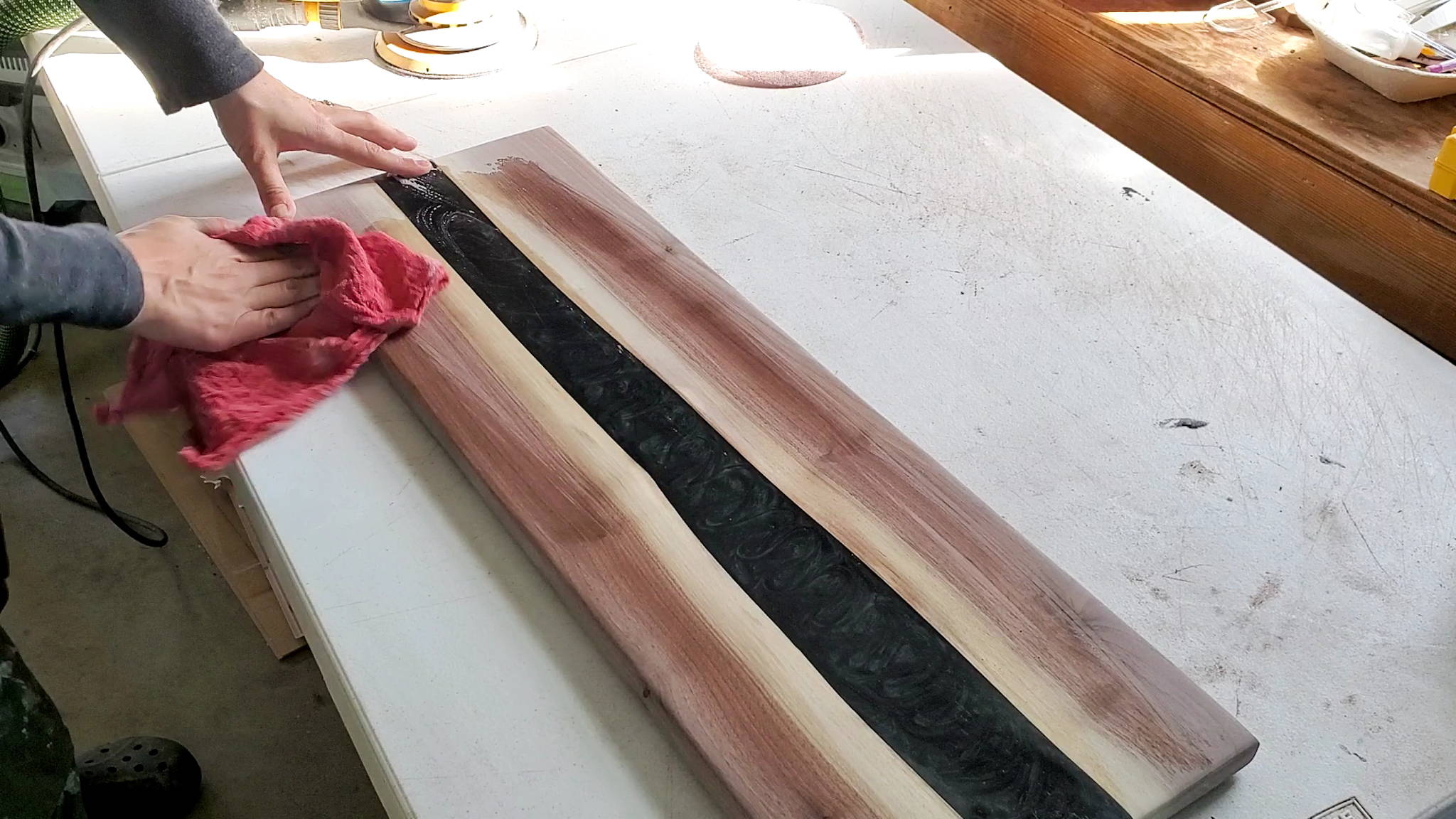 Step Six: Finishing With Walrus Oil/Wax

The BEST part!!
I absolutely love seeing the epoxy and wood grain come to life. The oil completely transforms the piece.
First step is applying the Walrus oil Cutting Board Oil. A little bit definitely goes a long way, but you will simply apply the oil using a cotton rag. I like to rub the oil into the piece, rubbing side to side, up and down, and around in circles to ensure the oil gets worked into the piece.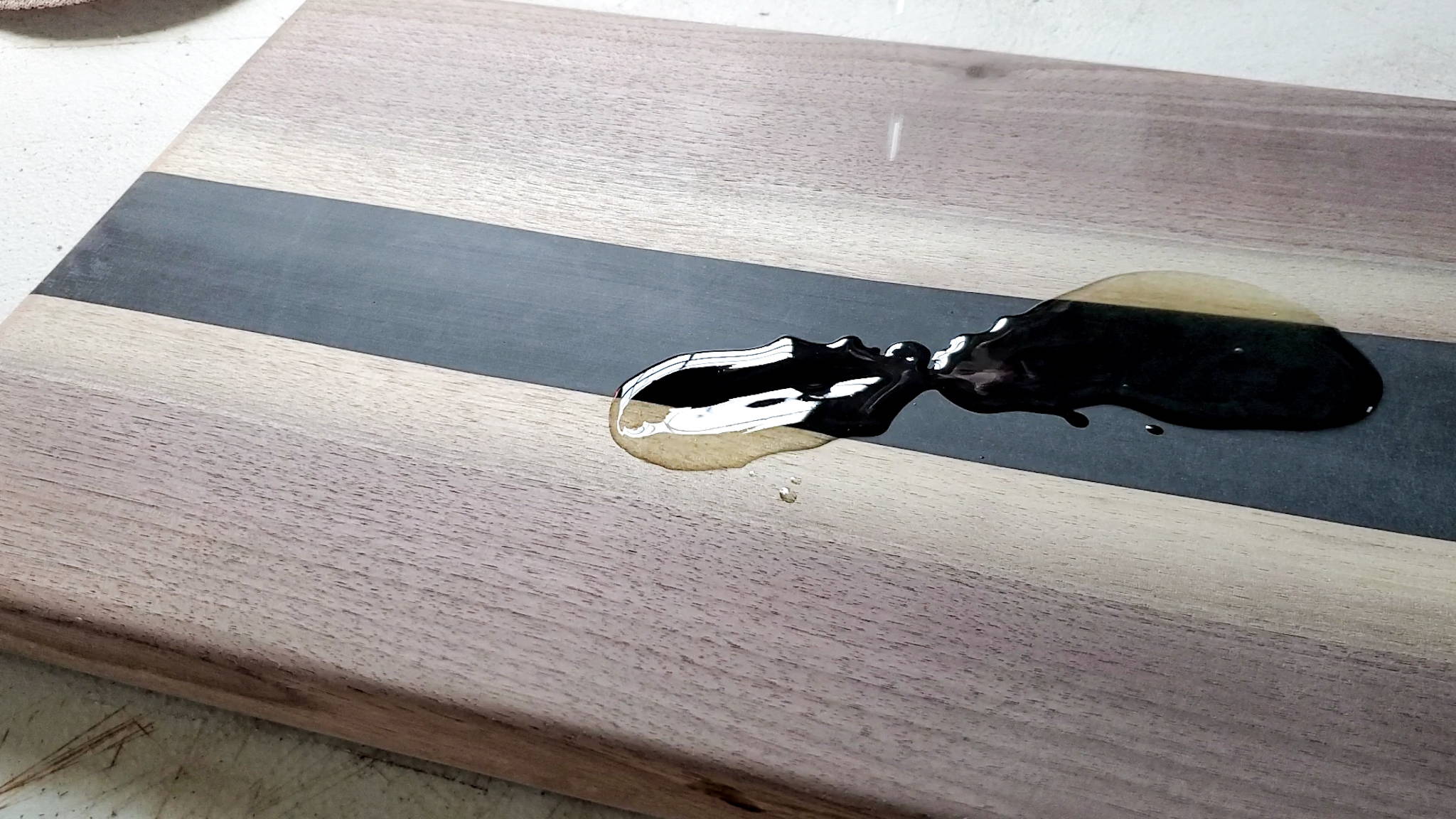 Let dry for 12-24 hours, and rub off with a cotton rag.
Next, you will add the Walrus Oil Wood Wax. Please do not be like me and skip the waxing step! I went the longest time without using the wax, and instead only used the oil. Adding the wax will add an extra layer of protection from water and moisture, and enhances the color and shine of the wood. The application process is the same as the oil, but you can buff after 15 minutes!
The finish that you get after combining these two products is stunning!!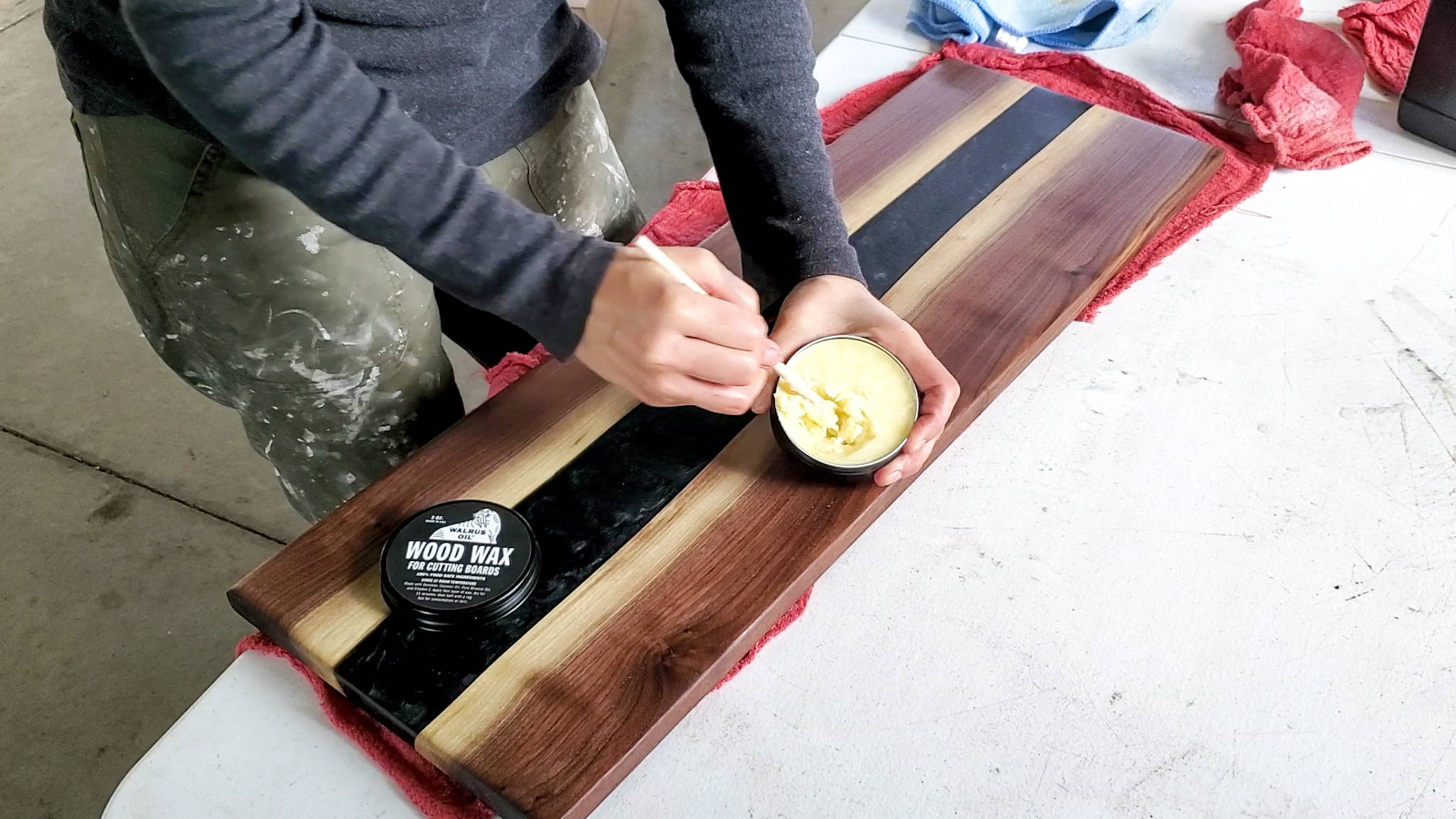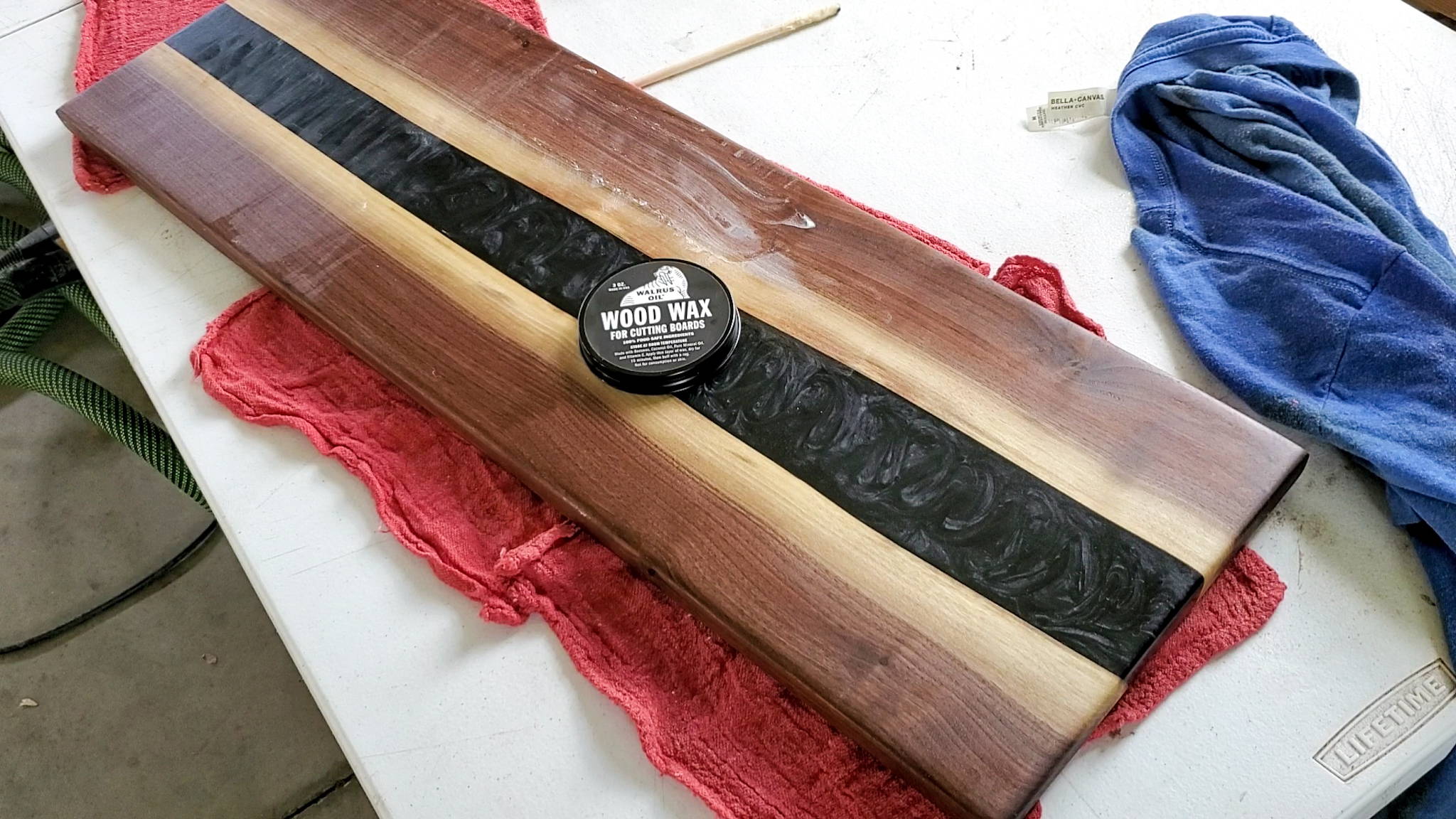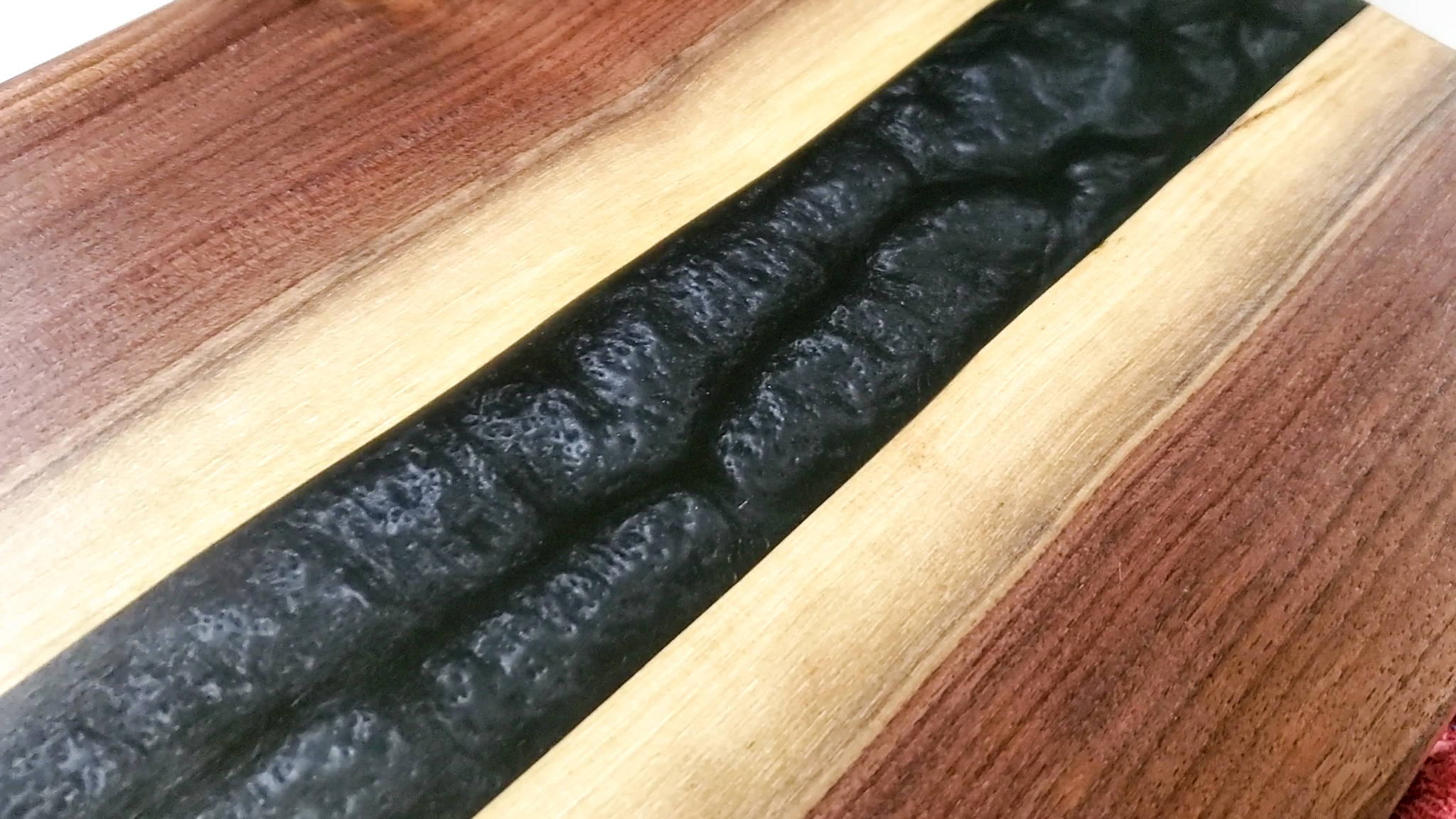 Step Seven: Engraving (Optional)

This step is optional, but I absolutely love having my laser to add a professional looking extra touch!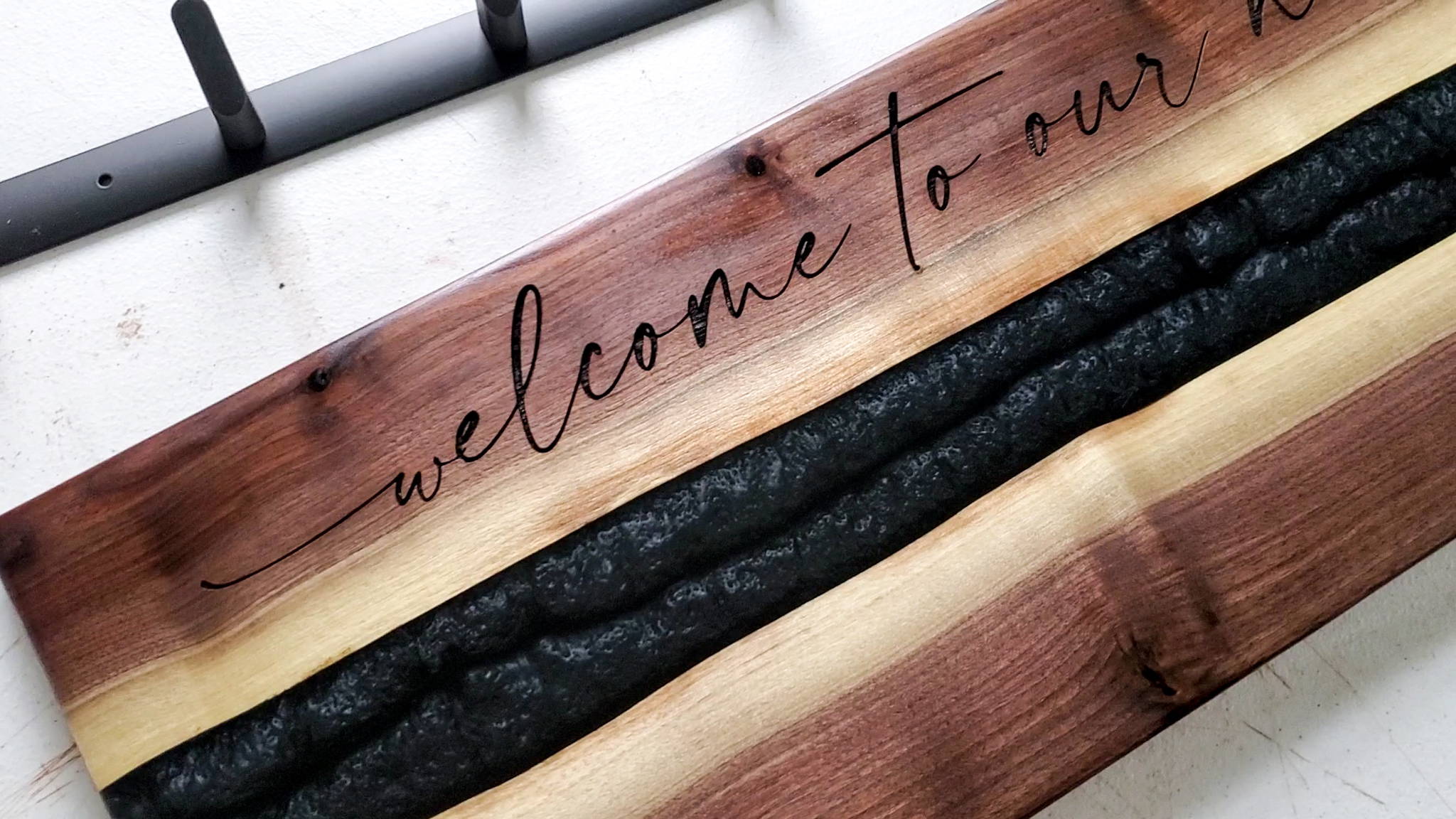 ---
Step Eight: Adding the hooks/hardware

Start by centering the hooks, and marking where your screws will go with a pen/pencil. Use a drill bit, smaller than your screws, to create pilot holes. Line up the coat rack, and screw the hardware into place, followed by the screw caps.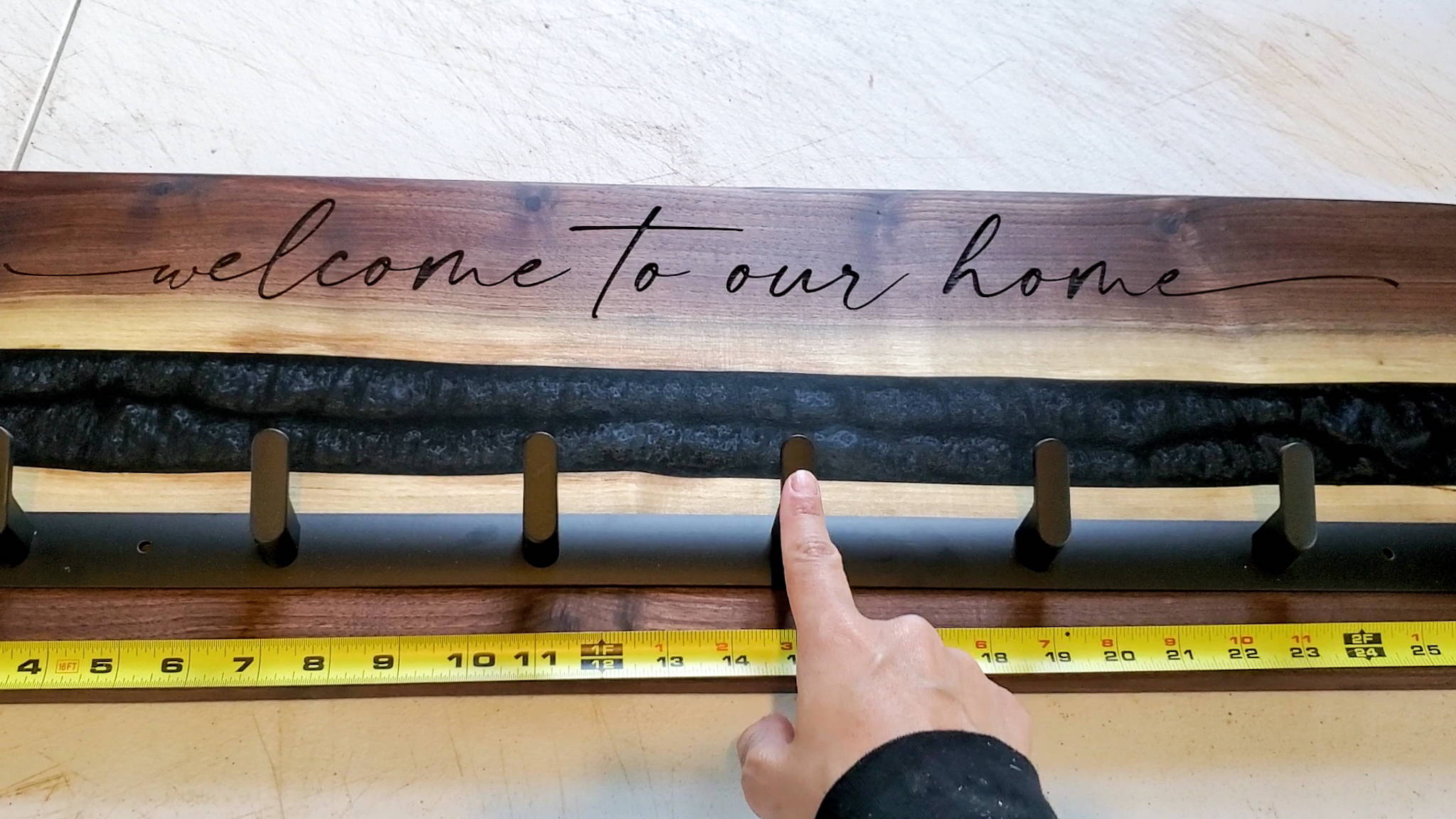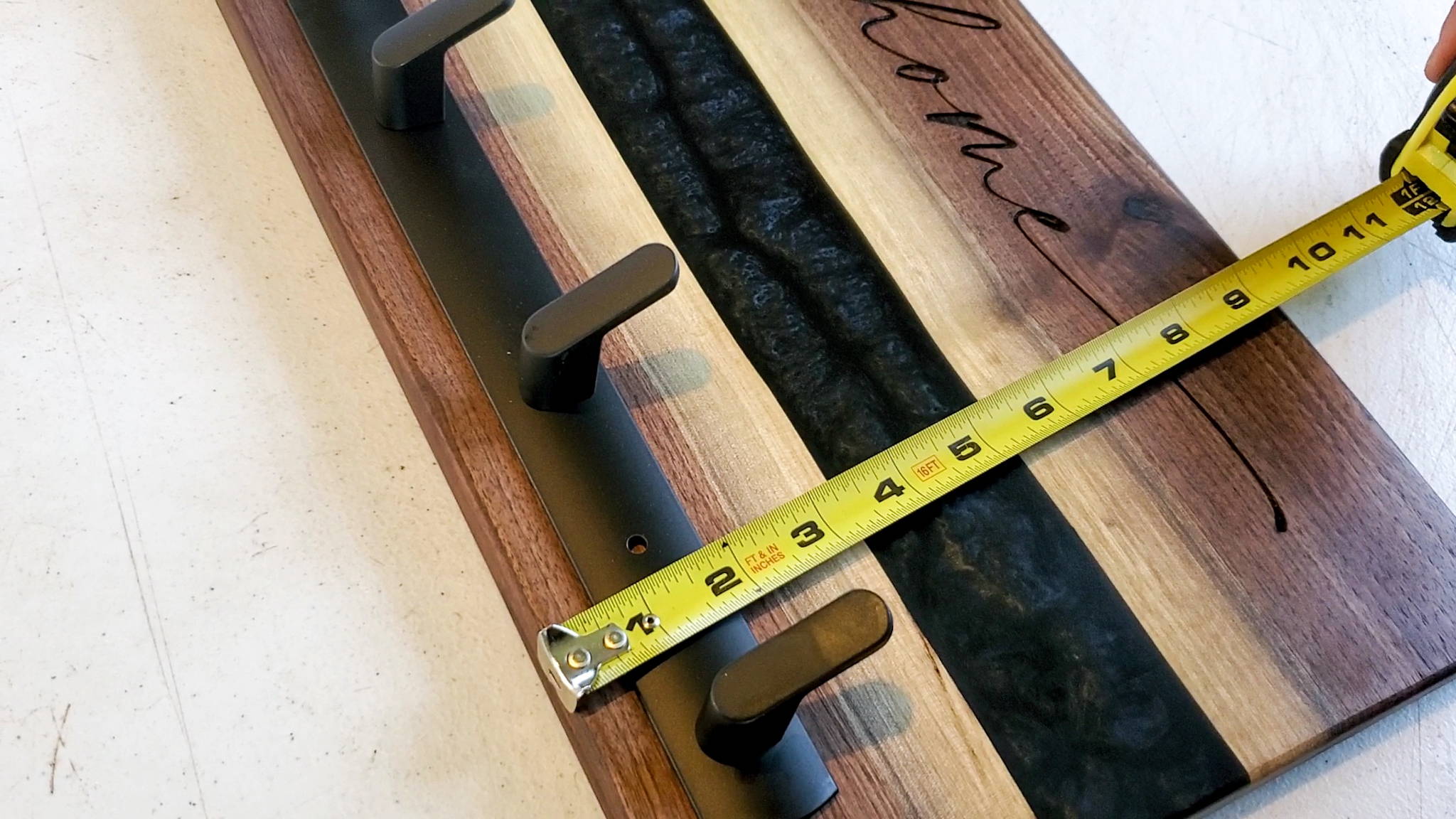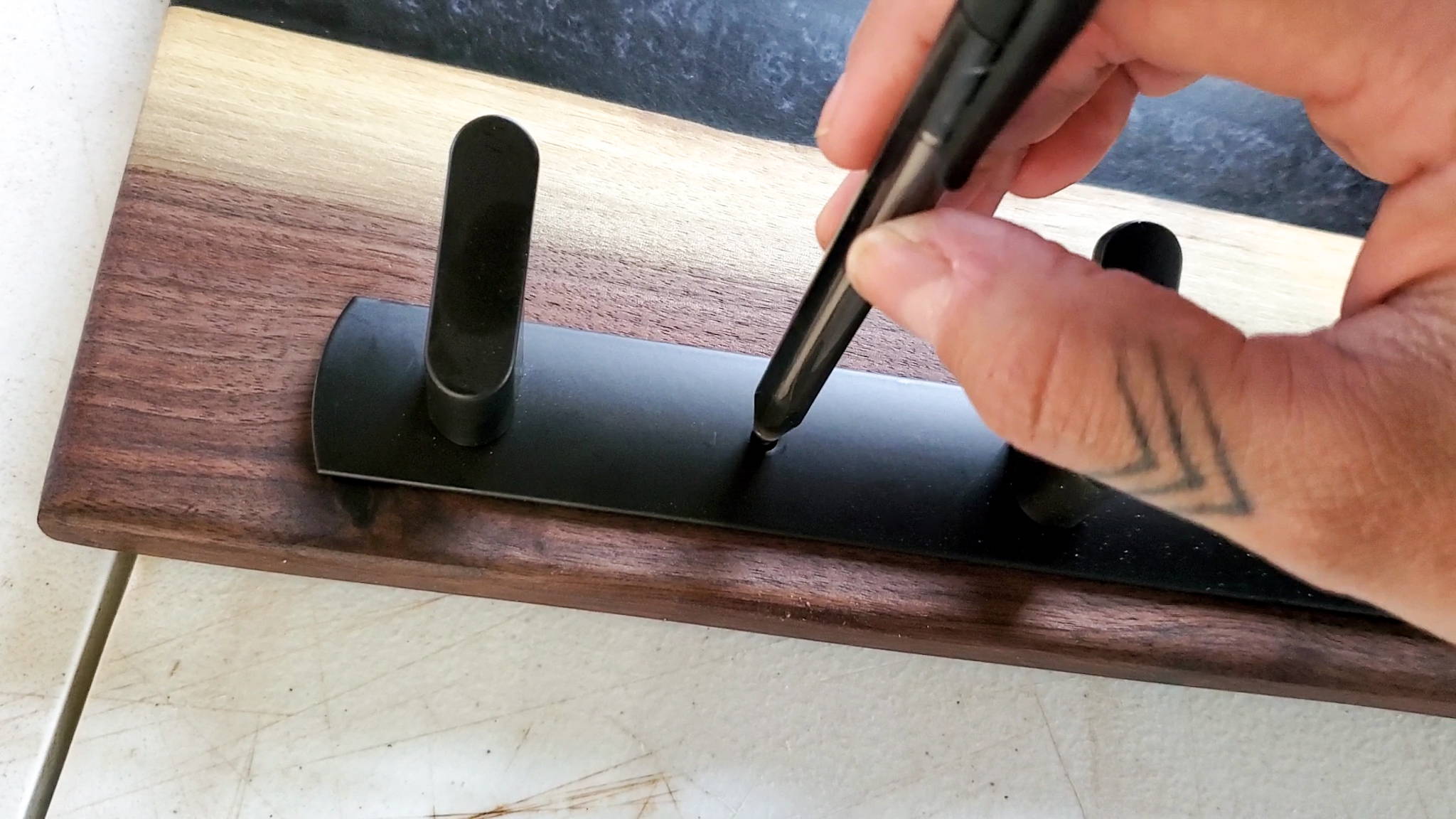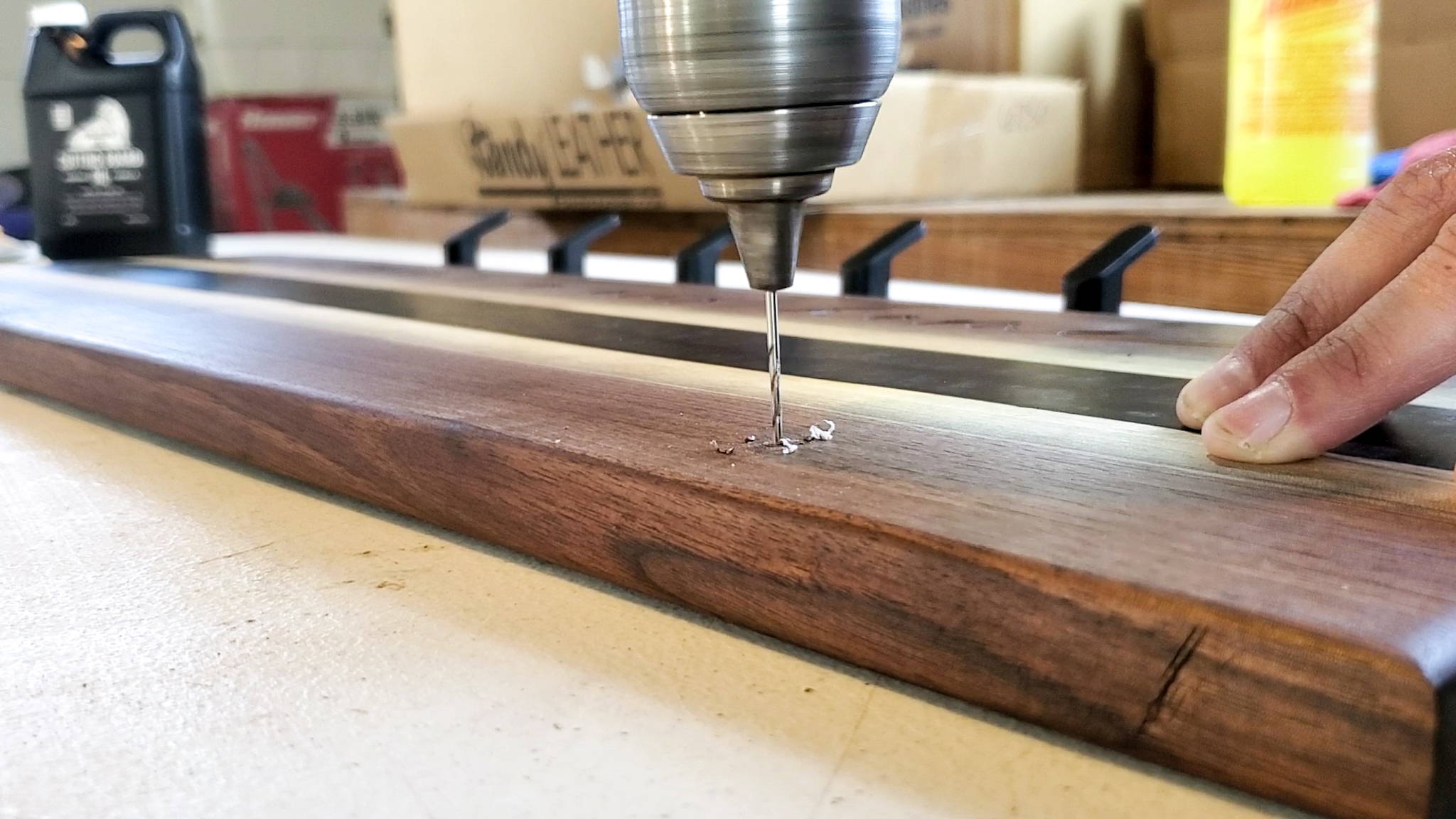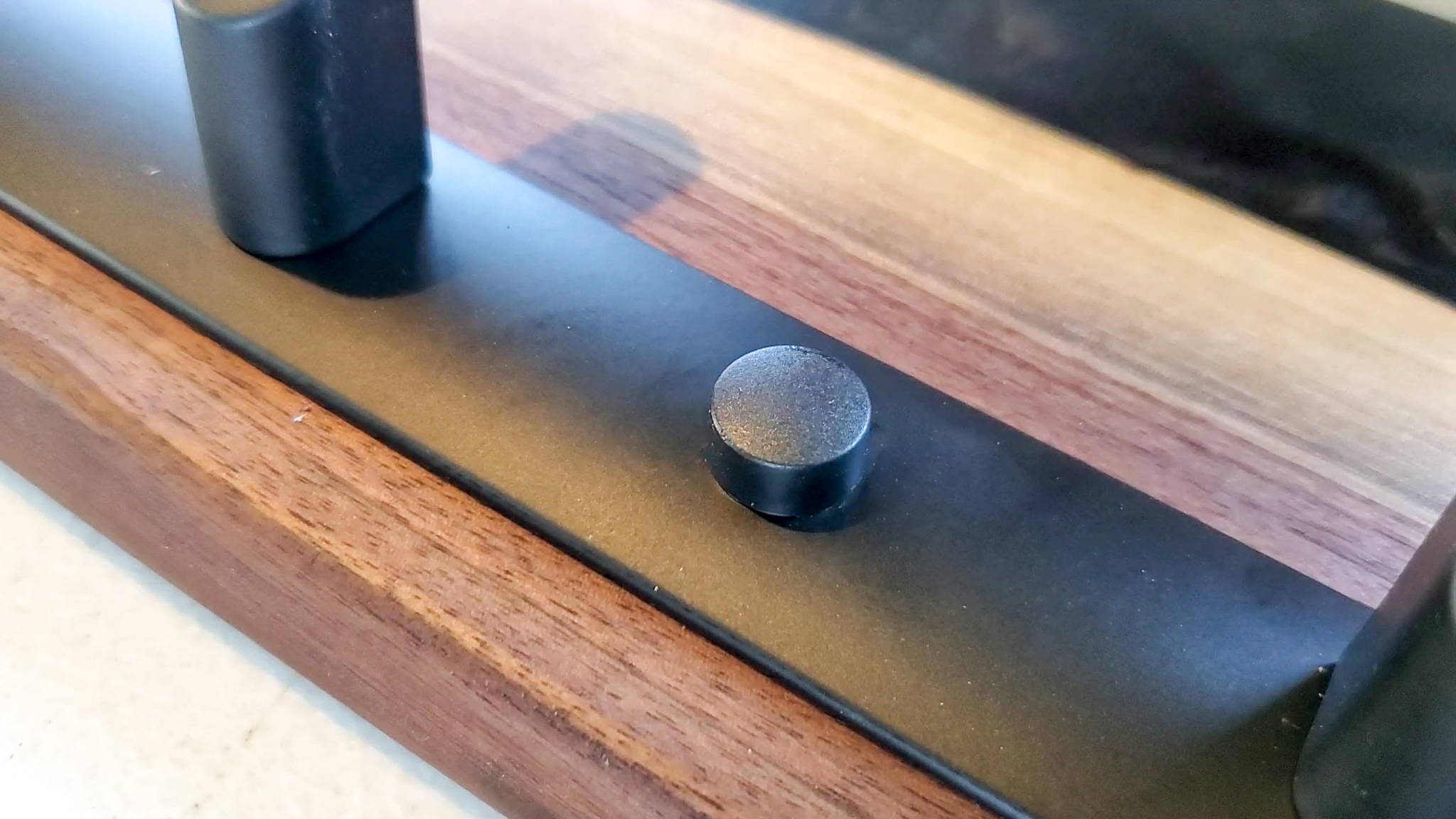 For a functional piece, like a coat rack, I suggest using a router and keyhole bit, but for the sake of time, I decided to use sawtooth hangers instead!
At last, the piece is finished! I think it turned out super sharp, with a rustic, but modern vibe. The epoxy and the finish is just TOO good, and I'm so happy with how this piece turned out; I can't wait to hear what you all think about it! Once again, please feel free to reach out with any questions, and don't forget to watch the full process video on my YouTube!
---
---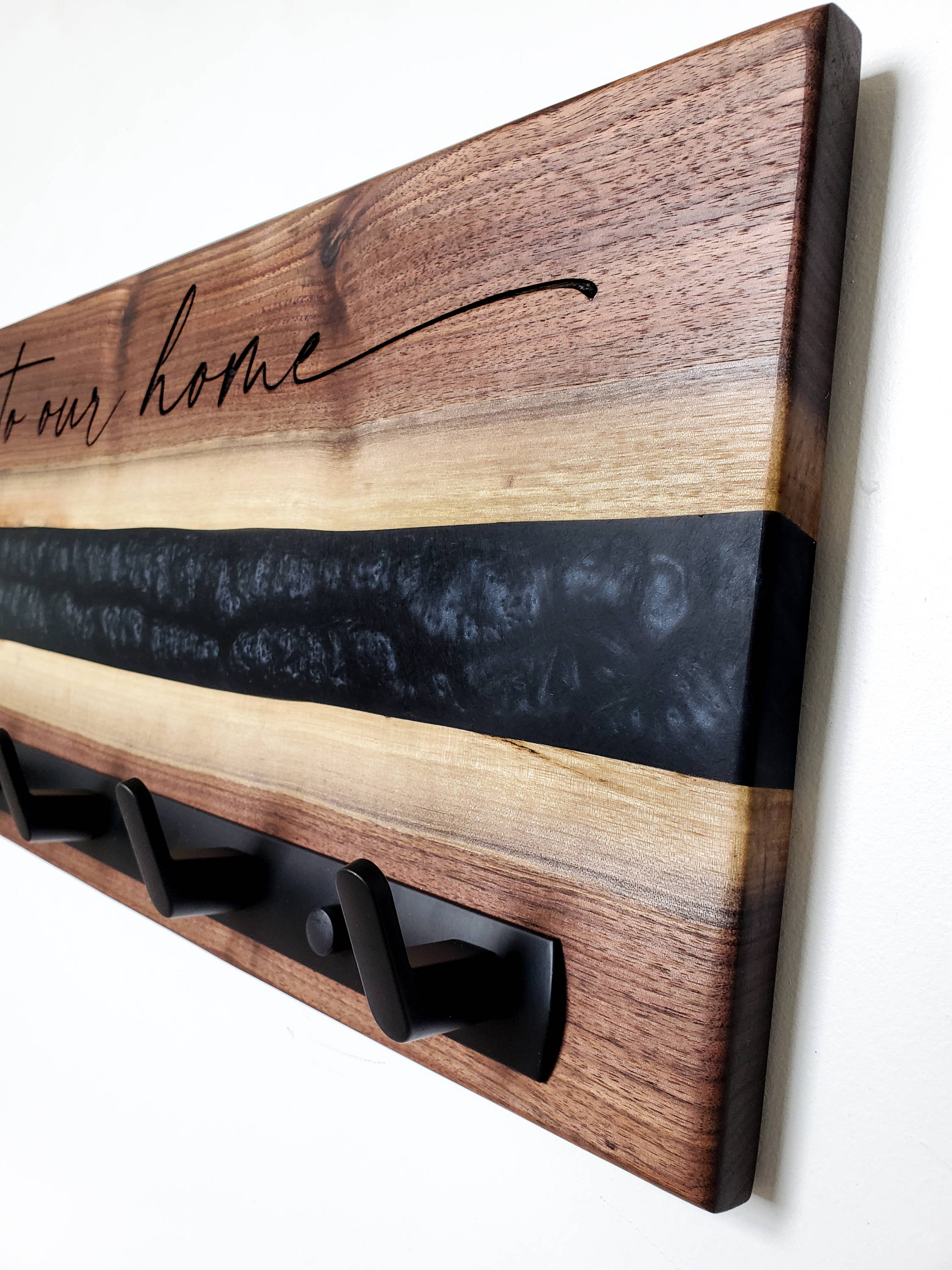 ---